Grasshopper Review
By Chad Brooks
Last Modified: December 23, 2018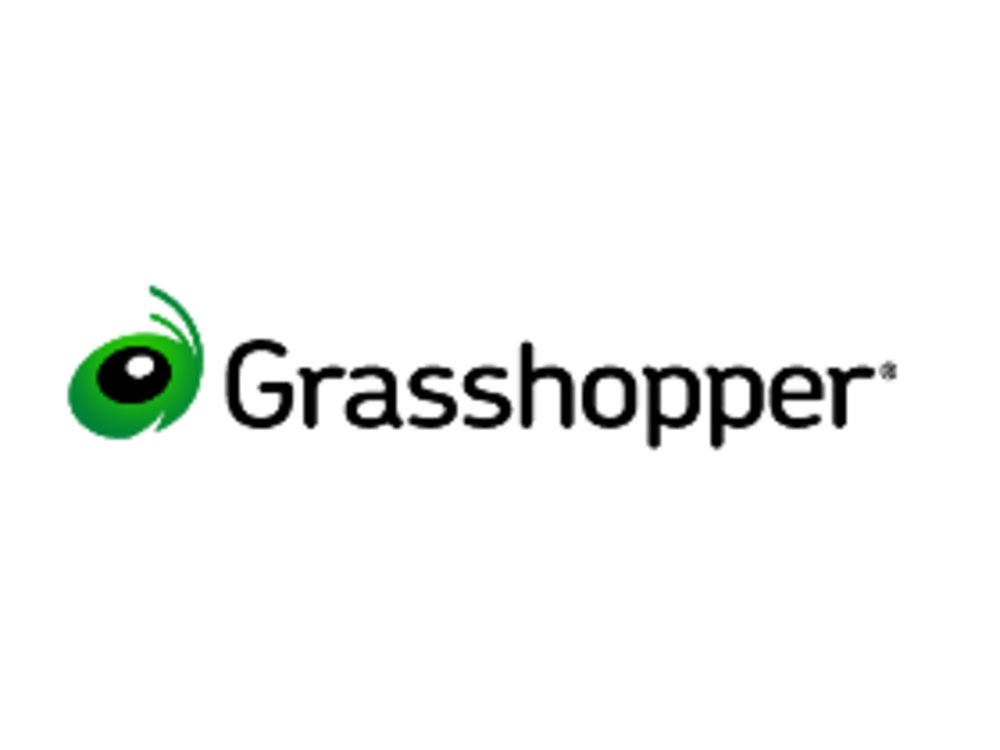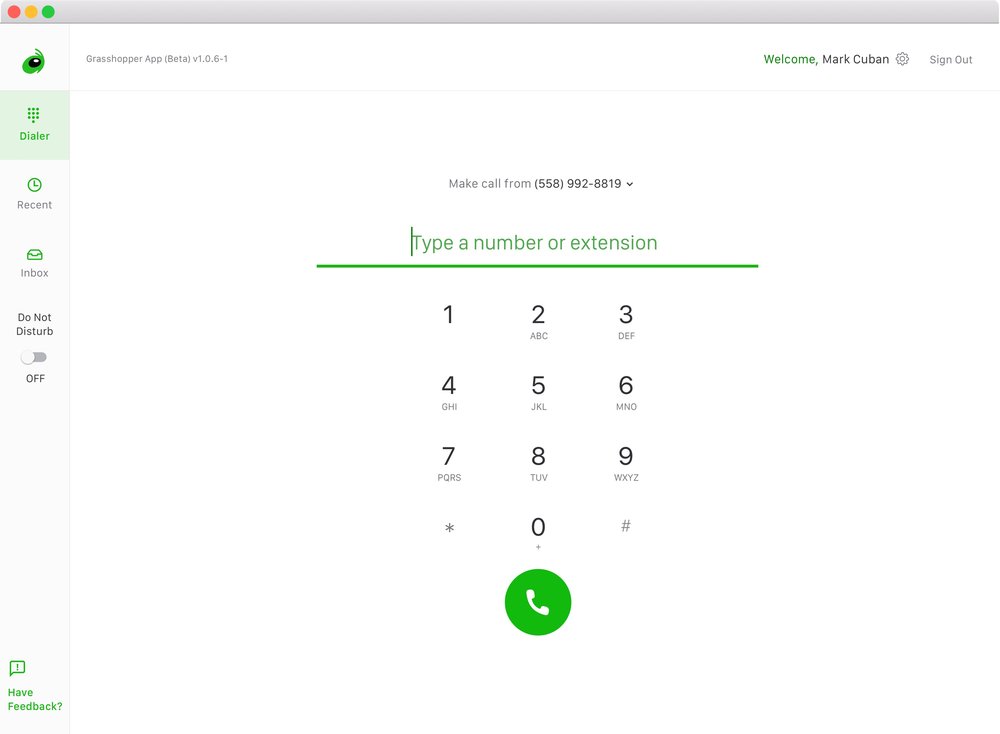 Grasshopper's desktop app allows your staff to make and receive business calls and text messages from their Mac or Windows computers.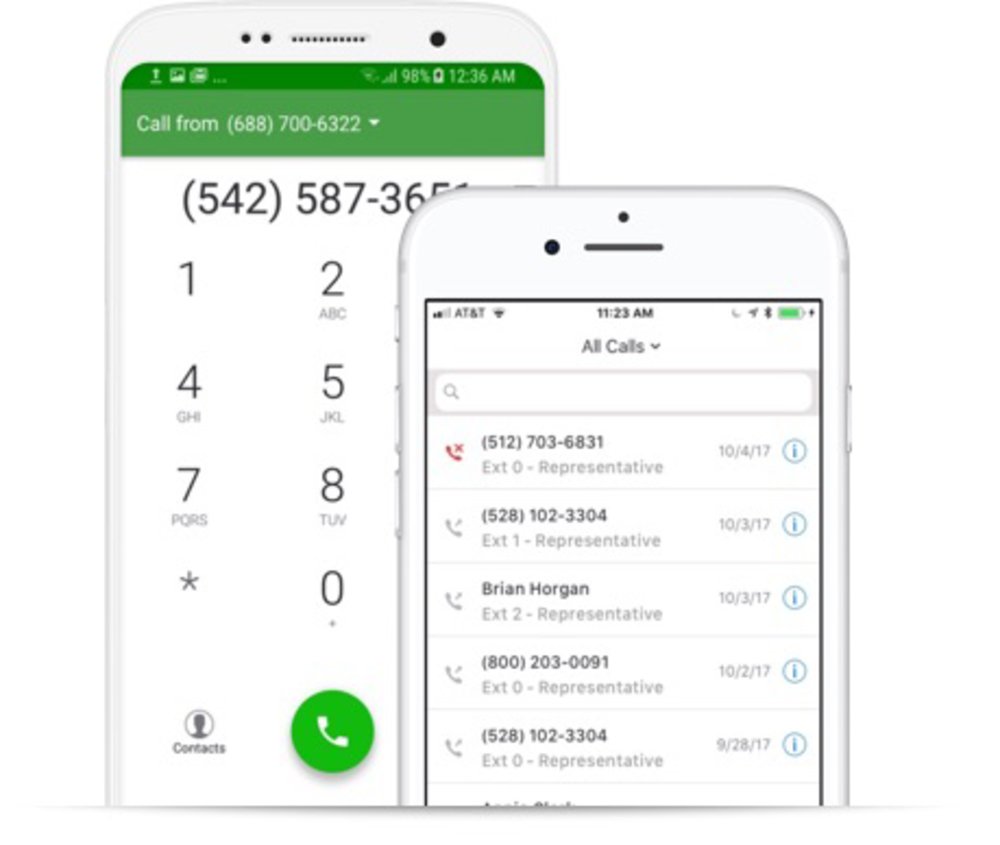 Grasshopper's mobile app, available for iOS and Android devices, allows users to make and receive calls from their business lines.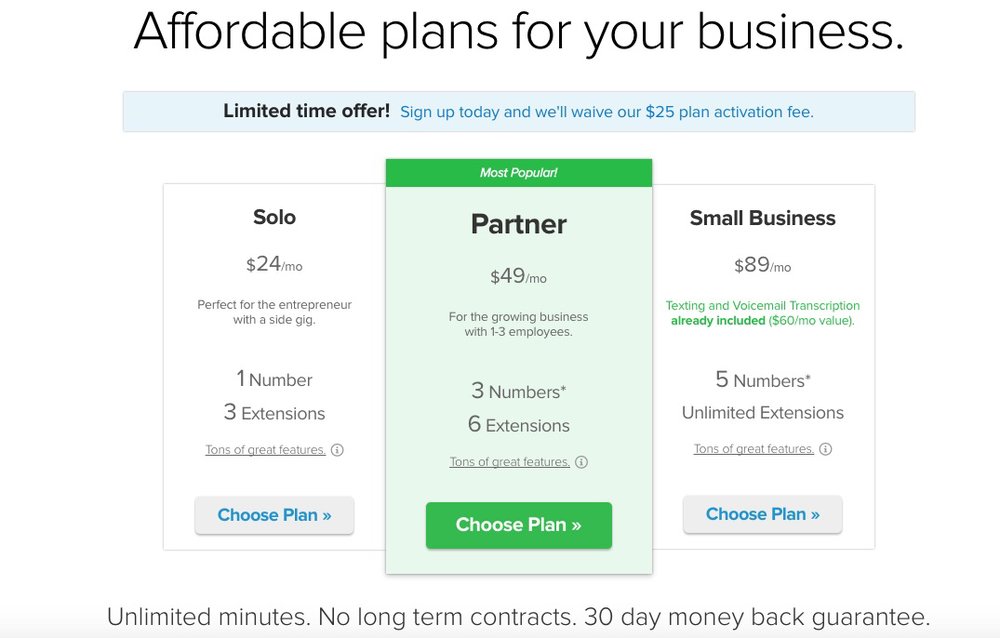 Grasshopper offers three service plans that vary in price and included numbers and extensions.
When searching for a virtual phone system, you aren't looking for the same functionality as a regular phone system. You don't have to worry about equipment, hosting options or even phones. You're looking for a service that gives you the best chance of projecting a professional image at all times for a low cost. You aren't looking for some high-priced solution that has every phone system feature under the sun. You want a system that will keep you and your remote workers connected under one umbrella.
The key features to look for in a virtual system are an online portal that makes it easy to set up your call-forwarding tree, an auto-attendant that shows your customers you are running a professional business, and a mobile app that allows you to make and receive calls from your business line.
Why Grasshopper?
Grasshopper is our choice as the best virtual business phone system because it gives small businesses an easy way to provide employees some of the phone system tools they need without installing any equipment or phones. The service works in tandem with mobile and home phones, offers many important features, and includes unlimited minutes. The service, which is easy to set up, is available in three different service plans that vary in price, phone numbers and extensions.
View all our recommendations for business phone systems on our best picks page.
Competitive Pricing and Terms
Grasshopper is available in three service plans, all of which include unlimited minutes and nearly all of the available features. The plans differ in the number of phone numbers and extensions included.
Here's a rundown on each plan:
The cheapest plan is the Solo plan, which costs $24 per month and includes one number and three extensions.
The Partner plan is $49 per month and includes three numbers and six extensions.
The most expensive option is the Small Business plan. It costs $89 per month and comes with five numbers and unlimited extensions. In addition to all of the features the other plans include, it comes with texting and voicemail transcription.
If you want texting and voicemail transcription but don't need all of the numbers and extensions in the Small Business plan, you can add them on to either of the other plans for $10 each per month.
There is a one-time $25 activation fee for new customers. However, Grasshopper regularly runs specials that waive that cost.
Grasshopper also offers professionally recorded greetings for your automated attendant. You can get a professional recording of up to 250 words for $75.
There are no contracts with Grasshopper. You pay month to month and can cancel at any time. The company offers a 30-day money-back guarantee.
Grasshopper Features
Grasshopper includes a number of features that give remote employees the tools many traditional in-office phone systems provide.
Automated attendant: This is the first thing people will hear when they call your business. The greeting can be whatever you want. This is the message used to direct callers to the people or departments they are trying to reach.
Extension: Each employee or department receives their own extension. Each extension has call forwarding and its own voicemail box. Each employee has the ability to customize the settings for their extension.
Music on hold: You can set music to play while callers are on hold. Grasshopper offers several options, or you can upload your own music selections.
Name directory: If callers don't know the extension of who they are trying to reach, they can use the name directory to connect with them. Callers can search for employees by their first or last name.
Call forwarding: Users can select the phone numbers they want their calls directed to. They can choose mobile, home or other phone numbers. They can also choose multiple numbers and have the system ring their numbers in a set order or all at once.
Call screening: Callers will be asked to announce who they are when calling. When the call is forwarded to you, you can listen to the name and decide if you want to answer. If you choose not to answer the call, it goes to your voicemail box.
Voicemail-to-email: Instead of listening to voicemail on the phone, you can have them sent to you via email. The emails will contain an audio file – WAV or MP3 – that you can listen to.
Online faxing: Similarly to voicemails, you can have faxes go to your email inbox as PDF attachments.
Voicemail transcription: If you are unable to listen to voicemail messages, you can have them transcribed and sent to you in text form.
Text messaging services: Employees can send text messages to each other, customers or clients from their business phone numbers.
Business information: You can designate an extension for store or office information. When callers access that extension, they can hear the hours you are open, your address or any other pertinent information.
Fax on demand: If you have a regular set of documents that your customers may need, you can store them in the system. Callers can then request those documents be instantly faxed to them. The faxes can be sent at any time 24/7.
The Grasshopper mobile app, available on iOS and Android devices, allows employees to make and receive calls from their business lines, check voicemail messages, see their faxes and call history, set up push notifications for missed calls and messages, and change call-forwarding options. Additionally, the iOS app lets users sign faxes and PDF email attachments with their finger.
Grasshopper also has a desktop app that features a softphone. From the softphone, you can make and receive business calls and text messages from your business line.
Grasshopper allows you to choose local, toll-free or customized vanity numbers. In addition, established businesses that don't want a new number can have their current number transferred to the Grasshopper system. The number-porting process usually takes 7-10 business days for a local number and 3-5 days for a toll-free number.
Conference Calling
Grasshopper has a complete conference calling service built into its phone system. With the conference bridge feature, which is included for no extra charge, each employee has the ability to hold their own conference call with up to 10 callers. However, the complete plan allows unlimited participants. If your company is looking to host conference calls with more callers than this phone system provides for, you will need to use a conference calling service. These services allow hundreds, sometimes thousands, of people on each call. You can find more information on these services on our conference call services best picks page.
Ease of Use
Since this is a virtual service, absolutely no equipment or desk phones are needed to use the system. Instead of connecting with desk phones like most traditional phone systems do, Grasshopper's virtual service works in conjunction with mobile and home phones.
When a customer or client calls, the system's automated attendant answers the call and then forwards it to the appropriate employee or department. With this service, employees designate the phone numbers they want their calls forwarded to. This could be a mobile device, a home phone or any other phone of their choosing.
Employees have total control over how calls are routed to them. They choose the numbers – up to 15 – they want their calls sent to, in which order those numbers should be rung, how many rings should occur before switching to the next number and when they want calls forwarded to them. For example, they can choose to receive calls 24/7, from 9 a.m. to 5 p.m. on weekdays, or only on the weekends.
When employees get calls, they have several options for how to handle them. They can answer the call, send the caller directly to voicemail, or hear the caller's phone number or name to decide if it is someone they want to speak with right away.
In addition to each employee having their own extension, employers can create department extensions, such as for sales or customer service. Employers then group workers into the proper department and set those employees' numbers to ring when someone tries to reach their department.
The entire system is controlled via an online portal. Each user can access the portal to set the call-forwarding tree. They can designate the numbers they want calls forwarded to and the order in which they will ring.
Customer Support
We were pleased with the customer service Grasshopper provided. To test the quality of support, we contacted Grasshopper multiple times, posing as a business owner interested in a virtual phone system.
Each time we reached out, a helpful representative immediately answered our call. They always took as much time as needed to answer our questions and never tried to rush us off the phone. There were times when we felt they could have provided more thorough answers to our questions, but by the end of each call, we had a good understanding of how the system works, the features it offers and the pricing options.
We were a little disappointed that the representatives never offered to follow up with an email, as that would have given us contact information for the representative we spoke with in case we had more questions. However, when we did have additional questions, our follow-up calls were always answered immediately.
The Grasshopper support team is available by phone 24/7. In addition, you can request help via online form. Grasshopper's website also offers a comprehensive user guide that walks you through each aspect of the system.
Drawbacks
Grasshopper doesn't offer the extensive list of features some of its competitors do, such as call recording or integrations with programs like Microsoft Office.
It doesn't offer a traditional phone system either. If your business outgrows this service, you will have to look for a new provider. Some phone system providers offer both types of service, which makes switching from a virtual system to a traditional system a smooth and easy process.
Editor's note: Looking for a business phone system? Click the Compare Quotes button below to have our sister site BuyerZone connect you with vendors that can help.
Ready to choose your The Best Business Phone Systems of 2019? Here's a breakdown of our complete coverage:

Chad Brooks
Chad Brooks is a Chicago-based writer and editor with nearly 20 years in media. A 1998 journalism graduate of Indiana University, Chad began his career with Business News Daily in 2011 as a freelance writer. In 2014, he joined the staff full time as a senior writer. Before Business News Daily, Chad spent nearly a decade as a staff reporter for the Daily Herald in suburban Chicago, covering a wide array of topics including local and state government, crime, the legal system and education. Chad has also worked on the other side of the media industry, promoting small businesses throughout the United States for two years in a public relations role. His first book, How to Start a Home-Based App Development Business, was published in 2014. He lives with his wife and daughter in the Chicago suburbs.