Rubex byeFileCabinet

Sean Peek
business.com Contributing Writer
Dec 19, 2022
As one of the leading document management software products on the market, Rubex by eFileCabinet offers a wide range of capabilities and features that are perfect for small and large businesses looking to ditch their manual processes and switch to a paperless office. With extensive storage options (for some plans) and an abundance of customizable tools, companies can migrate their data into the system to streamline employee workflows and improve information sharing throughout their organization.

Rubex byeFileCabinet
The Verdict
Rubex by eFileCabinet has all the essential document management features for everyday business use. Its extensive storage capacity – available on higher-tier plans – makes it stand out among its competitors, as most offer a maximum of 5TB of storage.
Rubex Editor's Score: 9.6/10
| | |
| --- | --- |
| Storage capacity | 10 |
| Features | 9.8 |
| Integrations | 9.8 |
| Ease of use | 8.5 |
| Workflow | 9.8 |
Why We Chose Rubex as the Best Document Management Software for Storage Capacity
We chose Rubex by eFileCabinet as the best document management software for businesses seeking extensive digital storage because its immense storage capacity blows competitors' offerings out of the water. With storage capabilities reaching 20TB, companies can rely on this cloud-based software to store, track and manage their most confidential files in one place without worrying about losing or sharing them on less-than-secure platforms. While virtually all of eFileCabinet's rivals also provide cloud-hosted storage, they typically max out at 5TB of storage space. Rubex users needn't worry about that, provided they're on the right plan.
We also love the flexibility eFileCabinet offers with its multiple Rubex packages, allowing business owners to choose the level of service that best meets their needs. Still, regardless of the plan you choose, you can enjoy the basic features necessary to upload, store and share files securely. All plan levels include integration capabilities too, enhancing the platform's usability.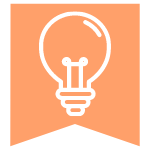 Tip: Cloud-based storage can give business owners peace of mind, as it provides a backup in case of an emergency where on-premises documents are lost and need to be recovered.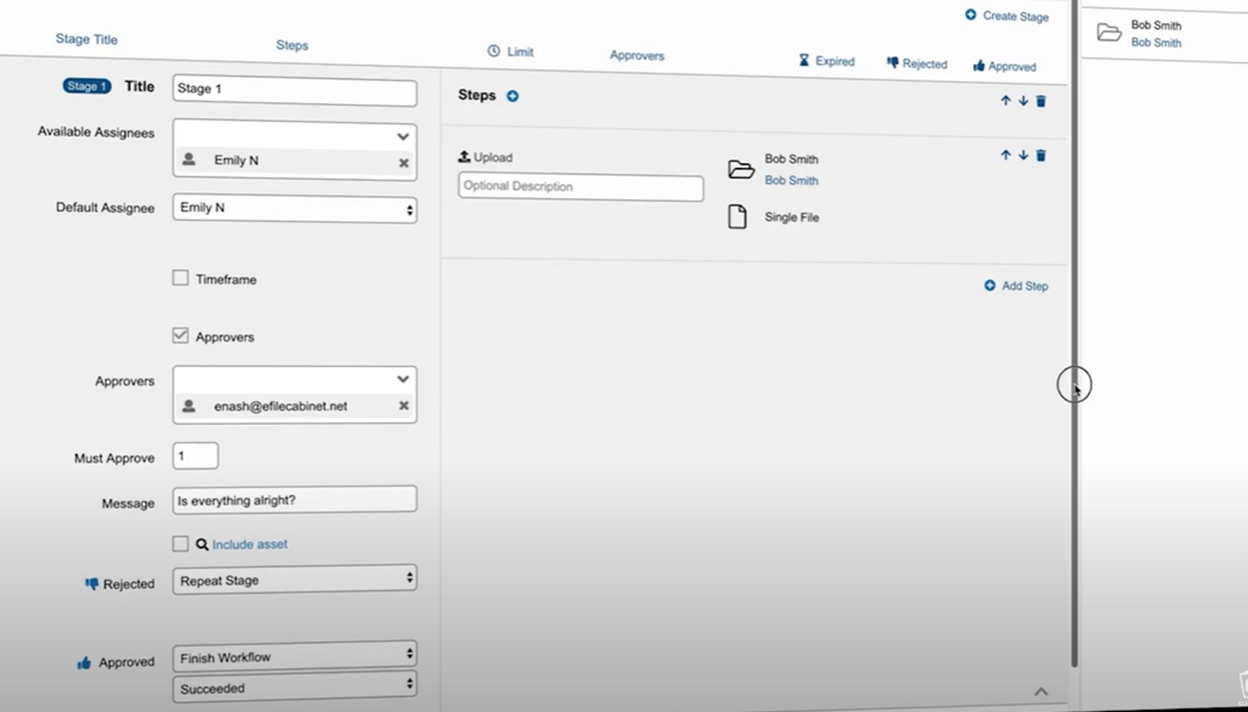 Rubex lets you create automated workflows to perform specific actions under defined conditions. Source: Rubex by eFileCabinet 
What We Like About Rubex
Businesses can fill up a huge amount of storage space with Rubex's top offering.
The platform's smart automation features allow customization to create the right system for your business's unique workflow.
At every plan level, the software integrates well with a variety of programs.
What We Don't Like About Rubex
Due to its learning curve, some users may have difficulty understanding how to use the Rubex software.
eFileCabinet doesn't offer a free trial, which means business owners have to commit to a plan before being sure Rubex will work for their needs.
Ease of Use
Though Rubex can pack a fairly steep learning curve for first-time users, the platform offers a variety of resources – from prerecorded webinars to product demos to open office hours – on eFileCabinet's website to help those new to the program get started.
Unlike some competitors, the cloud-based software allows users to quickly access their files from any iOS or Android device that has internet capabilities via a user-friendly mobile app. Recently accessed and favorited files are displayed on the app's homepage; a menu tab with a search bar allows users to locate any document in the system and view their cabinets, drawers and folders.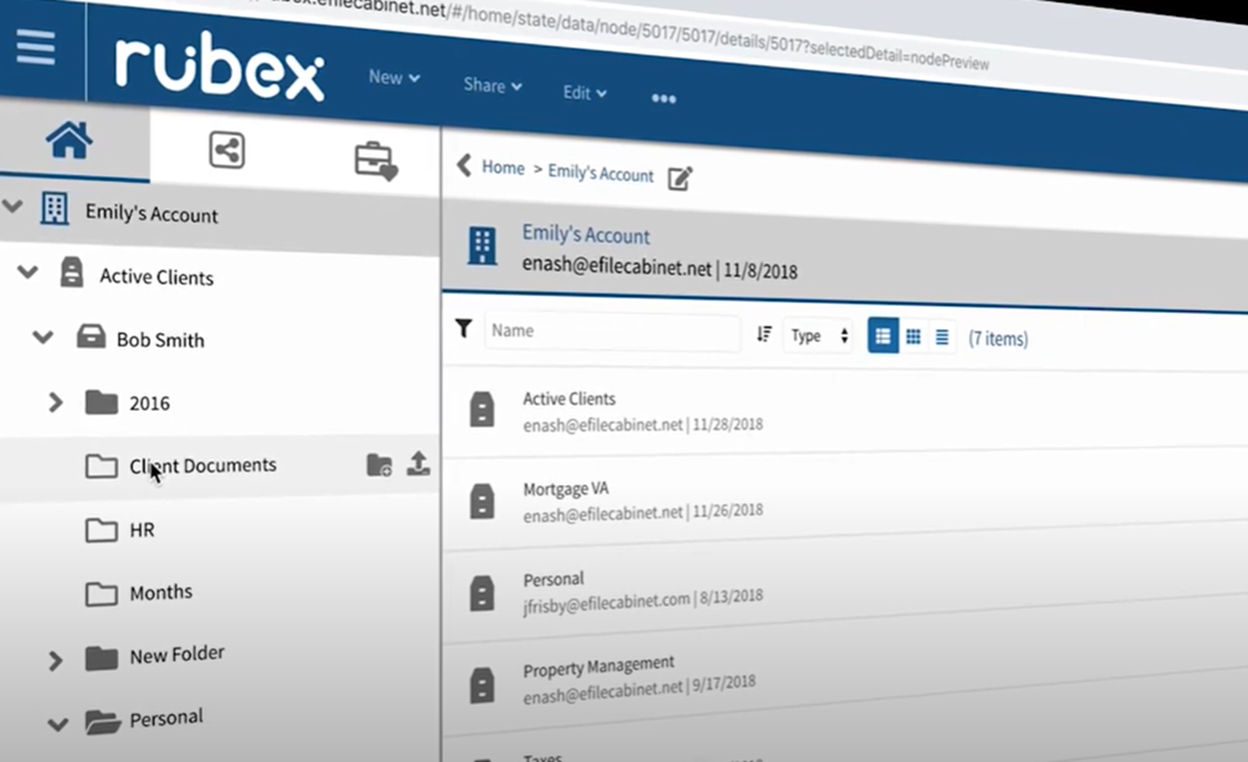 Rubex's utilizes an email inbox-like interface, giving it a familiar feel, though there may still be a learning curve for new users. Source: Rubex by eFileCabinet
Daily workflows can be automated into efficient processes using the software's template customization. You can customize templates with fillable fields and create folder structures to standardize your digital file cabinet; broad templates can be mass-applied to templates in drawers.
Branded customization features allow the software itself to be customized as well. Businesses can personalize their theme color, navigation bar and email header; edit their domain name; and add more bells and whistles.
Features
While it's the extensive storage capacity that makes Rubex by eFileCabinet stand out the most, users can also enjoy helpful features that make the system more than just a virtual file cabinet.
Storage Capacity
The Rubex software, in partnership with SecureDrawer, allows users to confidentiality store, encrypt and share files as large as 1GB with co-workers or clients as needed. Unlike most document management systems currently available, eFileCabinet offers an option for 20TB of storage space. That can come in handy for companies regularly dealing with large files and in-depth recordkeeping.
Integrations
Rubex integrates with Microsoft 365 and Office, DocuSign, Active Directory, Mak and Salesforce – among other business software – at all service levels.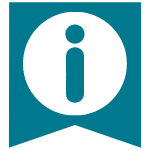 Did you know? Competitor M-Files also boasts a DocuSign integration. Find out more in our comprehensive M-Files review.
Secure Cloud-Based File Sharing
eFileCabinet's cloud-based document storage has bank-grade security measures in place to ensure files are always protected, even when trusting a third-party custodian to monitor and manage your documents. Files are securely stored in the company's Level 1 PCI-compliant data center and are encrypted in transmission. With Rubex, businesses can access tools to become compliant with FINRA, SOC 2 Type 1, HIPAA and more.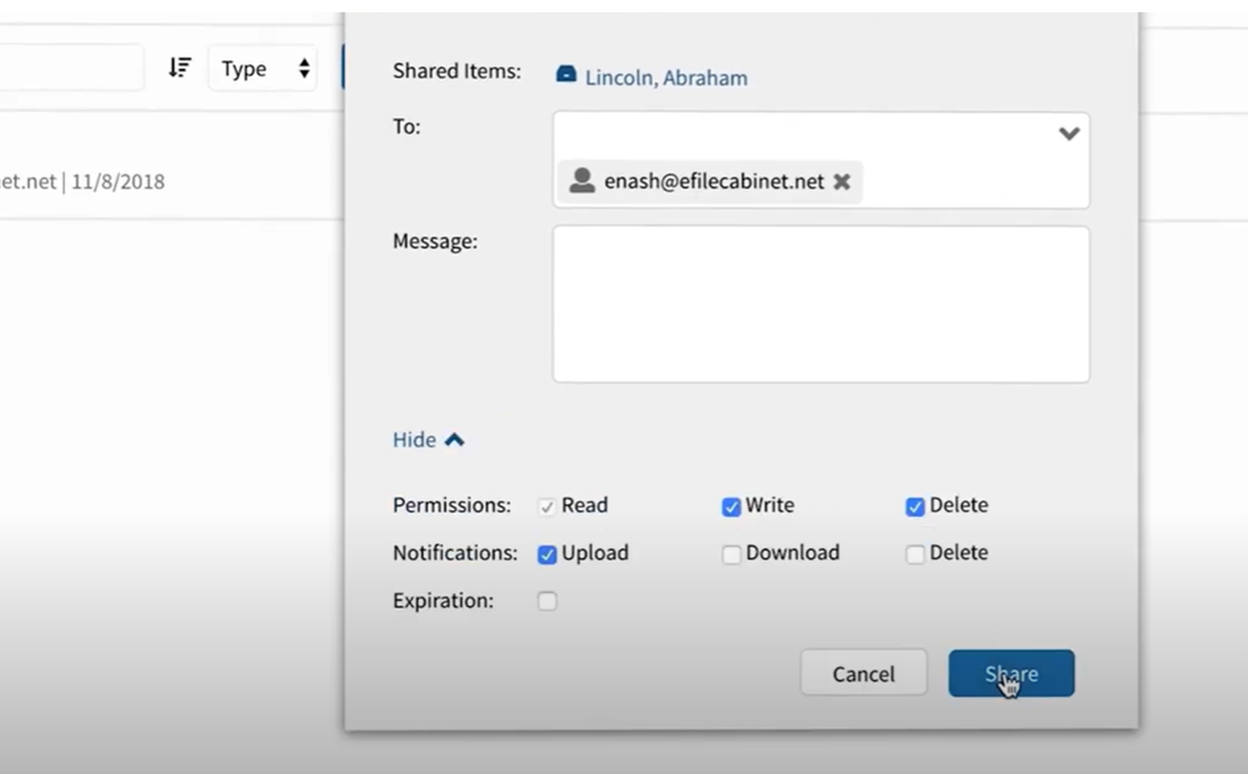 Users can securely share files through Rubex's partner, SecureDrawer, which allows you to select access permissions and notifications for each file. Source: Rubex by eFileCabinet
Check-in and Checkout
Rubex has a document check-in and checkout feature that ensures multiple users don't make parallel edits on the same version of a document. Instead, edits are made on a single, updated version of the document, and older versions are saved and archived within the software for later review. With version control, users can go back through previous document versions for reference to see what changes were made and whether they were major or minor changes. M-Files and fellow document management vendor FileHolder both have a similar check-in/checkout tool.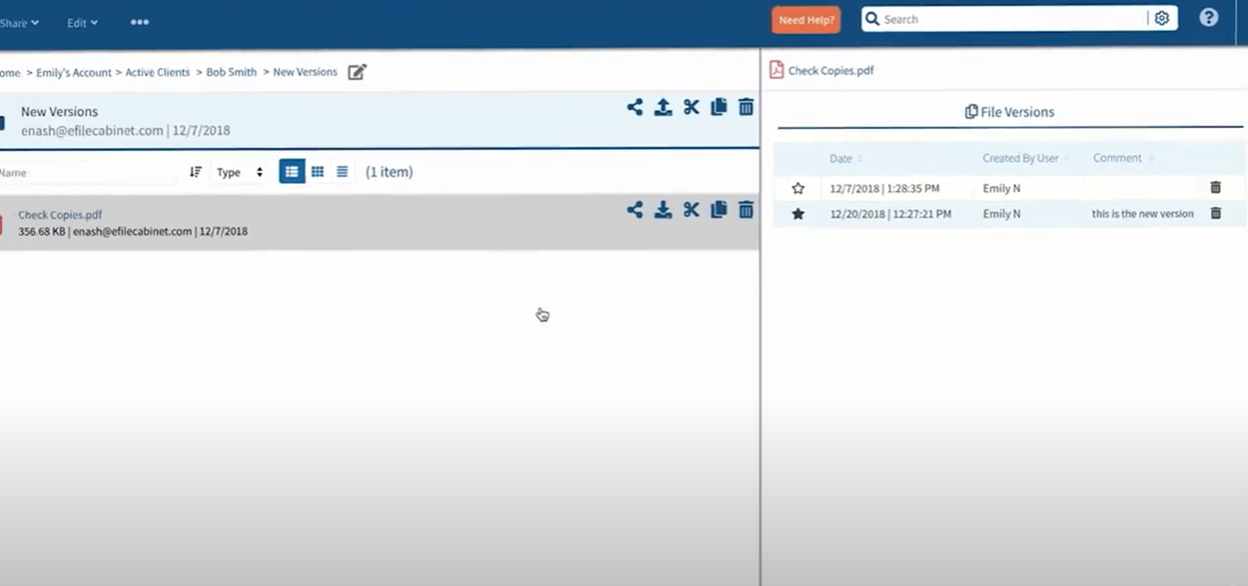 Rubex's version history allows users to find any copies of a document created within the system and information about when it was created and by which user. Source: Rubex by eFileCabinet
Role-Based Security
Rubex's role-based security allows system administrators to assign – and restrict – access and editing capabilities on each file. You can easily set up general permissions and assign them on both an individual and group basis; however, they can be overridden as needed.
No-Code Automation
While some document management software just stores your documents, Rubex also organizes your files automatically using an intelligent storage structure. We really appreciate that the system offers no-code, enterprise-grade automation that anybody can manage without coding experience. The platform is capable of automating manual, repetitive document processes, such as routing documents, requesting approvals, creating new folders and extracting data.
Users can rely on Rubex to automatically file documents, saving time and increasing productivity. Regardless if the document is initially located in a text message, an email or on a hard drive, users can store files in the program and search for them as needed through the filing processes. Notably, competitor DocuPhase also has automation features that boost productivity; learn all about them in our detailed DocuPhase review.
Document Lifecycle
Users can see a document through its entire lifecycle with Rubex, in which you can store, share, edit, review, approve and sign documents with an e-signature.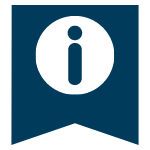 FYI: As long as they adhere to protocol, e-signatures (electronic signatures) are recognized by the FDIC and can be used to digitally sign contracts.
Optical Character Recognition
Rubex has a zonal optical character recognition (OCR) tool – which can read images and make any document fully searchable – to scan files and import them into the system. While many other products have OCR too, this software also uses it to automate the document organization process by automatically pulling keywords into the metadata fields.
Pricing
Notably, eFileCabinet doesn't provide free trials. However, one of the more appealing aspects of Rubex is the variety of plan options, including the three packages outlined below, each with multiple features and different amounts of storage space.
Ignite: For a starting price of $699 per user per year for up to five users, you get 1TB of cloud storage space and secure file sharing, workflow automation, up to five custom and preset templates, up to three zonal OCR templates per user, email import, e-signature tools, audit logging, and profile tagging mobile access.
Growth: For a starting price of $1,799 per user per year for up to 50 users, this plan includes everything in the Ignite package and adds 5TB of cloud storage space, up to 15 zonal OCR templates per user, up to 50 custom templates, up to 100 design and fill templates, and up to 5,000 concurrent document requests.
Enterprise: For a starting price of $2,399 per user per year for more than 50 users, everything in the Growth plan is included here, along with 20TB of cloud storage capacity, unlimited custom folder templates, unlimited zonal OCR templates, unlimited document requests, and unlimited design and fill templates.
eFileCabinet was transparent about its pricing plans when we reached out via live chat, something we didn't see with most other document management systems we reviewed. According to our research, eFileCabinet provides multiple payment options and three different license types for Rubex.
Admin: A regular user with full-feature access at full price
Limited: A user with fewer permissions, available for roughly half the regular per-user rate
Guest: A free user account that provides access to specific features only.
Implementation and Onboarding
Rubex by eFileCabinet can efficiently be implemented into your existing systems, as it offers easy export capabilities. It can be accessed using a web browser or a desktop application available on Mac or PC.
To provide the optimal user experience, the software features an interface similar to an email inbox. Despite that, navigating the layout and window setup may take time to become proficient at. However, users can utilize the company's resources to familiarize themselves with the program and navigate customizable folder trees that store all their documents. And although learning the software requires some effort, those who aren't tech-savvy don't have to worry about learning to code. With a general knowledge of technology, employees can proficiently use the program, provided they have the proper training.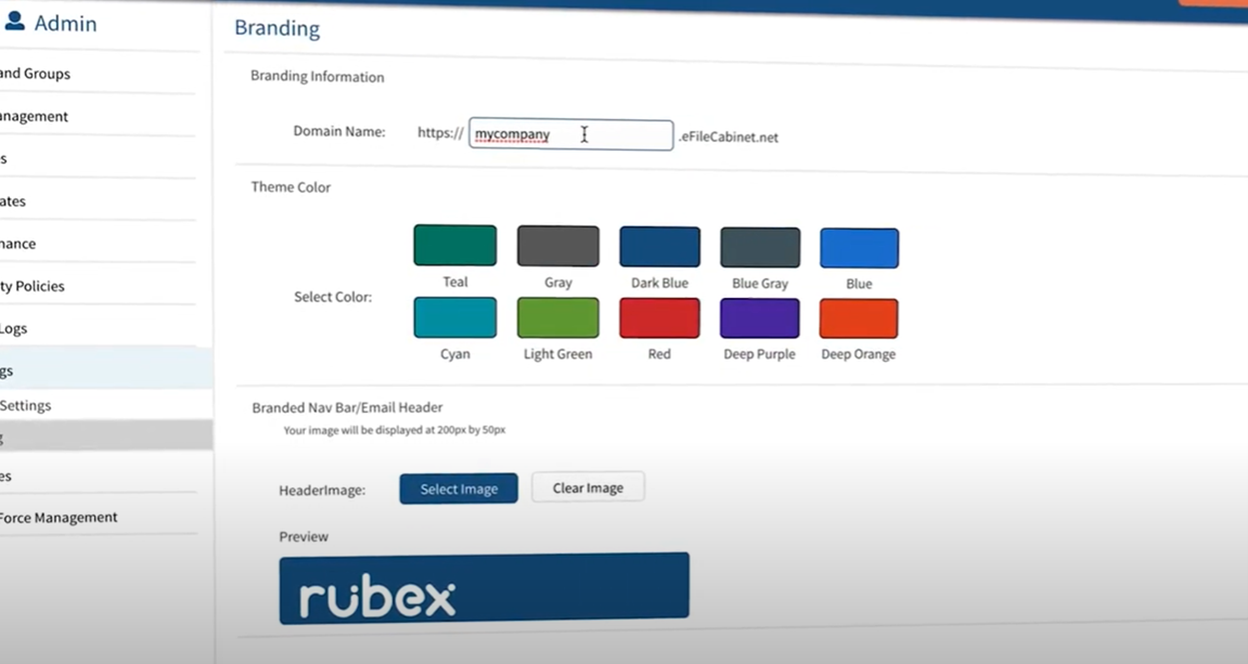 You can customize your Rubex interface during setup with a company-specific eFileCabinet domain, theme color and email header. Source: Rubex by eFileCabinet
Customer Service
eFileCabinet offers reliable customer service should any issues arise when using Rubex. The vendor provides 24/7 support through live chat, along with assistance via email and phone. When we contacted the support team through live chat, we were met with a speedy and helpful response.
Customers looking for more information on product usage can utilize eFileCabinet's "Support & Training" resource center on its website, which also houses a company blog, FAQ and case studies. You can also watch prerecorded video tutorials on the site and YouTube. We were particularly impressed by a unique offering: eFileCabinet hosts weekly "Open Office Hours" through Zoom, where you can ask questions of the vendor's customer success managers and support staff. This isn't something we saw other providers doing.
Limitations
Unlike many of its competitors, eFileCabinet doesn't offer a free trial. Without a trial period, businesses are unable to test how the Rubex software integrates with their daily drivers unless they commit to purchasing a plan. This can make it hard to determine how the product will fit into your business's daily workflows and whether the platform is right for you. Business owners may want to check out our review of FileHold instead; not only does this product have a 14-day free trial, but it's also scalable, so it could meet the needs of a company that requires significant storage space.
Another issue is that Rubex can require some time to learn. It offers a wide array of features and customizable options for a business to take advantage of, but the interface, while sleek and minimalist, has multiple windows and icons that users might need a bit of time to become familiar with. Some of the less intuitive tools may require additional training for employees to grasp, but they can have a great impact on daily workflows with adequate instruction. For a document management system with better usability, see our review of M-Files, which we found to be very easy to use.
Methodology
To identify the best document management software products, we closely examined a number of vendors and systems. As part of our assessment, we considered each option's features, pricing, ease of use, setup process, integrations, security and mobility. The specific functions we looked at included file routing and sharing, search tools, scanning, automation abilities, and collaboration tools. We participated in trials and demos whenever possible, watched tutorials, and reached out to the companies as if we were new business owners to judge their customer service. When selecting the best platform for businesses seeking extensive storage space, we prioritized storage capacity and plan options.
FAQ
What can you use Rubex by eFileCabinet for?
You can use Rubex by eFileCabinet to automate file storage, turn processes into workflows, use templates to create folder structures, design fillable forms, integrate email, import messages and attachments, and obtain signatures through knowledge-based authentication or one-time passcodes.
Is Rubex by eFileCabinet cloud-based software?
Yes, Rubex by eFileCabinet is cloud-based software. Using a cloud-based service for file storage and sharing allows you to confidentially track and manage documents from anywhere and speed up recordkeeping processes.
Can you easily migrate files in and out of Rubex?
Yes, you can easily migrate files in and out of Rubex. Regardless of file type, any data moved from your old system to the Rubex platform will maintain its format (e.g., PDFs will remain in PDF format once moved).
Bottom Line
We recommend Rubex by eFileCabinet for …
Companies requiring extensive document storage.
Businesses that want a document management system with customizable automation features.
Larger teams looking for a fast cloud-based data sharing solution.
We do not recommend Rubex by eFileCabinet for …
Teams that struggle to learn new technology.
Businesses that prefer to test software before purchasing it.

Rubex byeFileCabinet
The Verdict
Rubex by eFileCabinet has all the essential document management features for everyday business use. Its extensive storage capacity – available on higher-tier plans – makes it stand out among its competitors, as most offer a maximum of 5TB of storage.

Sean Peek
business.com Contributing Writer
Sean Peek has written more than 100 B2B-focused articles on various subjects including business technology, marketing and business finance. In addition to researching trends, reviewing products and writing articles that help small business owners, Sean runs a content marketing agency that creates high-quality editorial content for both B2B and B2C businesses.