Teramind is the best employee monitoring software for security threat protection because of its tools for proactively preventing data loss. You can also use this cloud-based or on-premises employee monitoring software to track employee behavior.
Pros
You can easily identify security threats with insider threat detection, abusive and/or malicious behavior analytics, anomaly detection, and dynamic risk scoring.
Teramind offers configurable video recording, audio recording and keystroke logging.
Teramind provides both on-premises and cloud-based plans, in addition to remote control access.
Cons
You can't monitor cell phones with Teramind.
It can't monitor Linux operating systems.
Only the software's silent agents support offline recording.
Teramind is the best employee monitoring software for security threat protection because, in addition to its powerful employee monitoring applications, it offers a data loss prevention (DLP) package designed to secure your company's network and data. Unlike some other monitoring solutions, Teramind has audit and forensics tools to investigate any security incidents. Although this provider is more expensive than many of its competitors, it's also more comprehensive. We like that the software is easy to use, and the company offers installation assistance for cloud, private cloud and on-premises deployments.
Teramind Editor's Rating:
9.3 / 10
Price/value

8.3/10

Features

9.7/10

Compatible operating systems

9.4/10

Ease of use

9.8/10

Customer support

9.3/10
Why We Chose Teramind for Security Threat Protection
Teramind has a wider variety of security features than other employee monitoring solutions on the market. On top of utilizing standard features such as website and application monitoring, content filtering and blocking, and user activity tracking, businesses can use the software to monitor printing, clipboards, social media, instant messages, online meetings and optical character recognition (OCR). We appreciate that select plans even include advanced security measures, like data and intellectual property protection, content- and file operation-based rules, and malicious or negligent data exfiltration prevention. Users can even leverage document and data fingerprinting to protect sensitive data.
Teramind also offers user behavior analytics on abusive or malicious behavior, anomaly detection and dynamic risk scoring. Whereas some competitors only provide screenshots, Teramind stores video recordings of user activity and offers keystroke logging.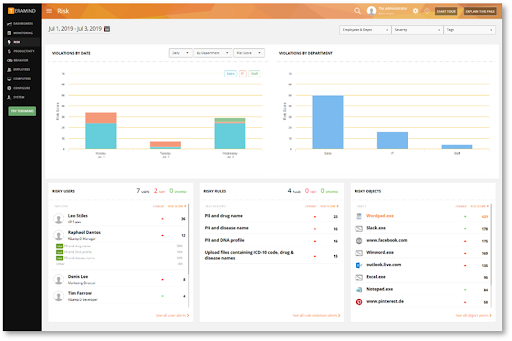 Ease of Use
Teramind has extensive features, but it isn't difficult to use. We were impressed by the online demo, which makes it easy to test the software for free. Business owners can click through a guided tour to see the available features and how to navigate them. When testing out the platform ourselves, we found that many of Teramind's features are customizable. You may need to spend a little extra time configuring them to fit your specific monitoring needs, but that isn't difficult to do. We also like that all of the on-premises plans come with installation assistance.
Features
Teramind has all of the features we looked for in employee monitoring software, plus some appealing extras that make it ideal for businesses that are concerned about security threats. The software monitors employee activity in real time and archives the data for later review. You can easily filter and search the data for specific users or alert types, and every action is timestamped and dated.
Here's more about what you can monitor using Teramind:
Security and Compliance
If you're seeking an employee monitoring system with advanced security features, you've found your match with Teramind. The platform includes many security-focused features that not all competitors offer. For example, every plan comes with insider threat detection, abusive or malicious behavior detection, and user activity video recording. The user activity monitoring (UAM) and DLP plans also include dynamic risk scoring, anomaly detection and OCR of screen content. We like that you can even create schedule- and activity-based rules to support business compliance, such as GDPR (audit trails), ISO 27001 (limited unauthorized login) and PCI DSS (prevention of unencrypted file transfers).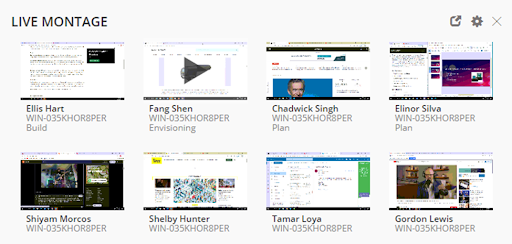 If you're looking for the most secure monitoring solution, you may want to consider Teramind's DLP plan, which includes advanced features for data loss prevention. With this option, you can protect all types of data and intellectual property, define content-based and file operation-based rules, and prevent malicious or negligent data exfiltration. Additionally, Teramind DLP includes predefined data categories, data fingerprinting and clipboard (copy and paste) detection.
If you're in the market for advanced data protection, you'll like that Teramind offers features beyond traditional employee monitoring.
Screen Recording and Keystroke Logging
Teramind can capture screen recordings of employee activity, or employers can use the software to view an employee's live screen in real time. You can toggle back and forth through their activity thread to see events as they occurred. Teramind also has keystroke logging capabilities to record everything a user types and where that activity occurred. The keystroke logging can detect regular characters, words, phrases, special commands, special keys, hidden symbols and more. Although keystroke logging is sometimes considered invasive, it can be an essential feature for businesses that need to prioritize company security. Not all providers in our employee monitoring research offer keystroke logging, which is another reason Teramind stands out.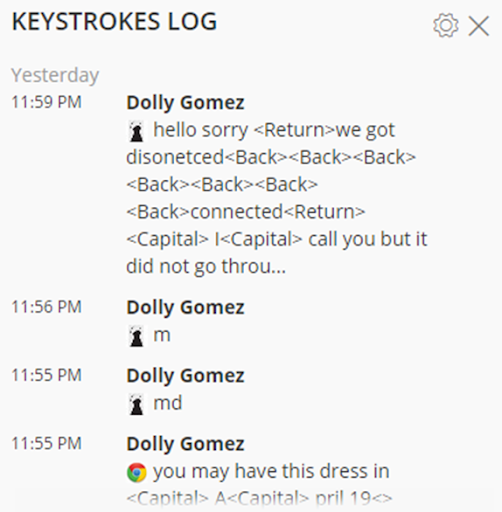 Content Filtering and Blocking
When testing Teramind, we noticed that you can set certain behavioral rules for the software to automatically flag or block prohibited websites, social media platforms and certain behaviors, such as transferring files to a USB drive. You can also use these rules to detect unusual or unauthorized network logins or file transfers.
Reports and Notifications
Teramind's in-depth reporting function gives you a clear understanding of your employees' work habits. If you set a risk level when establishing behavioral rules and policies, one report notifies you of how much risk your users are creating for your organization. This employee monitoring tool is especially useful for businesses in sensitive industries, like employers operating under HIPAA privacy constraints. Whereas some competitors offer limited types of reporting, Teramind lets you use advanced filters to get the data you need. Color-coded graphs can even report all violations during a specific time.
Website and Application Monitoring
The software tracks the applications and webpages a user accesses and records a video showing the user accessing them. When testing out the platform, we also found that you have the option for audio recording, which isn't a feature many rivals offer. Teramind monitors all incoming and outgoing emails, as well as live chats across social media channels, online meetings and instant messaging apps.
Depending on the plan you have, you may be able to see user searches, clipboards, printing jobs and portable devices. Admins can view each print job a user initiates and a scanned copy of the printed document. If an employee transfers any local or web files or moves work files to a removable device, such as a USB drive, you'll know about it. 

Time Tracking and User Activity
Teramind allows businesses to track employee hours and activity. The platform indicates who is logged on, what they are doing and how many hours they work each day. You can track employee attendance, breaks, sick hours, late shifts and absences, as well as capture and log all keyboard activity, monitor the time employees spend on each project and track hours. This is on a par with what competitors offer, though you may also want to consider some of the best time and attendance software as an alternative stand-alone option for these needs.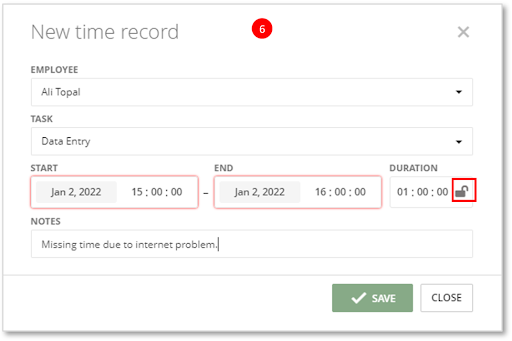 Pricing
Teramind has six employee monitoring plans (three cloud-based, three on-premises), each with its own set of desirable features. The company offers a seven-day free trial for the cloud-based plans and a 14-day free trial for the on-premises plans, which is a great way to try the software at no expense. Here's a look at the features and costs for each plan, based on annual billing.
Teramind Starter
This plan includes website monitoring, application tracking, social media activity monitoring, instant message monitoring, remote access and activity blocking. It also offers limited access to user behavior analytics, policy management tools, and audits and forensics.
Cloud: $10 per user per month, with a five-user minimum ($50)
On-premises: $10 per endpoint per month, with a five-endpoint minimum ($50)
Teramind UAM
The UAM plan builds on the Starter plan with additional features – like email and file transfer monitoring, keystroke logging, online meeting and printer monitoring, console commands and optical character recognition – to automatically analyze on-screen content. We like that it also adds dynamic risk scoring and anomaly detection, which can tip off admins to malicious or problematic activity.
Cloud: $20.83 per user per month, with a five-user minimum ($104.15)
On-premises: $20.83 per endpoint per month, with a five-endpoint minimum ($104.15)
Teramind DLP
This plan adds a suite of DLP tools that can help secure your network and the sensitive information stored on connected devices, which is why Teramind is our top pick for security threat protection. The Teramind DLP package is compliant with legal regulations, including HIPAA and GDPR.
Cloud: $25 per user per month, with a five-user minimum ($125)
On-premises: $25 per endpoint per month, with a five-endpoint minimum ($125)
Implementation and Onboarding
We like that Teramind is relatively straightforward to install and use, even with such comprehensive features. To start, your business's administrator must first download the Teramind agent on each computer they wish to monitor. Agents can be run in stealth or revealed mode, depending on whether you want employees to know they are being monitored. You can create monitoring profiles for employees, groups or departments.
Once the agents are installed, the software begins monitoring and sending data to the administrator's central dashboard. We appreciate that the dashboard is customizable and clearly displays data collected from monitored devices. When testing the platform, we found it simple to navigate; the sidebar on the left, for instance, displays categories of features – like monitoring, risk, productivity, behavior, employees and computers – for easy access.
Customer Support
Teramind plans come with 24/7 tech support via phone, email and live chat. Installation assistance and software updates are also included in the subscription price. If you prefer to troubleshoot issues yourself, you can find FAQs, a knowledgebase and other resources on the Teramind website. Teramind is not accredited with the Better Business Bureau, but it does have an A rating with the agency. 
Limitations
Teramind is impressive employee monitoring software, but it does have a significant limitation: The platform doesn't allow you to monitor employees' cell phones; it is designed solely for desktops and servers. However, Teramind does allow admins to use mobile devices to monitor any computer that has the monitoring software installed. If you need to track employees' cell phones, check out our review of InterGuard for a suitable program.
Although Teramind is extremely thorough in its features, those assets come with a higher price tag. The vendor's advanced plans are a little pricier than competitors'. If you don't need those security features and budget is your most important consideration in your selection of monitoring software, check out our review of SentryPC, which is our pick for the best low-cost option.
Methodology
We researched and analyzed dozens of systems to identify the best employee monitoring software on the market. We looked at pricing, contracts, hardware, platform compatibility, tracking features, content filtering and blocking, reports, integrations, security and compliance, usability and customer support. We watched product videos and conducted demos when possible. When looking for the best employee monitoring technology for security threat protection specifically, we prioritized features such as application and solutions monitoring, keystroke logging, activity- and schedule-based rules, reports and notifications, content filtering and blocking, trigger settings, and security and compliance.
FAQs
Yes, Teramind can record the screens of your monitored devices. Because Teramind is highly customizable, you can set specific permissions to record screens and keystrokes only when the monitored device accesses certain applications or websites, or you can configure settings to record only during rule violations. You can also set the software to auto-suspend screen recording when the platform detects private content based on URLs or HTML contents.
Yes, silent agents can record offline, and silent and revealed agents will enforce policies offline. Teramind users have the option to control offline recording options. The offline recording buffer is set to 24 hours by default, but you can change this based on your specific recording needs.
Yes, Teramind can record input and output audio from the monitored device. You will simply need to go into the monitoring settings and enable (or disable) audio monitoring to dictate whether you want to use this monitoring feature.
Bottom Line
We recommend Teramind for …
Companies that need extensive security features.
Financial, healthcare or government organizations.
Businesses looking for highly configurable monitoring software.
We don't recommend Teramind for …
Companies that need cell phone monitoring.
Businesses that want to monitor devices running Linux.
Businesses that need low-cost monitoring software.