SentryPC Review and Pricing
For small businesses on a budget, SentryPC offers an intuitive, user-friendly employee monitoring solution without all of the expensive bells and whistles of other platforms. It is an affordable option that doesn't skimp on essential features, so business owners won't feel they're missing out on what they don't actually need. The software is cloud-based, making it easy to implement and maintain. It displays all employee activity in one central location, and its simple search functions allow you to find key data quickly. We also like that SentryPC includes tools to prevent data loss or theft. For these reasons, SentryPC is our pick for the best affordable employee monitoring software for small businesses.

SentryPC and Pricing
The Verdict
SentryPC is our choice for affordable employee monitoring software because it offers essential features – such as email monitoring, inactivity alerts and data breach prevention tools – for a low price.
SentryPC Editor's Score: 8.5/10
| | |
| --- | --- |
| Price/value | 8.6/10 |
| Features | 8/10 |
| Compatible operating systems | 8.8/10 |
| Ease of use | 9.2/10 |
| Customer support | 7.9/10 |
Why We Chose SentryPC for Affordability
We like that SentryPC offers multiple low-cost monitoring plans for businesses of every size. Because the packages are tiered based on licenses and screenshots, even the lowest-level plans have access to all of the platform's monitoring features. This is somewhat unique; most competitors restrict the features of their lower-cost plans and require you to spend more money to access advanced tools. Even though SentryPC is low-cost, it still has many of the employee monitoring features employers need. Another cost-effective perk is that SentryPC allows users to add more screenshots to their account without buying more licenses. 
Additional screenshot storage is a one-time cost that is valid for the duration of your SentryPC subscription.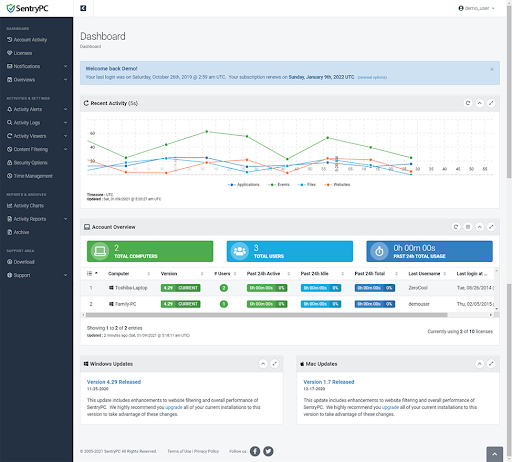 What We Like About SentryPC
SentryPC is a low-cost monitoring solution for small and large businesses.
The software can block or filter content based on each user.
Users can set maximum employee usage limits for each day or week.
The user interface is intuitive and easy to navigate.
What We Don't Like About SentryPC
The software is compatible only with Windows and Mac.
Some of the more advanced features work only on Windows (not Mac).
The customer support is limited.
Ease of Use
Like most employee monitoring software, SentryPC is cloud-based, so it can be accessed anytime from any place. When testing the software, we liked the intuitive user interface that is easy to navigate from various devices. It displays all employee activity in one central location, and its simple search tools prevent a flood of unstructured data. This functionality is ideal for on-the-go managers who need to view employee activity and behavior from various locations. SentryPC is subscription-based, so users get automatic software updates as they roll out, which is convenient.
Features
SentryPC has all of the features business owners need to monitor employee workflow and productivity.
Time Tracking and User Activity
Managers can use SentryPC to track employee hours. When testing the software, we liked that employers can select which hours employees are allowed to work each day and set employee usage limits for each day or week. These tools, which aren't offered by all vendors, help ensure employees don't work overtime. Tracking employee time is important for recordkeeping, but it can also play a key role in ensuring employees have a healthy work-life balance. Employees who work odd hours or excessive overtime can be susceptible to workplace burnout. [Here are 10 ways to prevent employee burnout.]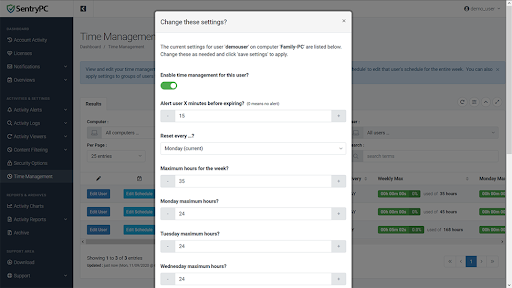 In addition, you can use the software to track employee activity. Administrators can see a breakdown of when employees are active and inactive on their devices, making it clear which staffers are engaged and productive during their work hours. [Want more tips for boosting employees' output? Read our small business productivity guide.]
Website and Application Monitoring
Business owners can use the platform to see which websites, applications and programs their employees are spending their time on. SentryPC records how long the apps and websites were open, the amount of time a user engaged with them, and the date and time they were accessed. You can see any text a user copies to the clipboard, along with a timestamp of when the action occurred. We think it's cool that SentryPC can track each device's IP address, and the company has a geofencing feature that lets you use the device's location services to track users. These capabilities can be helpful for monitoring remote employees.
Employers using Windows can access additional monitoring features, like timestamps for when a portable drive is inserted into a monitored device. Portable-drive detection is a critical feature for protecting sensitive or proprietary company information that shouldn't be shared. Windows users can also see time file activity logging and timestamps for when files are printed. You can view files – including downloads, uploads, newly created files, opened files and edited files – stored on monitored devices. These features are comparable with those of other employee monitoring services.
SentryPC allows you to track websites, applications, programs used, usage time and employees' locations when the actions were logged.
Screenshots and Keystroke Logging
SentryPC's employee monitoring solution records employee activity in real time with screenshots and keystroke logging. The software takes screenshots of user activity at random intervals during a defined work time. Each screenshot includes the date and time and is searchable by user or device. The platform tracks everything users do on their keyboards and identifies the date, time and location where they typed.
Not all competitors offer keystroke logging, but it can be useful for protecting your business and ensuring employee productivity. However, employers and managers should be careful not to accidentally view sensitive employee information, like bank accounts or medical records. To safely take advantage of these features, it is always good to talk with your employees about appropriate and inappropriate device usage. Learn more about privacy issues related to employee monitoring so you can keep your company protected without crossing boundaries.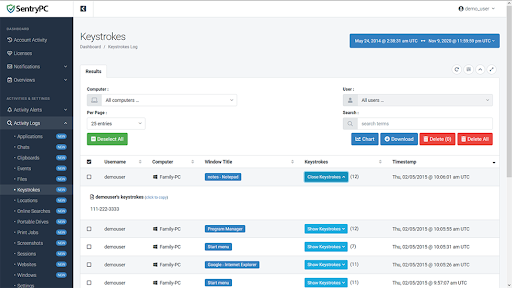 Content Filtering and Blocking
Admins can filter and block websites, applications and games, or determine when employees can use these programs. When testing out SentryPC, we liked that employers can block content altogether or choose specific hours when certain content is permitted or blocked for each user. For example, you may want to prohibit access to social media applications and video streaming services during the workday but allow access during lunch and after-hours.
You can also filter websites by broad categories and specific URLs and set up activity alerts by keywords or phrases. If a user attempts to access a blocked activity or violates policies outlined in the administrative settings (also known as an insider attack), the software flags the action, logs it and alerts admins by email. Alert logs can be downloaded, viewed and sorted by user, device, type, activity or timestamp.
SentryPC's security options vary between Windows and Mac, so make sure your desired features work on your operating system.
Reports and Notifications
We like that each activity log stored in your cloud account can be downloaded for offline use. SentryPC's offline capabilities give admins more flexibility in where and how they can use the data. You can view in-depth usage reports detailing what activities are occurring the most, as well as see visual charts and screenshots. SentryPC offers reports for various monitoring events, like user activities, alerts, application usage, clipboards, events, accessed files, keystrokes, geographic locations, online searches, portable drive usage, print jobs, screenshots, sessions and website usage. We especially love that the platform has a wide variety of reports, which give employers and managers a clear view of how the company and individual employees are performing and what changes can be made to improve performance.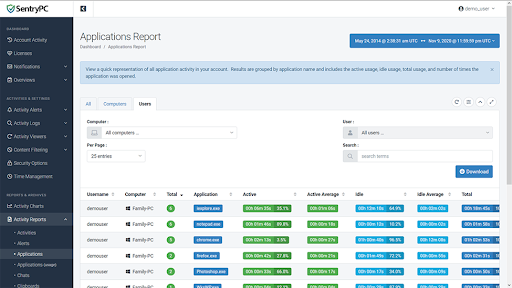 Pricing
SentryPC uses a per-device licensing system that is billed annually. Although this pricing structure is on a par with most competitors', some vendors offer monthly pricing as well. Each device you need to monitor requires a license for installing a SentryPC agent, and each license provides access to the full functionality of the software for that specific device.
We appreciate that each SentryPC plan comes with access to all of the software's features and tools. Some rivals, in contrast, offer plans with tiered features. With SentryPC, higher tiers just offer more licenses and screenshot storage, not different functions. Here's an overview of each plan.
| | | | | | | |
| --- | --- | --- | --- | --- | --- | --- |
| Plan | Basic | Business 50 | Business 100 | Business 250 | Business 500 | Business 1,000 |
| Price | $59.95 per year | $995 per year | $1,595 per year | $2,995 per year | $3,995 per year | $4,995 per year |
| Licenses included in base price | 1 | 50 | 100 | 250 | 500 | 1,000 |
| Price per additional license | $19.95 per year | $19.90 per year | $15.95 per year | $11.98 per year | $7.99 per year | $4.99 per year |
| Screenshots included | 500 | 500 | 1,000 | 1,000 | 2,000 | 2,000 |
If you need more screenshot storage, you can purchase screenshots in increments of 500 for a one-time fee of $19.95. The additional storage is valid for the duration of your subscription, making long-term subscriptions an even better value.
Although SentryPC doesn't offer a free trial, you can test-drive its comprehensive online demo account. This is a great way to try out the software risk-free. For a vendor that does provide free trials, see our Teramind review.
Implementation and Onboarding
SentryPC is designed to be a stealth monitoring solution, so it can be installed on user devices via multiple stealth installations without the user's knowledge. You can install it remotely through email, LAN/network or physical deployment. SentryPC has a comprehensive installation guide for users who need it. Once SentryPC is installed on the devices you want to monitor, you can use a cloud-based account to access tracking data and reporting.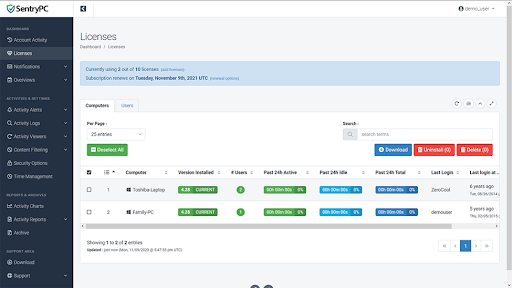 Customer Support
If you want to learn more about SentryPC and how to implement it, you can access the company's online resources. There is an integrated support section with documentation to help you install the program, troubleshoot any issues and learn about the finer points of the service. We found this especially helpful for new users or those with limited technology experience. The company also offers customer support for technical issues through a ticket system, but there is no phone line or live chat channel, which are helpful resources some competitors offer.
Limitations
One drawback of SentryPC is that it cannot track employee cellphone usage and other mobile devices; the software is designed for Macs and PCs. However, this is an issue only if you're looking for employee monitoring software specifically for mobile devices. Keep in mind that admins can still use mobile devices to check SentryPC logs and reports. If you do require mobile tracking, check out our review of InterGuard, which may be a better fit for your business's monitoring needs.
Another drawback is the limited customer support options. SentryPC does provide a digital support center full of online resources, but you will need to fill out a support ticket for one-on-one assistance. Many competitors offer phone and webchat support, which can be valuable if you need immediate assistance. If this is important to you, check out our ActivTrak review for an alternative employee monitoring option.
Methodology
To explore the top employee monitoring software, we investigated dozens of vendors. During each evaluation, we examined myriad factors, including monitoring tools, security features, usability, costs and customer service. We took advantage of any available demos and watched product videos. To find the best affordable solution in this category, we considered pricing, contract requirements, user minimums and flexibility.
FAQs
Does SentryPC run silently?
Yes, SentryPC is a cloud-based program that can run silently in the background of an employee's Windows or Mac device. This allows you to continually monitor employee behavior without interfering with your staffer's workday. However, even though SentryPC can run silently, it is always a good idea to be transparent and discuss employee monitoring with your team members.
What are the system requirements for SentryPC?
SentryPC can run on Windows and Mac devices. Specifically, it works on Windows 11, 10, 8, 7, Vista, XP, NT and 200x, as well as on Mac OS X 10.6+ and all macOS. Although SentryPC can't track mobile devices, you can use a mobile device to view SentryPC data.
Bottom Line
We recommend SentryPC for …
Companies looking for affordable employee monitoring software.
Businesses that need event timelines.
Organizations that want screenshots and keystroke logging.
Windows users.
We don't recommend SentryPC for …
Businesses that need to track mobile devices.
Companies that want phone and webchat support.

SentryPC and Pricing
The Verdict
SentryPC is our choice for affordable employee monitoring software because it offers essential features – such as email monitoring, inactivity alerts and data breach prevention tools – for a low price.
Skye Schooley is a human resources writer at business.com and Business News Daily, where she has researched and written more than 300 articles on HR-focused topics including human resources operations, management leadership, and HR technology. In addition to researching and analyzing products and services that help business owners run a smoother human resources department, such as HR software, PEOs, HROs, employee monitoring software and time and attendance systems, Skye investigates and writes on topics aimed at building better professional culture, like protecting employee privacy, managing human capital, improving communication, and fostering workplace diversity and culture.