BambooHR has a wide range of tools that help managers assess how employees are performing, which is why it is our choice for the best employee monitoring software for performance management.
Pros
You can automate HR processes with workflows and approvals.
The software includes an applicant tracking system.
The platform has an audit trail that tracks when each person makes a change to the system.
You can add on payroll, time tracking and performance management features.
Cons
The software doesn't have content filtering or blocking tools.
It doesn't have website or app tracking.
It can't take screenshots or log keystrokes.

BambooHR is our choice for the best employee monitoring software for businesses prioritizing employee performance management. It is important to note that BambooHR is not traditional employee monitoring software. Rather, it is a complete online HR information system (HRIS) for small and midsize businesses. This cloud-based platform seamlessly integrates payroll services, an applicant tracking system, onboarding tools, e-signatures, time-off tracking and performance management functions, along with reporting tools you can access via a mobile app or conventional desktop portals. Select packages come with employee satisfaction features like Employer Net Promoter Score (eNPS) and employee well-being surveys, and business owners can also add on a suite of extensive performance management features. >
BambooHR EMS Editor's Rating:
7.9 / 10
Price/value

7.9/10

Features

5/10

Compatible operating systems

9.3/10

Ease of use

8.8/10
Why We Chose BambooHR for Performance Management
Unlike other employee monitoring solutions we reviewed, BambooHR is a complete HRIS that allows companies to manage the many aspects of human resources, including recruiting, hiring, onboarding, performance reviews, employee self-service, time management and HR reporting. We especially like that businesses can also utilize BambooHR to monitor employee performance over the long term, which helps managers assess productivity and performance. Instead of user activity monitoring, BambooHR tracks employee performance through goal setting, peer feedback surveys, self- and manager assessments, and employee performance reports.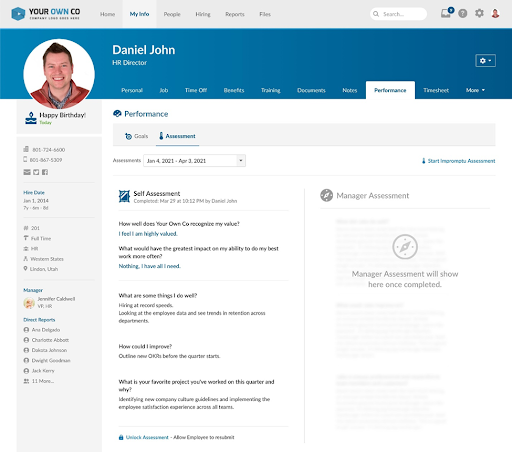 Surveys and assessments aren't commonly found in employee monitoring software, but they can be a great way to track and manage staff performance.
Ease of Use
BambooHR is regularly praised for its highly intuitive platform, and after experimenting with it ourselves, we understand why. We love the software's sleek and modern interface. And because the HRIS platform is designed with small and midsize businesses in mind, it offers easily customizable enhancements supported by solid, helpful customer service. We also like that BambooHR has a global reach, allowing for remote (or dispersed) employee teams, as well as multinational companies, to easily implement the software.
Features
Although BambooHR is different from the other employee monitoring solutions we reviewed, it has several features that make it ideal for those who want to track and manage employee performance.
Performance Management
One of the reasons we chose BambooHR as our employee monitoring pick for performance management is that it has an add-on feature geared toward managing employee performance specifically. For example, users can create and monitor their goals and collaborate with others to achieve them. The software has automated reminders to keep employees on track, and we also like that it includes tools for various levels of feedback, which isn't something we saw in many competitors. For example, employees can engage in peer feedback to identify strengths and weaknesses, and they can conduct self- and manager assessments for a more in-depth look at their performance.
Employee Satisfaction and Well-Being
One unique feature we noticed about BambooHR is a focus on culture enhancement. For example, the software includes employee satisfaction surveys (through eNPS) and employee well-being surveys. These allow workers to offer honest and candid responses about how they feel about the organization. Employers can use this data to improve company culture, which, in turn, can motivate employees to work harder and improve performance.
Time Tracking
Similar to other employee monitoring platforms we reviewed, BambooHR has the ability to monitor time worked. With the Time Tracking add-on, employees can use the software to clock in and out. It also stores other employee hours such as overtime and PTO. We like that BambooHR has permissions to customize each individual's access as well. The software has automatic overtime calculations, and it sends reminders to ensure employees review their timesheets for accuracy. With approval workflows, you can rest assured knowing managers will automatically receive employee timesheets for approval at the end of each pay period.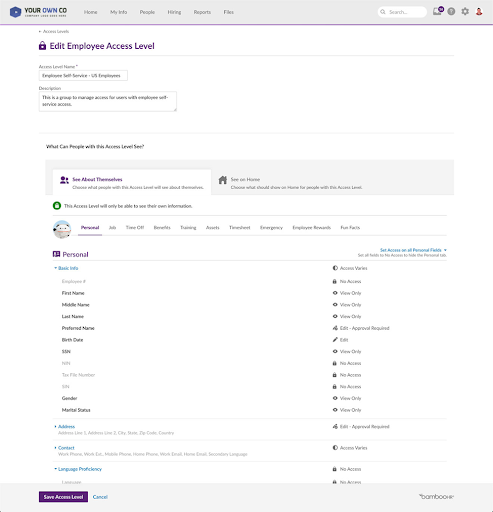 Reporting
We like that BambooHR offers a variety of reports that are easy to read. Users can access reports for workforce planning, employee turnover, PTO and more. With performance reports, employers can get a quick look at employee performance and engagement based on a few employees or the entire organization. The program also has company performance reports, which competitors we reviewed do not offer. This feature gives business owners insight into how their employees feel about the organization and why.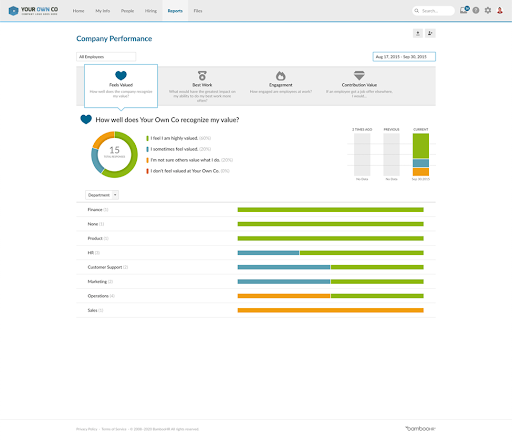 HR Administration
Since BambooHR is an HR software solution, we would be remiss if we didn't mention the HR administration functions. The platform has a wealth of features, like employee record and document storage, benefits tracking, workflows and approvals, an applicant tracking system, onboarding and offboarding functionalities, e-signatures, training tracking, and audit trails. These assets separate BambooHR from other employee monitoring solutions. [BambooHR is also one of our selections for the best human resources software.]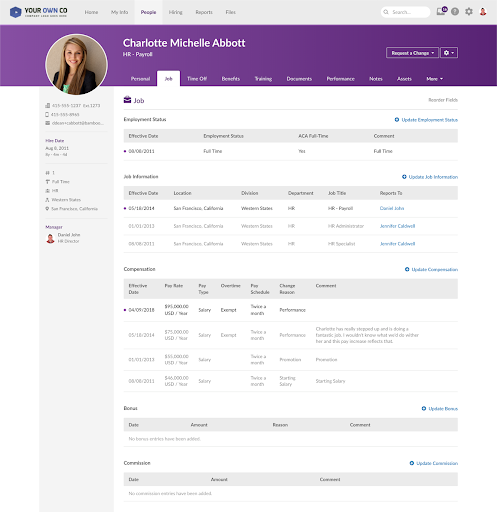 Pricing
The information below reflects the current pricing for BambooHR's two primary levels of service: Essentials and Advantage. However, custom packages are also available; contact the company for specific costs. The vendor also offers a seven-day free trial, which is on par with the industry standard.
Essentials

($4.95 per employee per month)

Advantage

($8.25 per employee per month)

BambooHR offers variable per-employee pricing discounts for growing businesses. Add-ons such as performance management and time tracking are available with calibrated pricing.
This plan has all of the features in the Essentials plan, with additional per-employee pricing discounts when your company's employee headcount increases. Add-ons include performance management, time tracking and payroll.
100% web-based and mobile accessible
Standard features from the Essentials plan
Standard HR reporting
Employee satisfaction surveys with eNPS and employee well-being
Time-off management
Applicant tracking system
Benefits tracking
Tailored workflows and approvals
Employee directory and organization chart
Audit trails
Employee self-service
Employee onboarding and offboarding
Standard email alerts
Custom reporting
Standard workflows and approvals
Training tracking and alerts
Records retention and document storage
Electronic signatures
Permission and access levels
Customizable permissions, emails and access levels
Company calendaring
Company branding
While BambooHR offers two pricing tiers, take advantage of the free trial to ensure the platform meets your needs.
Implementation and Onboarding
Since BambooHR is considered HR software, unlike the other employee monitoring solutions we reviewed, the implementation process is a little different. Regardless, we appreciate that it is fairly straightforward to implement, as most small and midsize businesses can't afford to have their HR operations offline for weeks at a time. The setup process is divided into three steps.
Importing and migration: This includes importing or migrating all employee data from your old system to BambooHR.
Customization: As BambooHR is fully customizable, this stage is when you can program it with your desired notifications, features for self-service, etc.
Launch and employee training: This phase includes training and additional customization as your entire team gets comfortable with the platform.
Customer Support
We appreciate that BambooHR has a dedicated and accessible customer support team at the ready. The company also has onsite pros, dubbed "BambooHR support heroes," who can partner with you as needed. We like that their phone support is solid, but it's worth noting that their service hours are only between 6 a.m. and 6 p.m. MT, whereas some rivals we reviewed offer 24/7 support. Another option is to visit the company's online help center to reach the support teams. The BambooHR website also has FAQs, a customer knowledge base platform, email support and chat services.
Limitations
Since BambooHR is not traditional employee monitoring software, it doesn't contain many of the standard monitoring features, like application and website monitoring, content filtering and blocking, activity tracking, screenshots, and keystroke logging. If your business needs those tools, check out our Teramind review and our InterGuard review for more suitable options.
Some users have said that BambooHR's mobile app is somewhat limited and could use improvements in its layout and ease of use to better match the desktop version. The app offers an exhaustive suite of features covering many different needs within the HR tracking platform, which could lead to some confusion or frustration.
Methodology
We examined highly rated employee monitoring software to identify the best solutions on the market. As part of our investigation, we researched and analyzed dozens of platforms with a focus on pricing, usability, customer support, monitoring tools and security. To find the top option for businesses interested in performance management, our search emphasized features like time tracking, goal tracking, peer and management feedback, self- and manager assessments, and performance reporting.
FAQs
BambooHR is HR software intended to track employee information from the time a person is hired to the time they leave the company. It can help automate the recruitment, hiring and onboarding processes through the use of automated workflows. It has intuitive tracking features to help you gauge employee satisfaction with eNPS and employee well-being surveys, among other tools. With the performance management add-on, employers can also accurately monitor employee goals and performance.
Yes. BambooHR can integrate with third-party payroll processors, or business owners can add on the vendor's in-house payroll service. It includes features like full-service tax filing, comprehensive reporting, data security and end-of-year forms. Check out our recommendations for the best online payroll services if you are interested in a stand-alone solution.
Bottom Line
We recommend BambooHR for …
Businesses that want to manage employee performance and HR functions from one platform.
Companies that prioritize an intuitive user interface.
Organizations that need to automate and track their onboarding and offboarding processes.
We don't recommend BambooHR for …
Businesses that need activity tracking or keystroke logging.
Companies that want advanced security features like content filtering or blocking.