Veriato 360 Review
By Adam C. Uzialko
Last Modified: November 26, 2018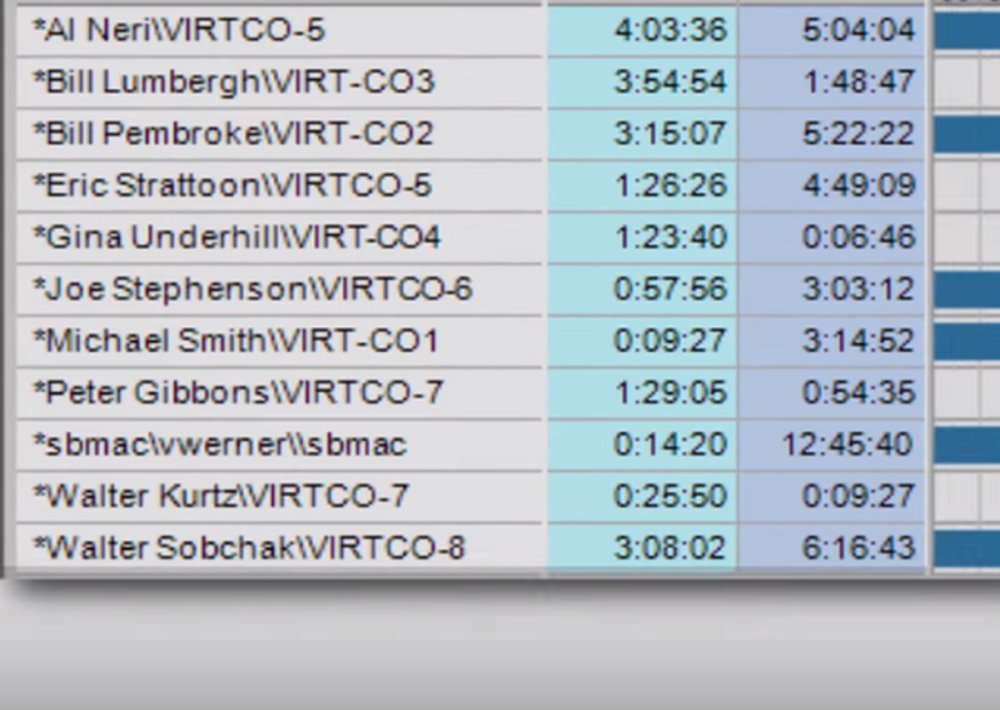 You can monitor the time employees spend on sites.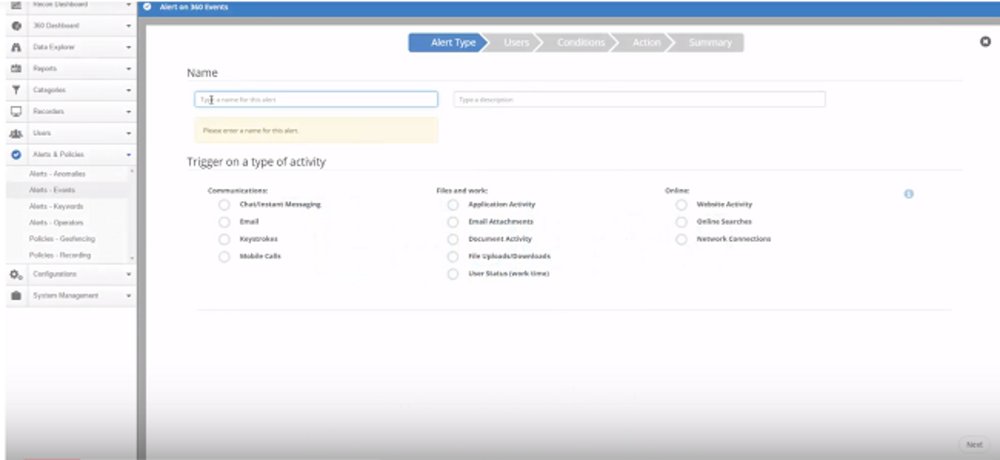 The dashboard is straightforward and simple. There shouldn't be much of a learning curve if you implement the software into your business.

Investigating specific phrases in emails is simple using this software.
You can select the features you want to enable with this program.
Employee monitoring software solutions can be potentially far reaching, including tracking much more than employee web activity and software usage. Often, a wide range of features can come at the sacrifice of usability, with cluttered user interfaces and software that is difficult to learn and navigate. In Veriato 360's case, however, the software deftly balances usability and comprehensiveness, offering extensive monitoring features in a neatly organized package. However, it does not post its pricing, making it difficult for small businesses to evaluate whether this employee monitoring solution will fit into their budget.
See all our reviews and recommendations for employee monitoring software on our best picks page.

Veriato 360
The Best Employee Monitoring Software for 2019
The Verdict
Veriato 360 is a comprehensive employee monitoring software solution with a wide variety of features. Despite its many features and tools, Veriato 360 does a good job of neatly laying out its user interface, making it relatively intuitive to navigate.
Compare Quotes ▶
Pricing
Veriato 360 is the only employee monitoring software vendor in our review that did not publicly publish pricing. Instead, you'll need to contact the company to request an estimate. Veriato 360 is relatively customizable, which is why it requires a quote; still, though, other customizable employee monitoring vendors were able to offer subscription prices. We submitted a request for a price quote for a hypothetical small business, and at the time our review was published still had not heard back from the company.
Features
Veriato 360 is one of the most comprehensive employee monitoring software solutions we reviewed, including the core tools we looked for as well as some advanced features that give admins even greater insight into employee behavior and device usage.
Web activity: Veriato 360's web activity monitoring tool keeps tabs on how employees use the internet across all browsers, including search queries and the websites they access. It also shows how employees engage with those websites, including how much active time they spent on each page.
Emails: Email monitoring tools are also an essential for any employee monitoring program. Veriato 360 monitors email in clients like Microsoft Outlook as well as leading webmail services like Google. Employee email conversations are tracked, including the date and time of the conversations, the platform in which emails occurred, all participants and content. Emails are searchable so that admins can look for keywords or red flags in a few steps.
Applications: Much like its web activity monitoring features, Veriato 360 stores information about which software employees use the most. If an employee is playing video games on the job, for example, it will be obvious to admins.
File transfers: Any files that a user uploads or downloads are tracked and recorded, available for later viewing by admins. This is useful for both cybersecurity purposes as well as protecting sensitive company documents from theft. File-transfer monitoring also tracks whether removable devices, such as USB flash drives, were used to save company files onto private devices.
Documents: Admins can also view any documents that are created, edited or opened by the user. This tool allows admins to identify when employees might be working on something unrelated to work.
Live chats: Veriato 360 enables the monitoring of live chats across popular messenger platforms, including clients like Slack and social media platforms like Facebook. Much like email monitoring, this tool identifies the user and device in question, the participants in the conversation, the date and time it occurred, and the content of the conversation.
Keystrokes: Each keystroke by a user in every application or browser is tracked and logged by Veriato 360, giving admins a full, real-time view into what users are typing key by key.
Alerts: Admins can pre-set parameters for each activity monitoring tool, so they are alerted when risky behavior or violations of company policy occur. Notifications are sent in real time and identify when and where the violation happened, enabling admins to respond quickly.
Screenshots: Veriato 360 takes screenshots and stores them as visual evidence of users' activities.
Video archives: Admins can access full video archives that provide the context of a specific event. If your unsure whether a user's action truly constitutes a violation of company policy, Veriato 360 allows you to check the recordings for further evidence.
Active time: Admins can use the active time tool to track how often an employee is inactive. If an employee is not active on their computer, their inactivity time will reflect it, which is logged for later review by admins.
Search: Since Veriato 360 captures so much data, it's important that the employee monitoring application you choose makes searching the database easy. Admins can set specific conditions to bring up virtually any piece of data captured by Veriato 360 that they'd like, be it events by user or a specific action taken by any user on a particular date.
Reporting: Veriato 360 comes with more than 50 reports that are preloaded. The reports aren't the most aesthetically pleasing, but they break down the immense amount of captured data into color-coded visualizations, like graphs and charts.
Ease of use
Veriato 360's usability is its strong suit, especially given its many features. Other vendors we evaluated included every feature imaginable only to have a cluttered user interface that was difficult to navigate and required a lot of clicking around to complete tasks. Veriato 360 has reduced the cumbersome nature of a full-featured software application by employing drop-down menus in a neatly organized and easily navigable way.
On the left-hand side of the interface, Veriato 360 displays a series of drop-down menus, including the Veriato 360 dashboard, which is home to all the employee monitoring tools listed above. Other tabs include reporting and data analytics, which allow admins to review all the data captured by the software in a variety of ways.
Navigating the dashboard is relatively intuitive; selecting a specific tool brings up the related activity in the main window, which could be navigated accordingly. For example, the email monitoring tool displays the email conversations users have engaged in, which device they've used, which platforms the conversation occurred on, with whom they communicated and the content of those emails. Admins can search by user, date and other parameters to quickly sort through the data and find what they're looking for.
Limitations
Veriato 360's biggest limitation is the lack of transparency with its pricing. While all other vendors we evaluated posted their pricing publicly, Veriato 360 requires a quote, meaning you'll have to offer up specific details about your company prior to learning whether Veriato 360 can fit into your budget.
Depending on your budget and the features you want in an employee monitoring solution, Veriato 360 might not be suitable for your business. When we requested a quote, we did not hear back from the sales department, so we could not gauge ballpark pricing compared to other vendors.

Veriato 360
The Best Employee Monitoring Software for 2019
The Verdict
Veriato 360 is a comprehensive employee monitoring software solution with a wide variety of features. Despite its many features and tools, Veriato 360 does a good job of neatly laying out its user interface, making it relatively intuitive to navigate.
Compare Quotes ▶
Ready to choose your The Best Employee Monitoring Software for 2019? Here's a breakdown of our complete coverage:

Adam C. Uzialko
Adam C. Uzialko, a New Jersey native, graduated from Rutgers University in 2014 with a degree in Political Science and Journalism & Media Studies. In addition to his full-time position at Business News Daily and Business.com, Adam freelances for a variety of outlets. An indispensable ally of the feline race, Adam is owned by four lovely cats.