Veriato Cerebral is well-rounded employee monitoring application that offers many worthwhile tools and features. However, mastering it does require overcoming a bit of a learning curve.
Pros
Veriato uses AI, machine learning and algorithms to establish security settings.
It can support thousands of user endpoints.
It offers predictive risk scoring for users.
It can use psycholinguistic analyses to monitor and flag user emails.
You can set up users with role-based, feature-based and event-based access to the platform.
Cons
You can't use Veriato to monitor iOS devices.
Veriato doesn't record audio from the monitored device.
Veriato offers multiple employee monitoring plans that are ideal for large organizations and enterprises. It can support thousands of endpoints, and it charges per user, not per device. The software uses advanced technology and artificial intelligence (AI) to help employers track employee behavior and maintain company security. Some useful features include risk scoring, anomaly detection, application and website monitoring, psycholinguistics, and insider threat detection. It's because of all these features and more that Veriato is our choice as the best employee monitoring software for larger organizations.
Veriato Editor's Rating:
9.2 / 10
Price/value

8.4/10

Features

9.5/10

Compatible operating systems

9.2/10

Ease of use

9.7/10

Customer support

9/10
Why We Chose Veriato for Larger Organizations
Monitoring thousands of employees at once can be tough to do without the right software. Veriato has the necessary features to not only perform, but also simplify the process. We like that it can monitor a wide range of user activities, including websites, applications, network usage, documents, printer and USB usage, file transfers, keystrokes, instant messages, email, and psycholinguistics.
It can also detect anomalies and create user risk scores, which isn't something all competitors offer. Risk scoring and anomaly detection are ideal features for large organizations that need to quickly discover which of their thousands of employees pose the greatest risk to their organization. Veriato also offers screenshots, alerts and reports, which can all be helpful to protect an organization in the event of litigation.
The Cerebral platform has a tab dedicated specifically to managing endpoint agents. This gives you a quick glance at details like which employees are late to check in and which have no license.
Ease of Use
When we tested the software, we found the display and navigation to look slightly more technical than competitors. This is, in part, due to how advanced some of the settings can be. Since Veriato offers advanced technology and security settings, some users say it can be a bit difficult to learn. However, this isn't typically an issue for larger organizations that have experienced and knowledgeable teams.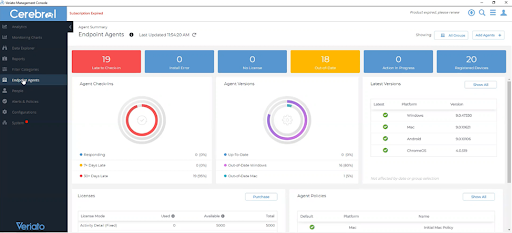 Features
Veriato is comprehensive, and it has virtually all of the features you need to monitor your employees. The features we cover here are for the Cerebral plan specifically, although the Vision and Investigator plans also include many of these features as well.
Settings and Configurations
Veriato has several settings that can be customized to meet the needs of each business, which is especially helpful for larger organizations that need to monitor several employees across various locations. For example, we like that you can limit the type of information each employee or type of user can access based on a variety of things. It offers role-based access, feature-based access and event-based access. The extent of access customizations wasn't something offered by all competitors we reviewed, but it can be useful for large organizations that need to set specific and unique access permissions.
When testing the software, we found that Veriato offers a variety of other setting configurations. For example, administrators can customize the software to track specific hours only, if needed. Establishing settings, like which types of activity need to be recorded, is as easy as toggling a button on or off.
Application and Website Monitoring
We're impressed with how comprehensive the Veriato Cerebral plan is when it comes to the types of user activity it can monitor. For example, it can track network usage, user status (when an employee logs on and off), productivity, engagement, applications, documents, printer and USB usage, outbound cloud activity, file transfers, keystrokes, chat and instant messaging, and online searches. When it comes to monitoring email, we liked that it can track not only the email body, but also the recipients (including CC and BCC recipients) and email attachments.
When using the software, we noticed one especially unique feature. The software can track user psycholinguistics. For example, the software logs user sentiment over time (e.g., if they generally have a positive or negative tone), and then it can track and flag any psycholinguistic deviations that occur within their emails. This is great for identifying potential threats or user problems as soon as they occur.
Veriato offers geofencing for Android devices. This is especially helpful for businesses with offsite workers, like delivery drivers.
Security and Compliance
Maintaining company security and legal compliance are major necessities for any business, especially large organizations and enterprises, as each additional employee can be considered a potential threat. When we tested the Cerebral platform, we found that it had a number of valuable security features, such as insider threat detection, user and entity behavior analytics, artificial intelligence, and a whole suite of alerts.
One tool we want to call attention to is risk scoring. The software tracks user activity and then compiles a risk score for each user. Scores are categorized as high risk (red), possible risk (yellow) and low risk (blue). Users are ranked based on their scores so you can easily see who is the highest risk to your organization. It also highlights whether a user potentially engaged in an accidental leak, espionage, financial fraud, opportunistic data theft or sabotage. When we tested the scoring tool, we found it easy to navigate and understand. You can dive deeper into a specific user's risk behavior by clicking into their risk profile. You will be able to access their top indicators of risk as well as their seven- and 30-day risk histories.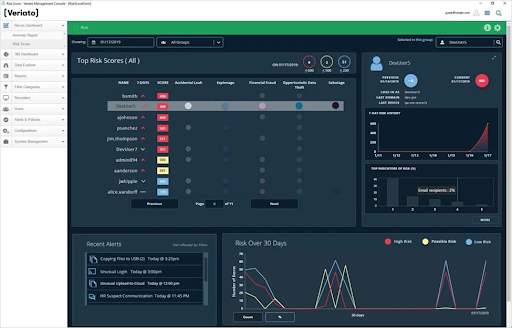 Alerts and Reporting
Veriato offers a variety of alerts and reports to help you track employee behavior. In addition to the risk scoring mentioned above, you can also set up keyword, policy violation, event, compliance and anomaly alerts. When we tested the software, we found that it was easy to configure anomaly tolerance by simply toggling your alert threshold within the system. This will impact the number of alerts you receive. You can also run anomaly reports on users to receive detailed information on when they deviate from their normal behavior patterns. It will flag and record each deviation. Cerebral users can also run a number of other reports. Screenshots are also available for review as needed.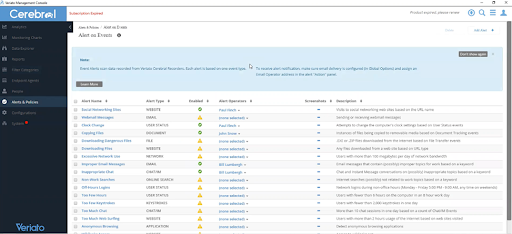 Pricing
Veriato offers three different monitoring service plan options: Cerebral, Vision and Investigator. The Cerebral plan, the focus of this review, is the most comprehensive option. Pricing starts at $120 per user per year, with annual contracts.
It's important to note that this pricing is per user, not per device. So, if an employee has a laptop, desktop, tablet and Android phone, those would all be combined to equal one user. This pricing model is especially valuable for large organizations that want to keep their costs low, since paying for each additional employee device would quickly add up.
Veriato offers a seven-day free trial, which is on par with the industry standard.
Veriato offers volume discounts, so the cost per user goes down as the number of users goes up.
Implementation and Onboarding
Veriato offers multiple monitoring software options to choose from. Users can also opt for RansomSafe if they want another vital layer of ransomware defense to protect their organization.
Since Veriato's platforms are so advanced, there can be a slight learning curve when implementing Veriato; however, once you adapt to the platform, it offers a wealth of information.
Customer Support
Veriato customers can submit a support ticket online 24/7, and phone support is available between 7 a.m. and 7 p.m. ET. When we spoke with a company representative, we were advised that the best way to reach support is to first submit an online ticket and then give the company a call once you have your support ticket number. This helps to arm the support team with the information they need to best assist you. 
Limitations
Veriato can run on standard platforms like Windows, Mac, Chrome and Android. However, it can't be used to monitor iOS mobile phones. Keep in mind that not many competitors we reviewed offer iOS monitoring, but if it's something you need, you may want to check our review of InterGuard to see if that vendor can meet your monitoring needs.
Another potential drawback we found was that Veriato doesn't offer audio monitoring, meaning that it can't record sound from a user's device. This type of feature can be useful for organizations that need to monitor sales calls. If this is a feature you require, check out our review of Teramind, as it offers that option.
Methodology
We researched and analyzed dozens of systems to identify the best employee monitoring software on the market. We looked at pricing, contracts, hardware, platform compatibility, tracking features, content filtering and blocking, reports, integrations, security and compliance, usability, and customer support. We even watched product videos and conducted demos when possible. When looking for the best employee monitoring software for larger organizations specifically, we prioritized features like security, compliance, scalability, endpoint tracking, application and website monitoring, and reporting.
FAQs
Veriato is employee monitoring software that can track employee activity and productivity, increase company security, and protect against insider threats. It can track network usage, user status, document usage, printer and USB usage, email, chat, websites, applications, keystrokes, psycholinguistics, and file transfers. It can also create risk scores and anomaly reports based on user behavior patterns.
Yes, Veriato can run silently in the background of the user's device, or it can be visible to the user. This will depend on how the administrator chooses to deploy and set up the software. Even if you run monitoring software silently, it's always a good idea to have a transparent conversation with your employees about which activities you are tracking to gain their trust and address any privacy concernsf they may have.
Bottom Line
We recommend Veriato for …
Larger organizations and enterprises.
Highly regulated industries like finance, healthcare, technology and government.
Businesses looking for high-end security features.
Businesses that want AI-powered threat protection.
We don't recommend Veriato for …
Companies that need to track iOS mobile devices.
Companies that need audio and video recording.