InterGuard Review and Pricing
InterGuard is our pick for the best employee monitoring software for businesses with remote and distributed teams. The comprehensive system helps employers keep tabs on their remote workforce with features such as employee activity logging, keystroke logging, continuous screenshots, email and chat logs, restrictions on web content and applications, and system breach prevention. InterGuard can also monitor and archive productivity data for later review and prevent unauthorized file transfers and downloads, protecting sensitive company data even when your employees are outside the office.

InterGuard and Pricing
The Verdict
InterGuard's cloud-hosted employee monitoring system is ideal for remote teams, as it can track all types of devices, including smartphones and tablets, and provide real-time insight into how employees based outside of the office are spending their time.
InterGuard Editor's Score: 9.2/10
| | |
| --- | --- |
| Price/value | 8.2/10 |
| Features | 9.6/10 |
| Compatible operating systems | 9.5/10 |
| Ease of use | 9.7/10 |
| Customer support | 9/10 |
Why We Chose InterGuard for Remote Workforces
We love that InterGuard gives businesses the ability to track employee productivity remotely, regardless of where staffers are located, making it the best employee monitoring software for companies with fully remote, distributed or hybrid workforces. Employers can designate websites and applications as productive or unproductive based on teams; view how active, idle or neutral an employee was in a day; and see employee calendars to get a more accurate picture of employee productivity. We also like that InterGuard has virtually every monitoring feature you need to ensure your remote employees are staying on task, as well as maintaining company and system security.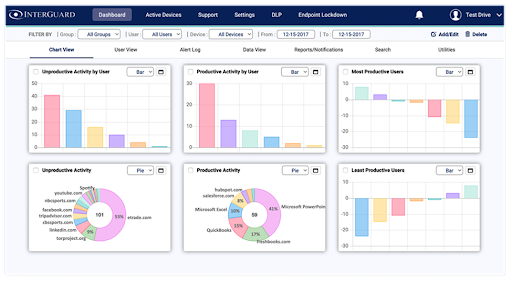 Another thing we really liked about InterGuard is that it comes with multiple preset reports and administrators can create custom reports too. These reports can be automated and distributed to all relevant parties, and the visualizations are useful for breaking down the large amount of data the platform captures
If you want to give remote employees the privacy to use their devices after work hours without being tracked, configure InterGuard to monitor user activity during specific hours only.
What We Like About InterGuard
InterGuard can run on virtually any platform, including mobile devices.
The six-view dashboard takes analyzing and using monitoring data to its fullest potential.
InterGuard can operate silently or visibly.
The software takes three types of monitoring screenshots.
The program includes tools for tracking remote employees' time and productivity.
What We Don't Like About InterGuard
InterGuard doesn't record audio on remote devices.
It doesn't conduct live video screen recording.
The software can search through emails but not email attachments.
Ease of Use
InterGuard can take a little getting used to because the software is so comprehensive. However, once you are trained on how to use the platform, there are many features that can simplify your monitoring experience. When testing the software, we liked that InterGuard employs a relatively modern user interface with a series of drop-down menus for simple, quick navigation. The dashboard features pie charts and bar graphs to make it easy to review metrics such as "unproductive activity by user" or "most productive users."
Additional dashboard assets include an alert log, a view of individual user activity, an overview of all the data captured by the software, access to reports and notifications, and a search tool. More advanced functions allow admins to drill down further into individual user activity by monitoring all active devices.
Features
The main reason we chose InterGuard as the best employee monitoring solution for remote teams is its rich set of features that are beneficial for businesses with work-from-home teams. It has everything you need to ensure your staff is productive and your company is protected, even if workers aren't based in a traditional office.
Employee Productivity Monitoring
Ensuring your employees are productive while working from home can be hard to do without monitoring software. We like that InterGuard helps you record and track your employees' productivity in various ways. For example, application monitoring keeps tabs on how users engage with programs on their device, including which programs they access and when, as well as for how long. When testing the platform, we noticed that InterGuard can also track web activity, email activity, instant messaging and web chats, and social media usage. The combination of these activities gives you a holistic view of what your remote employees are doing – or not doing.
One thing we found especially neat about InterGuard is its six-view dashboard. These different views are tailored toward their respective users; for example, the "User View" is ideal for tracking remote worker activity by compiling user active time, neutral time and idle time. We also like that you can categorize apps and websites as productive or unproductive for each team, giving you a truer sense of productivity. InterGuard can also integrate with employee calendars, which isn't something we saw among many competitors. This feature lets managers know when an employee was in meetings or video conferences, instead of otherwise assuming the employee was idle or unproductive during that time.
System Protection
Protecting your company data can be tough when employees work from various locations across the state, country or world. We like that InterGuard has multiple features to help keep your information safe, regardless of where your team is accessing information from. For example, there is file transfer and print monitoring so admins can see which files a user is uploading, downloading, sending, receiving and printing. This tool is essential for cybersecurity, including protecting proprietary data and documents. [Learn more about data loss prevention.]
Business owners can further keep their company safe by restricting employee access to high-risk programs, websites, USB storage and email attachments. InterGuard allows admins to create alerts that are triggered when a user takes a specific action, such as typing a keyword or accessing a certain website or website category. If an employee does engage in suspicious activities, alerts will notify admins based on keywords, policy violation attempts or anomalous behaviors, also known as insider attacks.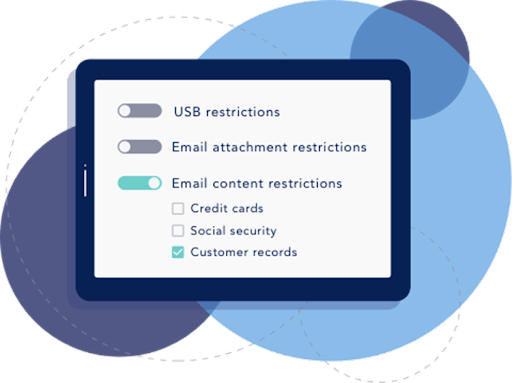 One unique feature we appreciate is the three different types of screenshots that admins can take: alert word screenshots, continuous screenshots (every five seconds or more) and smart camera screenshots (based on the websites or programs you select).
Certain InterGuard plans can provide geolocation capabilities (think of it like GPS tracking), allowing you to geolocate a remote device, retrieve and delete files, and monitor or control the device remotely. This is especially beneficial for lost or stolen devices.
Content Filtering and Blocking
One way to ensure company security and employee productivity is by blocking certain websites or applications. Admins can set InterGuard to block certain programs automatically, or they can remotely kill a program that isn't work-related or poses a risk to the business. We like that InterGuard also lets you create role-based policies to ensure each employee still has access to the sites they need to carry out their responsibilities. When testing the software, we loved that configuring some of InterGuard's features was as simple as toggling each one on or off.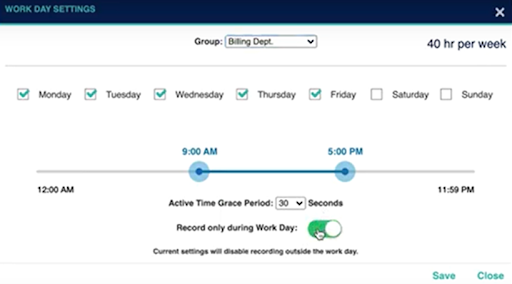 Investigations and Compliance Audits
InterGuard has features that can help you with investigations and compliance matters, with the ability to gather the proof you need to respond to complaints of discrimination, wrongful termination and sexual harassment quickly. With the various types of screenshots you can receive (especially the triggered screenshots), you can get a physical look at the activity the user was engaging in. We also appreciate that InterGuard can help with audits by collecting the raw data you need to comply with regulations associated with HIPAA, PCI DSS and CIPA, and then letting you create detailed, meaningful reports.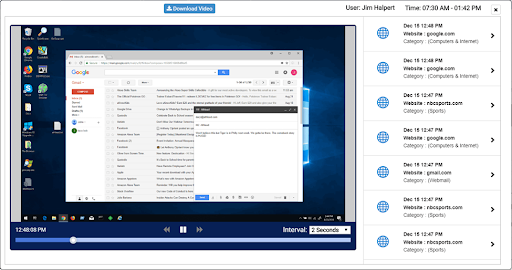 Pricing
InterGuard offers a one-week free trial similar to other employee monitoring vendors we reviewed. If you decide to continue using the software, you can choose from two categories of plans: Cloud-Hosted and On-Premises & Enterprise.
Cloud-Hosted Plans
This is the cloud-based version of InterGuard's employee monitoring software. License subscriptions are specific to which type of devices you want to monitor, so you may need to acquire a combination of licensing plans. Monthly subscriptions are available for Mac and PC devices, and annual subscriptions are available for all device types.
Plans are sold in packs of five, 10, 25 and 50 licenses. Adding more users decreases the monthly price per user.
Monthly PC plan: $25 per user per month, with a five-user minimum ($125 per month)
Monthly Mac plan: $25 per user per month, with a five-user minimum ($125 per month)
For annual pricing, the price per user decreases once you reach 11 users.
Annual PC plan: $156 per user per year, with a two-user minimum ($312 per year)
Annual Mac plan: $156 per user per year, with a two-user minimum ($312 per year)
Annual Chromebook plan: $60 per user per year, with a two-user minimum ($120 per year)
Once you select your monthly or annual plan, there are additional monitoring options you can add on to your cloud subscription.
Android or iOS license: $150 each
Geolocation for PC or Mac: $19 each
Web blocking for PC or Mac: $15 each
Enterprise package for PC: $15.60 each
Data loss prevention for PC: $133 each
Endpoint lockdown for PC or Mac: $60 each
Web filtering for PC: $29 each
We like that InterGuard gives businesses the ability to add these features to their package, but a subscription may get costly if you need to add many (or all) of them.
On-Premises & Enterprise Plans
This version of Interguard targets larger organizations looking for a complete employee monitoring solution. The software is loaded and maintained on your company servers and is managed by your in-house IT professionals. Note that these plans require an SQL server and integrate with your organization's active directory. Tech support is available 24/7 with this option. Contact InterGuard for a custom quote based on your business's specific needs.
InterGuard offers device-specific licenses to monitor PCs, Macs, Chromebooks, and iOS and Android devices.
Implementation and Onboarding
When testing out InterGuard, we noticed it has a slightly steeper learning curve than some other employee monitoring solutions. Since it offers so many functions, learning all of the ins and outs can take some time. Be prepared for an adjustment period while getting started. Fortunately, InterGuard provides online resources and 24/7 customer support to help you learn the software if needed. Once you become accustomed to navigating the platform, you will have a great deal of data at your fingertips as well as comprehensive tools.
Customer Support
InterGuard has 24/7 customer support. Users can contact customer service by phone and live chat, which is on par with the industry standard. Since InterGuard can be tricky to learn at first, we found it beneficial that the vendor provides a great team to assist you. In addition to the personal support, you can watch videos on the software and read through blog posts on how to get the most out of the platform.
Limitations
One potential limitation to note is that InterGuard doesn't have audio recording. This feature, while not always necessary, can be useful if you need to record what an employee is saying or listening to remotely. For example, you may want to record a sales representative's calls for quality assurance purposes. If audio recording is an essential feature you need, check out our review of Teramind for a suitable solution.
Another possible setback, depending on your needs, is that InterGuard can't record continuous video. However, the program can take screenshots every five seconds and then present those images as a video. This is typically enough tracking to give employers a sense of what activity their employees are engaging in. If you need continuous video recording for business or security purposes, you may want to consider Controlio instead; it's our top pick for employee monitoring platforms with video monitoring.
Methodology
To determine the best employee monitoring solutions, we researched and analyzed dozens of systems on the market. We took into account tracking features, security tools, integrations, content blocking, reports, usability, customer support, hardware, pricing and contracts. We also looked at time and productivity tracking, platform compatibility, keystroke logging, and screenshots in particular to identify the top employee monitoring software for businesses with remote workers.
FAQs
What is InterGuard?
InterGuard is a top-rated employee monitoring software solution that helps employers keep track of their employees' productivity. Employee activity can be categorized as productive or unproductive, broken down into digestible reports and graphs, and then used to improve behavior and workflow. The system also helps companies maintain security with features like screenshots, keystroke logging, insider threat detection and alert logs. If performance management is particularly important to your business, check out our review of BambooHR, one of InterGuard's rivals in the employee monitoring space.
How does InterGuard work?
InterGuard lets business owners designate websites and applications as productive or unproductive, and then admins and managers can view visual breakdowns of employee activity based on which sites and apps employees access. InterGuard tracks every keystroke entered by a user across all browsers and applications so that admins can see an employee's every move. If keystroke logging isn't enough to illuminate a user's behavior, then the screenshot feature will be valuable for collecting visible evidence.
Bottom Line
We recommend InterGuard for …
Businesses with remote or distributed workforces.
Companies that want to track and improve employee productivity.
Organizations that need to conduct employee investigations or insider threat detection.
Law firms and the financial services, healthcare, government, education, and law enforcement industries.
We don't recommend InterGuard for …
Businesses that need audio recording.
Companies that need continuous live video recording.

InterGuard and Pricing
The Verdict
InterGuard's cloud-hosted employee monitoring system is ideal for remote teams, as it can track all types of devices, including smartphones and tablets, and provide real-time insight into how employees based outside of the office are spending their time.
Skye Schooley is a human resources writer at business.com and Business News Daily, where she has researched and written more than 300 articles on HR-focused topics including human resources operations, management leadership, and HR technology. In addition to researching and analyzing products and services that help business owners run a smoother human resources department, such as HR software, PEOs, HROs, employee monitoring software and time and attendance systems, Skye investigates and writes on topics aimed at building better professional culture, like protecting employee privacy, managing human capital, improving communication, and fostering workplace diversity and culture.