Despite the ubiquitousness of smartphones, mobile devices have struggled as a shopping platform. Small screens and navigation issues often make it challenging for online shoppers to browse, select items and check out seamlessly, as they can on desktop e-commerce sites. 
7 great mobile-friendly e-commerce websites
Here are seven examples of e-commerce websites that have optimized the mobile experience. We tested each on several smartphones and tablets to ensure they provide seamless mobile performance. If you have an e-commerce store or are about to start selling online, these are excellent models to emulate. 
1. Etsy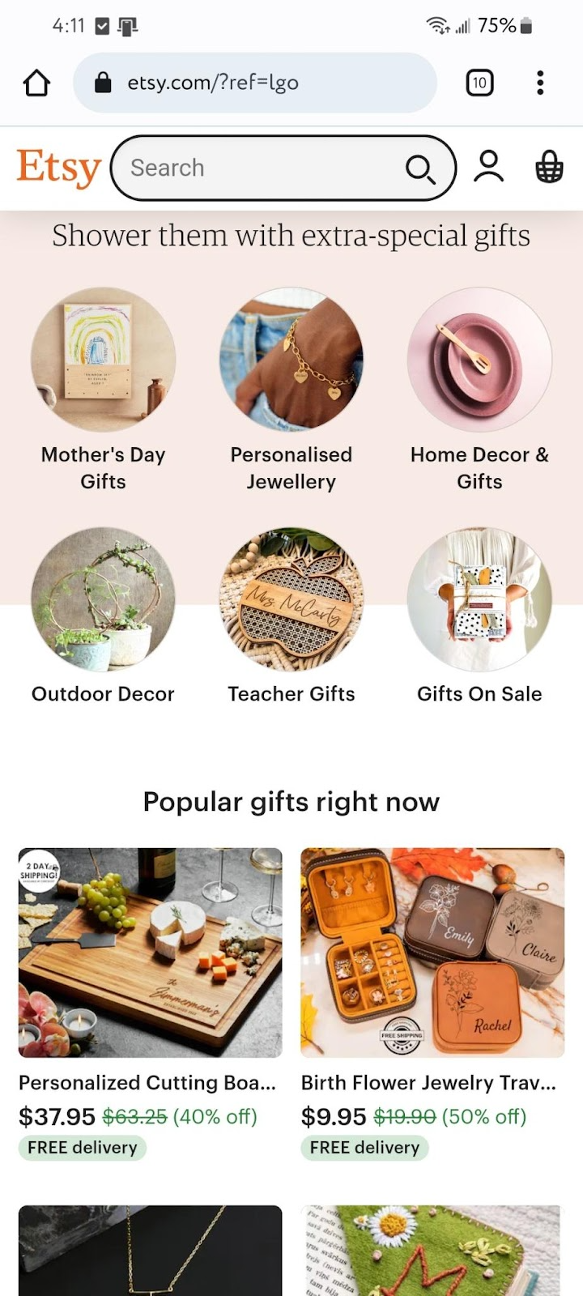 Etsy mobile homepage. Image Source: Etsy
Etsy is a popular e-commerce site comprised of third-party sellers who use the platform to sell their unique creations directly to the public. Etsy is perhaps best known as a mobile app, but both its mobile website and mobile app are very user-friendly and well executed.
The homepage features thumbnails that take you directly to the site's most popular categories. Listing all product categories would be challenging on a phone because of the restricted screen size. However, Etsy gets around this limitation well with its smart navigation menu. And as soon as you select the search bar at the top and start typing, you're immediately presented with product categories. For example, type in "H," and you get a complete list, from "home décor" to "hoodie."
Takeaway: Keep it simple. Shoppers prefer a straightforward design that makes it easy to quickly find what they want.
2. Express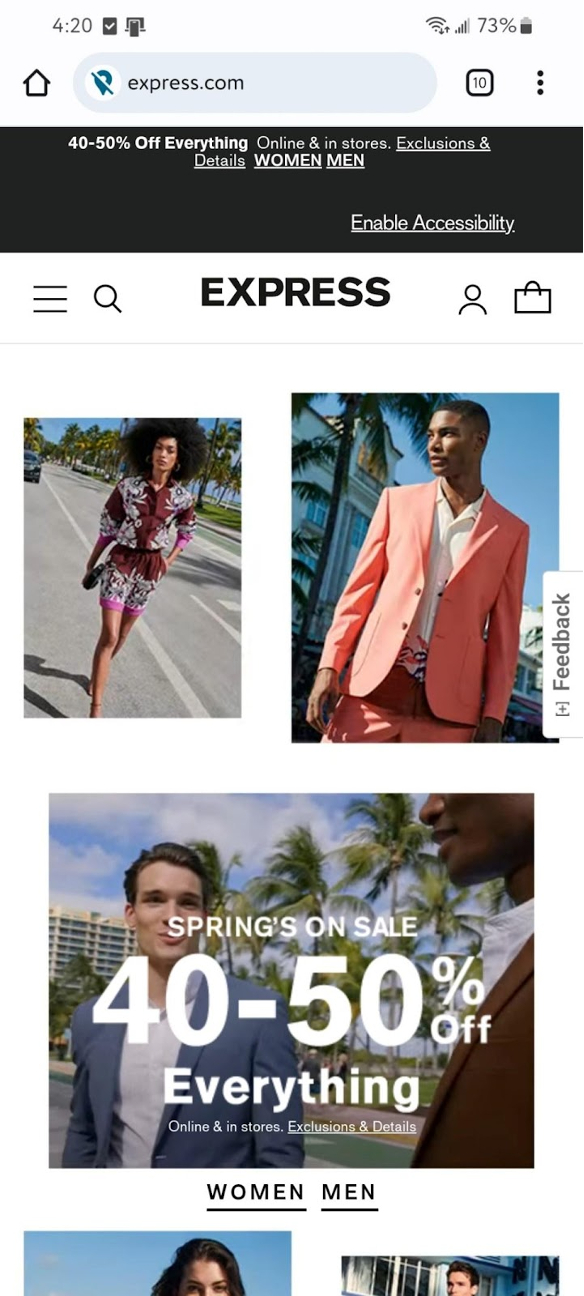 Express.com mobile homepage. Image source: Express.com
This clothing store caters to young men and women – an audience whose time Express clearly respects by making its mobile site very intuitive. The prominent hamburger menu gives you one- or two-click access to various departments. Additionally, the well-positioned search bar gives users instant links to trending search terms.
Imagery is very clear on the site, and the "Style It With" function is helpful, pointing visitors to other clothes and accessories that would complement the particular item they're viewing. Another nice touch is how users can swipe left on a product image to see a different view of each piece, even if the thumbnails are off-screen.
Takeaway: Shoppers want instant gratification. Everything on the Express website can be done in one or two clicks. The recommendation engine is a natural way to promote upsells and cross-sells. Letting shoppers see multiple item views without extra clicks dramatically enhances the user experience.
3. Nike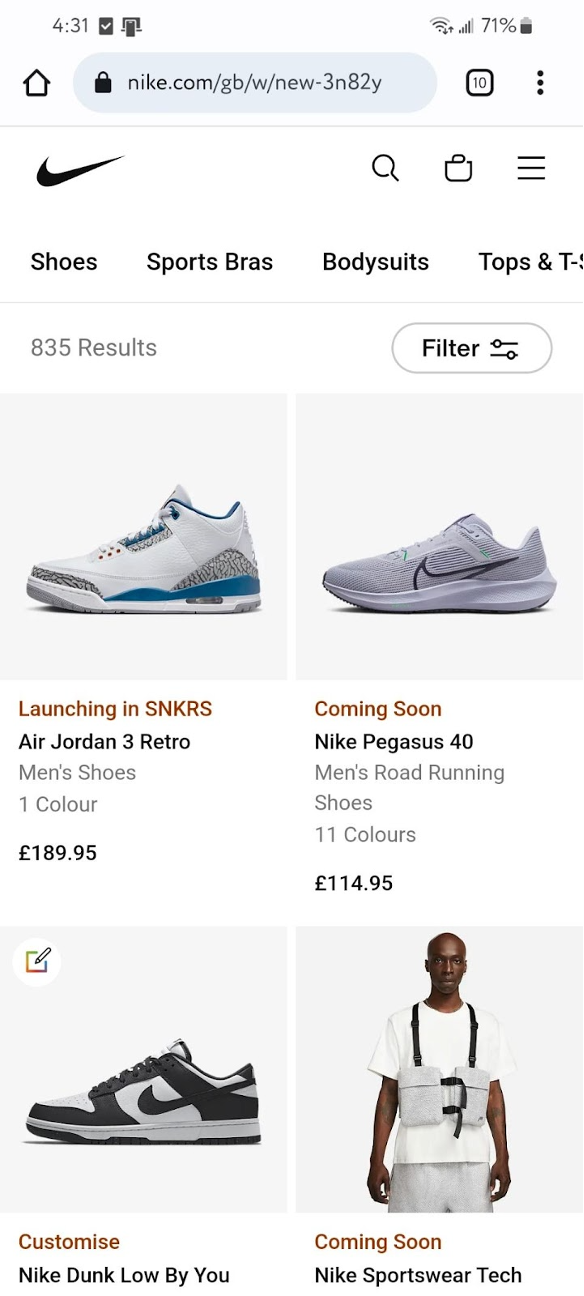 Nike's new and featured page on mobile. Image source: Nike.com
This well-known shoemaker and retailer relies on stunning product photos and concise copy to lure users. The site's minimalist design focuses on the products with detailed, clear and fast-loading images. 
There are three main icons at the top of the page: a search bar, a shopping cart and a drop-down menu to access categories. Once in the menu, you're two clicks away from getting to the department you want.
Takeaway: Busy shoppers appreciate it when the products they're interested in are accompanied by high-quality images and clear, descriptive copy. Without these elements, you risk losing visitors' attention. Your website competes against text messages, Facebook updates, and the lure of Snapchat, Pinterest, TikTok, Periscope and LinkedIn. You don't have much time to grab and keep a shopper's attention. 
Website design mistakes that hurt conversion rates include missing or unclear call-to-action buttons, bad stock images, and confusing site navigation.
4. Threadless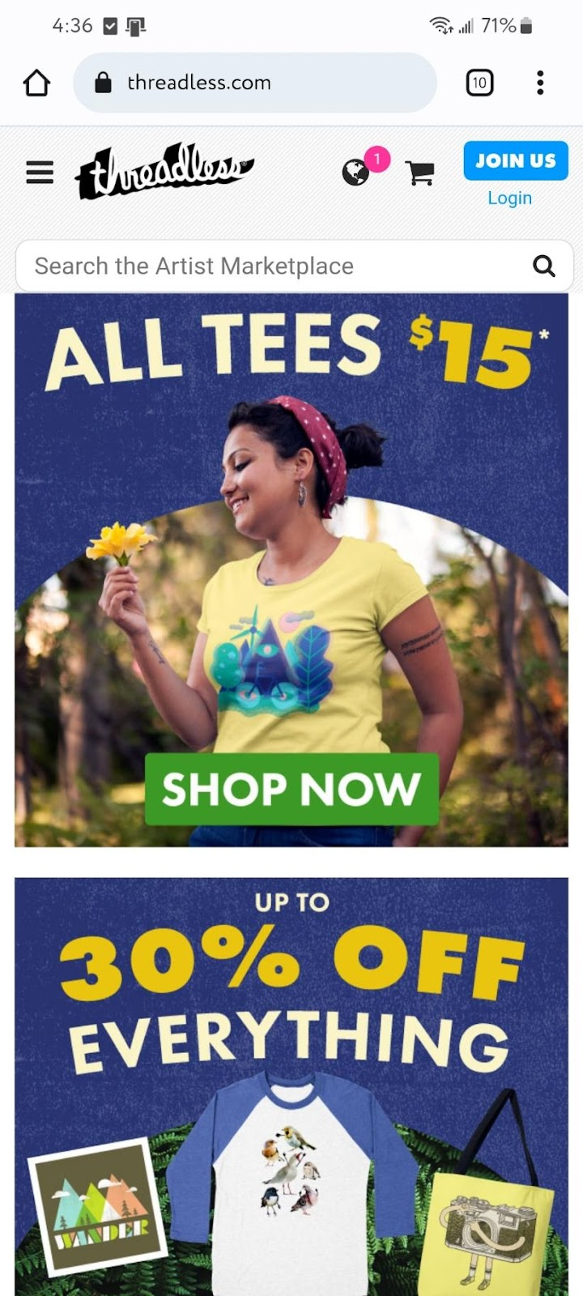 Threadless homepage . Image source: Threadless.com
Like many massive online platforms, how well you organize your products is key to making them easy for visitors to find. When you arrive on the Threadless homepage, you're presented with a helpful curated set of collections. If you want to dig deeper, you can find creators via the search bar and use the hamburger menu to access individual departments and their subcategories.
The product pages are attractive and functional. Most products have a selection of images, allowing deeper inspection by the visitor. You can also browse customer feedback about products you're considering purchasing.
Takeaway: Threadless is, in many ways, a textbook example of how e-commerce providers should use the limited space available on a smartphone screen. Getting around the site is fast, fluid and intuitive. Each page is attractive and well laid out, and the site makes it easy to do what you want.
5. Lush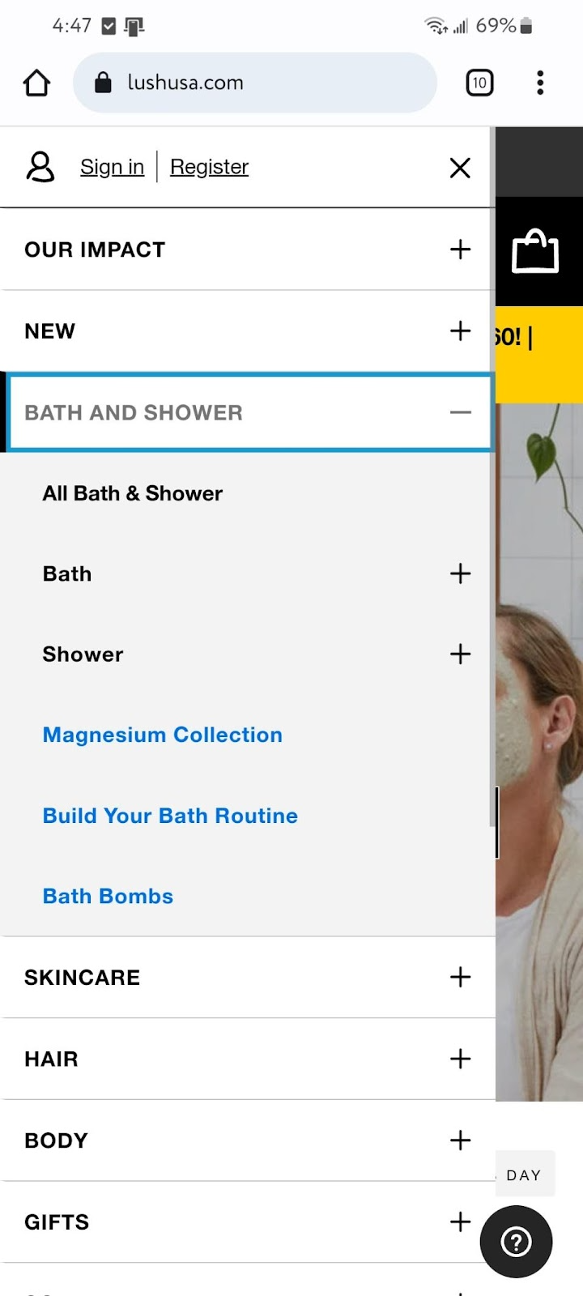 Navigation on the Lush smartphone website . Image source: Lush.com
This handmade soaps and cosmetics brand presents its products in a clean and appealing grid format with large product images. There's a prominent "add to cart" button under each item, eliminating the need to open a new page for that specific item. A single click adds your desired item to your shopping cart, allowing you to continue browsing where you left off.
This attractive, minimalist site sells the brand well, and the user experience is a clear priority. The two-click slide-in menu that appears when you press the hamburger item is pleasing, and the predictive search bar is especially helpful on smaller devices without real keyboards.
Takeaway: Predictive search is a feature more e-tailers should integrate into their websites. It helps speed up a user's search process, providing an even better user experience. From an e-tailer's perspective, searches offer another opportunity to promote products by including them prominently in the search results, as Lush does.
6. MyDeal Australia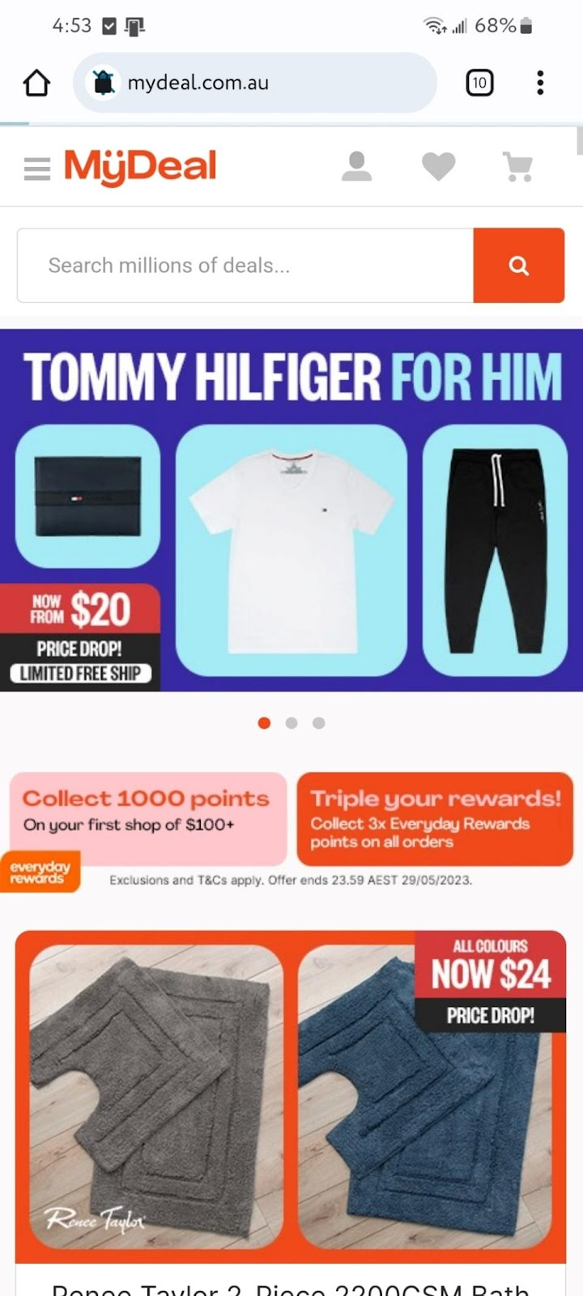 MyDeal smartphone homepage. Image source: MyDeal Australia
This global online retailer, based in Australia, sells everything from electronics to housewares – a kind of Antipodean Amazon. Navigation is executed just as well on MyDeal as it is on Amazon. One touch takes you to MyDeal's departments (for example, Electronics), two touches takes you to product groupings (TVs & Projectors), and three touches brings you to product types (DVD players).
The website's product images are high quality, and the fonts are large enough for easy viewing across all devices. The checkout process is simple and easy on all devices, and the shipping charges are immediately visible throughout the entire checkout process, not just on the final page.
Takeaway: MyDeal's desktop, mobile and app iterations look great and function well. Real care has been taken to provide the highest levels of functionality and ease of use across all three platforms. The app's larger font size is helpful for those who may be visually impaired and those who may need reading glasses. 
7. Amazon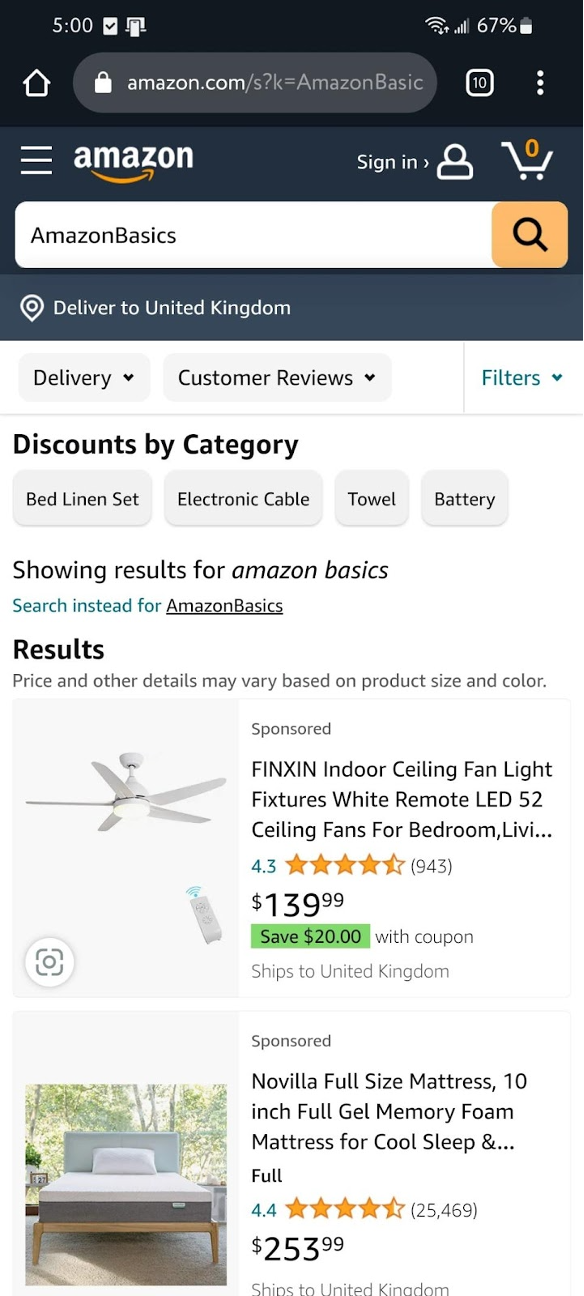 Amazon smartphone homepage. Image source: Amazon.com
Amazon's website looks identical to the app, so it's very familiar as soon as the page loads. It offers the same ability to search via department or automated suggestions when typing into the search bar. The site is quick, and it's easy to get where you want.
Since Amazon's early days, it has obsessively focused on delivering what customers want and not winning design awards. It shows on its mobile site.
Takeaway: If you have many products, make your website easy to navigate by allowing shoppers to search by department and category, as Amazon has done. Ensure the department links are prominent at the top of the page and are easy to find. Be consistent with your linking structure throughout the website so you don't confuse shoppers.