BusinessLoans.com is a marketplace lender whose platform matches you with options for funding based on your needs. Its algorithm relies on the lender's trove of data and makes it easy to apply for a loan. It's the best solution for a self-service process.
Pros
BusinessLoans.com's marketplace offers a wide range of loan sizes and terms. 
The online application takes just a few minutes to fill out. 
The lender's platform will match you with the ideal loan through its algorithm, though you'll still have the option for phone support. 
Cons
BusinessLoans.com's time to fund is somewhat longer than those of similar alternative lenders. 
The company's requirements for minimum sales and time in business may exclude some small businesses. 
BusinessLoans.com is an alternative lender that acts as a marketplace for funding. The company has a variety of loans available in its network, with loan amounts ranging from $5,001 to more than $3 million. The loan terms vary from three months to five years, and rates start at 9%, which is around the average for the lenders we've reviewed. If your loan is approved, you can expect to receive funding within a week, which is on the slower end. However, what sets BusinessLoans.com apart from its competitors is its self-service platform, through which business owners can easily find a suitable loan without assistance.
BusinessLoans.com Editor's Rating:
9 / 10
Collateral

9.2/10

Fast funding

7.9/10

Loan variety

9.5/10

Easy approval

9.2/10

Customer service

9/10
Loan Types and Rates
BusinessLoans.com's proprietary algorithm can match you with several financing products, each with its own rates, terms and loan sizes. These include term loans, lines of credit and merchant cash advances. 
Term Loans
BusinessLoans.com offers both short- and long-term loans for small businesses. Term loans are a popular financing option for business owners who want to grow their companies. Simple interest and payments that remain fixed over a specified time period make them a more affordable funding source than lines of credit. [Read related article: Is a Line of Credit or Term Loan Right for Your SMB?]
The term loans available through BusinessLoans.com can be as short as three months and typically max out at five years. However, loans of 20 years or more may be available in specific situations, such as real estate financing. Our research found that annualized rates with BusinessLoans.com start at 9%. Interest rates vary based on your credit score and other factors. To be eligible for a term loan, your business must have been in operation for at least six months and generate at least $100,000 in annual revenue. Providers on BusinessLoans.com generally seek a minimum credit score of 500. 
BusinessLoans.com's short-term loans are commonly used for working capital and inventory needs.
Merchant Cash Advance 
A merchant cash advance (MCA) isn't a loan in the conventional sense. Rather, it's a form of financing where a lender purchases a portion of your future sales in exchange for giving you an upfront cash payment. This cash advance can be used for business-related expenses, such as inventory purchases, equipment, marketing and advertising opportunities, or other short-term capital needs. BusinessLoans.com estimates that the payback is 20% to 40% of the amount borrowed. 
Factoring
Like a merchant cash advance, invoice factoring technically isn't a loan. Instead, the financier (or factor) purchases a portion of your accounts receivables. Your business receives a cash payment, and the factor attempts to collect on the unpaid invoices. You may be subject to fees of 2% to 4.5% of the total invoice amount if an invoice goes unpaid.
Working Capital Loan 
Working capital generally refers to the money that your business needs on hand for day-to-day expenses and short-term obligations. This type of loan can be used for a variety of purposes, such as covering a temporary cash shortfall for payroll, inventory, debt payments, rent and more. When thinking about a working capital loan versus a merchant cash advance, consider that the former is a conventional loan and that you retain full control of your business.  
Line of Credit
A business line of credit allows you to get money as needed and pay interest only on the amount borrowed. This type of loan provides a fixed amount of funding you can access whenever needed. This type of credit has shorter repayment periods than term loans and is usually not as flexible. BusinessLoans.com notes that many line of credit lenders in its network offer an annual maintenance fee of $150 after the first year. 
Businesses often use a line of credit as a backup source of financing in case of an emergency.
Equipment Financing 
Equipment loans can be used to finance assets necessary for your business. Almost any tangible asset can be financed, including machinery, computer hardware, computer software, appliances and office furniture. The equipment itself serves as collateral for the loan, with interest rates on BusinessLoans.com ranging from 8% to 25%. Many equipment loans also require a down payment of up to 20%.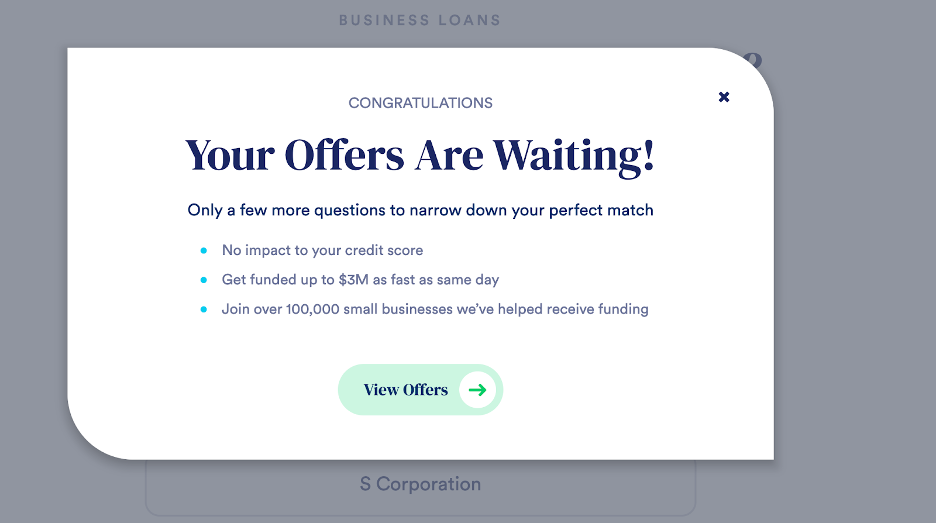 Once you complete the application, BusinessLoans.com provides you all of the available loan options that meet your needs. Source: BusinessLoans.com
Terms
Because it is an alternative lender, BusinessLoans.com's marketplace can provide flexibility and support for your business at different growth stages. We like that even with a starting rate that's competitive with those of other alternative lenders we evaluated, the total interest paid on a BusinessLoans.com loan may be lower in some cases. [Learn how to calculate loan payments.] 
Here are some additional factors to keep in mind when shopping for a loan with BusinessLoans.com's self-service platform.
Collateral
BusinessLoans.com provides both secured and unsecured loans. An unsecured loan means you don't need to put up collateral for the loan. In many instances, however, you're required to sign a personal guarantee, which means you're liable if your business doesn't pay back the loan.
Special Documentation
BusinessLoans.com doesn't require much documentation to get started on a loan application. Initial questions include basic inquiries about your annual revenue and most recent business bank account deposit. Gathering these details shouldn't be difficult if you already use high-quality accounting software to manage your business's finances.
Application Process
BusinessLoans.com's process for applying for a loan is one of its standout features. This financing provider distinguishes itself from rivals by offering a straightforward method for business owners to locate funding on their own terms. The online application takes just a few minutes to complete, with only a few basic questions about your business and revenue figures. Then the platform uses this information and its extensive data from previous users to match you with several funding options. To make it even more convenient, the mobile-friendly application can be completed on a desktop computer or smartphone.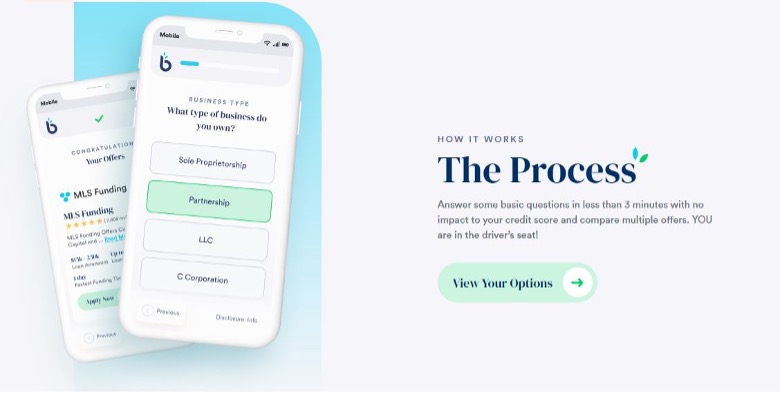 The BusinessLoans.com application can be filled out directly from a smartphone.  Source: BusinessLoans.com
Customer Service
Although BusinessLoans.com's online platform uses software to match you with a funding source automatically, many customers choose to speak with a funding specialist anyway. After you receive your initial loan offers, BusinessLoans.com provides the option to talk to a representative if you have any concerns. The company says that the vast majority of applicants utilize this option, even though the self-service nature is one of the main reasons the company is so appealing. It's nice to know you can have the best of both worlds.
For other kinds of support, the BusinessLoans.com website is filled with helpful content, including a blog on small business financing, guides to the different loan products and FAQs. While BusinessLoans.com is a relatively new loan provider, we're glad to see that the company hasn't received any complaints to date on third-party user review sites, such as the Better Business Bureau's. 
Limitations
BusinessLoans.com is an excellent lender for small business owners looking for a self-service experience, but there are a few drawbacks to keep in mind. One is that the company requires a minimum of $100,000 in annual sales in order to qualify for funding, which may exclude smaller businesses and sole proprietors. Additionally, BusinessLoans.com's term loans require a minimum of six months in operation. If your business doesn't meet these stipulations, you may need to consider ways to self-fund your business. However, it's also worth checking out our review of Accion, which has a much lower revenue qualification but a longer time-in-business requirement.
Also, although same-day funding may be available through some of the lenders in BusinessLoan.com's network, it could take up to a week following approval to receive the funds. Business owners who need money right away should look at the faster options, such as what's detailed in our Rapid Finance review. 
Methodology 
We looked across the market to find the best financing options for small businesses. As part of our investigation, we examined different loan providers and their platforms, studying their credit requirements, loan types, minimum sales requirements, required minimum time in business, customer service options and speed of funding. We also assessed financial factors, including each financier's starting interest rates, loan terms and loan sizes. To determine the top lender for business owners who prefer a self-service process, we researched each company's use of self-service technology to facilitate funding searches and approval, and analyzed the variety of loans available. 
BusinessLoans.com FAQ
Yes. BusinessLoans.com works with startups and early-stage companies, but a business must have six months of operation history to qualify for a term loan.
BusinessLoans.com was founded in 2020 as a self-service marketplace for small business loans. 
No, applying at BusinessLoans.com with the initial application will not impact your credit score. 
Bottom Line
We recommend BusinessLoans.com for …
Business owners who'd like to find funding via a self-service platform that matches them with different options. 
Business owners who want access to the variety of loan providers that a marketplace lender can offer. 
We don't recommend BusinessLoans.com for …
Businesses that don't meet the minimum-sales or time-in-business requirements. 
Businesses that need immediate funding guaranteed to arrive quickly.