Accion Review
Accion is a global nonprofit that provides affordable capital to small businesses around the world, including in the U.S. Its Accion Opportunity Fund offers a range of funding options and delivers personal assistance in both English and Spanish. Beyond addressing business owners' financing needs, the organization also facilitates business coaching, educational materials and a support network for borrowers.

Accion
The Verdict
Accion offers small business term loans ranging from $500 to $150,000 and flexible terms. It has served the small business community for more than 25 years, working with underserved business owners regardless of their credit score.
Accion Editor's Score: 9.0/10
| | |
| --- | --- |
| Collateral | 9.2 |
| Fast funding | 7.9 |
| Loan variety | 8.8 |
| Easy approval | 9.2 |
| Customer service | 9.7 |
Why We Chose Accion as the Best for Underserved Borrowers
As a nonprofit, Accion is able to offer interest rates that are far lower than what certain demographics can typically get with the other alternative lenders we reviewed. Rates start at just 5.99%, which is well below the base rate for most business loans today. Furthermore, rather than using a one-size-fits-all structure, Accion customizes each loan for the unique needs of the business. The organization doesn't require a minimum credit score for applicants and instead takes a more holistic view of the business. Accion also prides itself on providing its customers with educational opportunities so they can achieve more success. In our view, these attributes make Accion the best business loan and financing option for underserved borrowers.
What We Like About Accion
Accion's starting interest rates are among the lowest you'll find with alternative lenders.
The nonprofit's loan terms can be tailored to your business's needs.
The lender helps borrowers with little or no credit history.
What We Don't Like About Accion
Accion's small business loans only go up to $100,000.
The organization's application processing and funding time are slower than other alternative lenders.
Loan Types and Rates
Accion provides small business loans, specifically microloans, through its Accion Opportunity Fund. Accion's loans don't adhere to a one-size-fits-all structure when it comes to terms, but they all still share a few common characteristics.
Term Loans
Accion offers loans as small as $5,000 and as large as $100,000. These microloans are essentially small business term loans, which means they have simple interest and payments that remain fixed over a specified time period. Interest rates on Accion's loans start as low as 5.99%, making them much more affordable than other alternative lenders we examined. These loans generally extend for up to five years, and payments are due to Accion monthly. We like that there's no penalty if you pay the loan back early, and the organization will work with you to create a repayment schedule that suits your situation. [Learn how to calculate business loan payments.]

Accion's microloans feature low interest rates starting at 5.99% and come with coaching and educational resources. Source: Accion
Additional Resources
One unique benefit of working with Accion is that it offers free counseling and resources to its borrowers. While most lenders are completely hands-off when it comes to their customers, we love that Accion provides you with access to a small-business coach who can give advice on navigating both basic and complex financial topics. The organization also partners with a variety of well-known brands, such as American Express, The Boston Beer Company, LegalZoom and FedEx, that provide additional opportunities for networking, grants and free services for business owners who take out one of Accion's microloans.
Terms
Accion focuses on helping underserved groups, such as low-income households, people with disabilities, women, immigrants, people of color and military veterans who often have trouble accessing traditional funding sources. While most lenders we reviewed require minimum personal credit scores, Accion is willing to work with applicants with little or no credit history.
For applicants who lack traditional documentation, like a government ID, Accion will accept an Individual Tax Identification Number (ITIN) as the basis for a loan. Additional qualifications for the organization's microloans include having 12 or more months of operation, $50,000 in annual sales and at least a 20% ownership stake in the business. Given the favorability and flexibility of Accion's terms, however, we would encourage business owners to reach out to the nonprofit if they are unsure about their eligibility.
Collateral
Business funding options are often structured as secured or unsecured business loans. The main difference between the two is that a secured loan requires you to put up collateral, while an unsecured loan doesn't. Accion generally doesn't make its borrowers put up collateral, but the lender may require you to sign a personal guarantee.
A personal guarantee means you are personally responsible for paying back your business's debt.
Special Documentation
Most alternative lending providers require extensive documentation before they're willing to accept your application, but we found that Accion is very lenient with its demands. The organization's loose requirements for paperwork are designed to ensure that underserved groups without much documentation can still access funding. To that end, you only need to show some proof that your business is legitimate. This can include bank statements or tax returns, but Accion is also willing to accept alternative forms of appropriate documentation.
Accion will accept an Individual Tax Identification Number (ITIN) if you don't have a driver's license or other government ID.
Application Process
We like that Accion makes applying for a loan simple for business owners who otherwise wouldn't have access to funding. Potential borrowers can apply on the nonprofit's website or contact a representative by phone to get started. The application will ask for your business's revenue and expense figures — these numbers can be taken from your tax return if you've filed one previously. If you qualify, Accion will present you with various loan options. Some additional documentation and verification, such as bank statements or tax returns, may be required to finalize the loan. After that, you should receive funding within a week. If you need speedier assistance, consider our review of Rapid Finance, which — as its name suggests — we found to be the best lender for businesses seeking fast funding.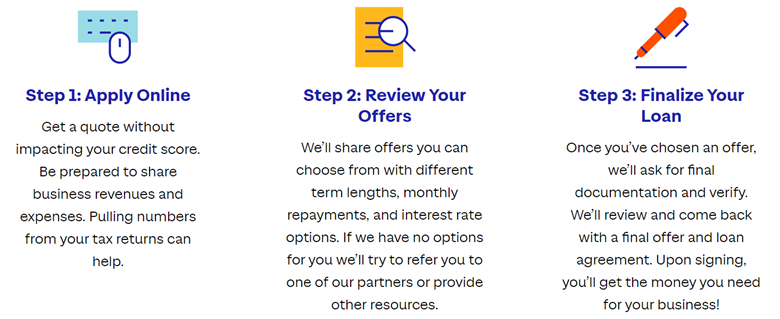 Accion features a straightforward application process that's clearly outlined on the organization's website. Source: Accion
Customer Support
Accion's customer service is among the best we found during our search for the top financiers for small businesses. The organization exists to help underserved small business owners, so it provides extensive resources and coaching to help its borrowers succeed. The Accion Opportunity Fund website features articles and videos, a coaching hub to schedule advisory meetings, interactive learning modules and information on its partner programs.
As far as financing needs are concerned, Accion's funding representatives can be contacted via phone Monday through Friday, from 8 a.m. to 8 p.m. your local time. The nonprofit also accepts email inquiries and offers a contact form on its website. Customer service is provided in both English and Spanish, and some of the aforementioned articles can be viewed in Spanish too.
Limitations
The main limitation of working with Accion is that, as a microloan provider, its loan sizes are much smaller than what you'd find with other alternative lenders. Small business microloans max out at $100,000. While that may be more than enough for a very small business just getting off the ground, it may not provide much assistance for a larger business. Also, between the time needed to review your application and actually deposit the money in your account, Accion's funding process takes a lot longer than most companies we reviewed. If you're looking for a larger loan with relatively fast funding, our review of SBG Funding details options for loans of up to $5 million with approval decisions usually made within 24 hours.
Additionally, note that Accion generally focuses on underserved demographics that often have trouble accessing business funds. If your business can easily obtain capital from more traditional sources, you may not be eligible for an Accion Opportunity Fund loan.
Methodology
We researched and analyzed various loan providers to find the best business financing options on the market. This process included evaluating each lender based on their credit requirements, loan types, minimum sales requirements, required minimum time in business, funding speed and customer service availability. We also considered financial factors, such as each company's starting interest rates, loan terms and loan sizes offered. To determine the best lending option for business owners in underserved demographics, we looked for lenders willing to work with applicants who have little or no credit history and are often ineligible for financing from other companies. We also sought lenders that went beyond simply providing funds to help customers improve their financial practices.
FAQs
Does Accion make a profit?
No, Accion does not make a profit because it is a nonprofit organization. Interest payments on your loan are used to help fund other businesses.
Does Accion work with borrowers with bad credit?
Accion's Accion Opportunity Fund is willing to work with businesses with little or no credit history.
Are Accion loans easier to obtain than bank loans?
Yes, Accion's microloans are generally easier to obtain than bank loans because they require little documentation.
Bottom Line
We recommend Accion for …
Business owners from low-income households, people with disabilities, women, immigrants, people of color and military veterans.
Very small businesses or startups that can make effective use of Accion's microloans.
Applicants who have little or no credit history.
We don't recommend Accion for …
Established businesses that can readily access funding from traditional sources.
Large businesses that may need funding in excess of $100,000.
Businesses that need to secure funding extremely quickly.

Accion
The Verdict
Accion offers small business term loans ranging from $500 to $150,000 and flexible terms. It has served the small business community for more than 25 years, working with underserved business owners regardless of their credit score.

Mike Berner is a staff writer at business.com and Business News Daily specializing in finance. Mike has a deep background in the financial world, having written hundreds of articles and blog posts on financial markets, business and investing. He holds a B.A. in economics and a B.B.A. in finance, both from the University of Massachusetts, Amherst. Prior to his writing career, he performed quantitative analysis and research as an economic analyst.