Financial offers small business loans and merchant cash advances with terms of up to 15 months. The alternative lender makes it quick and easy to apply for loans. It offers an online application and only requires three months of bank statements.
Pros
Fora Financial's small business loans are a great choice for covering short-term obligations.
You're not required to put up collateral.
The lender is willing to work with applicants who don't have a high credit score.
Cons
Fora Financial's funding options are more limited compared to those of other lenders.
The company's interest rates are much higher than those of competitors we reviewed.
You're required to pay a closing fee.
Fora Financial is an alternative lender that provides two types of products: small business loans and what it calls "revenue advances," which are similar to merchant cash advances. These funding solutions have flexible payment schedules, early-payoff discounts and no collateral requirements. The relaxed qualifications and fast funding are ideal for small business owners who need money quickly. Plus, Fora Financial's term loans are designed to be repaid in less than two years, which is why the company is our recommendation for businesses that need short-term financing.
Fora Financial Editor's Rating:
8.5 / 10
Collateral

9/10

Fast funding

8.5/10

Loan variety

7/10

Easy approval

9/10

Customer service

9/10
Why We Chose Fora Financial as the Best for Short-Term Loans
Fora Financial offers revenue advances and short-term business loans. Certain requirements and features are the same across both products. For example, small businesses can borrow anywhere from $5,000 to $1.4 million. Additionally, repayment discounts are available, no collateral is required, and you can increase your funding after paying off 60% of the original loan. Repayment for the revenue advance is based on a fixed percentage of your daily or weekly sales, while the short-term small business loans are a fixed amount that can be paid off within 15 months. These terms make Fora Financial an excellent choice for businesses looking for the best business loan and financing options specifically focused on addressing short-term borrowing needs.
Loan Types and Rates
Fora Financial's two flagship offerings are short-term business loans and revenue advances. Either of these products can provide your business with a quick injection of cash.
Term Loans
Fora Financial offers a short-term small business loan, known as a term loan, that can serve as an alternative to a line of credit. Loan amounts range from $5,000 to $1.4 million, with no collateral required. Repayment terms extend up to 15 months, and you can get discounts by prepaying. To qualify, you need a minimum credit score of 500, which is much lower than what most lenders we reviewed require. Fora Financial can approve your application within 24 hours, with funding arriving in your bank account within 72 hours. This is a pretty fast turnaround time, but if you're looking for same-day funding, check out our review of SBG Funding and our review of Rapid Finance for other options.
Although Fora Financial is willing to work with many applicants and offers straightforward financing solutions, its interest rates fall on the high end of the spectrum. They generally range from 15% to 40%. Even though the short financing term reduces your total interest expense, this is still an objectively high rate. There is also a closing fee of at least 2.5% of the total loan amount to consider too.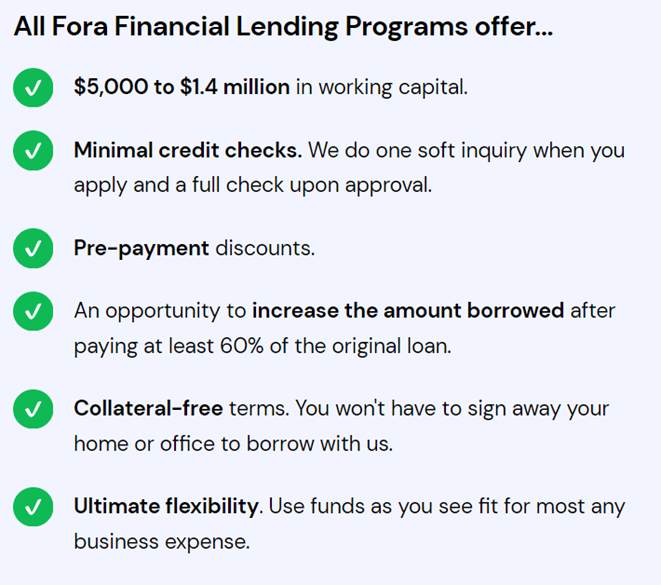 Fora Financial's two products share similar features. Source: Fora Financial
While you need a credit score of only 500 to qualify for a Fora Financial small business loan, competitor SBG Funding has a similarly low requirement.
Revenue Advances
In addition to term loans, Fora Financial offers a loan similar to a merchant cash advance (MCA), which is a funding option where a lender essentially buys a future revenue stream in exchange for upfront cash. The one difference with Fora Financial's "revenue advance" is that you need to provide proof of sales, but the idea is similar in that you repay the funds based on a fixed percentage of daily or weekly sales. This type of arrangement, while often very expensive for the borrower, allows for flexibility. When your sales are strong, the loan will be paid off faster, and vice versa.
To pay off loans quicker, look into expanding your revenue sources to increase sales. Ideas include targeting new audiences and offering additional services.
Terms
Both of Fora Financial's loan options require, at minimum, a business owner to be in business for six months with $12,000 per month ($150,000 per year) in revenue and a credit score of 500. These qualifications compare favorably to many other lenders we reviewed, including Noble Funding and Biz2Credit, which have annual revenue minimums of $200,000 and $250,000, respectively.
Collateral
Fora Financial's products are unsecured loans, which means they don't require collateral. However, the lender does reserve the right to file a UCC (Uniform Commercial Code) lien if you stop making payments, among other contract breaches.
Our guide on unsecured and secured business loans details the differences between these two loan types.
Special Documentation
Compared to other lenders, Fora Financial's documentation requirements are minimal. You need to provide your business's bank statements from the past three months only. In contrast, some other financiers require photo identification, tax records and proof of how long you've been in operation. SBG Funding even asks for a voided check.
Application Process
Fora Financial's one-page application requires basic business contact information, monthly revenue figures and details about any commercial property. As mentioned above, you also must provide your business's bank statements from the past three months. Fora Financial will also conduct a hard credit pull, but the good thing is that it won't perform it until after you've been approved. A decision on your application can be made within 24 hours; if you are approved, funds can be deposited within three days.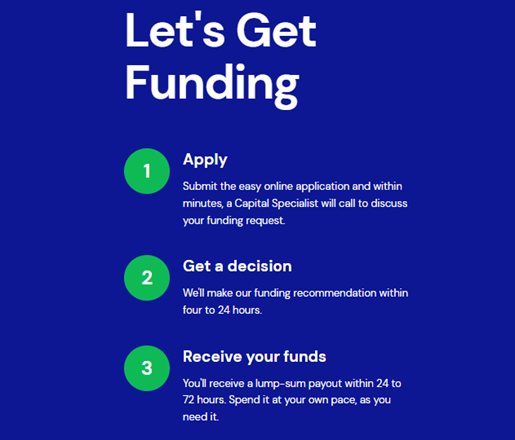 Fora Financial's application process is straightforward, with fewer documentation requirements than other lenders. Source: Biz2Credit
Customer Service
Fora Financial maintains offices in New York City and Miami and welcomes visitors, but representatives can also be reached via email and phone. On its website, you can find a blog specifically geared toward small business owners, as well as FAQs and testimonials from organizations that have successfully partnered with Fora Financial to address their funding needs. We found that customer feedback on independent review sites was generally good, although we noticed some applicants have complained about final loan offers being smaller than what they were initially led to believe.
Limitations
One upside of Fora Financial's simple product offerings is that its loans are easy to understand. However, the downside is that the options are more limited in scope compared to some marketplace lenders, such as the financial solutions detailed in our review of Biz2Credit.
Additionally, in exchange for short terms and easy approval, Fora Financial charges a relatively high interest rate. Furthermore, the closing fee of at least 2.5% is rather high when you consider that some lenders don't charge fees at all. Business owners will need to weigh these pros and cons against their needs in order to make the best decision for their enterprise. Well-qualified proprietors looking for longer repayment periods may be able to find better terms elsewhere.
Methodology
We researched the best business financing options on the market to find the top business loans and other solutions for small business owners. Our analysis included looking at each lender's credit requirements, loan types, minimum sales requirements, required minimum time in business, funding speed and customer service availability. We also evaluated each company's financial factors, including starting interest rates, loan terms and loan sizes. When choosing our top pick for businesses looking for short-term products, we emphasized criteria like the length of the repayment term, ease of approval and prepayment discounts.
FAQs
You can get short-term business loans from Fora Financial, in addition to revenue advances.
Yes, Fora Financial is a direct lender. Loan agreements have the company's name on the documents.
Fora Financial loans are often used for working capital, although you can use the funds for any business purpose.
Bottom Line
We recommend Fora Financial for …
Business owners who need short-term funding solutions.
Applicants with lower credit scores and smaller monthly sales.
We don't recommend Fora Financial for …
Businesses trying to find the lowest interest rate possible.
Business owners who want access to a wide variety of funding options and loan types.