Fora Financial Review

Fora Financial provides small business loans and merchant cash advances that have flexible payment schedules, early-payoff discounts and no collateral requirement. The relaxed requirements and fast funding make this lender ideal for small business owners who are looking for short-term funding, which is why Fora Financial is our choice for the best alternative lender for short-term loans.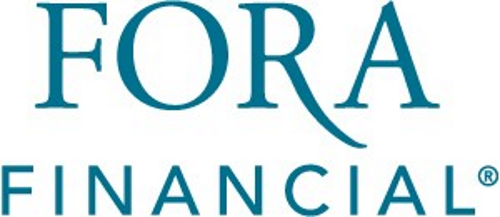 Fora Financial
The Verdict
Financial offers small business loans and merchant cash advances with terms of up to 15 months. The alternative lender makes it quick and easy to apply for loans. It offers an online application and only requires three months of bank statements.
Fora Financial
| | |
| --- | --- |
| Collateral | 9.0 |
| Online application | 9.0 |
| Quick funding | 6.0 |
| Strict credit requirements | 9.0 |
| Variety of loan types | 9.0 |
| Editor's score | 8.4 |
Pricing: Rates and Terms
Business owners who need access to capital for short periods of time can take out a small business loan or merchant cash advance with Fora Financial. Loan amounts on both products range from $5,000 to $500,000. Fora Financial is one of the few companies we reviewed that doesn't charge any additional fees; you are only required to pay off the loan's principal and the set interest amount. This is a unique and compelling aspect of Fora's service.
Fora Financial's overall loan terms are relatively short, at up to 15 months. This means you can quickly access and pay back your loan so the debt won't be on your books for much longer than a year.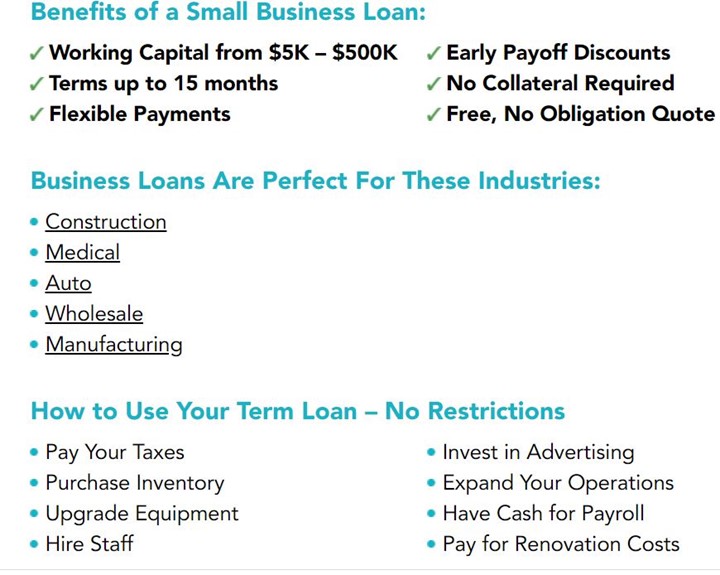 If you opt for a merchant cash advance, there is no set payback schedule. Instead, you'll be charged a percentage of your overall credit card sales until the loan is fully paid off. The only requirement that differs from those of a standard loan is that your business must earn at least $5,000 in credit card sales each month. This benchmark, according to Fora, ensures that your business has the necessary income to pay off the loan.
Both options are unsecured loans, which means you don't have to put up collateral. This gives your business more financial flexibility and legal freedom. Once you reach an agreement with Fora, a payment plan will be set up and money will automatically be deducted from your business's checking account.
Payment will come out daily or weekly, depending on your loan agreement and what works best for your business. You can pay back the loan in full at any time, and there are no prepayment penalties. In fact, early payoff could qualify you for a discount on the remaining balance.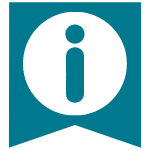 Did you know? With Fora Financial, there are no additional fees on your loan; you are responsible only for the principal and interest.
Loan Process
There are many aspects of Fora Financial's process and business loan options that make it one of our best picks for small business loans.
First, the online application process is quick; within a day, you'll find out if you'll receive funding. If you get approved, funding is provided within 72 hours. Although this is a longer wait than you'll find with some other services, it's still short considering that Fora requires no collateral and relatively little paperwork. If you are looking for lenders with same-day funding, take a look at our review of SBG Funding and full review of Rapid Finance for other options.
You can fill out an application either online or over the phone. The application asks for basic information, like your business's name, email address, phone number, monthly gross sales and time in business. Then, you'll have to provide three of your business's most recent bank statements. Depending on your financial situation, you may have to submit a month-to-date bank statement, tax returns, a profit-and-loss statement or a balance sheet.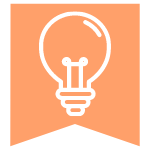 Tip: Every loan is different, but to be prepared, make sure you have bank statements, tax returns, profit-and-loss statements, and balance sheets ready in case they are needed.
Terms
Fora Financial's loan terms go up to 15 months, making this company one of the shorter-term lending options of the companies we reviewed. This short term means you can qualify for a certain amount and pay it back without the burden of a fluctuating or excessively high interest rate.
Qualifications
To qualify for a loan from Fora Financial, you must have been in business for at least six months, generate at least $12,000 in gross monthly sales and have no open bankruptcies. For merchant cash advances, the same qualifications apply, plus you need $5,000 in monthly credit card sales.

Collateral
Fora Financial's loans are unsecured, meaning you don't have to put up collateral. Unlike most lenders, Fora doesn't even require a personal guarantee, which is a legally binding agreement that you'll be personally responsible for the loan if your business defaults. These relaxed requirements set Fora apart from competitors.
Time Until Deposit
Once you complete the application, you can be approved within 24 hours. If you are approved for a loan, Fora can transfer the funds as soon as 72 hours after the agreement is signed. This is longer compared with some other lenders we reviewed, but Fora's lenient requirements and qualifications make up for it.
Special Documentation
Fora Financial doesn't require a lot of advanced documentation for you to secure a loan. Initially, alongside your application for the loan, you must submit three months of bank statements to verify your gross monthly income. The lender may request additional documentation, like a month-to-date bank statement, tax returns, a profit-and-loss statement or a balance sheet.
To finalize the loan, you'll also need to show your driver's license, a voided check and proof of ownership of the business. This is more documentation than some companies require but significantly less than the services that run credit checks. Having all of your documentation ready before you apply (or while your application is being reviewed) can speed up the overall loan process.

Fora Financial Pros
Fora Financial is a national organization that can provide small business loans and merchant cash advances of up to $500,000 within 72 hours of approval. The lender serves many industries, including the construction, medical, automotive, wholesale and manufacturing sectors.
Part of Fora Financial's appeal is its versatility. The company's website breaks down loan products into two broad categories: merchant cash advances and small business loans. These two main types of business loans function as basic agreements for quick cash and small business financing options. However, Fora also offers more specific financing options, including equipment financing, SBA loans, inventory loans and bridge financing. This makes Fora a viable solution for a wide variety of small business expenses.
You can use Fora's basic small business loan for nearly any business expense, including marketing, payroll, business expansion, cash flow management, inventory, renovations, tax filing and hiring. If you don't need a specific type of loan, like equipment financing, Fora Financial is a compelling capital option that doesn't subject you to the strict requirements imposed by traditional banks.
Merchant cash advances are best suited for businesses with high credit card sales. Fora Financial can advance funds and then take a percentage of your future credit card sales to repay the loan. This agreement tethers the loan to your future sales, which means you pay a lower amount when sales are down and a higher amount when sales are up.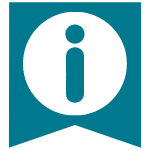 Did you know? Fora Financial was founded in 2008, and it has funded a total of $2 billion to more than 25,000 businesses across the United States.
Fora Financial Cons
The only basic limitation that emerged in our research on Fora Financial is the recommended $12,000 per month in gross sales. Technically, your business only needs to have been established for six months to qualify, but this monthly sales benchmark is higher than some small businesses can meet, especially new ones.
We also found some negative customer reviews of the company. These reviews can be difficult to judge, as each situation is specific to the loan agreement between Fora Financial and the small business.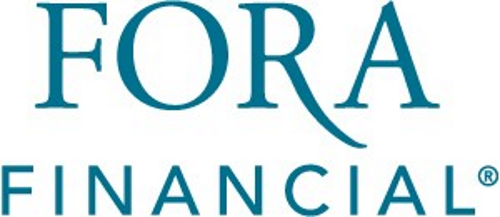 Fora Financial
The Verdict
Financial offers small business loans and merchant cash advances with terms of up to 15 months. The alternative lender makes it quick and easy to apply for loans. It offers an online application and only requires three months of bank statements.

Donna Fuscaldo
business.com Staff
Donna Fuscaldo is a senior finance writer at business.com and has more than two decades of experience writing about business borrowing, funding, and investing for publications including the Wall Street Journal, Dow Jones Newswires, Bankrate, Investopedia, Motley Fool, and Foxbusiness.com. Most recently she was a senior contributor at Forbes covering the intersection of money and technology before joining business.com. Donna has carved out a name for herself in the finance and small business markets, writing hundreds of business articles offering advice, insightful analysis, and groundbreaking coverage. Her areas of focus at business.com include business loans, accounting, and retirement benefits.