Rapid Finance is our pick as the best lender for fast funding. It has an easy online application process, quick approval, and same-day funding, as well as offering a variety of loan types and flexible terms.
Pros
Funding from Rapid Finance can be approved and deposited in as little as one day.
The lender has a modern digital platform for customers, allowing you to more easily acquire additional funding as needed.
Well-qualified borrowers can take advantage of flexible repayment terms.
Cons
Rapid Finance's minimum requirements include maintaining a business bank account rather than a personal checking account.
The company is less transparent about interest rates than other alternative lenders.
Rapid Finance is an alternative lender that offers small business owners a variety of financing options. The company issues its own loans and works with a network of lenders to find the best business loan or financing solution for you. Borrowers can access term loans of up to $1 million and benefit from flexible repayment terms. Most importantly, Rapid Finance delivers fast approvals. In some cases, you can even obtain same-day funding. This makes Rapid Finance our top recommendation for a lender with fast funding.
Rapid Finance Editor's Rating:
8.8 / 10
Collateral

8.5/10

Fast funding

9.8/10

Loan variety

7.5/10

Easy approval

9/10

Customer service

9.3/10
Why We Chose Rapid Finance as the Best for Fast Funding
Even when operating with the best of intentions, small businesses can suddenly find themselves on the verge of financial disaster and in need of a rapid cash infusion Or maybe a time-sensitive growth opportunity pops up that requires obtaining money as soon as possible. Fortunately, Rapid Finance lives up to its name in terms of funding time. As soon as you submit your application, a Rapid Finance representative will conduct a same-day review of your information to make a final decision on whether or not to approve your request. If the lender agrees to move forward, funds can be deposited into your business bank account within minutes of approval. Other small business financing companies we researched would be hard-pressed to match this timeline, which is why we chose Rapid Finance as the best lender for businesses looking for fast business loans.
Loan Types and Rates
Raid Finance offers a variety of financial products, including term loans, lines of credit, bridge loans, SBA loans, invoice factoring, asset-based loans and commercial real estate loans. Terms and loan amounts depend on the type of loan.
Term Loans
Rapid Finance's term loan for small businesses, which it refers to as a small business loan, is a popular financing option for many businesses. Business owners can expect simple interest and fixed payments over a specified period. Compared to a business line of credit, the company's term loans are usually a cheaper source of funding.
Repayment terms can be as short as three months and as long as five years, which is among the widest ranges we found in our investigation of different lenders. Rapid Finance offers both secured and unsecured loans. Although the company doesn't specifically acknowledge whether it looks for a minimum credit score from applicants, Rapid Finance does say it takes a holistic view of each business. This may be an advantage if you're a borrower without a stellar credit score.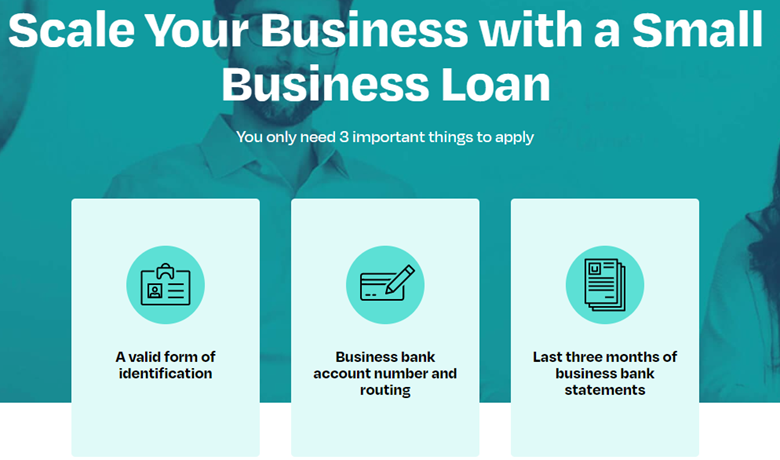 Eligibility requirements are loose at Rapid Finance compared to other alternative lenders. Source: Rapid Finance
For borrowers worried about low credit scores, Rapid Finance also takes into account business characteristics like sales, receivables and time in operation.
Merchant Cash Advance
A merchant cash advance (MCA) is a financing arrangement where a lender purchases a portion of your future sales in exchange for an upfront payment. This cash advance can be used for nearly any business-related expense, including inventory purchases, equipment, marketing or advertising opportunities, and other short-term capital needs.
Rapid Finance offers MCAs ranging from $5,000 to $500,000, and will work with you and your credit card processor to arrange a payment plan. Generally, this means sending a percentage of your monthly credit card sales to Rapid Finance to repay the loan. This is known as a split percentage or holdback amount. There are no fixed terms with Rapid Finance's merchant cash advances because payments are based on your receivables. We like that Rapid Finance doesn't charge additional fees, such as an origination or documentation fee, for this product. [See our roundup of highly rated credit card processing providers.]
Lines of Credit
Rapid Finance offers business owners a business line of credit, which gives them continuous access to capital. A line of credit allows you to draw on funding when you need it, and you only pay interest on the amount you've borrowed. Rapid Finance has a repayment term of three to 18 months, with flexible payments that can be made daily, weekly or monthly. Credit facilities range from $5,001 to $250,000. Financing costs for this product include both interest charges and fixed fees.
Did you know? With a line of credit, credit facilities can be drawn on repeatedly as needed, which is useful in emergencies.
Invoice Factoring
Invoice factoring is a financing arrangement in which a business sells its unpaid invoices in exchange for an upfront cash payment. Rapid Finance only requires that the invoices come from a "reputable creditor." While this financing option provides a quick cash injection for businesses that don't want to wait the customary 30 to 90 days for payment, the downside is that you must sell your invoices at a discount. An accounts receivable loan might be an alternative to invoice factoring for well-qualified borrowers. Learn more about that type in our comprehensive review of Noble Funding.
SBA Loans
As an approved lender for the U.S. Small Business Administration (SBA), Rapid Finance offers access to government-backed SBA loans. Many business owners desire SBA funding due to the lower fixed interest rates and long repayment terms. Rapid Finance requires that your application include a debt schedule, two years of business tax returns, your last three months of bank statements, and a history of profitability.
Other Loans
In addition to the financial products highlighted above, Rapid Finance also offers short-term bridge loans of up to $1 million, with terms ranging from three months to five years. Other options include asset-backed loans of up to $10 million with three-year repayment and commercial real estate loans of up to $2 million with terms as long as 20 years.
Use Rapid Finance's online calculator to help determine which loan makes the most sense for your business. Enter your credit score and monthly sales to find out how much funding you qualify for.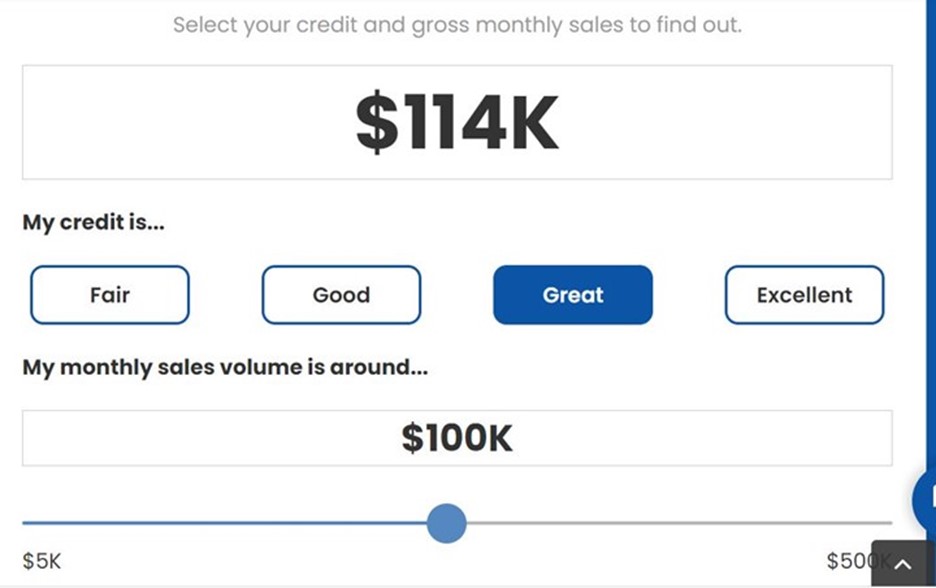 We liked that an online calculator on Rapid Finance's website helps determine which loan option is best for your business. Source: Rapid Finance
Terms
As its name implies, Rapid Finance offers much faster turnaround times on funding than other financiers we reviewed. Many companies take up to three days to deposit funds, but Rapid Finance can do so in less than 24 hours. This timing could make all the difference for a small business owner.
Collateral
Most of Rapid Finance's loans are unsecured, which means you don't have to put up collateral on the loan. The company doesn't require a UCC-1 filing, which acts as collateral on your business assets. However, the lender does also offer secured loans that require collateral. Learn the difference between unsecured and secured business loans so you can make the right choice for your business.
Special Documentation
When you're applying for most of its products, Rapid Finance requires you to supply a valid form of ID, a business bank account and routing number, and your last three months of business bank account statements. You may also need to provide the length of time you've been in business and your revenue figures, depending on the loan. Rapid Finance doesn't specify how much monthly revenue you need to qualify for funding, but in the past, the company required at least $5,000 per month in credit card sales. This number is relatively low compared to other companies. For instance, our review of Fora Financial notes that it requires a minimum monthly revenue of $12,000, while Noble Funding's monthly minimum is more than $16,000.
Application Process
You can complete Rapid Finance's loan application online. The process involves filling out a short questionnaire with basic background information, as well as your business goals and objectives. As noted above, you'll also need certain documents, including your driver's license or passport and business bank account statements. A Rapid Finance representative will review your application and may reach out to obtain additional information. Impressively, once you're approved, the company may deposit funding in your account within minutes.
Customer Support
Rapid Finance makes it easy to reach a live representative if you need assistance. Customer support representatives are available by phone Monday through Friday, from 9 a.m. to 6 p.m. ET. You can also get in touch with Rapid Finance through an email form. Rapid Finance maintains a company blog and funding guides on its website that business owners may find helpful. Notably, many user reviews celebrate the lender's customer service.
Limitations
Compared to some other lenders we evaluated, Rapid Finance provides relatively little information about minimum requirements, such as time in business and credit score. Based on our research, we think it's likely that they require a personal credit score of at least 500. Rapid Finance does not have minimum sales requirements, and the company says it takes a holistic view of a business when reviewing funding requests, which could end up working in your favor.
Rapid Finance also provides very little transparency about its loan rates. Based on some customer reviews that we found on third-party sites like the Better Business Bureau, we believe Rapid Finance's interest rates are likely higher than those of other financiers we examined. Marketplace lenders such as Biz2Credit may be able to offer well-qualified borrowers lower rates, albeit with a slightly slower funding time. Find out more in our detailed Biz2Credit review. You may also want to explore growing a small business financially without a loan.
Methodology
To find the best business loan and financing options for small businesses, we researched and analyzed top lenders and their platforms, taking into account factors like credit requirements, loan types, minimum sales requirements, required minimum time in business, customer service and the speed of funding. We also considered each company's starting interest rates, loan terms and the size of loans on offer, among other financial aspects. When searching for the top lender for businesses requiring fast funding, we prioritized certain criteria, such as the ease of applying, the time waiting for approval and the speed of funding deposits. [Be sure to read the fine print of any loan agreement before signing.]
FAQs
Yes, Rapid Finance is the same company as Rapid Advance. Rapid Finance is a subsidiary of Rock Ventures LLC, a holding company controlled by Quicken Loans founder Dan Gilbert. It was known as Rapid Advance until it changed its name to Rapid Finance in 2019.
As part of its application review process, Rapid Finance will likely do a hard credit pull in order to make a final decision on whether to approve the funding request.
Yes, Rapid Finance offers SBA loans. The company can connect you with various SBA funding sources in its network.
Bottom Line
We recommend Rapid Finance for…
Small businesses that need funding as quickly as possible, ideally within a day of application.
Business owners who desire flexible repayment terms.
We don't recommend Rapid Finance for…
Business owners who don't maintain a separate business bank account.
Highly qualified and creditworthy borrowers who may be able to obtain capital elsewhere at a lower interest rate.