Balboa Capital's relaxed qualifications make it an ideal lender for business owners who are looking for easy approval. This lender is willing to look at more than your credit score when providing short-term loans of up to $250,000.
Pros
Balboa Capital's turnaround time for applications is extremely fast, with decisions often coming within the hour.
The lender offers some more specialized financing options, like franchise and vendor loans.
Cons
Balboa Capital's minimum requirements will likely shut out applicants with very small businesses or low credit scores.
Loan terms are shorter compared with alternatives, so monthly payments could be higher.

Balboa Capital is an alternative lender that provides numerous small business funding options, including short-term business loans and Small Business Administration (SBA) loans. With Balboa Capital's term loan, you can borrow up to $250,000 for as long as two years. The company also offers equipment, commercial, vendor and franchise financing. Balboa Capital boasts a simple and fast application process and a speedy turnaround on funding. In fact, the lender sets itself apart in a crowded market by cutting down on the time and work it takes to get a small business loan.
Balboa Capital Editor's Rating:
8.6 / 10
Collateral

9/10

Fast funding

9.5/10

Loan variety

7/10

Easy approval

9.3/10

Customer service

8/10
Why We Chose Balboa Capital as the Best for Ease of Approval
We were impressed by how quickly Balboa Capital reviews and approves financing applications. Applicants just fill out a simple online form with basic business and biographical details, and then Balboa Capital can often deliver a decision within an hour. Plus, documentation requirements are minimal compared with those of other lenders we reviewed. If you're approved, funds can be distributed immediately to your business bank account. This hassle-free process makes Balboa Capital the best business loan and financing option for businesses seeking easy approval.
Loan Types and Rates
Balboa Capital has appealing funding options, each with its own terms, rates and loan amounts. The company provides access to term loans and SBA loans, as well as equipment, commercial, vendor and franchise financing.
Term Loans
Balboa Capital offers a small business term loan of up to $250,000. Many business owners favor term loans because they have simple interest and payments remain fixed over a specified time period, which, in Balboa Capital's case, can be as long as two years. Balboa Capital's straightforward application process is ideal for business owners who are in a hurry, because the lender can approve these loan requests in as little as one hour and immediately initiate a transfer of funds.
We like that there are no hidden fees or upfront costs with Balboa Capital's small business loans, and you can prepay without penalty. However, to qualify, you need to have a minimum of one year in business, at least $25,000 a month ($300,000 a year) in sales and a credit score of 620 or higher. The revenue and credit score requirements may be harder for some small businesses to meet. [Check out business loans you can get with bad credit.]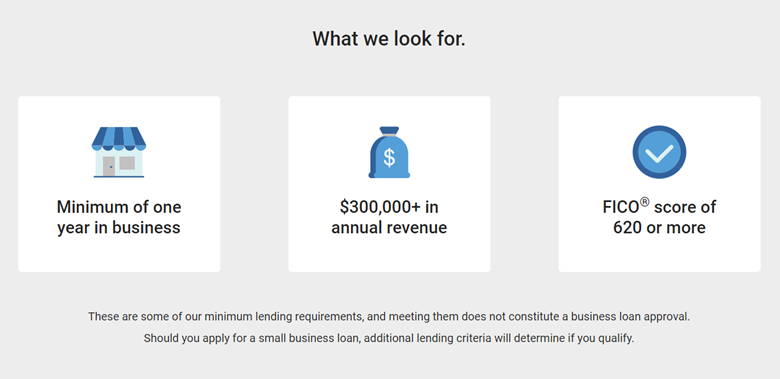 Balboa Capital's requirements for applicants are stricter than some competitors'. Source: Balboa Capital
Balboa Capital can approve your loan application within the hour if you apply during normal business hours.
SBA Loans
Balboa Capital is an approved lender for the SBA, and offers access to both SBA 7(a) loans and SBA 504 loans. SBA loans are coveted among small business owners because of their long repayment terms, low or zero down payments and low rates. Balboa Capital lends out amounts ranging from $400,000 to $5 million, which is in the upper range among the SBA loan vendors we reviewed.
Vendor Financing
If your business sells costly capital machinery or other expensive equipment, Balboa Capital offers vendor financing that can help customers purchase your products. Same-day funding is available through the company's vendor financing program, along with a digital sales management system. To qualify, equipment must be preapproved by Balboa, and your business needs to have $300,000 in monthly sales and a two-year operational history.
Vendor financing allows you to finance your customers' purchase of expensive machinery and equipment. This is different from getting a business equipment loan to finance your own equipment.
Franchise Financing
Balboa Capital also has loans for franchise operators, including single-unit owners. Its franchise loans go up to $350,000, and terms extend 24 to 72 months. As with Balboa Capital's other products, applications are processed rapidly and you can receive an approval decision in as little as one hour. To qualify, you need to have been in business for at least a year, as well as have $100,000 in annual sales and a credit score of at least 620.
Other Loan Types
Balboa Capital additionally offers equipment and commercial financing of up to $500,000. These loans can be used to pay for vehicles, software, expansion initiatives and other equipment needs. Requirements include one year in business, $100,000 in annual sales and a credit score of 620 or higher.
Terms
Balboa Capital doesn't publicly specify a starting interest rate for its loans, but you can use a calculator on the company's website to estimate monthly payments for short-term loans. In our investigation, we found that a $100,000 loan repaid over 12 months carries an APR of approximately 18%, which falls on the higher end of typical small business financing products.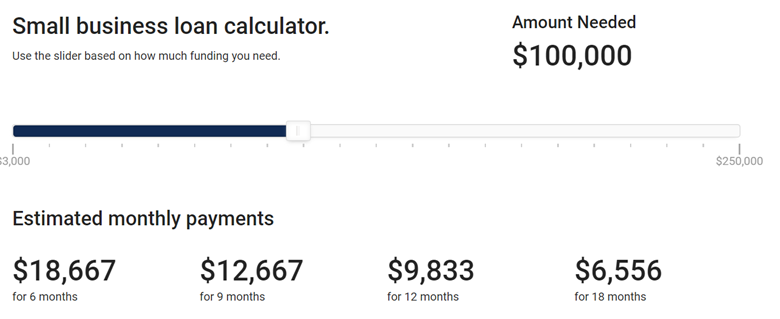 Balboa Capital's online calculator can be used to estimate loan payments. Source: Balboa Capital
Collateral
Balboa Capital offers unsecured small business loans, meaning you don't have to put up specific personal or business assets as collateral. However, a personal guarantee may be necessary. It's a good idea to ask your loan specialist about personal guarantees when you inquire about a quote.
With a secured business loan, you must put up some of your business's assets as collateral.
Special Documentation
Balboa Capital doesn't have any specific documentation requirements for applicants. You just fill out an online form with relatively basic information. However, it's a good idea to have your financial information handy to reference as you answer the application's questions, including your business bank statements and tax information.
Application Process
Balboa Capital's fast and easy application process is the main reason we chose it as the best lender for business owners who are focused on ease of approval. You can apply for a loan on Balboa Capital's website, which is mobile-friendly. The application is straightforward; it asks only for basic details about you and your business. If you apply during normal business hours, you can receive a decision in as little as one hour. Balboa Capital also has a fast turnaround time for depositing funds into your bank account. The only potential hang-up is if you don't meet the lender's qualifications.
Customer Support
You can reach Balboa Capital by filling out an email form on the company's website or calling the company during office hours, which are Monday through Friday from 7 a.m. to 4 p.m. PT. Balboa Capital's site also includes a variety of helpful materials and guides to assist small business owners in financing decisions. Despite these resources and fast approval decisions, our research found that some business owners were dissatisfied with Balboa Capital's communication.
Limitations
Balboa Capital's minimum qualifications for approval are much stricter than those of other lenders we evaluated. The requirements of at least $300,000 in annual revenue, one year in business and a 620 or higher credit score will likely shut out many small business owners. See our review of SBG Funding for a financier with much lower stipulations.
Another drawback is that Balboa Capital's loan sizes are smaller — and its terms are shorter — than some alternatives, such as those detailed in our review of Rapid Finance, which also excels at providing fast funding. Additionally, if you're a well-qualified applicant who isn't in a hurry to be approved, you might want to check out companies with lower interest rates than Balboa Capital. For example, see our Truist review for a bank not only capable of providing term and SBA loans but also willing to give a valuable interest rate discount to those who hold checking accounts with Truist.
Methodology
During our search for the top business financing options on the market, we investigated loan providers and their platforms on the basis of their credit requirements, loan types, minimum sales requirements, required minimum time in business, speed of funding and customer service. We also evaluated lenders based on their interest rates, loan terms and loan sizes. To identify the best financier for businesses looking for easy approval, we examined the simplicity of each lender's application and its speed of approval.
FAQs
The types of loans you can get with Balboa Capital include short-term loans, SBA loans, and financing for equipment, vendors and franchises.
Ameris Bank owns Balboa Capital. Ameris purchased the online lender in 2021.
Yes, Balboa Capital offers SBA loans. The lender can connect you with SBA 7(a) loans and SBA 504 loans.
Bottom Line
We recommend Balboa Capital for …
Business owners who prioritize fast approval and funding.
Franchisees and business owners who want to offer vendor financing.
We don't recommend Balboa Capital for …
Startups with little operational history or small businesses that don't meet the minimum sales requirements.
Businesses that require larger loans or a longer repayment duration.