Truist understands the ins and outs of SBA lending, and is, in fact, an SBA preferred lender. You won't get 24-hour funding, but you will get a wealth of help and advice as you navigate the SBA loan process.
Pros
Truist's thousands of bank branches provide customers with the option for in-person assistance.
The company is an SBA Preferred Lender with many years of experience guiding customers through the application process.
Borrowers are eligible for discounts if they also bank with the financier.
Cons
There is no online application for SBA loans through Truist.
The company's bank branches are concentrated in only a few regions of the U.S.

Truist is a major U.S. bank formed during the merger of SunTrust Bank and BB&T Bank in 2019. This traditional lender offers a wide variety of U.S. Small Business Administration (SBA) loans, term loans, lines of credit and equipment financing. Truist boasts nearly 2,800 brick-and-mortar bank branches for in-person service. Business owners with a Truist checking account are even eligible for discounts on interest rates.
Truist Editor's Rating:
8.4 / 10
Collateral

9/10

Fast funding

8/10

Loan variety

8.5/10

Easy approval

7.5/10

Customer service

9/10
Why We Chose Truist as the Best for SBA Loans
Small business owners hoping to secure one of the SBA's coveted loans are required to provide a lot of documentation. With almost 2,800 bank branches in the U.S., Truist is well-positioned to guide businesses through the paperwork in person. A lender with extensive experience navigating this funding process and options for face-to-face customer assistance can prove invaluable, which is why we selected Truist as the best lender for business owners seeking SBA loans. The two banks that merged to form Truist both possess years of experience working with the SBA as preferred lenders.
One of the benefits of SBA loans is a lower interest rate than what you would receive from a typical lender.
Loan Types and Rates
In addition to SBA loans, Truist offers its own term loans, business lines of credit and other commercial financing solutions.
Term Loans
Truist's small business term loan goes up to $100,000, with terms of up to five years available. These longer-term loans are often a better choice than business lines of credit if you need to make a large one-time purchase or fund a new growth initiative. With a term loan, you'll enjoy fixed repayment terms and lower rates.
One unique advantage of working with Truist for your term loan is its discounts for checking-account holders. For small business customers that maintain a checking account with Truist, the bank will shave up to 0.50% off your interest rate. On a large, multiyear loan, this discount could add up to hundreds or thousands of dollars in savings.

Truist's term loans are a solid choice for a long-term borrower. Source: Truist
SBA Loans
SBA loans offered through the U.S. Small Business Administration in conjunction with Truist are a popular loan choice among business owners due to their low interest rates and flexible terms. These loans are backed by government guarantees, which means lenders are able to take on risks that might otherwise prevent a business from obtaining funding. [Read related article: Which Government Loans Are Available to Entrepreneurs?]
SBA loans can be used for a variety of purposes. The SBA 504 loan program in particular can help you acquire real estate for your business. The 504 loan can also be combined with the SBA 7(a) program for larger purchases.
Although SBA loans provide flexibility and favorable terms, applying for them takes more work than it would for other funding products. Speak to a Truist representative to find out if you qualify and gather more details on applying. Unlike most alternative lenders that mainly conduct business online or over the phone, Truist maintains a sizable network of brick-and-mortar bank branches with staff who can help guide you through the laborious SBA application process in person. Still, you may also want to consider our review of Balboa Capital for another high-quality SBA-approved lender.
You can combine an SBA 504 loan with a 7(a) loan to make larger purchases, such as real estate.
Other Loan Types
Other funding solutions available through Truist include vehicle and equipment loans, real estate loans and lines of credit. Truist's vehicle and equipment loans can finance up to $250,000 of purchases, with terms that extend up to six years. Truist will fund 100% of the purchase price, including soft costs like installation. The company's business lines of credit go up to $100,000 for 12 to 36 months, which is a longer term than what many other lenders we reviewed offer.

Truist can provide loans for business vehicles. Source: Truist
Terms
Truist's terms and conditions are fairly standard and similar to other lenders. One important point to keep in mind is that SBA loans require more extensive documentation than other types.
Collateral
Truist offers both unsecured and secured business loans. The main difference between these loan types is that unsecured loans don't require collateral. Truist will more readily extend unsecured loans for amounts under $50,000; anything more than that will require verification of your business assets. Larger loans will require some form of collateral.
Special Documentation
The SBA requires much more documentation for its loans than other forms of funding. Expect to provide the following documents about you and your business if you apply for an SBA loan:
A statement of personal history (SBA Form 912)
A personal financial statement (SBA Form 413)
Personal records of past loans you've applied for
Names and addresses of all your subsidiaries and partners
Resumes for all business principals
Business overview and history that explains why you need an SBA loan
Business financial statements
A profit and loss statement current within 90 days of your application
Supplementary profit and loss schedules from the last three fiscal years
Business records of loans you've applied for
Three years' worth of signed business and personal tax returns for all of the business's principals
Business certificate and license
Copy of property leases or deeds
Projected financial statements
One-year projection of income and finances
A written plan that explains how you'll reach revenue projections
Application Process
You can apply online for all of Truist's loans except for the SBA offerings, which require working with a Truist representative on the phone or in person. The non-SBA applications take only about 20 minutes to complete.
To be eligible for an SBA loan, you must prove to the lender that you meet certain qualifications, depending on the specific loan type. Here are the criteria you need to meet for Truist's SBA-backed loans, broken down by program.
SBA 504
Operate as a for-profit company in the United States
Have a tangible net worth of $15 million or less
Have an average net income of less than $5 million after federal income taxes for the two years preceding your application
SBA 7(a)
Operate as a for-profit company in the United States
Qualify as a small business, as defined by the SBA
Own a reasonable amount of invested equity
Use alternative financial resources, including personal assets, before seeking financial assistance
Demonstrate a need for the loan proceeds
Use the funds for a sound business purpose
Not be delinquent on existing debt obligations to the U.S. government
SBA Express Loans
Operate as a for-profit company in the United States
Be in operation for at least two years
Qualify as a small business, as defined by the SBA
Demonstrate a need for financing
Have financed the business through alternative means
Able to demonstrate the funds will be used for sound business purposes
Not be delinquent on debt obligations to the federal government
Customer Support
Truist is one of the largest banks in the U.S., with nearly 2,800 locations. For customers located within Truist's geographic area, the ability to walk into a branch and speak with an in-person representative is invaluable. This is one of the enduring upsides of working with traditional lenders; the alternative lenders we investigated mainly conduct business online or over the phone. Truist's bank branches are typically open Monday through Friday, from 9 a.m. to 5 p.m., with limited hours on Saturdays.
The company further offers virtual appointments with its small business specialists. These meetings with Truist's Small Business Direct team can cover more than just financing options and loan matters. The financier's banking and credit experts are prepared to give advice on cash flow management, banking processes, risk reduction and more.
We also like that Truist provides services for customers with limited proficiency in English. A Spanish-speaking Truist representative is available by phone upon request, and the bank can connect other customers with services in their native languages.
Truist's branches are heavily concentrated in the South and Mid-Atlantic regions.
Limitations
Unfortunately, Truist's physical bank branches aren't available nationwide. The banks are mainly concentrated in the South and Mid-Atlantic regions. If you aren't located in one of the states highlighted in the image below, you might have trouble getting in-person assistance. This would be a detriment to many small business owners who might need someone to walk them through the complex SBA application process and the extensive documentation requirements face to face. That said, Truist's funding solutions are available nationwide for those who apply over the phone.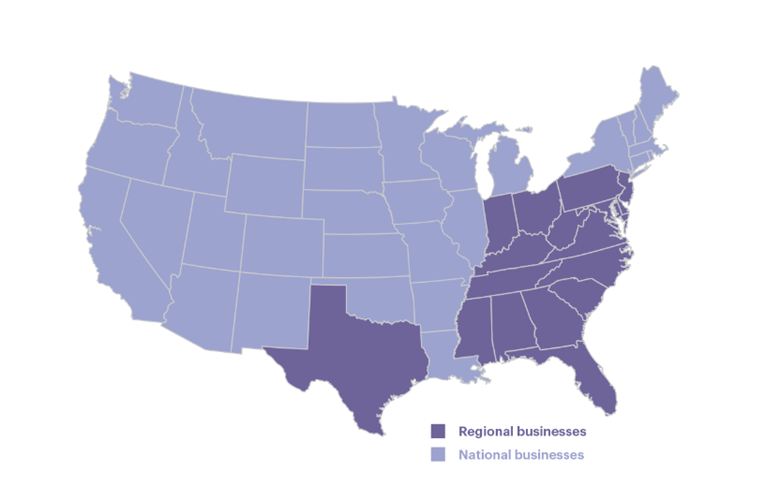 The darker-colored areas on the map denote states with Truist branches. Source: Truist Annual Report
Also, keep in mind that SBA loans take longer to fund than other financial products, so this may not be a great option for those who need funding quickly. A good personal credit score is usually required as well. Additionally, business owners who can't meet the SBA's substantial documentation requirements might want to consider checking out the Accion Opportunity Fund, which has loose documentation requirements and works with underserved demographics that often have trouble accessing funding from traditional sources. Our review of Accion covers this organization and its loan options in detail.
Methodology
When searching for the best business financing options for small business owners, we researched loan providers and their credit requirements, loan types, minimum sales requirements, required minimum time in business, how fast their loans are funded and their customer service options. We also analyzed each company's financial factors, such as the starting interest rates, loan terms and loan sizes. To identify the top lender for business owners looking for SBA loans, we paid particular attention to which SBA loans were on offer from different financiers and the availability of in-person assistance when applying. [For more insights, check out our guide to choosing a business loan.]
FAQ
You can find a Truist bank branch in certain states. The company is primarily located in North Carolina, South Carolina, Virginia, Maryland, West Virginia, Kentucky, Tennessee, Georgia, Florida, Alabama, Indiana, Texas, New Jersey, Ohio, Pennsylvania and Washington, D.C.
The minimum depends on the specific type of SBA loan, but generally, you'll need a credit score above 600.
Yes. SunTrust and BB&T merged to form Truist in 2019.
Bottom Line
We recommend Truist for …
Businesses looking for an SBA loan.
Business owners that want in-person assistance.
We don't recommend Truist for …
Business owners located outside of Truist's geographic region, especially those requiring in-person assistance.
Businesses that need fast funding.