Crest Capital offers businesses flexible equipment financing options, low interest rates and fast funding, making it our choice for the best equipment-financing loan provider for 2021.
Pros
Crest Capital allows you to finance a wide range of business capital investments, including equipment many other lenders won't cover.
Borrowers can choose from numerous financing solutions to purchase equipment.
The company's application process is straightforward and fast.
Cons
Crest Capital limits its products to equipment financing, so there is much less loan variety compared to other lenders.
The company requires business owners to be in operation for at least two years.

Crest Capital is an alternative lender that specializes in financing for business-related equipment, vehicles and software purchases. The company also offers vendor programs so equipment manufacturers can provide financing for their customers. Crest Capital extends loans of up to $250,000 with one simple application, with the option for additional funding totaling more than $500,000. Potential borrowers can be approved as soon as the same business day, making for a speedy funding process.
Crest Capital Editor's Rating:
8.7 / 10
Collateral

9.2/10

Fast funding

8.7/10

Loan variety

8/10

Easy approval 

8/10

Customer service

9.5/10
Why We Chose Crest Capital as the Best for Equipment Financing
Crest Capital focuses exclusively on providing financing for business equipment, including vehicles and software. Unlike many other equipment loan providers we evaluated, Crest Capital maintains few restrictions on what type of equipment it will finance — even used equipment is acceptable under the lender's terms. Borrowers can choose from numerous options to structure their loan, including an equipment finance agreement, 10% purchase option and a guaranteed purchase agreement. Applying is straightforward, with a quick decision and fast funding. All of these benefits make Crest Capital our top recommendation for business owners in need of equipment financing.
Farm equipment loans are a particular type of equipment financing for those in the agricultural industry.
Loan Types and Rates
Crest Capital facilitates funding for business equipment, vehicles and software. Rates and terms are competitive with similar funding providers we reviewed, but we especially like that the company offers a slew of financing methods.
Equipment Loans
A business equipment loan gives businesses funding to purchase, repair or maintain the equipment they need to generate revenue. Some lenders only finance preapproved equipment while others have a broader scope. Notably, Crest Capital says it will finance "almost any type of equipment" a business needs for daily operations, including used equipment. With the company's simple online application, borrowers can obtain funding of up to $250,000 for two to six years. If you provide additional information for due diligence like financial statements, Crest Capital may even be willing to go above $500,000 for qualified applicants. To be eligible, you need to have a "good" personal credit score and a minimum of two years in business. Unfortunately, the lender doesn't quantify what score counts as "good."
Crest Capital's funding packages can be structured in different ways, including loans and lease-to-own agreements that are paid off over time. Equipment finance agreements are similar to small business term loans, where you own the equipment and make fixed monthly payments to the lender that supplied the purchasing funds. Another route is the 10% purchase option, where you make monthly payments on an equipment lease and retain the option to purchase the equipment from Crest Capital at 10% of the original cost. Other funding choices include $1 purchase agreements, guaranteed purchase agreements and more.
Crest Capital doesn't disclose its starting interest rates. However, during our research, we obtained an estimate for a $100,000 equipment loan with a starting rate that we found to be competitive.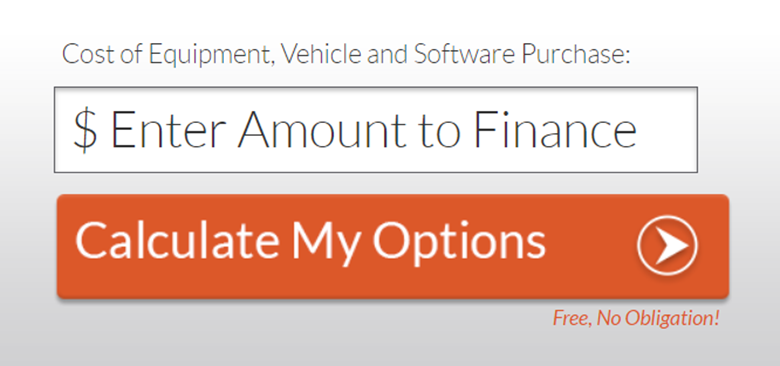 We used Crest Capital's online calculator to obtain several instant estimates. Source: Crest Capital
Vehicle Loans
Crest Capital's vehicle loans can be used to finance the purchase of work-related trucks, vans and other specialty vehicles, such as dump trucks, cherry pickers and more. Used vehicles are acceptable, and there are no mileage limits or age restrictions. However, keep in mind that Crest Capital won't finance the purchase of regular passenger cars or trucks for owner-operators. Still, we like that Crest Capital provides a lot of latitude and buyer choice, and we appreciate that the company will even finance a transaction with a private seller.
Crest Capital offers two vehicle funding options. The first is a titled vehicle finance agreement, which functions similarly to a fixed-rate term loan. The second type, a terminal rental adjustment clause, is similar to a lease-to-own arrangement where you can choose to either buy or sell the vehicle at the end of the lease.
If you're purchasing vehicles for your business, you may want to check out our picks for the best GPS fleet management services so that you can monitor your drivers and automobiles.
Software Loans
Crest Capital is one of the few lenders we found that finances the cost of acquiring new software, which has become a necessary operating expense for many businesses. Approved borrowers can get 100% of their software costs covered, including installation and support expenses. Requirements for applicants are similar to Crest Capital's general equipment loans. Software purchases under $250,000 can be financed over seven years, and you also have the option to lease the software from Crest Capital.
Terms
Crest Capital's large slate of equipment-focused funding options all have different terms and conditions, so you'll need to carefully review your offer. In general, Crest Capital's products contain some similarities when it comes to collateral and special documentation.
Collateral
Crest Capital provides financing options that don't require you to put up collateral, also known as unsecured loans. The main difference between a secured and unsecured loan is that a secured loan requires you to pledge collateral while an unsecured loan doesn't.
Special Documentation
Crest Capital makes a point of not requiring any special documentation for loans under $250,000. Just make sure you have your bank account information on hand when you fill out the application and review the funding options that interest you. A minimum of two years in business is required for all applicants.
Many lenders require bank statements, copies of your government identification and more documentation for the initial application, but Crest Capital only asks that you fill out a one-page form.
Application Process
Crest Capital's one-page online application asks for basic business information, bank account details and the amount and type of funding you're requesting. The lender doesn't advertise a minimum for acceptable credit scores, only saying they require "good" credit. Other factors they weigh include the age of the business, the credit history of both the business and its owners, debt, collateral, the specific industry and more. You can expect to hear back from Crest Capital on your application within hours. After providing the company with invoices for the equipment, Crest Capital will arrange payment to the seller. [Get more guidance on applying for a business loan and getting your loan approved.]

Crest Capital's application requires minimal information to obtain a quote. Source: Crest Capital
Customer Support
Crest Capital provides customer support via email, fax and phone. While some competitors offer online resources like frequently asked questions (FAQs) and guides, the company's website only houses a blog, "The Lease Guy," written by one of Crest Capital's executives. We were impressed that Crest Capital is accredited by the Better Business Bureau with an A+ rating and a 4.86 (out of 5) customer review rating. In researching the lender, we also noticed a lot of customers stating in user reviews how much they like working with Crest Capital. The company has received few negative reports during its time in business, which dates back to 1989.
Limitations
As an alternative lender specializing in equipment financing, Crest Capital is a great choice for business owners looking to fund capital investment projects. However, other lenders provide a much wider variety of funding options. A marketplace lender, such as the company detailed in our review of Biz2Credit, can offer many different loans better suited for businesses that aren't necessarily looking to buy equipment.
Additionally, Crest Capital isn't as transparent about eligibility requirements as other lenders we reviewed, particularly regarding a minimum credit score. We do know that the company requires applicants to have at least two years of operations behind them, even though some financiers only require six months. Check out our Fundbox review for a lender with a shorter time requirement and a clear (albeit somewhat high) credit score minimum. The company's lines of credit could be another way to purchase the equipment your business needs.
Methodology
When searching for the best business financing options for small business owners, we extensively researched loan providers and their platforms. Criteria we considered included credit requirements, loan types, minimum sales requirements, required minimum time in business, how fast loans are funded and the company's customer service quality. We also paid attention to financial factors, such as starting interest rates, loan terms and loan sizes. To determine the top lender for businesses seeking equipment financing, we focused on the availability of specialized funding options, the types of equipment covered by the loan and the ease of application.
FAQs
Yes, Crest Capital provides vendor financing with a program that allows you to offer financing to your customers. See our review of Balboa Capital for another lender that also facilitates vendor financing.
Credit Capital does not do a hard credit check on applicants. Your credit score won't be affected when you initially apply, and the company can make a decision without performing a hard credit pull.
No, Crest Capital does not offer startup financing. The lender requires businesses to be in operation for two years.
Bottom Line
We recommend Crest Capital for…
Business owners seeking equipment financing, especially for vehicles or software.
Businesses that want the option to lease equipment rather than purchase it outright.
We don't recommend Crest Capital for…
Businesses requiring very short-term funding or wanting to examine a variety of business loan products.
Startups without much business history.
Applicants with bad credit.