Fundbox offers several loan products, including a line of credit for up to $150,000 and terms as long as 24 weeks. This lender has a low credit score requirement, quick funding and no hidden fees, making it an attractive option.
Pros
Fundbox has a simple application and approval process with competitive starting rates.
The company's technology platform makes it easy to draw additional funds and stay informed about your account.
Cons
Fundbox's minimum sales and credit score requirements exclude many small businesses.
There isn't an option for a line of credit that extends beyond six months.
Loan variety is limited to lines of credit for many customers.
Fundbox is a technology-enabled lender that specializes in business lines of credit. The company offers lines of credit for up to $150,000, repayment terms of three to six months, and next-day funding. Fundbox also includes several cutting-edge innovations in its services that help business owners repay their loans while maximizing their cash flow. For these reasons, Fundbox is the best lender for those looking for a lending platform with useful technology features.
Fundbox Editor's Rating:
8.7 / 10
Collateral

9/10

Fast funding

9/10

Loan variety

7/10

Easy approval

8.8/10

Customer service

9.5/10
Why We Chose Fundbox as the Best for Technology Features
Fundbox is one of the more technologically advanced lenders we discovered in our investigation of leading financiers for small businesses. Its flagship business line of credit is similar to competing services from the best business loan and financing providers, but the company really stands out with its specialized tech features. Fundbox's digital platform allows borrowers to integrate the service with their accounting software and retain flexibility around how they repay their loans. Fundbox is also one of the few lenders we came across with a dedicated mobile app. If you're looking for a modern-day lending platform, Fundbox is the answer.
Loan Types and Rates
Fundbox primarily offers business lines of credit and emphasizes its technology platform. The company is also piloting short-term loans for select customers.
Line of Credit
A line of credit allows you to draw on funding when you need it and only pay interest on the amount you've borrowed. Oftentimes, this type of credit facility is used to finance immediate short-term obligations and expenses like payroll, inventory and maintenance.
Fundbox's line of credit is available for up to $150,000 for 12 to 24 weeks. The starting interest rate of 4.66% on the 12-week product is very competitive with similar offerings we reviewed. To qualify, you need to have at least $100,000 in annual sales, six months in business, a credit score of 600 and a business checking account.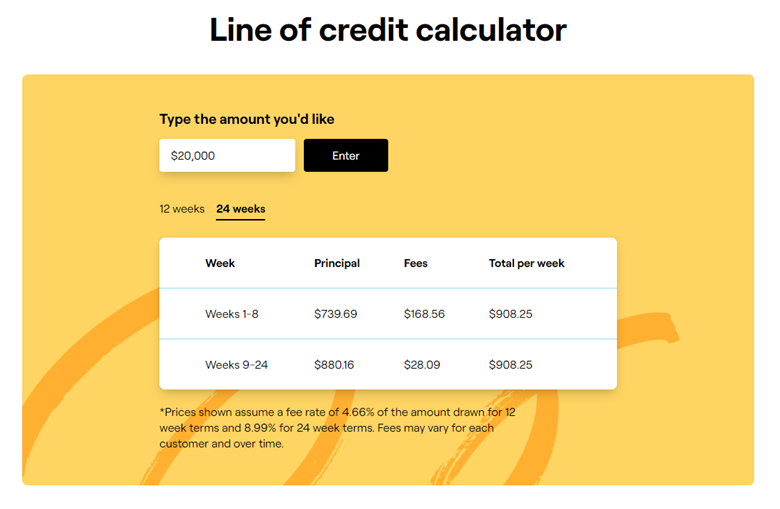 Fundbox's online calculator provides an estimate of your principal and fees. Source: Fundbox
Term Loans
Fundbox's small business term loans are designed to be repaid over a short period of 6 to 12 months. At the moment, the company is still testing this product, and there is no application available. Borrowers who apply for Fundbox's line of credit will be automatically notified if they qualify for the term loan and will be given a choice between its two products. [Read related article: Is a Line of Credit or Term Loan Right for Your SMB?]Tip: A business line of credit is more popular for plugging gaps in cash flow or unexpected expenses, while a term loan is often more appropriate for a planned investment.
Technology Features
Fundbox maintains one of the most technologically advanced platforms among the alternative lenders we evaluated, with a number of unique features available for its line of credit customers. For select business owners, the company is piloting a cash flow insights tool that helps ensure you can make your payments. Fundbox is also testing a paid subscription product called Fundbox Plus that allows borrowers to extend their repayment terms, obtain discounts on new draws and more.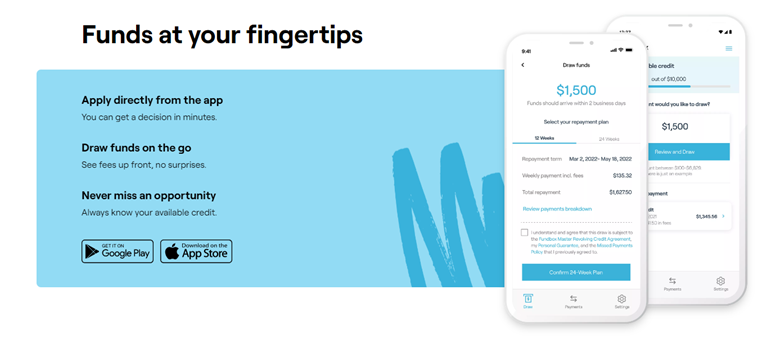 Fundbox, one of the few alternative lending companies with a dedicated mobile app, is accessible on both Android and iOS devices. Source: Fundbox
Flex Pay
Fundbox's Flex Pay is a free service available for its line of credit borrowers. It acts as a middleman between your business bank account and payroll vendor. Rather than directly debiting your business bank account for payroll, Fundbox temporarily covers the tab until you repay them. This ensures you always have the funds to make payroll and cover vendor expenses.
Accounting Integration
Fundbox integrates with several of the top accounting software solutions, including QuickBooks, FreshBooks and Zoho. This integration is designed to automatically record your Fundbox transactions using the double-entry bookkeeping system, ensuring your accounts always stay balanced and eliminating the need to manually enter this data.
Fundbox's partner marketplace also includes companies like Gusto, Indeed and Alignable.
Terms
For business lines of credit, Fundbox requires applicants to meet a certain threshold for annual sales, time in business and personal credit score. As noted above, those minimums are $100,000, six months and a 600 credit score. A few additional terms and conditions are detailed below.
Collateral
Fundbox offers unsecured loans, which means you aren't required to put up collateral. However, in some cases, the company may ask you to sign a personal guarantee to take out one of their loans, and they also reserve the right to require a personal guarantee in the future. 
Many lenders require a personal guarantee as a promise that you will repay the loan.
Special Documentation
Fundbox doesn't require any special documentation, and applicants can be approved as soon as the same day they apply. You do need to have a business checking account to be considered. For another lender that doesn't have special documentation requirements, see our review of Balboa Capital, which is especially noteworthy for its ease of approval.
Application Process
Fundbox makes applying for a loan simple if you meet the minimum qualifications. You can fill out a form online via Fundbox's website or mobile app, and you can rest easy knowing that applying will not impact your credit score. As previously mentioned, the company requires little in documentation, save for business bank account information, which further speeds the application process along. Applicants can receive a same-day decision, which Fundbox says can take place within minutes. If approved, funds can arrive in your business checking account as soon as the next business day.
Customer Support
Fundbox has a robust customer support operation. We like that its representatives can be reached by phone Monday through Friday, from 8 a.m. to 8 p.m. ET, which is a much longer window than other alternative lenders we looked at. Additionally, the company's website contains an extensive FAQ section and a host of articles and blog posts to guide you through the process of obtaining funding. We also found that many Fundbox customers praised the company's customer service on independent user review sites.
Limitations
The most obvious limitation with Fundbox is that it mainly focuses on one funding solution instead of a variety of loan types. While Fundbox has perfected its line of credit offering and technology platform, business owners will need to look elsewhere if they're seeking long-term loans, equipment financing and other common forms of small business funding. For a more comprehensive selection of financial solutions, read our SBG Funding review, and check out our tips for determining which type of business loan is best for your business.
Also, it's worth noting that Fundbox's line of credit is limited in size and repayment terms. Business owners seeking larger lines of credit or longer terms should take a look at our review of Rapid Finance. Lastly, Fundbox's minimum requirements for applicants have become more strict in recent years, which may exclude startups and small business owners with lower credit scores.
Methodology
In looking for the best business financing options for small business owners, we analyzed loan providers and their credit requirements, loan types, minimum sales requirements, required minimum time in business, customer service availability and the speed of funding. We also assessed each lender's financial factors, such as their starting interest rates, loan terms and the size of loans on offer. To identify the top provider for business owners specifically interested in technology features, we sought lenders with modern platforms and unique tools that enhance the financing experience for the duration of the term.
FAQs
No, there are no prepayment penalties with Fundbox. The lender allows you to pay off your balance early with no fees.
No, applying for Fundbox does not affect your credit score. The company only performs a soft credit check and relies on data from your business bank account to make a decision on your application.
You might be able to change your repayment schedule with Fundbox. If your payments are too high and you risk falling behind, Fundbox can work with you to extend your term for a longer period than usual, although this will incur additional interest charges.
Bottom Line
We recommend Fundbox for …
Business owners interested in using modern financial tools.
Well-qualified business owners who need access to a flexible line of credit.
Small business owners who want to integrate their line of credit payments with their accounting software.
We don't recommend Fundbox for …
Businesses seeking long-term loans.
Business owners who want to evaluate a variety of funding options before making a decision.