SBG Funding is the best alternative lender with flexible terms. It offers businesses up to $5 million in financing and repayment terms up to five years, and it does not charge any prepayment penalties.
Pros
SBG Funding's term loans feature repayment periods ranging from one to five years.
The lender will approve borrowers with lower credit scores.
The company's $5 million cap on term loans is significantly higher than those of similar providers.
Cons
SBG Funding quotes a low starting monthly rate rather than the full annualized rate.
Some business owners may not have the necessary documentation to apply immediately.
SBG Funding is an alternative lender that provides small businesses with several funding options, including standard loans, business lines of credit, equipment financing and invoice financing. SBG offers relatively fast funding and a range of loan terms with no additional fees, which is why we selected it as the best business loan and financing option if you want flexible terms. Business owners will appreciate that SBG doesn't rely on cookie-cutter agreements. Instead, the company is willing to customize its terms to fit your needs.
SBG Funding Editor's Rating:
8.8 / 10
Collateral

8.8/10

Fast funding

8.5/10

Loan variety

8.5/10

Easy approval

9/10

Customer service

9.3/10
Why We Chose SBG Funding as the Best for Flexible Terms
Many alternative lenders we've reviewed offer a limited range of options when it comes to both loan size and the timeline for repayment, even though different businesses have different needs for funding. Some business owners prioritize lower monthly payments with longer repayment schedules, while others prefer to minimize total financing costs. SBG Funding provides term loans of up to $5 million with repayment periods of one to five years. The company is willing to make adjustments to its terms in order to meet a variety of business funding needs, which is what makes it the ideal lender for business owners seeking flexibility. With SBG, you'll get a more personalized financial solution than you're likely to find elsewhere.
Loan Types and Rates
SBG Funding has several financing options, including term loans, lines of credit, bridge loans, equipment and invoice financing, and SBA 7(a) loans. Rates and terms vary depending on the type of loan, but you can expect flexible term options, a quick approval decision and fast funding.

SBG Funding can provide quick funding of up to $5 million for your business. Source: SBG Funding
Term Loans
SBG Funding offers a small business term loan of up to $5 million. Term loans are an attractive financing option for businesses because they have fixed repayment terms and lower rates. SBG's repayment terms range from one to five years. This contrasts with many competitors, which tend to offer more compressed repayment periods. We also like that you have the option to make your payments either biweekly or monthly and that there are no prepayment penalties.
In order to qualify, you need a credit score of at least 500, monthly revenue of $10,000 or more, and a minimum business operational history of six months. SBG says it has an approval rate of 85% for its term loans and that a decision is typically made within 24 hours of applying.
Interest rates on SBG's small business loans start at 1.75% per month. Keep in mind that this is not the same as an annualized percentage rate (APR), so be sure to inquire about your total APR when you speak to an SBG representative.
Bridge Loans
SBG Funding's bridge loan is a short-term financing option that allows you to obtain money quickly. These loans are often put toward working capital uses, such as payroll, equipment and inventory. SBG allows you to borrow up to $1 million for a term of six to 24 months. Interest rates start at 1.92% per month. Payments can be made either weekly or monthly, and SBG extends a discount for prepayments. To qualify, you need a credit score of 500 or higher, monthly revenue of at least $10,000, and six months or more of operational business history.
Business Lines of Credit
A business line of credit lets you obtain funding whenever necessary while only paying interest on what you've borrowed. Compared with term loans, lines of credit have shorter repayment terms and are typically less flexible. SBG Funding offers businesses up to $150,000 through a line of credit, with repayment terms lasting six to 24 months. Similar to its other loans, you can get an approval decision in 24 hours. You can make your payments weekly or monthly, and the interest rate on business lines of credit also starts at 1.75% per month.
Businesses often maintain a line of credit as an emergency source of funds.
Equipment Financing
If your business relies on pricey equipment to operate, such as machinery or tools, SBG Funding can help you finance up to 100% of the purchase price. Repayment terms range from one to seven years, with an average monthly interest rate of 3.75%. To qualify, you need a credit score of 500 or above, monthly revenue of $10,000 or more, and six months of business operations at a minimum. You also need to show at least one copy of the equipment invoice for purchase. Funding decisions are made within 48 hours of applying.
Invoice Financing
For business owners who don't want to wait on unpaid invoices, SBG Funding offers invoice financing. You can fund up to 90% of your business's account receivables, which is high for the industry. Rates start at 0.25% per week. SBG lets you choose between weekly or monthly payment options. Again, to qualify, you need a credit score of at least 500, monthly revenue of $10,000 or more, and a minimum business operational history of six months. Approve-or-deny decisions are made within 24 hours of submitting your application. [Although slightly different from invoice financing, check out our picks for the top invoice factoring companies.]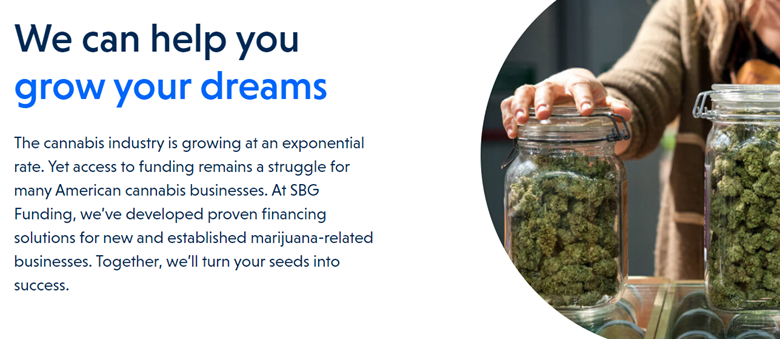 SBG Funding is willing to work with businesses in controversial industries like cannabis, which often have a tough time obtaining financing from traditional lenders. Source: SBG Funding
SBA Loans
SBA 7(a) loans are backed by the U.S. Small Business Administration (SBA). SBA loans are sought by many business owners because of their low interest rates, long repayment terms and zero down payments. As an approved SBA lender, SBG Funding can work with you to obtain an SBA loan for up to $10 million, with a two- to 10-year repayment term. To qualify, you need a credit score of at least 650, a business history of at least two years, and solid profitability and cash flow. These requirements are noticeably higher than for the products above.
Terms
Compared to most lenders we reviewed, SBG Funding's repayment terms offer significantly more flexibility, as the company is willing to tailor the agreement to suit your needs. In fact, in some cases, SBG can even arrange payment-deferred loans for the first three months. Here are a few additional terms and conditions to keep in mind when considering SBG for your financing needs.
Collateral
SBG Funding loans are unsecured, which means you don't need to put up collateral. However, SBG may require you to sign a personal guarantee. This holds you personally liable if your business doesn't pay the loan back. [Find out what happens if you default on a business loan.]
The difference between a secured loan and an unsecured loan is that an unsecured loan doesn't require you to use your business's assets as collateral.
Special Documentation
To apply for a loan from SBG Funding online, you'll need several documents on hand, including your last three months of business bank statements, a copy of your driver's license and a voided check. Alternatively, you can fill out a paper application, but the same documents are required.
Application Process
SBG Funding allows you to apply either through its online form or a paper application you can send in via email or fax. After supplying basic business information and copies of the necessary documents, you can expect to hear back on your application within a day. You can get in touch with an SBG representative via phone or email if you need help with the application.
SBG usually takes just 24 hours to approve or deny your application. If you're approved, you can expect funding within 12 to 48 hours. This is a fairly fast turnaround time, especially considering that SBG offers much larger loans than similar small business lenders. That said, if speed is your top concern, check out our review of Rapid Finance, which we found to be the best provider for businesses requiring fast funding.
Customer Service
SBG Funding communicates with business owners through email, fax and phone. While faxing may seem a little outdated, it may be nice to know it's at least an option if necessary. The company also maintains an informational business funding blog on its website, as well as an easy-to-use calculator for estimating loan eligibility. Rapid Finance has a similar online tool.
During our investigation, we learned that SBG representatives prefer to steer lower-qualified businesses toward smaller loan packages rather than saddle them with high interest rates. We appreciate such an ethical, customer-first approach, and it's one of the reasons it wasn't surprising to see many customers praise SBG's customer service online, with very few complaints.
Limitations
One advantage of using SBG Funding as your loan provider is that it is willing to work with business owners with not as good credit, as well as organizations that don't generate much revenue. However, this often translates into higher interest rates. SBG specifies a 1.75% average monthly interest rate for its term loans, which is different from an annualized percentage rate and could be misleading. We recommend applicants speak with an SBG Funding representative for more information on the lowest APR they can obtain. For business owners with better credit, our review of Noble Funding provides more information on an alternative lender that offers interest rates on the lower end of the spectrum.
Also, SBG Funding requires business owners to have a voided business check handy for uploading when applying for a loan online or to include with a paper application. Because fewer and fewer people are using paper checks these days, this may be a time-costing inconvenience for some business owners who need funding immediately.
Methodology
To determine the best business financing options on the market, we evaluated a number of loan providers and their platforms. Our examinations included looking at each company's credit requirements, loan types, minimum sales requirements, required minimum time in business, customer service and funding speed. We also compared financial factors, like starting interest rates, loan terms and the size of loans available. To identify the top lender offering flexible terms, we closely considered repayment terms, frequency of payments and qualification requirements, along with how willing the financier was to customize the loan agreement.
FAQs
Loan types you can get from SBG Funding include term loans, short-term bridge loans, lines of credit, and invoice and equipment financing. SBG Funding is also an approved lender for SBA 7(a) loans.
Many different types of companies can use SBG funding, including those in retail, healthcare, manufacturing, transportation and construction, as well as restaurants. What's more, SBG Funding works with a variety of industries, as well as cannabis-related businesses, which often have difficulty obtaining financing from traditional lenders.
Yes, SBG Funding offers SBA 7(a) loans, but the qualifications are more extensive than those for other products. For example, you need to prove you've been in operation for two years, not just six months. Find out more about applying for an SBA loan versus alternative loans.
Bottom Line
We recommend SBG Funding for …
Borrowers who prioritize flexible repayment terms.
Business owners with lower credit scores.
Small businesses that require multimillion-dollar loans.
We don't recommend SBG Funding for …
Well-qualified business owners with good credit who want to obtain the lowest interest rate possible on a term loan.
Business owners that need funding immediately but aren't likely to have the necessary documentation handy.