G&A Partners provides extensive PEO and HR outsourcing services to small businesses. Its HR support and training programs, in particular, stand out. G&A Partners is our pick as the best PEO for employee development tools.

G&A Partners offers comprehensive human resource (HR) services, including employee recruitment and onboarding services, time and attendance tracking, payroll processing, accounting services, competitive employee benefits, workplace safety measures, risk and compliance management, and HR consulting; however, its impressive training programs and technology are why we selected it as the best HR outsourcing solution for employee development. G&A Partners plans are scalable and customizable, which is great for growing businesses or organizations with specific HR outsourcing needs.
G&A Partners Editor's Rating:
7 / 10
Pricing/value

9.3/10

Features

8.5/10

Expertise

8.8/10

Ease of use

9.1/10

Customer support

8.7/10
G&A Partners Pricing and Terms
G&A Partners offers a variety of scalable and flexible human resources plans. Small businesses have the option of signing up with a co-employment model vis-a-vis a professional employer organization (PEO) plan, or they can access traditional HR outsourcing features a la carte with an administrative services organization (ASO) plan. Like most HR outsourcing and PEO services, G&A requires businesses to enroll in its payroll solution to access its other services.
G&A doesn't require you to sign a long-term contract. Instead of locking your business in for a year or longer, it provides its services on an ongoing basis. You can cancel at any time with 30 days' notice. Because G&A Partners creates custom plans based on each business's unique needs, the company does not list pricing on its website. Instead, you will have to contact a representative for a custom quote.
You need a minimum of 10 employees to be eligible for G&A's services. Although this is a slightly higher employee minimum than other HR outsourcing services we evaluated, it is not an issue for most businesses. If you need an HRO that doesn't have an employee minimum, read our review on Paychex.
G&A Partners Features
G&A offers a number of convenient HR services to help hire, train and manage your employees. Small businesses that need comprehensive HR assistance are better suited for G&A's PEO services, whereas SMBs that only need to outsource a few HR responsibilities may find an ASO plan suits their needs better. Although each plan offers many of the same features, the contract structure for these services will be different, so work closely with your G&A representative to find the right service type for your business. Both plan structures allow you to scale services to match your business's needs.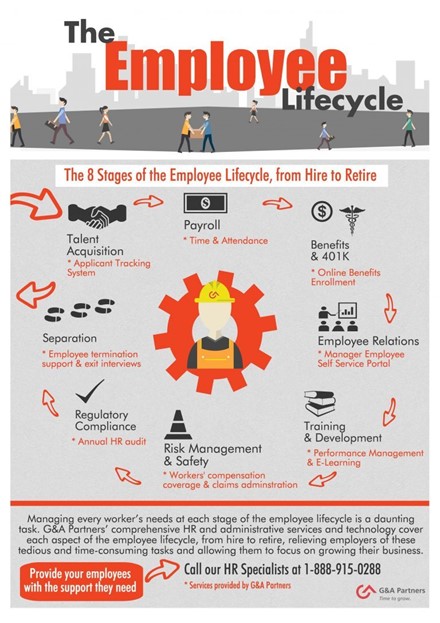 HR Services
G&A Partners can handle all of your HR needs. Noteworthy services include its ability to help you develop and implement HR policies and procedures. If you're a small business without an HR department or person, G&A can help you start from scratch. It provides employee handbook creation, employee discipline and termination support, performance management and training, and unemployment insurance and claims administration. These are standard HR services, but G&A Partners goes further by providing recruiting services such as job description review and creation, screening, job assessments, applicant tracking, and new-hire onboarding.
Payroll and Taxes
G&A Partners can handle all of your payroll processing and payroll tax needs. It offers compliance and tax-related payroll services such as tax filings, wage garnishments, new-hire reporting, automated standard deductions and payroll reports. G&A provides a full-fledged payroll service that is on a par with several of its competitors.

Time and Attendance
G&A provides time and attendance software, time and overtime tracking, paid time-off accrual, vacation and sick leave tracking, and scheduling management. Each of these features integrates with G&A Partners' payroll processing software to ensure employees are properly paid each pay period.
Employee Benefits Administration
G&A Partners offers standard employee benefits, including health, dental and vision insurance. There are also flexible spending accounts (FSA), health savings accounts (HSA), health reimbursement accounts (HRA), employee assistance programs (EAP), short- and long-term disability, retirement savings plans, employee wellness and discount programs, illness and accident insurance, and telemedicine.
Additionally, G&A Partners can field employee questions regarding coverage and claims. This is a standout aspect of its service. Instead of you having to communicate with insurance carriers, G&A can assist with questions or disputes. G&A Partners also ensures healthcare reform compliance with eligibility monitoring and annual IRS reporting.
Risk and Compliance
G&A Partners offers standard accident-prevention services to help keep your team safe and secure. This is especially important for businesses in hazardous industries. G&A Partners can help develop employee safety manuals, conduct safety audits and inspections, carry out post-audit safety reports and training, and provide on-site and online safety training materials. It also helps you comply with Occupational Safety and Health Administration (OSHA) regulations and provides workers' compensation insurance.
Employee Training and Development
One standout aspect of G&A Partners' HRO offering is its employee development programs. Your employees can access a variety of online training resources such as videos, real-world scenarios and quizzes to measure employees' knowledge of the subject they received training on. In addition to great employee training programs, G&A provides performance management assistance for workers who have fallen behind. It offers multiple forms of support, such as helping you meet industry regulations, building education programs for your employees and tracking each worker's progress.
You can use advanced HR technology to find employee competency gaps, match jobs and goals with available courses, and assign specific courses to specific employees. The performance management system also allows you to set and measure employee goals, keep employee performance records, and conduct 360-degree reviews.
Ease of Use
An advantage of partnering with G&A Partners is the size of the company. Some HR outsourcing companies we reviewed are major companies that support tens of thousands of small businesses. There are advantages to partnering with a big company, but some small businesses want more personalized service with one-on-one support, and we found that G&A Partners can provide this level of attention.
Another benefit of G&A Partners is the technology you have access to. G&A's platform offers single sign-on capabilities, as well as self-service options. Giving employees the ability to log into the platform on their own to review payroll details and benefits information not only makes it easy on them but also on your administrators, who instead of having to answer these questions, are now freed up to handle other tasks.
When you sign up with G&A Partners, an onboarding specialist helps you get all of your company and employee details set up in the system. Having someone with you during every step of the onboarding process helps ensure G&A Partners meets your needs from the start.
Onboarding with G&A Partners generally takes four to six weeks.
Healthcare, skilled trades, manufacturing, nonprofit and professional service companies can especially benefit from G&A Partners. G&A specializes in these industries, providing industry-specific HR options. Since each industry has its own guidelines and laws that it must comply with, it is helpful to have an HRO or PEO that is knowledgeable about those regulations for your industry. This further simplifies the HR process. 
Limitations
G&A Partners does not have a mobile app so you can manage HR tasks on the go. An app is a valuable tool for companies spread out over several locations or for HR personnel who are constantly on the move. It would also be a great addition for employees to take training courses. Some of the other companies we reviewed, such as Insperity and ADP, offer mobile apps. If having this option is important to you, you may want to consider those services.
Another potential limitation we noticed was the lack of information on the company's website about the cost of its services. This isn't a deal-breaker, but many small business owners want a quick idea of how much each service costs, even if it's just a ballpark estimate. Since G&A Partners offers bundled and a la carte services, it is unclear what the cost may be.
When you get a price quote from a G&A representative, ask about the cost of additional services you may need in the future. You don't want to be caught off guard with unexpected costs as your business expands.
Customer Support
G&A Partners has several helpful online resources, including articles, guides, webinars, case studies, infographics, videos and white papers. You can contact G&A Partners by phone or online. The company also provides personalized support for its clients. When you sign up with G&A Partners, you receive a client advocate who coordinates your business's services; this person can answer many basic questions related to your service and refer complicated issues to a team of specialists for the coverage area in question.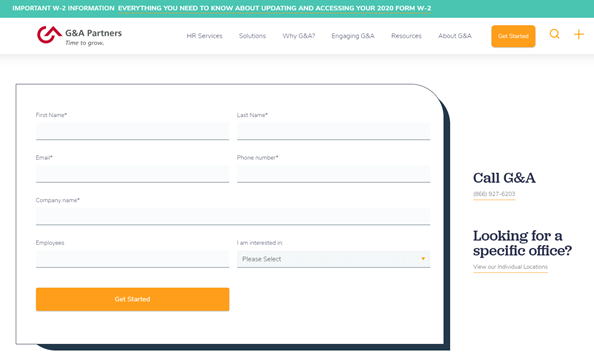 While G&A Partners provides sufficient support, you may also want to consider TriNet if customer support is a top priority for your business.