Backstabbing. Scapegoating. A lack of accountability. Low morale. Negative cliques. Playing favorites. Persistently poor communication. These are a few telltale signs of a toxic work culture.
We observed many of these traits during our interactions with a client we'll refer to as Company X. Leaders at Company X hired us to help them with their performance marketing.
We were excited to work with the company as it was operating in a dramatically growing industry with a lot of momentum behind it. In fact, the macroeconomics of its industry are so strong that several of the largest players recently went public.
However, after just a few short weeks of working with Company X, that enthusiasm waned. Even though we were a vendor, the company's employees often spoke down to our team and displayed a complete disregard for our time.
Related Article: Millennial Takeover: The Workplace Revolution and How It Changes Everything
Examples included continually asking for work clearly out of scope and not showing up for scheduled meetings, and even hitting "mute" during a call to have a side conversation (presumably about our team). The client contact was also perpetually late in getting pertinent information to us that our team needed to hit deadlines.
In one scenario, the client contact's boss got on the phone and chewed out our team members, accusing us of not doing our job because we didn't manage the contact or divulge his lack of responsiveness to his superior, despite the superior being copied on all communications.
There was no accountability on their part for their own missed deadlines. From their perspective, we were culpable for all of this.
We absolutely do not wish for anyone to fail, but it was validating to learn that Company X went out of business recently. For us, it confirmed that even a company with a good product in a high-growth industry cannot achieve sustainable success if its leadership creates a culture that encourages blame and backstabbing as opposed to accountability, respect and collaboration.
The Soft Stuff Is the Hard Stuff
The crux of the issue is that, all too often, growth companies are fixated on their growth and products rather than their underlying culture and sustainability. As a result, these companies often soar in the short term but struggle to experience lasting success.
It's like steroids: They'll help a person build muscle fast, but the long-term consequences (e.g., health problems, aggressive behaviors, and inhibited growth) far outweigh the short-term results. In many ways, the only hope for such companies is to be acquired; they are not set up to survive on their own.
Culture exists in every organization, whether by design or by default. While it's in everyone's interest to maintain a healthy, collaborative, productive, respectful, and, dare I say, nice culture, one of the key responsibilities of the founder is to direct it and cultivate it with intention.
Too often, the concept of culture is lumped in with the "soft stuff" category of business. In reality, it's just as important as the legal, technological, and financial aspects. Culture is the operating system that runs the business. If your company's culture isn't carefully nurtured and cultivated, it can quickly become your biggest liability and ruin even the grandest vision. We've seen this firsthand.
In the age of companies like Glassdoor, an anonymous company feedback website, employees are able to share what they like, and really don't like, about working for a company. This can make it very difficult, or even impossible, to recruit quality candidates if those reviews reflect a toxic company culture. 
So what can growth companies that are expanding their teams and developing their identities do to avoid a toxic work culture?
1. Create Core Values
Core values are a set of vital and timeless guiding principles for your company. They are not aspirational; rather, your core values should define your culture and who you truly are, both individually and collectively. To quote the book "Traction: Get a Grip on Your Business" by Gino Wickman: "When your core values are clear, you'll attract like-minded people to your organization.
You will also find that when they are applied in your organization, they will weed out the people that don't fit. Once they're defined, you must hire, fire, review, reward, and recognize people based on these core values."
For example, one of our core values at Acceleration Partners is "genuine partnership."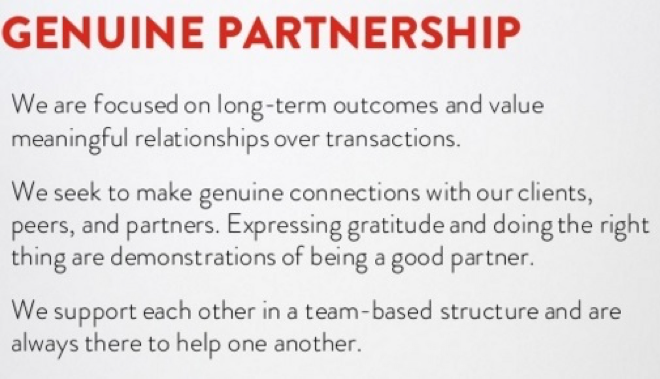 After reading this description, you can probably ascertain the degree of difficulty we had working with the aforementioned Company X. Its culture was in complete opposition to one of our core values (two, actually; another is "no jerks"). When the initial project was over, we walked away as fast as we could.
Related Article: Smiles Are Free: How a Positive Business Culture Inspires Employees
Not having established core values can result in good people thinking that it's inconsequential to behave in bad ways because the default culture is to emulate the bad behavior that is tolerated.
2. Promote Respect
According to a recent study of nearly 20,000 employees around the world conducted by Harvard Business Review and Tony Schwartz, no other leader behavior had a bigger impact on employees than being treated with respect. Cultivating a workplace culture that embraces respect includes:
Treating people with courtesy, politeness, and kindness. As Richard Branson said, "Respect is how to treat everyone, not just those you want to impress." This doesn't mean that you don't disagree. It means that you engage in healthy debate and dialogue that's built on a foundation of respect.
Developing an awareness of the respect that you display in all areas of your communications, including what you say, how you say it, your tone of voice, and your body language.
Approaching each interaction with respect, regardless of whether or not you believe that the other person's behavior has "earned" or even elicited that respect. Listen to what others have to say before expressing your viewpoint.
Encouraging discussions of differences and alternative points of view.
Looking for various ways to promote diversity in work teams and committees, as well as in individual associations.
3. Encourage Accountability
"Accountability" is another one of our core values. Here's what it means to us: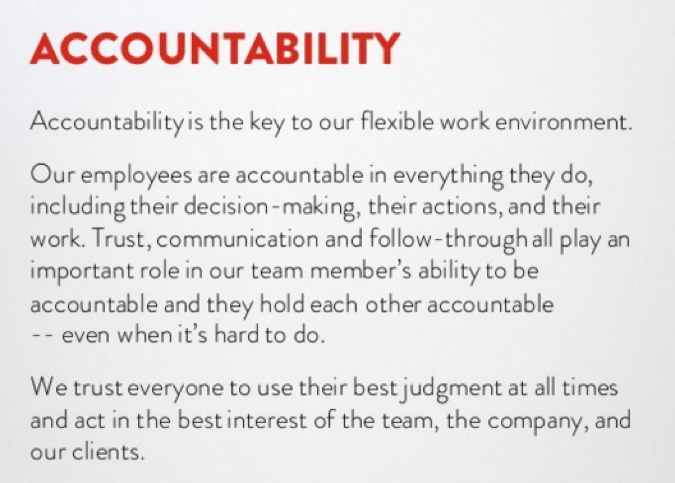 Toxic cultures often don't value accountability. Another Harvard Business Review study reported that 46 percent of high-level managers were rated poorly on the measure "holds people accountable, firm when they don't deliver." In the case of Company X managers, instead of holding their own people accountable, they chose to verbally beat up their vendor.
Not holding employees accountable, or yourself, for that matter, is a key ingredient for creating a toxic work environment. Holding people accountable does not mean micromanaging them, but it does mean setting fair expectations with them as to what's needed, valuing accountability and results, and rewarding amenable behavior.
Related Article: Is Your Culture Toxic? Tell-Tale Signs That Your Company Culture Needs a Re-Boot
4. Cultivate Open and Honest Feedback
Consistently seeking feedback from everyone in the company is what will make it possible for you to flexibly adapt to market changes and be an industry leader. One tool that we use is an anonymous platform for employee feedback and suggestions called TINYpulse.
A particularly great feature is the "Cheers" section within TINYpulse. Cheers can be given to recognize the work peers are doing, to thank colleagues for their contributions, or to make co-workers feel valued and appreciated.
"To win in the marketplace, you must first win in the workplace."
This quote by Doug Conant, former CEO and president of the Campbell Soup Company and founder of ConantLeadership, says it all. 
Coming up with a smart, viable business idea is only one piece of the business success puzzle. People don't want to work for a company that drains their energy and breeds negativity. 
To make it in the long run, you will need to illuminate your vision for others, commit to your company's values, show respect for yourself and those around you, and hold your team members accountable.