With three tiers of service, CareCloud can offer a low-cost limited approach or full revenue cycle management at a competitive rate.
Pros
Practices can choose whether to handle some billing tasks in-house or outsource them all to CareCloud.
CollectiveIQ helps ensure claims are adequately scrubbed before submission.
Even the most advanced package has levels to fit different budgets and needs.
Cons
CareCloud's upfront costs may be financially prohibitive for some practices.
CareCloud pushes three-year contracts.
Medical coding is only included with CareCloud Concierge.
The only thing better than a technology vendor that offers flexibility is one that does its main function really well. As a medical billing service, CareCloud caters to clients by allowing them to choose the functionality their practices need, whether that's limited billing assistance or full revenue cycle management. Whichever package you sign up for, you can count on one of the most important features: claims scrubbing. With CareCloud's CollectiveIQ billing engine, every claim is thoroughly checked for possible denials or errors before it is submitted. While claims scrubbing is a task that virtually all medical billing providers facilitate, the process is especially efficient with CareCloud, which is why we named it the best medical service for practices that prioritize claims scrubbing.
CareCloud Editor's Rating:
8.7 / 10
Pricing/value

8.0/10

EMR/PMS

8.5/10

RCM Process

9.5/10

First-pass claims rate

9.0/10

Customer support

8.5/10
Why We Chose CareCloud for Claims Scrubbing
We chose CareCloud as the best medical billing service for claims scrubbing because it removes all the inefficiencies of the billing cycle, making your revenue cycle management (RCM) process as smooth and seamless as possible. It accomplishes this with features that include claim scrubbing and submissions, denial resolution, centralized billing, advanced analytics, payment processing and more. What stands out most, though, is CollectiveIQ, a collection of advanced automated billing rules embedded in the platform's claims workflows that helps you avoid coding errors and get paid faster. We were also impressed with CareCloud's dedicated training that helps you profit from its billing software.
CareCloud's billing service can integrate with its practice management solution (called Central) and its electronic health records software (called Charts) to check information such as insurance eligibility, patient details and health records. It also integrates with CareCloud's standalone patient portal, Breeze, to track patient payments. Its analytics and reporting hub, with advanced options and attractive graphs and metrics, shows you whether and how to improve your practice. Other helpful tools include the ability to batch patient payments for faster processing and dashboard alerts that automatically identify no-response and denied claims.
If you want to fully outsource your medical billing, CareCloud's Concierge service is the way to go. This package means the company handles all aspects of your revenue cycle, from claims submission to accounts receivable (A/R) follow-ups. The provider promises to increase collections by 7% or more, reduce your time in A/R by around 33%, and deliver a first-pass claims rate of 94%. The Concierge service has two levels of its own, Concierge Plus and Concierge Pro, to suit different budgets and needs. In all, CareCloud's Concierge RCM offering is ideal for both small and large medical practices, while its collections rate is competitive with other top medical billing services we researched.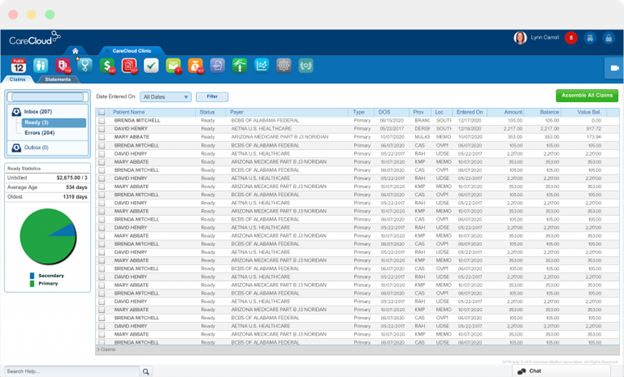 It's easy to sort claims ready for submission from those with errors. Source: CareCloud
Ease of Use
Among the reasons CareCloud stands out as one of the top medical billing services is its user-friendly software, especially for billing. A single screen houses all billing information, which helps you view collections data in seconds. You're not required to use CareCloud's practice management solution and electronic health record (EHR) system, but when these functions are integrated, you'll enjoy a holistic medical software suite that functions logically and intuitively. On the other hand, if you opt to use the medical billing service with another vendor's practice management tools, the experience may not be quite as smooth.
The billing module breaks down visits and bills with the relevant patient information. Your onstaff medical billers and coders can charge and code the claims before they're scrubbed by CollectiveIQ. It's easy to find flagged claims under an Errors tab, and smart visuals give insight into denied claims.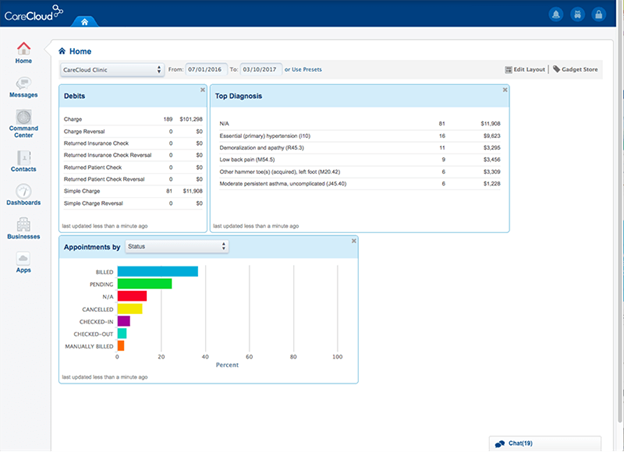 CareCloud's software gives you real-time updates on your practice's appointments and billing.
Source: CareCloud
Features
Even if you don't opt for CareCloud's fully outsourced revenue cycle management, the provider's medical billing service still makes a splash, largely thanks to its claims scrubbing abilities.
Claims Scrubbing
CareCloud's billing rules engine, CollectiveIQ, scrubs claims for more than 120 million errors. The engine is regularly updated with new errors encountered by CareCloud's clients, which reduces the likelihood of rejections and denials. The platform also comes with advanced analytics that provides insight into your practice's performance, which will help you catch errors early.
With all packages, CareCloud helps ensure practices are enrolled in electronic data interchange (EDI) and electronic remittance advice (ERA) approvals so they can send claims and receive electronic payment. CareCloud's billing team includes coders with certifications from organizations such as the AAPC and AHIMA. CareCloud works with several clearinghouses, including Change Healthcare, TriZetto, Availity and Optum. The company also works directly with Medicare payers. That said, unless you opt for CareCloud Concierge, you'll need to do the coding yourself.
Outsourced RCM
If you'd prefer to leave almost all of your revenue cycle management tasks to the pros, CareCloud's Concierge service is available as Concierge Plus and the more advanced Concierge Pro. Each comes with key performance indicators (KPIs) to target your revenue cycle management processes, valuable information to help you recoup more revenue, additional guidance for tasks in your practice and other tools to alleviate the administrative burden that medical billing so often entails.
While you still need to create the claims yourself with Concierge Plus, Concierge Pro is an end-to-end outsourcing solution. It not only generates and codes claims but also scrubs those claims, submits them to insurers, follows up on unpaid claims and manages rejections and denials. CareCloud reports an organization-wide first-pass claims rate of 94%.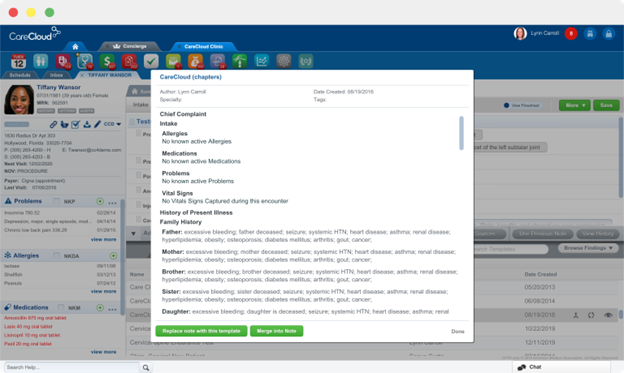 Doctors can use CareCloud Charts during patient appointments. Source: CareCloud
Medical Software
You can opt to use CareCloud Central, the practice management portion of the vendor's medical software, or go with CareCloud Complete to also take advantage of the EHR in the form of CareCloud Charts. You'll be able to conduct your medical billing tasks with either setup, as CareCloud includes all the necessary functions. All transactions can be viewed in real time, with the Complete version containing nearly double the tools Central does. These include clinical documentation and task management, a templates library, ePrescribing features, and evaluation and management (E&M) coding to maximize your revenue.
Similarly, CareCloud gives you a choice of two options for assessing how you can improve your business. The basic level, Analytics, comes with a command center dashboard of KPIs for values that include revenue goals, expenses, collections and denials. Its on-demand reports can be pulled from the system on an ad-hoc basis. The higher level, Advanced Analytics, is essentially a massive spreadsheet that contains all the data stored on the system. Providers can sort and filter that data, creating custom tables that can be turned into daily, weekly or monthly reports. All data gleaned from the advanced tool can be exported to Microsoft Excel. The aforementioned templates library contains more than 150 pre-made templates for generating reports on demand.
Through CareCloud's robotic process automation, you can automate financial tasks to cut down on tedium and increase efficiency. See our review of rival vendor Kareo for another solution that uses robotic process automation for medical billing.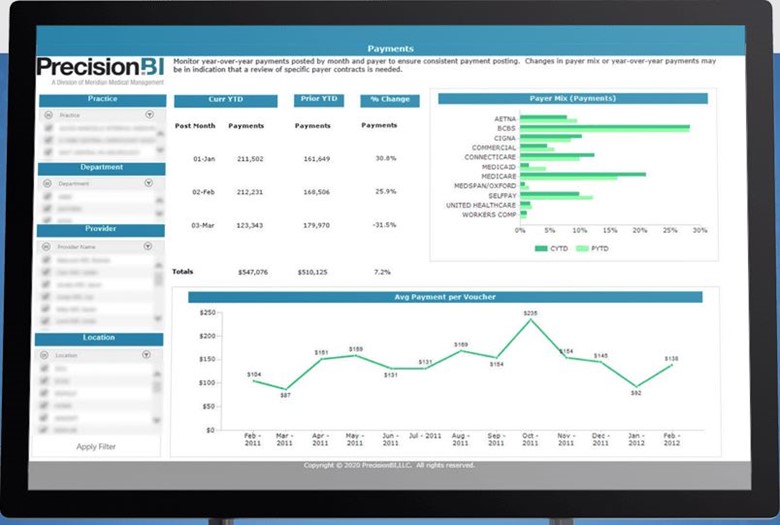 CareCloud's business intelligence tools give you the analytics you need to track your practice's financial performance. Source: CareCloud
CareCloud Pricing
CareCloud's medical billing service comes in three tiers: Central, Complete and Concierge.
CareCloud Central: At $349 per provider per month, this tier includes basic tools such as patient scheduling, appointment reminders, patient profiles, insurance verification, medical billing and the Collective IQ billing rules engine, among other features.
CareCloud Complete: For $629 per provider per month, the practice management and billing capabilities are integrated with the EHR, giving you almost double the features of Central.
CareCloud Concierge: With either of the Concierge levels, you get a full-cycle outsourced RCM. CareCloud's team takes on your burden of collections so you can focus on patient care. CareCloud's back-office staff handles items that include patient scheduling, appointment reminders, patient profiles, insurance verification and medical billing.
CareCloud's pricing is based on the same criteria other medical billing vendors use to determine their percentage of collections: practice size, specialty, claims volume and complexity of billing operations. Each of the three tiers has its own rate, but the vendor's 3-7% deduction of practice collections is lower than many of the other medical billing services we examined.
CareCloud requires a minimum contract commitment of one year, but many of its clients are contracted for as long as three years. The company cites its implementation and training period requirements as a primary reason for signing a longer contract. CareCloud also mandates a minimum payment amount each month that is calculated based on the practice's expected monthly collections. Minimum monthly payments were not uncommon in our investigation, but not every provider includes monthly minimums in their contracts.
Implementation/Onboarding
CareCloud charges significantly for setup, implementation and training. The implementation portion comes with a choice of three differently priced plans: Essential (covering the basics), Enhanced (which includes advice on best practices) and Enterprise (a consultative approach). There is also a $5,000 setup fee for each of the first three providers in your organization and a charge of $2,750 per provider after that. These are among the highest fees we found.
For a medical billing service that includes implementation and onboarding in its subscription price, check out our review of DrChrono.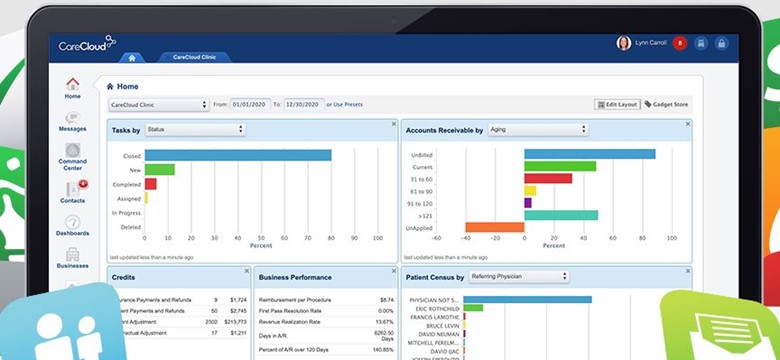 Healthcare organizations can monitor billing tasks and key metrics via color-coded graphs. Source: CareCloud
CareCloud Support
Like a few other medical billing vendors, CareCloud assigns clients a dedicated account manager for support and advice. The company also maintains a U.S.-based customer service team, available Monday through Friday, 8 a.m. to 9 p.m. ET. You can also use CareCloud's ticket system when technical issues arise and take advantage of a nifty tool that lets you check the status of existing support tickets. On top of that, users also have access to a community forum for discussing issues, offering tips, asking questions or finding answers to frequently asked questions.
Limitations
CareCloud is cost-effective in that its three different medical billing tiers allow you to sign up for the package that best fits your budget. However, the startup costs include higher-than-average add-on fees that could be prohibitive for a small practice on a tight budget. But its outsourced option's high first-time pass rate could justify investing in CareCloud Concierge.
Other drawbacks include the pressure to sign up for a three-year contract, difficulty uploading large files and the lack of an Android app. Athenahealth is a competitor worth considering because that provider allows you to cancel your contract whenever you want. Learn more in our detailed athenaCollector review.
Methodology
Our investigation of the top medical billing services included hours of research and analysis encompassing software demonstrations, phone interviews and customer service calls. We also tracked down customer service reviews, including those on the Better Business Bureau website. When choosing our best pick for practices focused on claims scrubbing, we examined criteria such as billing engines, the billing process, billing staff and ease of use. We chose CareCloud because of its breadth of versatile billing options and its outstanding end-to-end outsourcing RCM hub.
CareCloud FAQs
Yes, with certain packages, CareCloud performs medical coding. CareCloud has a Concierge tier that includes end-to-end RCM services through its specialized back-office team.
CareCloud's Concierge medical billing solution deducts 3-7% of practice collections. That's lower than many of the other medical billing services in our review, but the overall cost also depends on what package you sign up for.
Bottom Line
We recommend CareCloud's medical billing service for …
Multiple large specialties that would profit from CareCloud's first-pass rate and specialized medical billing team.
Small practices that need help with their RCM, are short-staffed, and want to focus on patient care.
Independent physicians that lack confidence doing their own billing, want to save money on an in-house biller, and need comprehensive and reliable RCM assistance.
We don't recommend CareCloud's medical billing service for …
Practices that prefer to save money and don't want to spend it on implementation costs.
Healthcare organizations that are uncomfortable committing to multiyear contracts.
Medical offices that would rather use an in-house biller for the entirety of the billing process.