Flagship Merchant Services Review
By Lori Fairbanks
Last Modified: June 12, 2018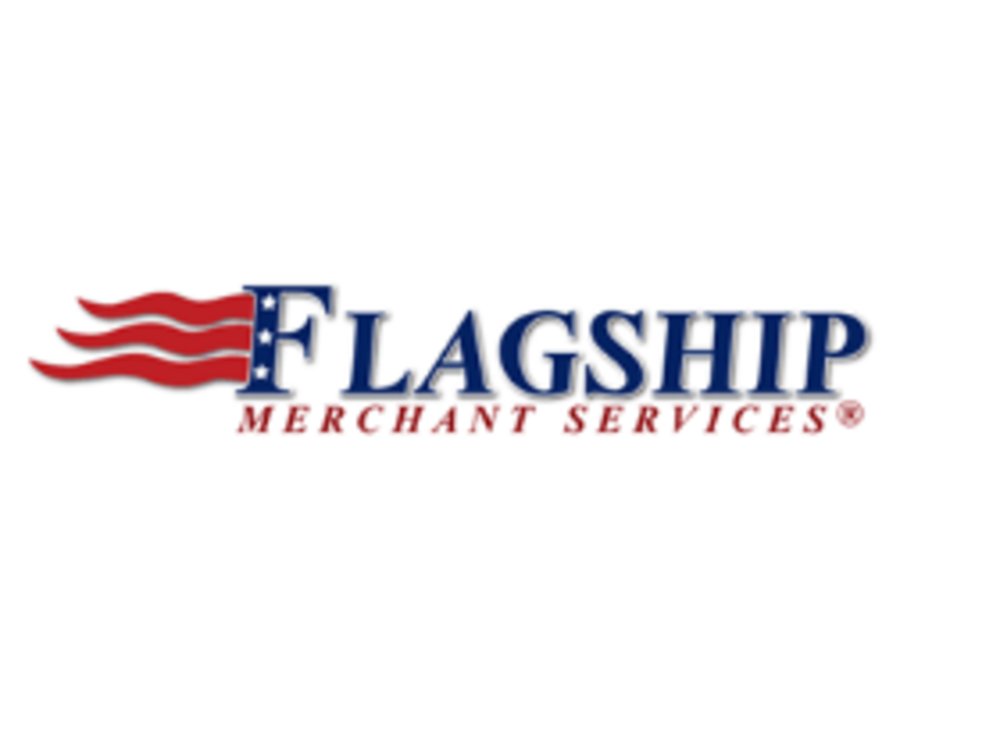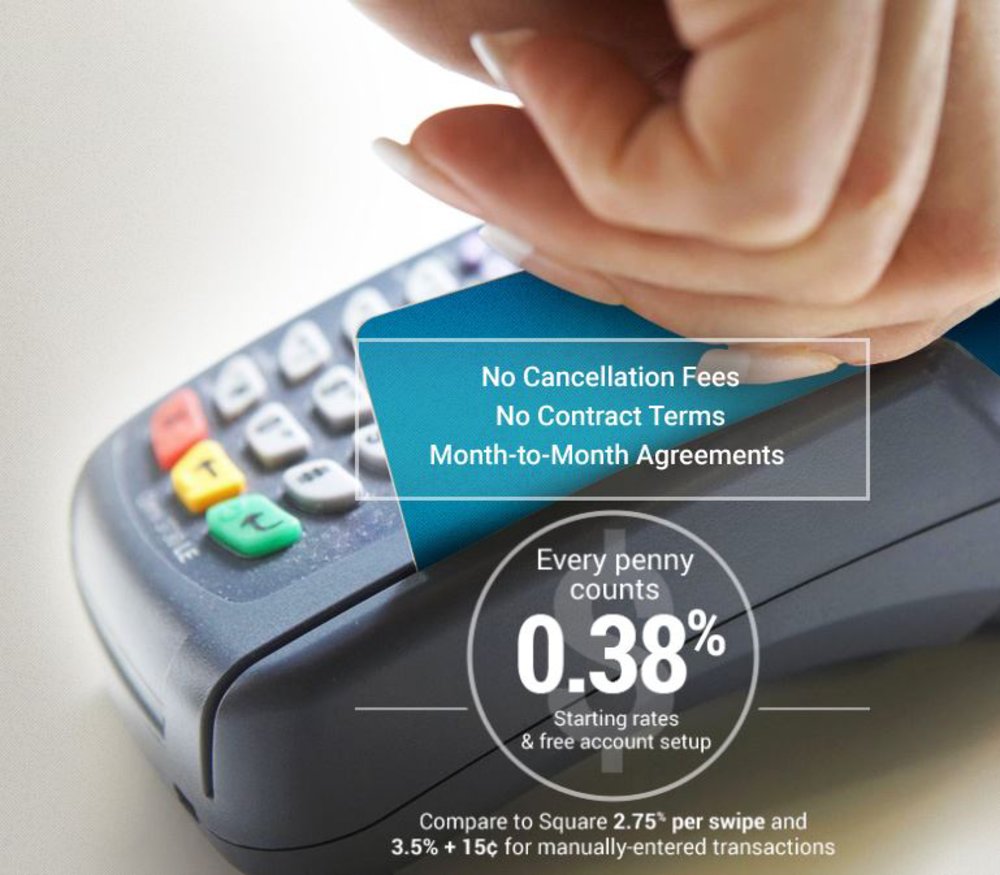 This credit card processor doesn't charge cancellation fees or demand a long-term contract when you set up an account.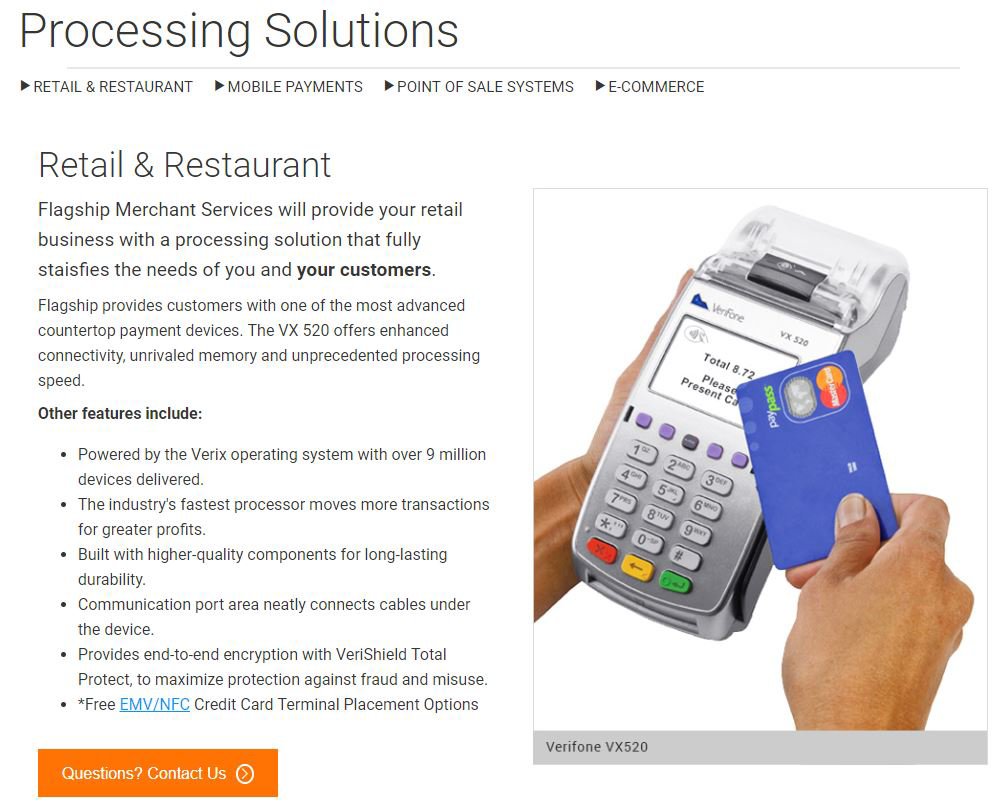 Flagship Merchant Services offers retail, mobile and online credit card processing solutions to many business types.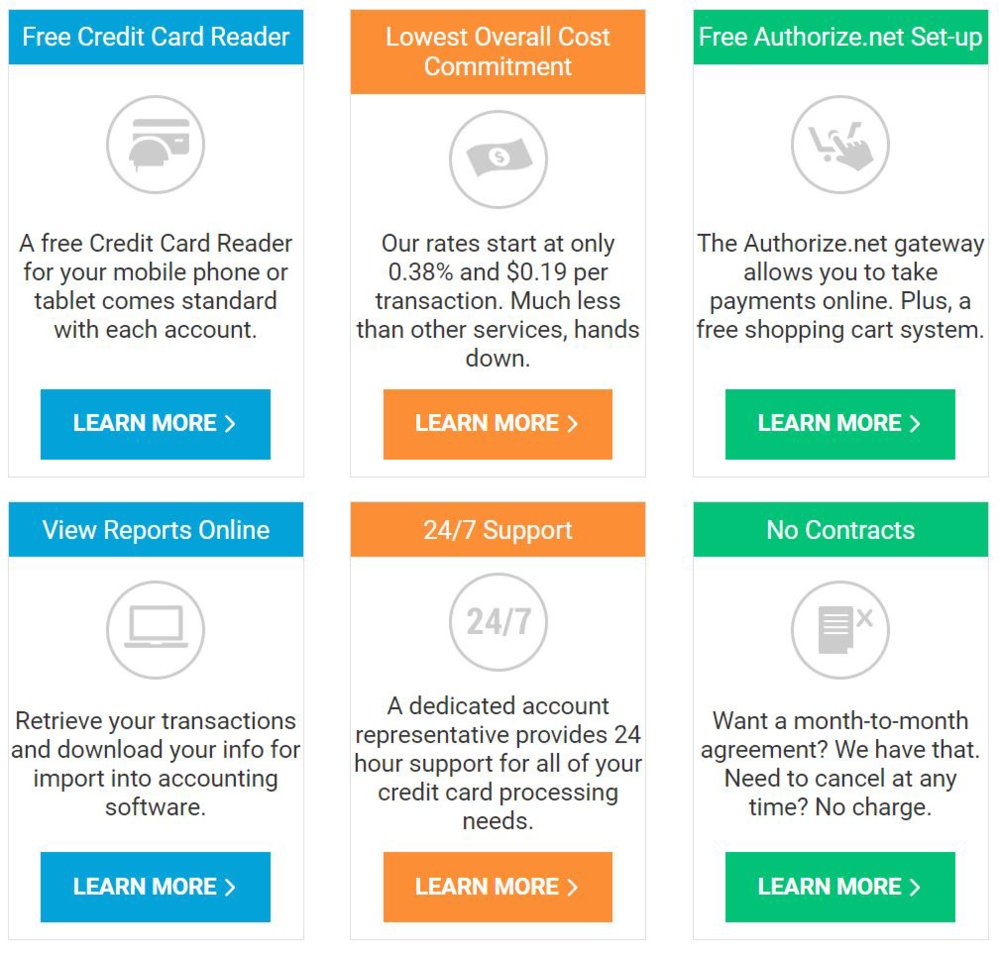 Your account with Flagship includes a free mobile card reader, 24/7 tech support and online reporting. If you need a payment gateway, it can set you up with one through Authorize.net.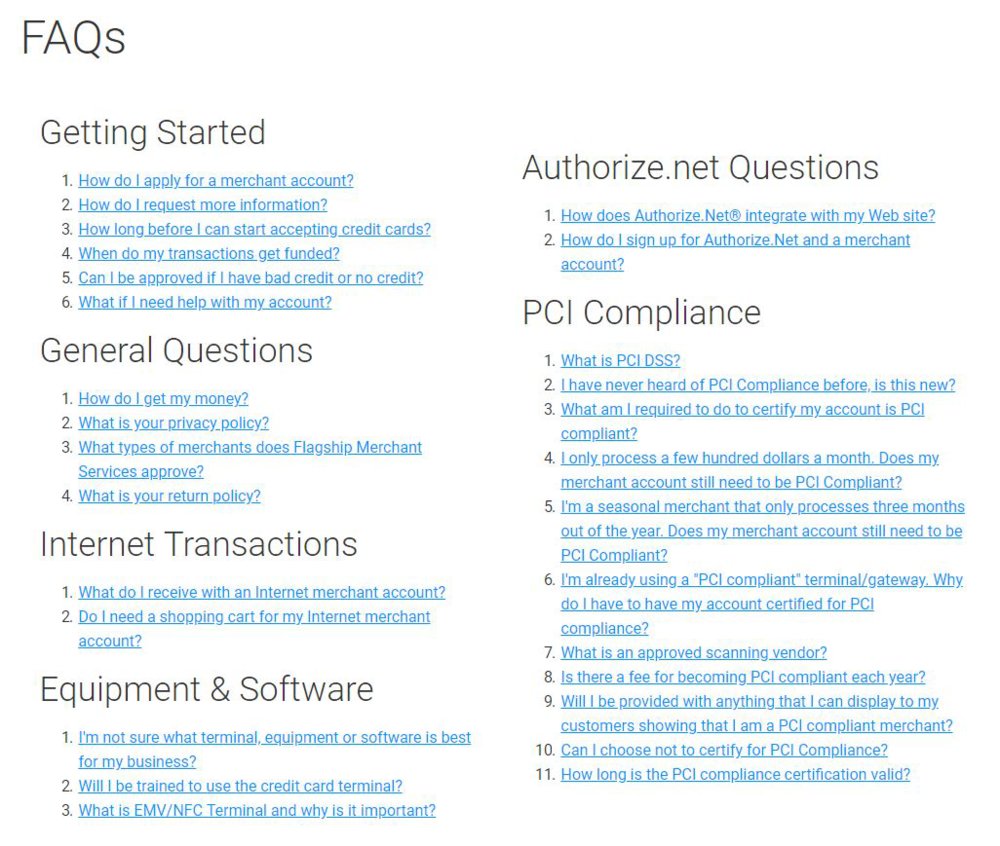 The FAQs section of Flagship's website provides information about setting up an account and PCI compliance
When you're looking for a credit card processing service, one feature you should insist on is a contract with month-to-month terms. Companies that offer such favorable terms show confidence in the quality of their services and in the competitiveness of their pricing since you can easily move on if you find a better deal elsewhere. We selected Flagship Merchant Services as the full-service processor that has the best credit card processing contract because it offers all customers month-to-month service terms, and doesn't charge a cancellation fee.
Visit our best picks page to see all our recommendations for credit card processing companies.
Flagship Merchant Services
The Best Credit Card Processors of 2019
The Verdict
This full-service credit card processor offers month-to-month service for both interchange-plus and tiered pricing. We selected Flagship as our choice for the best credit card processing contract.
Visit Site ▶
In addition to its favorable month-to-month contract, Flagship gives you a choice of pricing models, so you can choose the one that saves your business the most money. Flagship works with businesses of all sizes across many industries, and it can set you up with in-person, online, and mobile credit card processing. It's been in business for more than 15 years and provides payment processing for many well-known companies including Avon, MAC Tools, Subway and Verizon. It's an ISO/MSP of iPayment, one of the largest direct processors in the country.
Contract
Flagship Merchant Services has the best credit card processing contract, because it offers its payment processing services to all its merchants on a monthly basis and doesn't charge a cancellation fee. This is notable as standard credit card processing contracts lock you in for three-years and a have short cancellation windows – usually 30- to 90 days – before automatically renewing for an additional one- to two-year terms. They also have early termination fees to dissuade you from leaving before the term expires, and some include liquidated damages clauses that make it prohibitively expensive to cancel. Having a monthly contract with no cancellation penalty allows you to close your account at any time without incurring an early termination fee that costs you hundreds (or even thousands) of dollars.
The exception to these terms is if you accept free equipment. Like most credit card processing companies, Flagship has a free equipment placement program, and you're required to sign a contract if you wish to participate. For instance, if you decide to accept a free credit card processing terminal, you sign a one-year contract. After the one-year term expires, the contract terms revert to month-to month service, and you won't be charged a cancellation fee if you terminate service after the initial 12-month term. Although this contract is shorter than the standard contract, we recommend purchasing your equipment, so you can keep your month-to-month service terms.
When you're ready to sign up for a merchant account with Flagship, you'll call your sales rep, who will fill out the application with you over the phone. Before providing your Social Security number, bank account number or signing the application, you want to request the full contract (the application/terms and conditions document and the program guide) so you can read it and verify that you're aware of all fees and terms. Be aware that by signing the application, you're actually signing the contract.
One clause to watch out for is Additional Services. It's mentioned briefly in the application/terms document, referring you to the program guide for information about what it is. You only have 30 days after setting up your account to opt out. You should ask your sales rep what these additional services entail, how much they cost and if you can opt out before signing up, so you don't forget about it once you begin processing.
Pricing
Most credit card processing companies use a single pricing model, but Flagship offers a choice of interchange-plus or tiered rates, allowing you to select the pricing model that's the best fit for your business.
When we called Flagship posing as a small business owner, the sales rep we spoke with first quoted us tiered rates. After asking some questions about the types of cards our customers use, he suggested that interchange-plus pricing might be a better fit. He explained how this pricing structure works and provided us with a quote. Note that custom rates may be available, depending on the amount your business processes monthly, your industry and other factors. If you're already processing, Flagship is willing to negotiate with you, to see if it can meet or beat your current pricing.
Interchange-plus pricing
Most businesses save money using this pricing model, and industry experts recommend it because it's more transparent than other models. The percentage and per-transaction fee you're quoted are the processor's markup, which will be added to the card networks' published interchange rate for every transaction. Flagship Merchant Services charges 0.30 percent plus 10 cents above interchange.
Tiered pricing
This pricing model is best for businesses that accept a lot of PIN debit cards and regular debit and credit cards. Tiered rates are more expensive for businesses that accept rewards, corporate and international cards. Here are the rates Flagship quotes us during our testing:
PIN debit transactions cost 25 cents, making this pricing model a good value if your customers prefer this payment method.
Regular debit cards and credit cards are in the qualified tier. Debit card transactions cost 0.38 percent plus 19 cents. Credit card transactions cost 1.58 percent plus 19 cents.
Most rewards cards are categorized in the mid-qualified tier. Debit cards cost 1.36 percent plus 19 cents and credit cards cost 2.56 percent plus 19 cents.
Business and international cards are in the non-qualified tier. Some premium rewards cards may also be sorted into this tier. Debit transactions cost 2.36 percent plus 19 cents and credit transactions cost 3.56 percent plus 19 cents.
Fees
In addition to the percentage rate and per-transaction fees that you pay for credit card processing, Flagship, like most full-service credit card processing companies that provide you with a merchant account, charges several fees. These include the following:
Flagship Merchant Services
The Best Credit Card Processors of 2019
The Verdict
This full-service credit card processor offers month-to-month service for both interchange-plus and tiered pricing. We selected Flagship as our choice for the best credit card processing contract.
Visit Site ▶
Monthly fee: $7.95. This fee is for your statement, access to an online analytics tool, 24/7 tech support and a dedicated agent.
Monthly minimum: $25. This is the amount of processing costs (percentage rate plus per-transaction fee) you need to generate each month. If you don't process enough, you pay a fee to make up the difference. For example, if your monthly sales generate $23 in processing costs, you'd pay $2 to meet the minimum.
Annual PCI compliance fee: $99. This fee is to help you achieve and maintain PCI compliance. If you fail to become PCI compliant, or if you forget to renew your compliance each year, you may be charged a PCI noncompliance fee of $30 per month until you remedy the situation.
Monthly gateway fee: $7.95. You'll pay this fee if you require gateway access to accept credit cards online or use your computer as a virtual terminal.
Chargeback fee: $25. You'll only pay this fee if a customer disputes a charge.
Flagship doesn't charge application, setup or gateway setup fees, and some of the fees listed above may be negotiable. In our testing, we were quoted $4.95 for the monthly fee and $10 for the monthly minimum. The sales rep didn't list the PCI compliance fee, but when we asked about it, the rep offered to waive it for us for the first year.
This company advertises a low-rate guarantee, offering a $50 American Express gift card if it can't offer you the lowest rates. However, it only applies to overall costs (not just rates), you must present a written competing offer, and the fine print notes that additional terms and conditions may apply.
Features
Flagship Merchant Services provides multiple credit card processing solutions and sells a variety of processing hardware so you can accept credit cards payments across every sales channel.
Accept credit cards in-store. You have several options for accepting payments in person at a physical location. You can use a simple credit card terminal with a built-in PIN pad and printer or if you need a more comprehensive solution, a point-of-sale (POS) system. Flagship sells Verifone terminals and the popular Clover line of POS systems. Both options are EMV and NFC compliant, so you can accept chip cards and mobile wallets such as Apple Pay and Google Pay. You can also add mobile card readers to your system if you want to accept payments anywhere in the store, or tableside if your business is a restaurant.
Accept credit cards online. Flagship sets you up with an Authorize.net payment gateway account and a shopping cart so you can accept payments on your website. With this processing solution, you can also set up automatic recurring billing.
Accept credit cards on the go. Mobile credit card processing is ideal for service professionals with mobile businesses, companies that sell products or services at events, and sales teams that work with clients in various locations. Flagship provides a free mobile credit card reader and a mobile app with every account, and you can purchase additional units, if needed.
Accept credit cards over the phone. Flagship can set you up with a virtual terminal that allows you to process payments from your phone or mail-order sales by manually keying in credit card details into your computer.
Additional Considerations
It's easy to set up an account with this merchant services provider. As soon as you're ready to apply, you call your account rep and he or she fills out the application with you over the phone.
After you submit the application, the underwriting team reviews it, and if you're approved, your account can be set up the next business day. The company then ships your equipment, which takes three to four business days to arrive. When you begin processing, the company can clear the account and deposit the money from your transactions into your business bank account within the industry average of one to two business days.
Flagship assigns a dedicated account representative to your account, so you have one point of contact with the company. In our testing, the representatives we contacted were responsive and friendly, and quickly followed up with us by phone and email with answers to our questions about terms and rates. If you need help with your account after hours, 24/7 technical support is available. Your account also includes an online reporting tool that you can use to analyze your sales data.
Drawbacks
Although Flagship's contract has favorable month-to-month terms and no cancellation fee, there are some drawbacks to working with this company that you should consider before signing up for an account.
This credit card merchant services company doesn't post much information about its rates and fees on its website. It only displays its starter rates for its tiered pricing plan – and these rates only apply to qualified transactions (regular debit and credit cards accepted in person using a card reader) – so you'll need to call and talk with a sales rep to get interchange-plus pricing and a full tiered pricing quote.
While the sales rep we spoke with volunteered interchange-plus pricing in our quote, you may need to specifically ask for it. You may also need to ask about the PCI compliance fee.
The contract contains a vague clause for "additional services," and you must opt out of it within 30 days of account activation, otherwise, you're charged a monthly fee for services you don't necessarily want or need.
Flagship Merchant Services
The Best Credit Card Processors of 2019
The Verdict
This full-service credit card processor offers month-to-month service for both interchange-plus and tiered pricing. We selected Flagship as our choice for the best credit card processing contract.
Visit Site ▶
Ready to choose your The Best Credit Card Processors of 2019? Here's a breakdown of our complete coverage:

Lori Fairbanks
Lori Fairbanks has years of experience writing and editing for both print and online publications. After graduating from Brigham Young University with a Bachelor of Arts in English, she worked as a magazine editor and then as a freelance writer and editor for a variety of companies, including marketing firms and a medical university. She now writes for Business.com and Business News Daily about financial systems and services for small businesses, such as accounting software, credit card processing and point-of-sale systems.