WorkSight by G&A Partners is our choice for the best HR outsourcing solution for employee development. Its training programs and technology are impressive, and it offers customizable and scalable plans for growing businesses or companies with specific needs.
Pros
WorkSight is available via a PEO model and an ASO/HRO model.  
The company can work with you to create customized employee training programs. 
Each employer gets its own dedicated client advocate. 
Cons
User reviews claim the mobile app has functionality issues at times. 
The vendor does not list pricing or plan information online. 
WorkSight by G&A Partners is a comprehensive human resources (HR) solution that offers various HR services, including employee recruitment and onboarding, time and attendance tracking, payroll processing, accounting services, competitive employee benefits, workplace safety measures, risk and HR compliance management, and HR consulting. The impressive employee training programs and technology make WorkSight our choice for the best HR outsourcing (HRO) solution for employee development. The plans are scalable and customizable, which is great for growing businesses or organizations with specific HR outsourcing needs.
Worksight Editor's Rating:
8.9 / 10
Price/value

9.3/10

Features

8.6/10

Customizations, add-ons and integrations

8.8/10

Ease of use

9.1/10

Customer support

8.9/10
Why We Chose WorkSight for Employee Development
WorkSight is a comprehensive platform with all of the HR management tools businesses need. In particular, the structured employee training features really impressed us. High-quality training can significantly affect employee development and retention, and employee professional development is just good business. 
Surprisingly, many of WorkSight's competitors don't offer employee development training as part of their HRO offerings. These platforms require you to pair their solutions with a third-party learning management system (LMS). In contrast, G&A Partners' WorkSight platform lets you access an internal LMS with thousands of timely training courses. We like that you can easily assign courses to specific employees and track their progress.
We were pleased to see that the vendor can create job training programs and career succession plans for your workers, helping employees grow within your company. G&A can also work with you to provide essential HR and compliance training. Courses are interactive and feature various activities, including videos, real-world scenarios and quizzes.
For these reasons and more, G&A's WorkSight platform is our choice for the best HR outsourcing solution for employee development.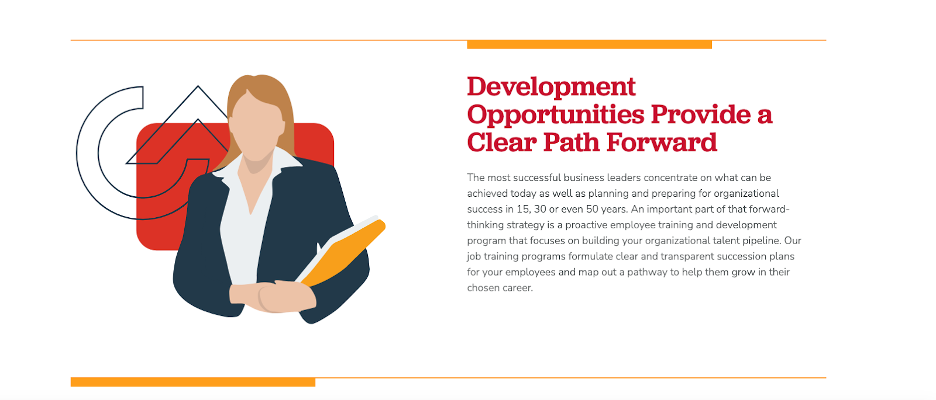 G&A provides proactive employee training programs to give your team a clear career path. Source: G&A Partners
You can also take advantage of WorkSight's performance management features, like goal setting and tracking, succession planning, performance reviews and performance improvement plans.
Ease of Use
The company's smaller size is an advantage for small and midsize businesses. Some HR outsourcing companies we reviewed are large firms that support tens of thousands of small businesses. Partnering with a big company has advantages, but many small businesses prefer more personalized service with one-on-one support. We were pleased that G&A can provide this level of attention, helping to create a seamless transition to using its services. 
WorkSight technology is another significant benefit of partnering with G&A. We like that this intuitive HR platform helps you offer employees several e-learning options. You can easily assign courses and track employee results and improvement. This feature is valuable for growing teams and businesses that want their employees to continue learning and expanding their skill sets. 
While G&A can support businesses in many industries, the following sectors, in particular, will benefit: healthcare, skilled trades, manufacturing, and nonprofit and professional service companies. G&A specializes in these industries, providing industry-specific human resources options. Because each industry has its own guidelines and laws, having an HR partner that's knowledgeable about industry regulations is crucial. G&A's in-depth industry knowledge simplifies the HR process and adds to the platform's ease of use. 
WorkSight Features
G&A offers many convenient HR services to help hire, train and manage employees. Small businesses that need comprehensive HR assistance are better suited for G&A's professional employer organization (PEO) services, while businesses that need to outsource only a few HR responsibilities may find that an administrative services organization (ASO) plan better suits their needs. 
Although each plan offers many of the same features, your contract structure will differ. Work closely with your G&A representative to find the right service type for your business. Both plan structures allow you to scale services to match your business's needs.
Here are some of the most notable features we discovered during our evaluation:
Employee Training and Development
We were impressed by WorkSight's employee development programs. Employees can access online training through interactive resources, including quizzes, videos and real-world scenarios. In addition to offering excellent employee training programs, G&A can provide performance management assistance for workers who have fallen behind. The company offers multiple forms of support, including helping you meet industry regulations, build education programs for your employees and track each worker's progress. 
You can use advanced HR technology to find employee competency gaps, match jobs and employee performance goals with available courses, and assign employee courses. The performance management system allows you to set and track goals, keep employee performance records and conduct 360-degree reviews.
Many of G&A's competitors lack these comprehensive employee development capabilities, but they can be essential to growing your business.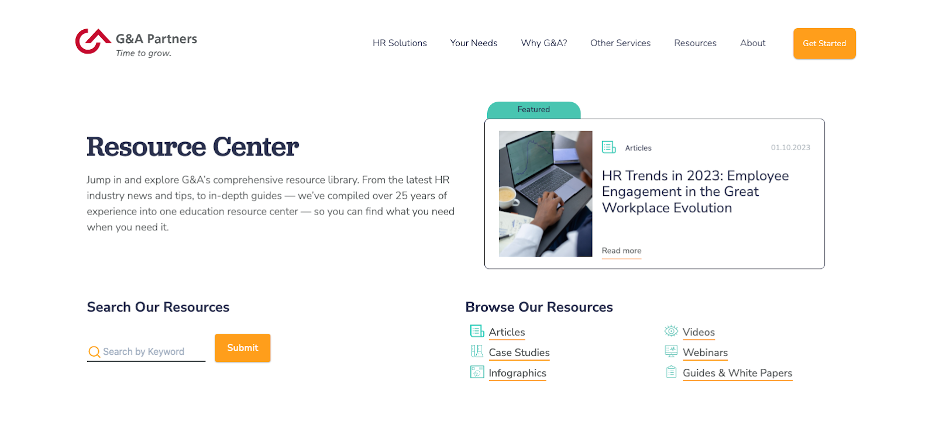 G&A's resource center provides ample training and educational resources for businesses and employees. Source: G&A Partners
HR Services
G&A can handle many of your basic HR functions. For example, we liked how G&A can help you develop and implement HR policies and procedures. If you're a small business with no HR department, G&A can help you start from scratch. The company also provides employee handbook creation, HR audits and investigation, employee discipline and termination support, performance management and training, and unemployment insurance and claims administration. 
We also like that G&A goes beyond standard HR services to help with recruitment. The platform can handle job sourcing, screening, job assessments, job description review and creation, new-hire onboarding, and general recruitment services. We found G&A Partners' recruitment process outsourcing services to be ideal for companies that need support with a specific recruiting project. 
Risk and Compliance
G&A's WorkSight platform offers standard accident prevention services to help keep your team safe. This is especially important for businesses in hazardous industries. G&A can help develop employee safety manuals, conduct safety audits and inspections, carry out post-audit safety reports and training, and provide on-site and online safety training materials. 

G&A prioritizes creating a culture of workplace safety. Source: G&A Partners
Payroll and Taxes
While some competitors require you to use a third-party time and attendance application, we were pleased to see that the WorkSight platform comes with a built-in online time and attendance system. You can manage employee schedules and track employee hours, vacation time, overtime and paid-time-off accruals. These functions are competitive with industry standards. 
When we tested the WorkSight platform, we also found its payroll features to be on a par with those of other vendors in the industry. The company offers a full suite of compliance and payroll services, including payroll tax filings, wage garnishments, new-hire reporting, automated standard deductions and payroll reports. We like that the system calculates federal and state taxes for you; employee checks and direct deposits are automatically adjusted to the appropriate amount. 

G&A Partners can help you manage payroll processing, time and attendance, and reporting. Source: G&A Partners
With WorkSight, you don't have to worry about missing payroll tax filing and payment deadlines. G&A Partners will send you reminders, and you can make federal and state tax payments through its online system.
Employee Benefits Administration
G&A offers standard employee benefits — including health, dental and vision insurance — and can provide benefits management and administration. There are also ancillary benefits, like life insurance, illness and accident insurance, short- and long-term disability insurance, employee assistance programs (EAPs), retirement savings plans, employee wellness and discount programs, and telemedicine. We like that G&A gives you options; you can go through G&A, or the vendor will work with your benefits broker. 
We were impressed that G&A can handle employee questions about coverage and claims. This is a standout aspect of its service. Instead of your business wrestling with insurance carriers, G&A can assist with questions and disputes. The company also takes care of healthcare reform matters with eligibility monitoring and annual IRS reporting.
WorkSight Pricing and Terms 
G&A Partners offers various scalable and flexible human resources plans. Small businesses can sign up with a co-employment model through the PEO plan. Alternatively, they can access traditional HR outsourcing features a la carte with an ASO plan. With either option, employers gain access to G&A's HR platform, WorkSight. Like most HR outsourcing and PEO services, G&A requires businesses to enroll in its payroll solution to access its other services.
However, G&A doesn't require you to sign a long-term contract. Instead of locking your business in for a year or longer, the company provides ongoing services. You can cancel anytime with 30 days' notice. 
Because G&A Partners creates custom plans based on each business's unique needs, the company does not list pricing on its website. Instead, you must contact a representative for a custom quote.
Implementation and Onboarding 
We like that when you partner with G&A, you gain access to a client advocate. This representative will help you set up the WorkSight platform and ensure you have everything you need to onboard your workers. The company says its onboarding process typically takes about four to six weeks, which is relatively standard in the industry. It's important to note that your onboarding and implementation process may be longer or shorter depending on the services you need. 
G&A Partners' onboarding process generally takes about four to six weeks. This is comparable to the onboarding times from other vendors in the industry.
Customer Support
G&A Partners has several helpful online resources, including articles, guides, webinars, case studies, infographics, videos and whitepapers. If you need to reach a representative for support, you can contact them via phone or online. 
We like that the company provides personalized support for its clients. When you sign up for the WorkSight platform, your client advocate will coordinate your business's services; this person can answer many basic questions related to your service and refer complicated issues to a team of specialists for the coverage area in question. 
We found this level of support to be similar to the service from other vendors in the industry.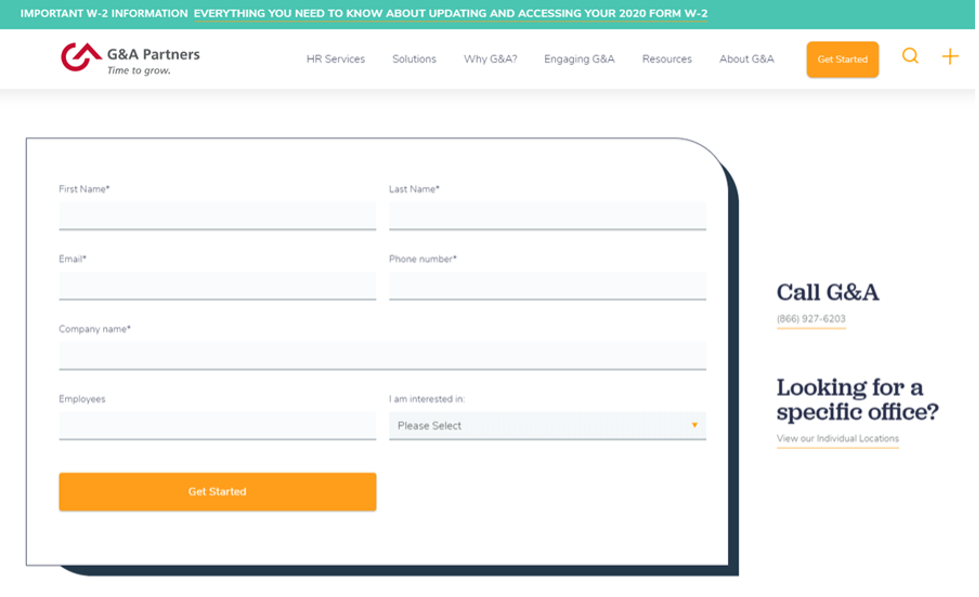 G&A Partners can be contacted online or by phone. Source: G&A Partners
Although G&A Partners provides sufficient support, you may want to read our TriNet review if industry-specific customer support is a top priority for your business.
Limitations 
We noticed a minor limitation regarding G&A Partners' mobile app. The company offers a mobile app for employees to view and manage their details on the go. However, some negative user ratings and reviews indicate that it doesn't function as well as the standard WorkSight platform. Mobile apps generally have limited features, but a few reviews mentioned improper functionality. This is something to remember if your employees need extensive mobile functionality. If an excellent mobile app is crucial to your business, consider our review of ADP, which boasts a full-featured mobile app.
Another potential drawback is the lack of pricing information on the company's website. While this isn't a dealbreaker, many small business owners want a quick idea of how much each service costs, even if it's just a ballpark estimate. Because G&A Partners offers WorkSight via bundled and a la carte services, the company's website does not list pricing. When you get a price quote from a representative, ask about the cost of additional services you may need in the future. 
Many HR outsourcing services do not list pricing online. If you're looking for a service that offers transparent pricing, check out our review of Zenefits.
Methodology
To identify the best HR outsourcing services for small businesses, we researched and analyzed dozens of vendors. We looked at pricing, contracts, recruiting and onboarding capabilities, employee benefits administration, time-tracking features, payroll processing, performance management tools, reports, integrations, legal compliance assistance, usability and customer support. We also watched product videos and conducted demos when possible. When looking for the best HR outsourcing service for employee development specifically, we prioritized features for recruiting, hiring and onboarding, training and development, performance management, usability, HR reporting and customer support.
FAQs
If you are a current G&A Partners client and need assistance, contact your client advocate directly by phone or online. Although your client advocate will be your initial touchpoint, they can also connect you to a team of HR specialists for more specific inquiries.
Yes, G&A Partners is a certified professional employer organization, accredited by the Employer Services Assurance Corp. (ESAC), and a member of the National Association of Professional Employer Organizations (NAPEO). PEOs must meet specific criteria to qualify for certification. Whether you use the WorkSight platform under a PEO or HRO model, you can expect high-quality service from this organization.
Bottom Line
We recommend WorkSight for …
Companies that want customized employee training programs.
Companies that might want to switch between a PEO and an ASO (this vendor offers both).
Small and midsize businesses. 
We don't recommend WorkSight for …
Companies that need transparent online pricing.
Businesses that need a comprehensive functional mobile app for their employees.