If you have great website content that other sites link back to, you'll rank highly in search engine results. But that is not enough to ensure success; if your technical SEO is lacking, you're limiting how well your website will do in Google searches.
That's why it's important to get technical SEO right. We'll examine what technical SEO is and share our top six technical SEO tips for getting high traffic and more conversions.
What is technical SEO?
Google "spiders" crawl hundreds of millions of websites every day to collect the information they need to power search results. The time Google spends on your site is limited, and it's your responsibility to make the job as easy for these spiders as possible. 
You need to do four things to get an advantage: 
1. Fix your site structure.
Ensure that the structure of your website is simple and logical. If it's easy for your visitors to find what they want on your site, it's easy for Google, which will reward you by indexing more of your pages.
2. Add labels and metadata.
Follow these tips to help Google understand what's on every page:
Label each part of a page with descriptives such as "navbar," "footer" and "article."
Add alt tags to images, graphs and charts to describe their content. 
Provide a page title and meta description.
3. Secure your website.
Your website needs to be secure. Make sure you have a secure certificate so that your URL starts with https://.
4. Make your site fast.
Your website needs to load fast on any device, so go for a responsive design. [Read related article: How Page Load Speed Affects Customer Behavior.]
All of this sounds more complicated than it is. You just need to put these four factors into your website from the moment you start designing and writing it.
Bottom line: Each search engine has a crawl budget – the number of pages it indexes on a given day. You can get search engines to crawl far more of your site if you take care of technical SEO.
Technical SEO tips to increase traffic and conversions
If you're building a website for the first time or you want to improve your current site's rankings, follow these six steps:
1. Choose a secure, reliable host.
Selecting a top web hosting service is important for two reasons. First, Google confirmed back in 2014 that site security was an important ranking factor. Given two equal sites – one with secure HTTPS hosting and one without – the site with secure hosting will always rank higher.
Second, website downtime hurts your rankings badly. The first time Google finds nothing there when it crawls your site, each page on your website could drop two ranking spots. 
If the search engine's spiders keep finding nothing to crawl, Google starts visiting your site less often, and it's really hard to come back from that. Therefore, it's important to choose a hosting service that has as little downtime as possible.
2. Score well on Google Core Web Vitals.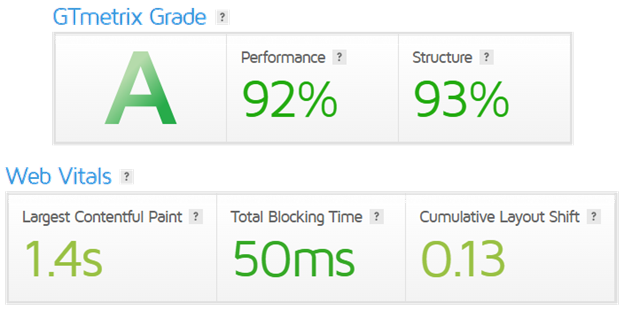 Here is a GTmetrix assessment of a website with good technical SEO. Source: GTmetrix
Core Web Vitals are metrics that Google uses to assess the quality of a user's on-site experience. These are the three key metrics you need to get right:
Largest contentful paint: This is how long it takes for a user to see the majority of the content on a page. Aim for 2.5 seconds or less.
First input delay: This is the time it takes for your website to respond to a visitor's actions, such as clicking a button or link. Google wants to see a delay of no more than 100 milliseconds (a tenth of a second).
Cumulative layout shift: Have you ever been on a website where it takes a long time for the text and images to settle in the right place? This is known as cumulative layout shift, and Google doesn't like it. To score top marks, make sure that, when the page loads, everything is where it should be within a tenth of a second.
Follow these tips to improve your score on Core Web Vitals:
Use a content delivery network (CDN). CDNs host your site in multiple locations around the world, and the server closest to someone visiting your site delivers your content.
Compress images. Optimize images and visual content across your site for quicker downloads. Use free image compression plugins, like smush.it. [Read related article: How to Compress JPEG images.]
Remove unnecessary WordPress plugins. Only use essential WordPress plugins, and remove any unnecessary files from your servers.
Use JavaScript efficiently. Either minimize JavaScript or delay its deployment, as this affects first input delay times.
Use lazy loading. Load images only when they scroll into view, to reduce the largest contentful paint time.
Give page elements specific dimensions. By specifying the exact height of videos, images and Lottie JSON files, you'll score better on the cumulative layout shift metric.
We recommend the GTmetrix test tool. It's free and gives useful advice on improving your Core Web Vitals scores.
3. Make your website responsive.
According to Statista, 51.42% of U.S. web traffic comes from mobile devices, up from 48.84% in 2021. This is why a mobile-friendly website design is not optional anymore; it's a key SEO requirement that companies need to adopt.
In 2019, Google prioritized indexing the mobile version of new websites first. Although it has not been announced yet, most SEO experts believe that Google will be mobile-first for the entire web soon, so you should start preparing for that to happen. You can use the Google Mobile-Friendly Test to evaluate your site.

The Google Mobile-Friendly Test can help you evaluate whether your website is mobile-friendly. Source: Google
AMP stands for "accelerated mobile page." Using plugins, you can convert existing pages on your site to AMP pages. However, you make some sacrifices with AMP. For example, there is no visitor tracking ability and no on-page forms, such as one to invite visitors to subscribe to your email newsletter.
4. Simplify your site architecture.
The more clicks it takes to find content on your website, the more you'll be eating up your crawl budget. If it's more than a few clicks, Google's spiders will take longer to crawl your website and index your content. To make their job easier, you need to categorize your content in a way that no page is more than a few clicks away from the homepage.
Try to use a silo website architecture, as this helps Google crawl your website much faster. It also helps search engines understand what the content is and how your pages are related. Here are some examples of silo website architecture in URLs:
yoursite.com/WordPress/start-a-blog
yoursite.com/Social-Media/Facebook-marketing-guide
5. Eliminate duplicate content on your website.
Google strongly dislikes plagiarized or copied content. It doesn't dislike duplicate content (the same content on two or more pages of a site) as much, but it can still harm your rankings. Here's how to find out whether your site has any duplicate content: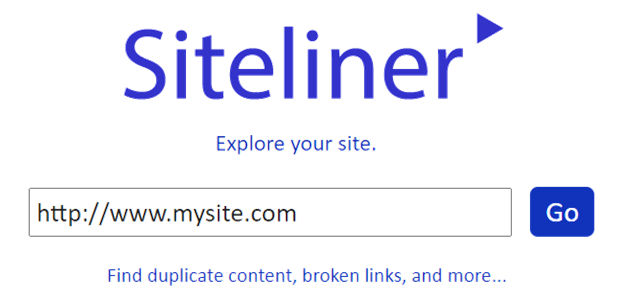 Use Siteliner to check for duplicate content on your website. Source: Siteliner
Go to Siteliner – it's free. Enter your website address, and click "Go." You'll see this: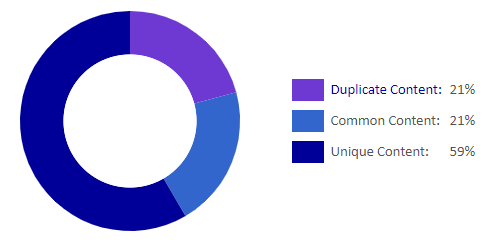 Siteliner shows a summary of duplicate, common and unique content. Source: Siteliner
Then, click "Duplicate content" to the right of the chart. You'll see this: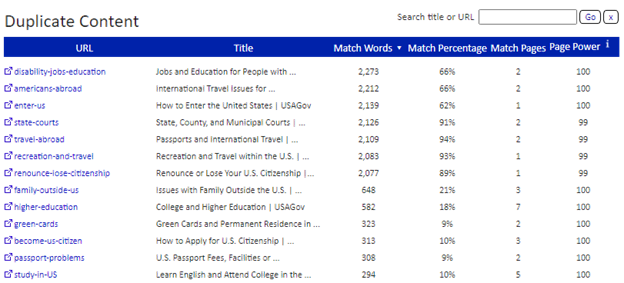 Here, Siteliner shows the results of duplicates on usa.gov. Source: Siteliner
Sometimes, duplicate content appears because you have not specified a canonical URL. A canonical URL tells Google that you realize that there are multiple pages on your site with the same content but that there's one preferred URL that you want Google to index and leave out the rest. 
Without this, Google would, for example, consider the following URLs as different pages and penalize you for duplicate content:
http://www.example.com 
http://www.example.com/index.html  
http://example.com   
http://example.com/index.html 
Installing this manually can be difficult, especially for those without much experience in creating, uploading and maintaining sites. Look for plugins that can automate the process for you on your WordPress dashboard.
6. Get rid of site-crawl errors.
Crawl errors prevent Google from easily searching and indexing pages on your website. The most common crawl error is "not found," which is caused by broken or incorrect links.
Moz has a detailed guide on fixing these errors. Even if you don't have any crawl errors right now, check your Search Console account every month just to be on the safe side.