Many businesses use video to promote their brand, products and services as part of their overall marketing plan. Video is a compelling, memorable medium that personalizes and humanizes your company to its target audience.
Using video as part of your content marketing strategy lets your prospects and customers see your offerings in action, increasing brand recognition and generating more sales leads. In fact, 86% of businesses market with videos, and 92% of marketers consider video a vital part of their marketing strategy, according to Wyzowl.
We'll explore how businesses can use video to bolster their content strategy and explain how video benefits a business's bottom line.
How to use video for a more effective content marketing strategy
One of the best things about marketing videos is that there isn't just one way to use video. Tailor your video usage to fit your products and services and make a lasting impression on your target audience. Here are five ways to use video in your marketing.
1. Use videos to earn backlinks and boost visitor time on your site.
SEO and content marketing are closely tied, so any SEO strategy improvements will likely benefit your content marketing goals.
When you add video content to your site, you can elevate your search rankings by:
Improving time on site: If a page has a high average time on site, Google recognizes it contains valuable information for visitors and will likely rank it higher.
Enhancing backlinks: When other sites link to your content, it's like a vote of confidence about your credibility. Quality backlinks can boost your search rankings.
Incorporating video content into your website can be organic. For example, say you've written a blog post about easy exercises that can accelerate weight loss. You can create a relevant two- to three-minute video, upload it to YouTube and embed the link in your blog post. The time your readers spend watching the embedded video will count as time spent on your page.
When you upload your video to YouTube, include a backlink in the video description to the blog post where you've embedded the video. These are no-follow backlinks, but they're still helpful in sending you referral traffic and building your link profile.
Several leading bloggers use this approach to improve their average time on site.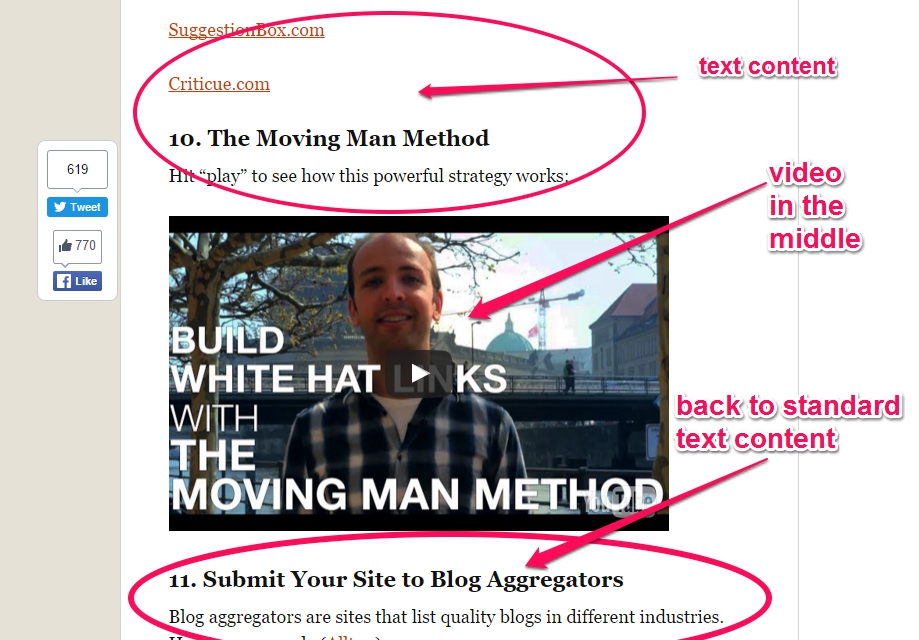 Your website's technical SEO structure can affect its search engine rankings. To improve your SEO foundation, work with a reliable host, ensure optimal page-load speeds and use a responsive website theme.
2. Create short explainer videos to hook your visitors.
High-converting landing pages often feature explainer videos. Short explainer videos (two to three minutes) help users quickly understand your offer's value and how it can solve their problems.
Explainer videos work particularly well on your website's landing page. Arriving visitors can quickly view a video to get an understanding of your business and its offerings. If your video is engaging, they may move on to your sales page, About page and other sections of your website, and spend time learning about your company and products.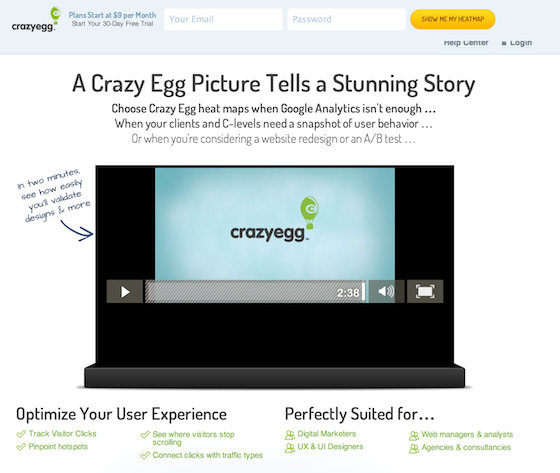 3. Use video testimonials to earn prospects' trust.
Consider creating engaging 40- to 60-second video testimonials from satisfied customers and partners to strengthen your company's reputation. Honest, credible and brief testimonials from satisfied customers and well-known industry figures can significantly impact your brand image and sales numbers.
According to Wyzowl, 77% of people who viewed a brand's video testimonials have gone on to make a purchase, and 9 out of 10 customers say they trust what other customers say about a business more than what the business itself says.
It's crucial to make the video testimonial process as easy as possible for your participants, who may be uncomfortable in front of the camera. Here are a few tips to keep in mind:
Keep the video short (a minute or less).
Get their honest input, and then write out a script for them.
If it's more convenient, let them shoot the video with their smartphone.
Get them on a video call to record their testimonial.
If they agree, invite them to a professional studio or have a professional videographer visit them.
Generating video testimonials isn't as easy as getting positive customer reviews, but their power makes them worth the trouble.
Incorporate testimonial requests into your sales process. Once you have a happy customer, ask them to create a quick video describing what they love about your product or service.
4. Boost e-commerce sales with product how-to videos.
According to a Vidyard-Aberdeen survey, e-commerce companies that incorporate videos grow revenue 49% faster than online stores without video. It makes sense that video content marketing is an effective way to build trust with e-commerce customers. Online buyers can't touch and feel products before purchasing, but video can deliver the next best thing.
Consider adding short how-to videos to demonstrate how your products work and show them in action. How-to videos are a natural fit for online sales, showing potential customers how they can incorporate solutions into their daily lives. How-to videos work well with e-commerce product pages, product review sites and other types of sales content.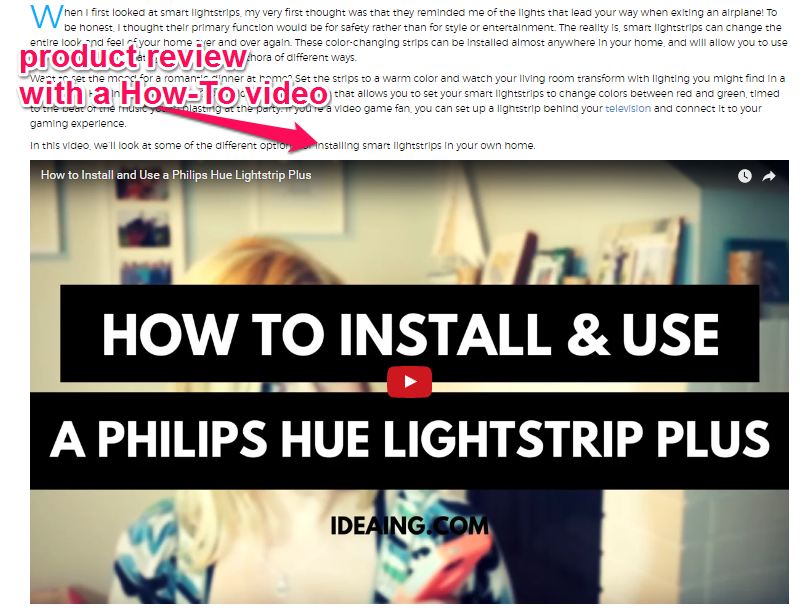 3. Offer free webinars to generate new leads.
Lead generation is one of the primary objectives of most content marketing campaigns. Webinars are excellent lead-generation tools that also deliver value to prospects and customers.
According to the 2022 B2B Content Marketing report, more than 51% of B2B marketers consider webinars the most effective marketing and lead-generation technique.
Webinars are effective because customers and prospects can directly engage with a brand in real time and ask direct questions. Additionally, webinars help humanize your brand and build trust and credibility with prospects.
Investing in a webinar can pay off. You can record your webinar, use it as a lead magnet and hold follow-up webinars based on customer feedback.
The benefits of video for content marketing
If you're considering video as part of your marketing strategy, consider the numerous benefits it brings to your campaigns, including the following:
Video can improve SEO. When you create and embed a video, you can catalog keywords you want to target for the clip. Google prioritizes video in its search results, especially after acquiring YouTube. Also, the Google algorithm can recognize thousands of images in a video. This means Google can extrapolate key points in the video and use them as part of its search results. This helps drive more website traffic and get more eyes on your content.
Video keeps visitors on the page longer. Videos boost the average time users spend on your website. According to Wistia data, visitors spend about 4.3 minutes on a website without video, but up to six minutes when a video is played. When users stay on your page, you have time to better convey a marketing message that captivates them and prompts them to buy. Longer site visits can also boost SEO, showing Google your content is valuable.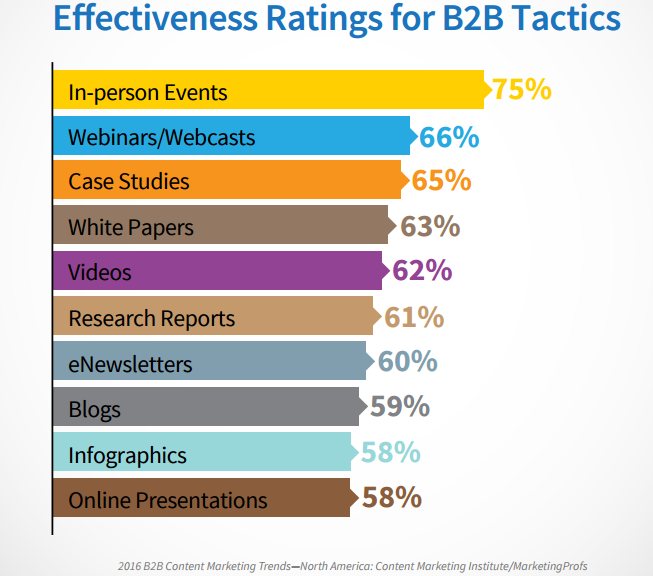 Videos convert more. Video helps increase successful lead conversions. According to Yans Media, video emails get 96% higher click-through rates compared to text-only email marketing.
Video is easy to share. Videos work in many marketing channels. You can share them in emails and websites and use them in social media marketing. You can house videos on YouTube, where users will independently search for and view them. The more ways you incorporate video in your marketing, the more benefits you'll see.