Social media is the new front door for small businesses, and forms an integral part of any business's marketing plan. Many people discover and follow small businesses via social platforms like Twitter, Instagram, and Facebook, so a sound social media strategy is essential for your business. One often-overlooked aspect of your social media strategy is the etiquette of which accounts to follow back. Who you follow – and why – is a vital part of your business' identity.
We'll explain how to be selective with your social media follow-backs and share more about followers and influencers as part of your social media marketing strategy. 
Who should you follow back on social media?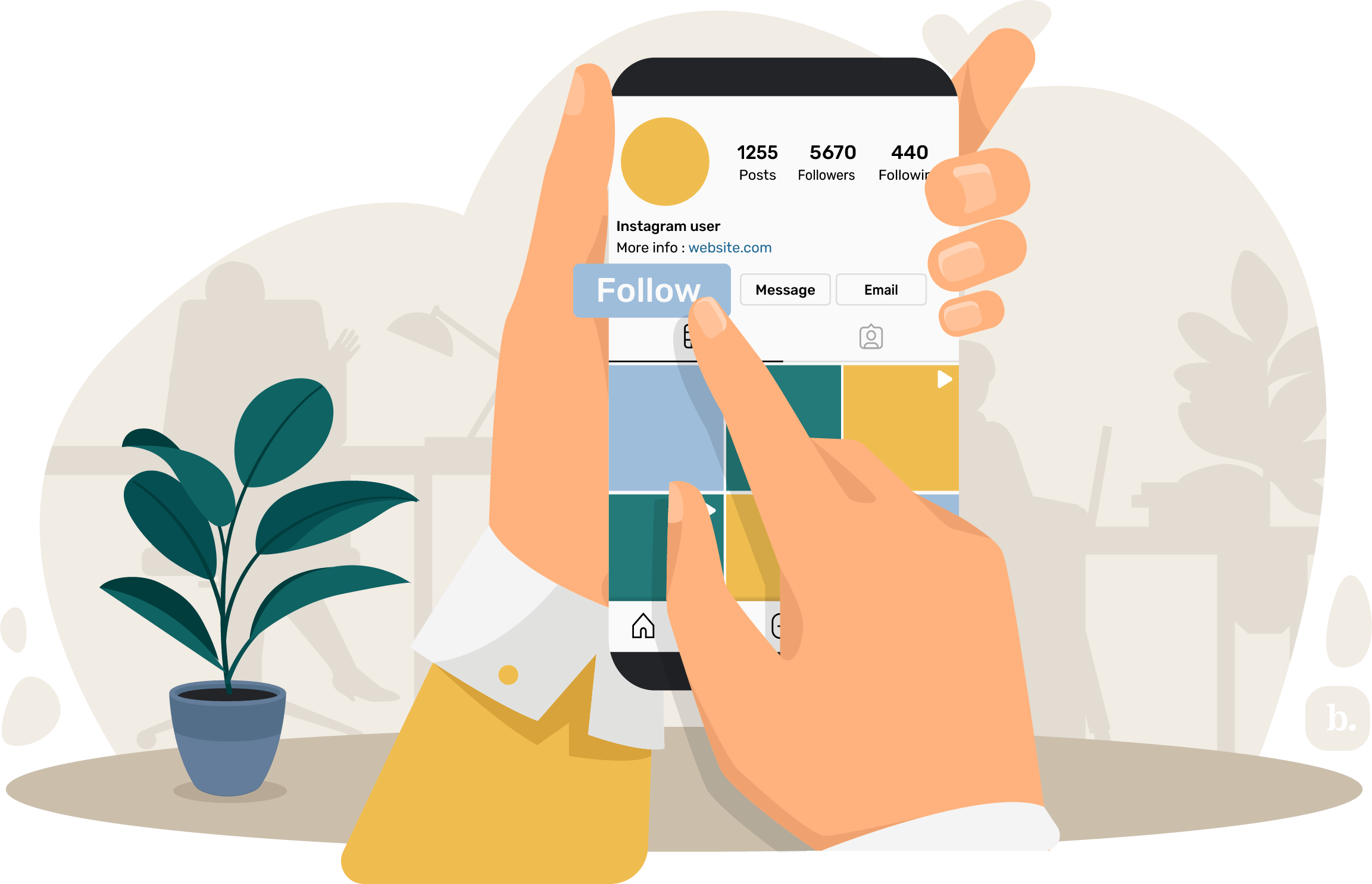 A few years ago, the social media trend was to follow back everyone who followed your account. But today, this is not a good strategy for small businesses because their attention and energy are better spent following users who can benefit the business. Following back everyone is also considered spammy.
Additionally, following everyone back is unrealistic because social channels limit the accounts you can follow. For example, Twitter users can only follow 5,000 accounts; after that, you'll need to amass additional followers to be allowed to follow more accounts. Facebook has a similar limit, and Instagram only lets you follow 7,500 accounts regardless of your follower count.
While there are no strict rules for follow-backs, consider the following guidelines to maximize your energy and efforts on social media. 
1. Follow back your target market on social media.
Social media is a tool to help you reach your business goals. Many companies hope to generate leads with social media, while others may want to build a larger network or learn something new. 
If your goals involve any aspect of increasing sales and strengthening your business, members of your target audience are excellent accounts to follow back on social media. Look at your customer personas and decide if someone who followed your account matches your target customer's demographics and psychographics. 
Let's review two different scenarios.
Scenario 1: You have a U.S.-based e-commerce business that sells homemade baby products like bibs and hats. Your target audience might include the following groups:
Recently married couples living in the U.S.
Expectant parents living in the U.S.
Grandparents living in the U.S.
Scenario 2: You have a catering business. Your kitchen is in Manhattan, and you have the ability to reach prospects within 60 miles of your kitchen. These people could be part of your target audience:
Midsize and large businesses in Brooklyn
Recently engaged couples looking to plan a wedding in or near Hell's Kitchen
Event planners located within 60 miles of your kitchen
When determining whom to follow back, look at users' profiles to see if they are within your target audience. If so, they may be good choices for social media follow-backs. 
2. Consider following back your interesting social media followers.
Social media is a vast web of different voices, opinions and information. You'll likely use multiple social media accounts to harness it all. If your business goals include learning about specific industries, topics, tools, and more, consider following back accounts related to those topics. 
Check your Twitter, Instagram and Facebook followers for engaging users who bring something new to the table. Read their bios and see what they post about. If you're intrigued by their interests and what they have to say, follow them back to learn more. 
3. Consider following back accounts with many followers.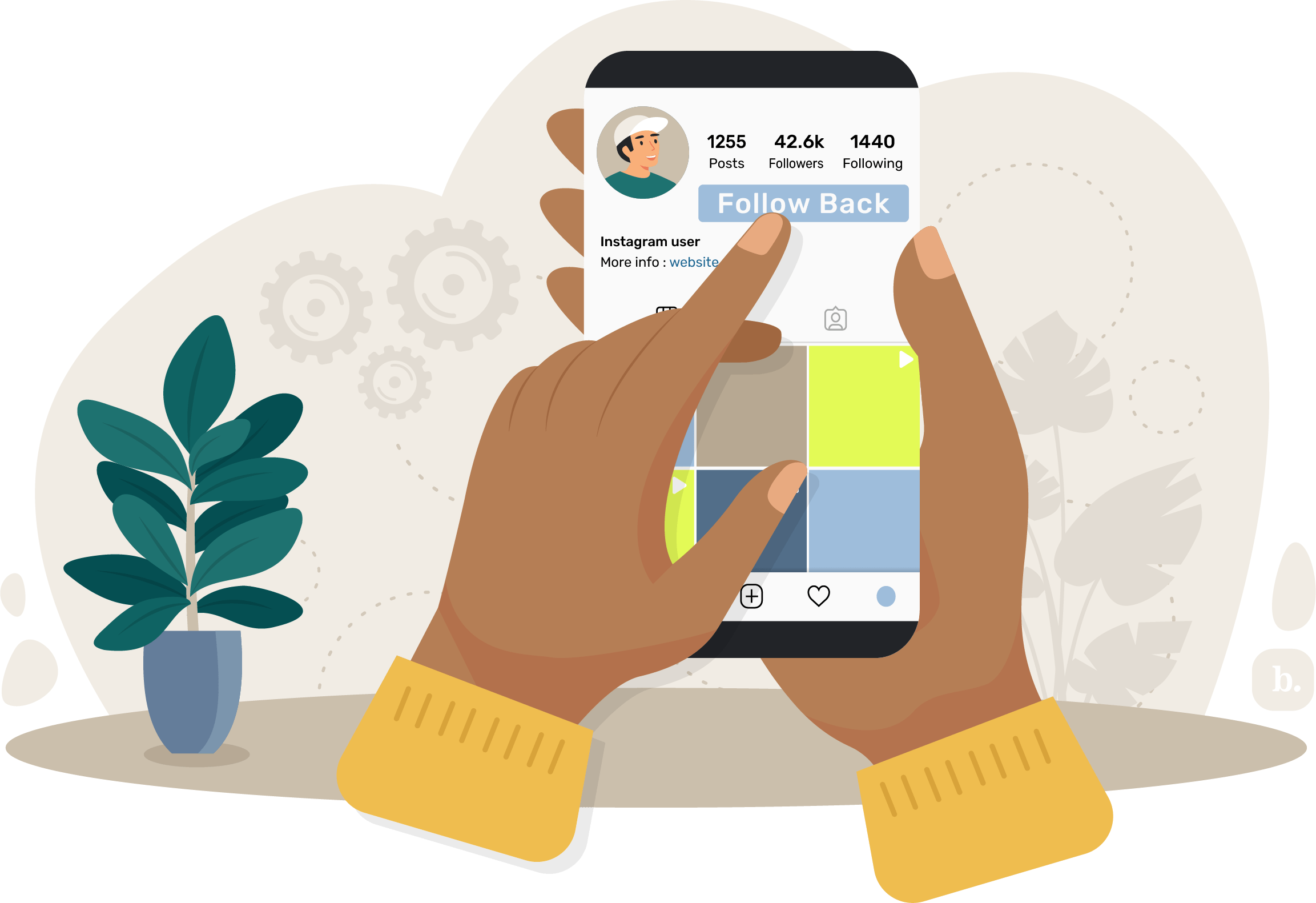 Ultimately, you want to maintain a good followers-to-follow ratio. If an account has more followers than they follow, it indicates that they may be a worthwhile follow-back. It shows that the person or business behind the account is selective and sees your account as a meaningful one to engage with.
When you're notified that someone has followed your account, take a look at their follow count and followers-to-follow ratio. If they have many followers, it shows they have a substantial audience interested in their posts. If they follow you and like your product or service, there's a chance they'll repost your content, helping you reach a more extensive audience with similar characteristics.
4. Consider following back social media influencers.
Social media Influencers can include celebrities, prominent business owners, respected journalists or users within a niche specialty. Top influencers have many followers who respect their opinions. 
When a quality influencer in your industry follows you, it's an open door to start a conversation with them and build a relationship. Follow them back, but don't stop there. Engage with their posts, ask them questions, and get to know them. Seek out opportunities to help these influencers; they just might do the same for you, reposting your content to give you additional exposure.
BDC tip
5. Consider following back complementary brands.
Social media is an excellent platform for forging strategic partnerships. If a complementary brand's account follows you, that's worth a follow-back. 
For example, if you sell hiking boots, it would be great to follow back a brand that sells camping equipment. You can boost their posts, and they can do the same for you. Since the products are complementary, you know your target market is the same. That's a win-win. Do the same with companies with whom you have strategic alliances to allow for co-marketing.
What does it mean to follow someone?
Following is when you opt in to see another user's content on your social feed. For Twitter, this means your Twitter feed. For Facebook, this is your timeline. Following (or, in Facebook's case, friending) someone allows you to see everything on their profile, including their regular posts. 
When you follow someone, they are notified. Following others allows you to repost and comment on their content, increasing brand awareness. It's also a potential source of user-generated content you can use to grow and promote your brand.
How can you get people to follow you?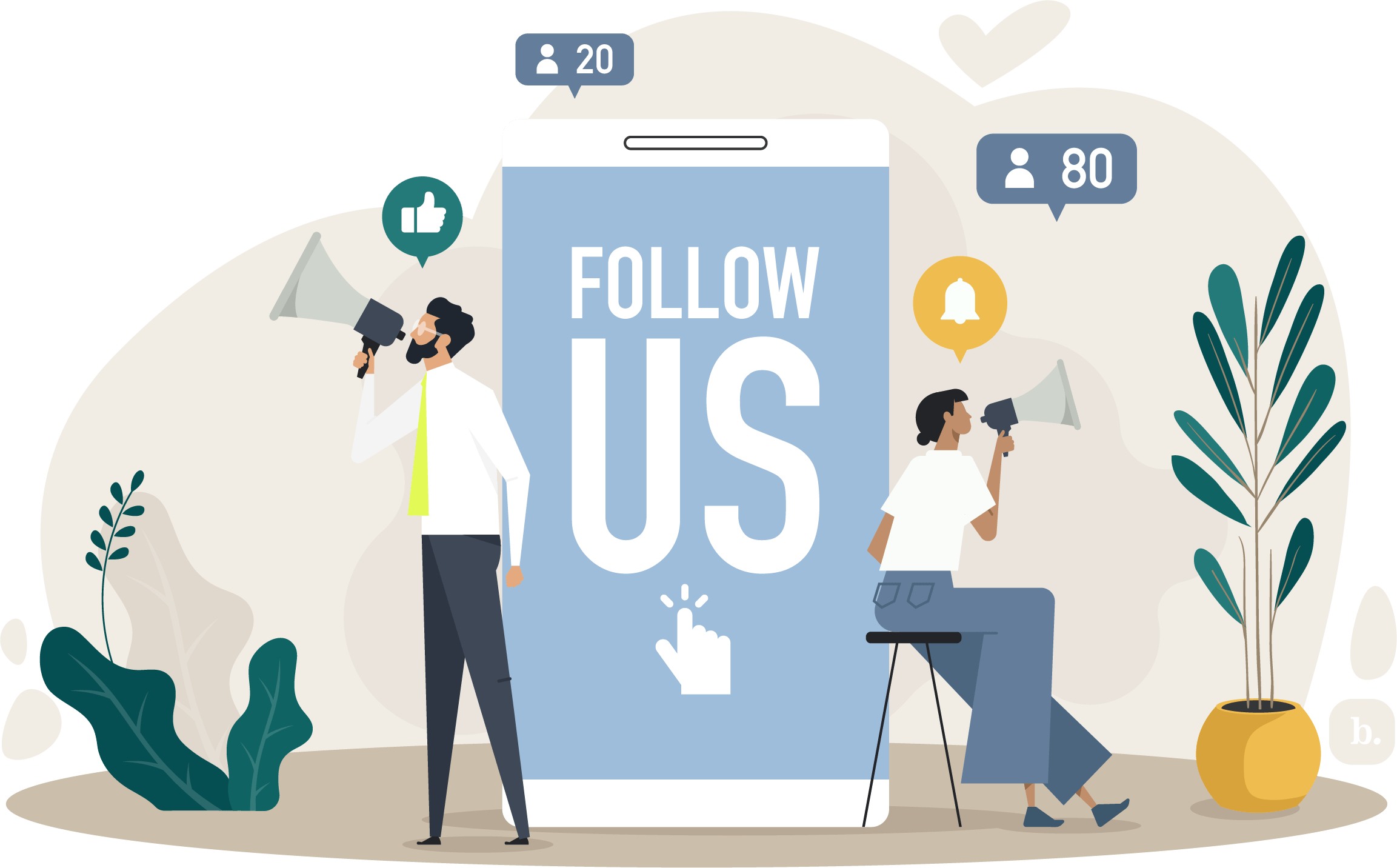 People tend to follow accounts that can give them something in return. For your business, that means presenting quality content that users find worthwhile. For example, you can use your social media presence to present or promote your blog about your company and industry. This will attract industry professionals, job seekers and valuable customers to your brand. 
To gain more followers on social media, you must be vocal, someone who posts interesting, vital information frequently and advocates for your business's position in its field.
Here are some steps you can take to improve your social media presence and attract more quality followers: 
Study your competitors. If one of your competitors has a strong online presence, do your research to understand how and why.
Focus on visual content. Compelling images are the secret to great social media posts. Social media is a visual marketplace, so don't get lost in the shuffle with generic shots. You can also use video to enhance your marketing strategy on social media.
Build a community. Work hard to network online and build a community of trusted users. They don't all have to be customers or fans of your business; you can form trusted relationships with other industry professionals as well. Remember, the key is engaging your audience on social media.
More advice on social media marketing
Here's what some experts have to say about effective social media marketing for your brand. 
"Twitter is the only network that has a real culture of thanking people for following, retweeting and mentioning. And you should be more selective there. On Instagram, follow people back if you like what they are sharing." – Giselle Aguiar, social media consultant, coach and trainer
"Don't get obsessed with the numbers, and focus on a wider marketing approach that specifically targets your base." – Ali Zartash-Lloyd, partner, Cognisant Associates consulting
"Test different approaches with your social media accounts and measure the data monthly. You can always unfollow someone." – Sol Gonzalez, editor-in-chief of Latina Seattle
How social media can help you build your brand's identity
In today's business world, you need a social media strategy to strengthen your company's reputation. That could mean creating content, working with social media influencers, or building your brand in other organic ways. 
Use social media follow-backs as a way to engage potential customers, strategic partners and others who can help you grow your business. As an expanding arena for business presence and marketing, social media could become the backbone of your brand's identity.
Jennifer Dublino and Marisa Sanfilippo contributed to the reporting and writing in this article. Some source interviews were conducted for a previous version of this article.