Business owners' marketing plans are filled with a wide range of tools and options, but nearly every business can benefit from social media marketing. With so many people using social media, there's an excellent chance you can reach your target audience and boost sales.
Social media experiences differ by industry and business type and scope, and social media marketing is constantly changing. However, every business stands to gain significant advantages from using social media as a tool for growth. We'll explore the benefits of social media for business and highlight some mistakes to avoid.  
What are the benefits of using social media to grow your business? 
According to GWI, 59% of the world's population uses social media, with an average daily usage of 2.5 hours. It makes sense to find your customers where they are and connect with your audience on social media. 
Here are four benefits every business can realize from an effective social media presence. 
1. Social media helps businesses learn about their target audience.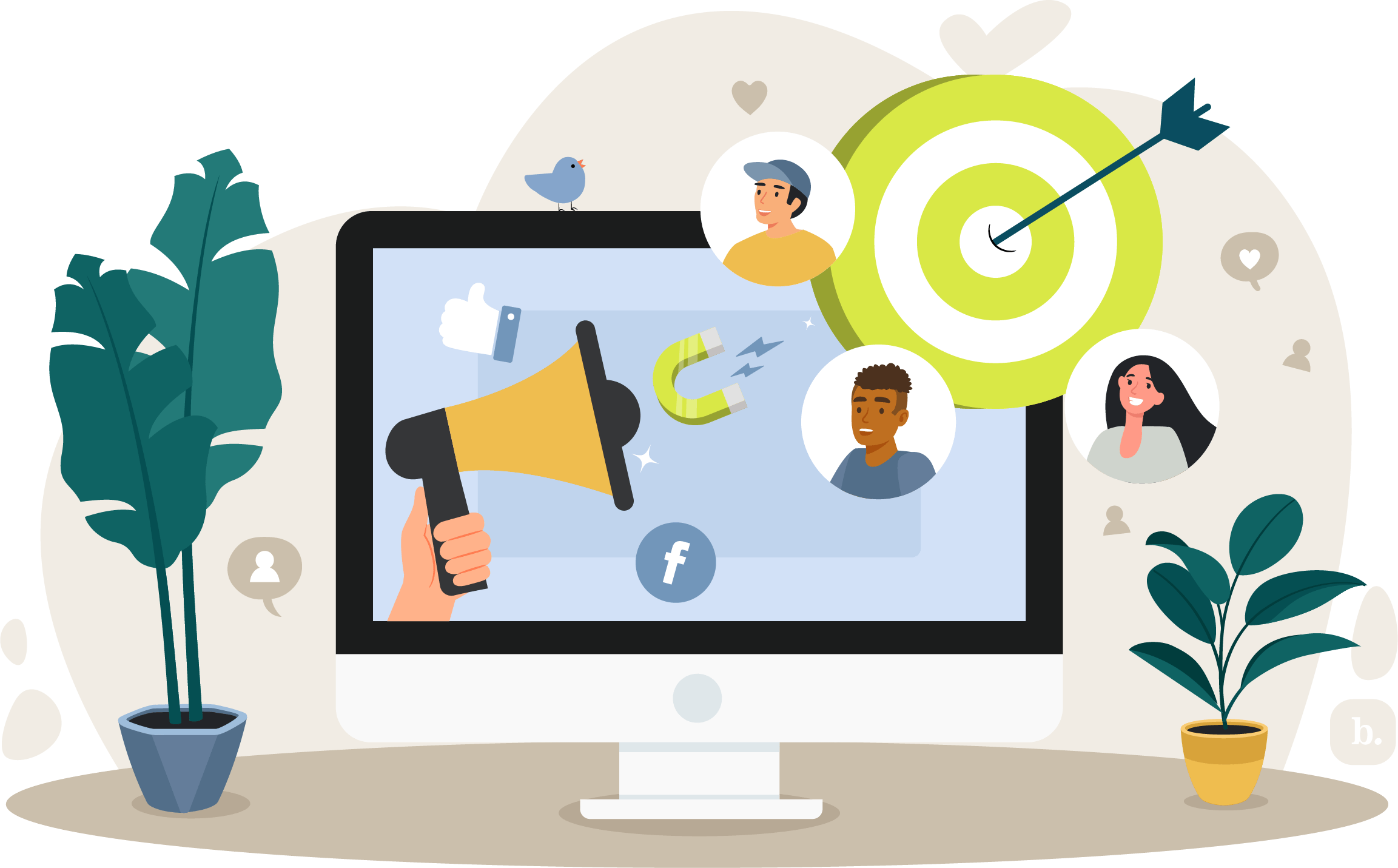 The first and most obvious benefit of social media as a growth tool is identifying your target audience and learning about their needs, thoughts, opinions, desires and experiences. People online are often more receptive to brands and products and willing to discuss their experiences. 
To learn more about your customers and prospects, check out competitors' social media profiles, and visit groups where people discuss your niche. For example, to create content for your gardening website, find Facebook gardening groups and see what people are discussing. If you notice that most members have similar pain points or questions about growing climate-specific flowers, use that information to help build customer personas and a content marketing strategy. 
Research and collect survey data to learn where your audience hangs out online. Your target audience may spend its time on YouTube, so influencer marketing will help you reach it. If many potential customers like Twitter, create an active Twitter presence where you interact and respond to consumers. 
The more you know about your target audience, the more you can personalize the marketing experience. 
2. Social media helps create personalized advertising. 
Digital advertising is big business. According to Hootsuite, social media will account for a third of all digital advertising spending in 2022. 
As you learn more about potential customers, you can create personalized ad campaigns on platforms like Facebook, Twitter, and Instagram. Many consumers want to see products and offers relevant to their lives and experiences. 
There are several ways you can create personalized ads on social media, including the following:
Use retargeting pixels on your website. The first tactic requires retargeting pixels on your website. When consumers come to your site but leave without purchasing, your website drops a browser cookie on the user's IP address. When they browse social media later, they'll see personalized ads based on the items in their cart and a discount to sweeten the deal. 
Target ads to consumer interests. Use the data you glean from researching your target customers to create ads personalized for them. For example, if you learned that most customers want tips for repurposing garden tools, you could create an e-book on the topic and offer it as a lead magnet. 
Create a landing page on your website where social media followers will arrive when they click your advertisement. Consider your ads' scale and frequency before creating your landing page to make the best design decisions. 
To monitor your digital ads' effectiveness, track key social media metrics like engagement, reach, followers, impressions, views and website traffic.
3. Boost your SEO ranking and improve site engagement via social media.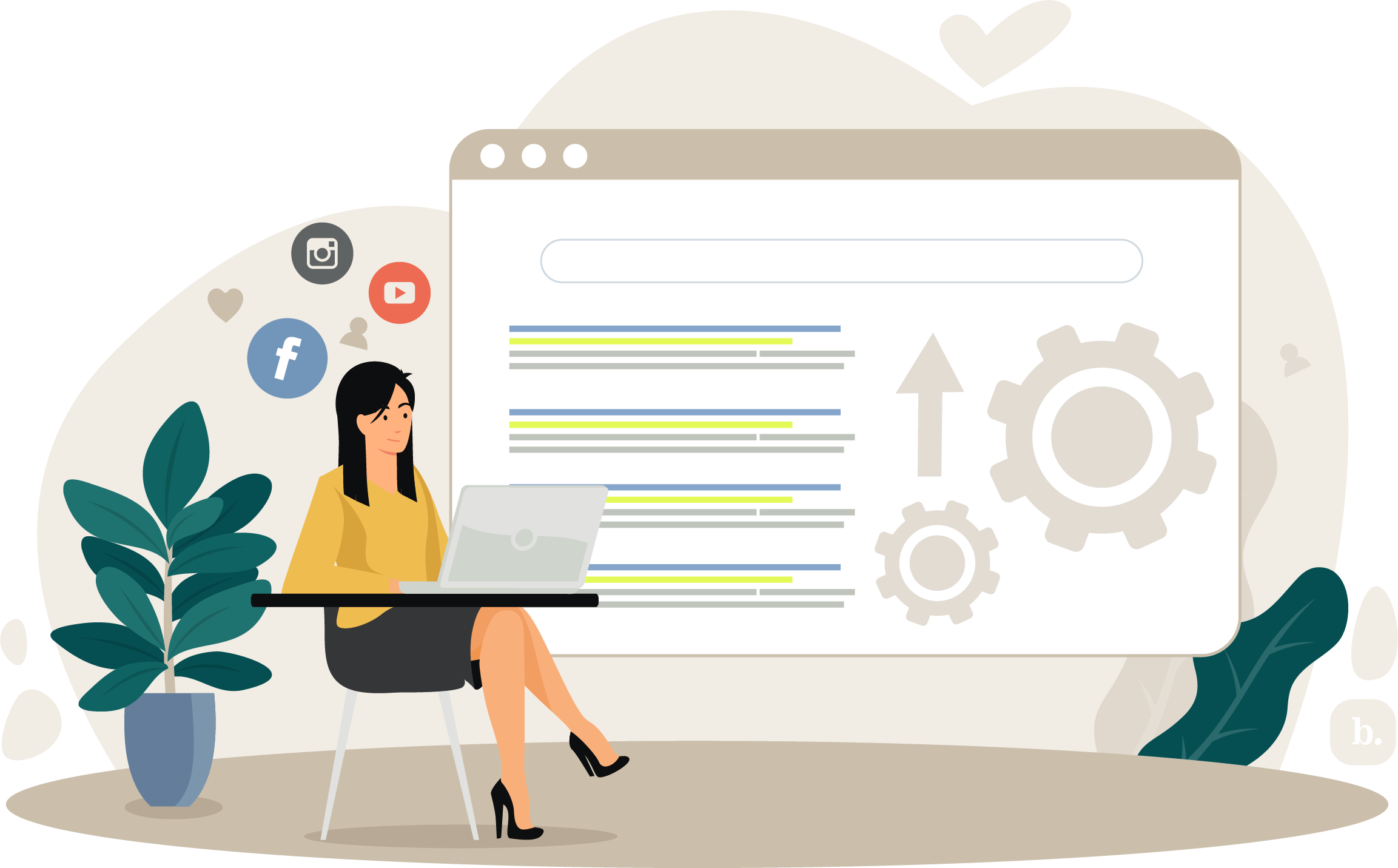 Boosting your SEO ranking and improving engagement are closely connected. Contrary to popular belief, the number of likes and comments doesn't directly correlate to your SEO ranking. If that were the case, it would be easy for anyone to game the system and get an undeserved ranking. 
Instead, improving your social media presence can indirectly lead to higher SEO rankings. For example, creating engaging social media posts will encourage consumers to visit your website, positively impacting your SEO ranking. Google wants to know your site is relevant and that users interact with its pages. 
One SEO strategy for encouraging website traffic via social media is promoting a giveaway on your social media channels. This will improve audience engagement on the social platform while encouraging consumers to head to your homepage and browse your content. 
4. Social media helps businesses build social proof.
Social proof is a psychological phenomenon where people are more likely to buy a product if they see other people using and enjoying it. Many businesses add testimonial pages and positive customer reviews to their websites to build social proof. While this tactic is excellent for enticing curious consumers on your site, you can create social proof online through your social media profiles. 
For example, if a customer writes a glowing review of your business and tags you, share it on your profile and thank them for their feedback. When people find your profile, they'll see what others are saying about your business. 
If your content marketing strategy involves writing guest posts for other publications, share these posts for additional social proof. If someone sees your guest post on a site they already follow and trust, they'll automatically have confidence in your brand. 
When can using social media for your business backfire?
Like all forms of marketing, social media marketing is only as good as its strategy – and the people implementing it. Faulty social strategy or execution can create negative consequences for a brand. Here are some examples. 
1. Social media can backfire when you sell too hard.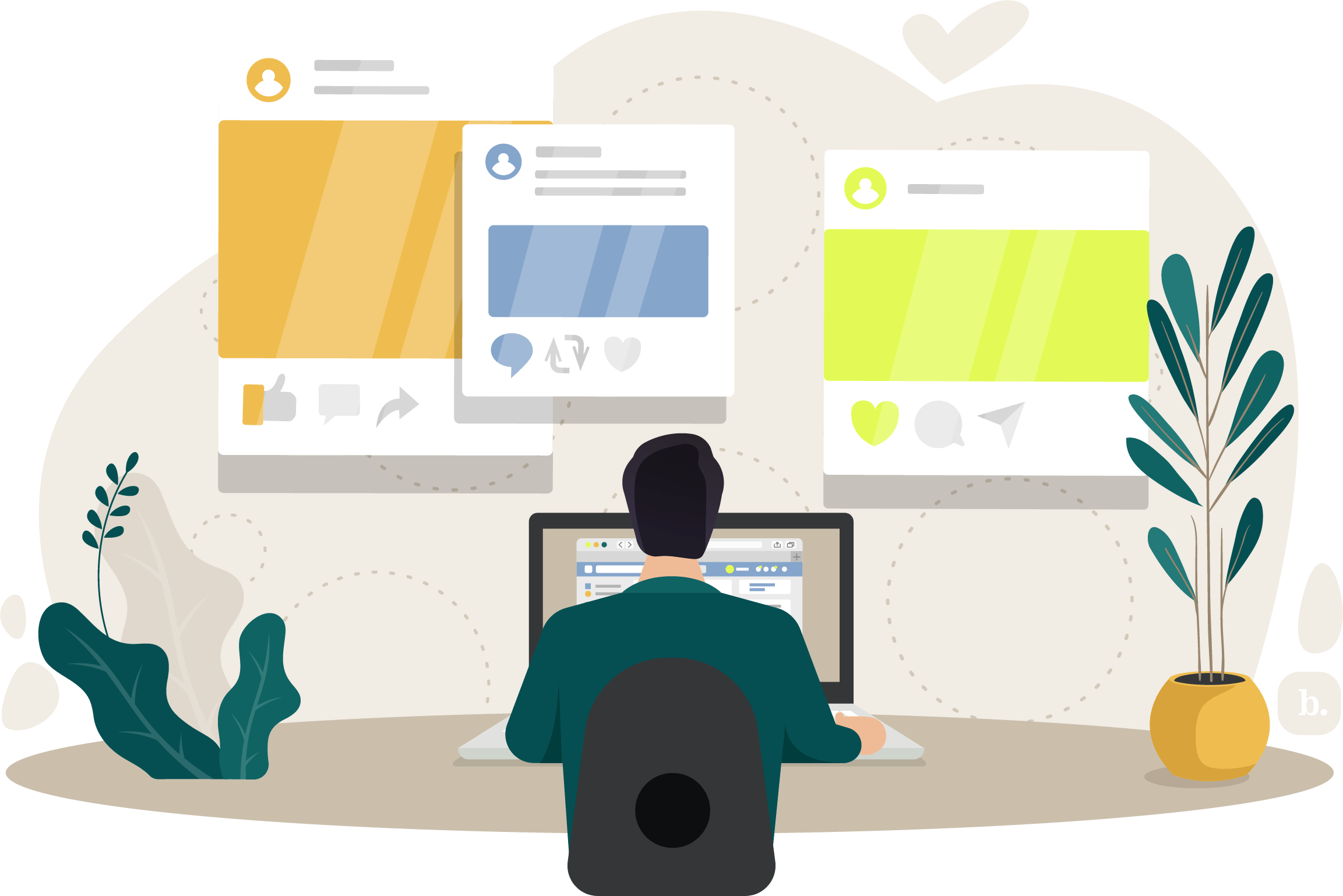 Social media users want entertainment, connection, and education; they don't venture onto their social platforms seeking a hard sell. While they understand businesses must make sales and social media is a sales channel, they expect a more friendly, casual, and low-key approach. 
Limit your promotional posts and share helpful and interesting content. As a rule of thumb, use the 5:3:2 rule for social media, which says that for every 10 posts:
Five should be curated from other sources.
Three should be content you have created.
Two should be personal, fun content that appeals to your target audience.
2. Social media can backfire when you appear fake. 
Authenticity is prized on social media, particularly if you want to build a brand that attracts Gen Z and millennial customers. Followers expect companies to be real with them, admitting when they make a mistake and presenting their human side. 
If your social media account looks too polished – for example, using stock photography and models – your followers will likely abandon or attack you online. 
Show real people in your posts and ads, not models. Include photos and videos of actual employees doing their jobs. 
Create a user-generated content strategy by encouraging social media followers to create and post authentic content about your brand.
3. Social media can backfire when you are deceptive.
The internet is not kind to businesses caught in a lie or deception. When you make a claim, it must be true and backed up by action. 
For example, if you say your business prioritizes customer service, you must display consistent, high-quality customer service via social media as well as phone, web, and email channels. If you say your company has a sustainable business model, be ready to back it up with proof and action. Social media will punish greenwashers, and your claim will cause significant damage.
4. Social media can backfire when you're out of tune with your audience.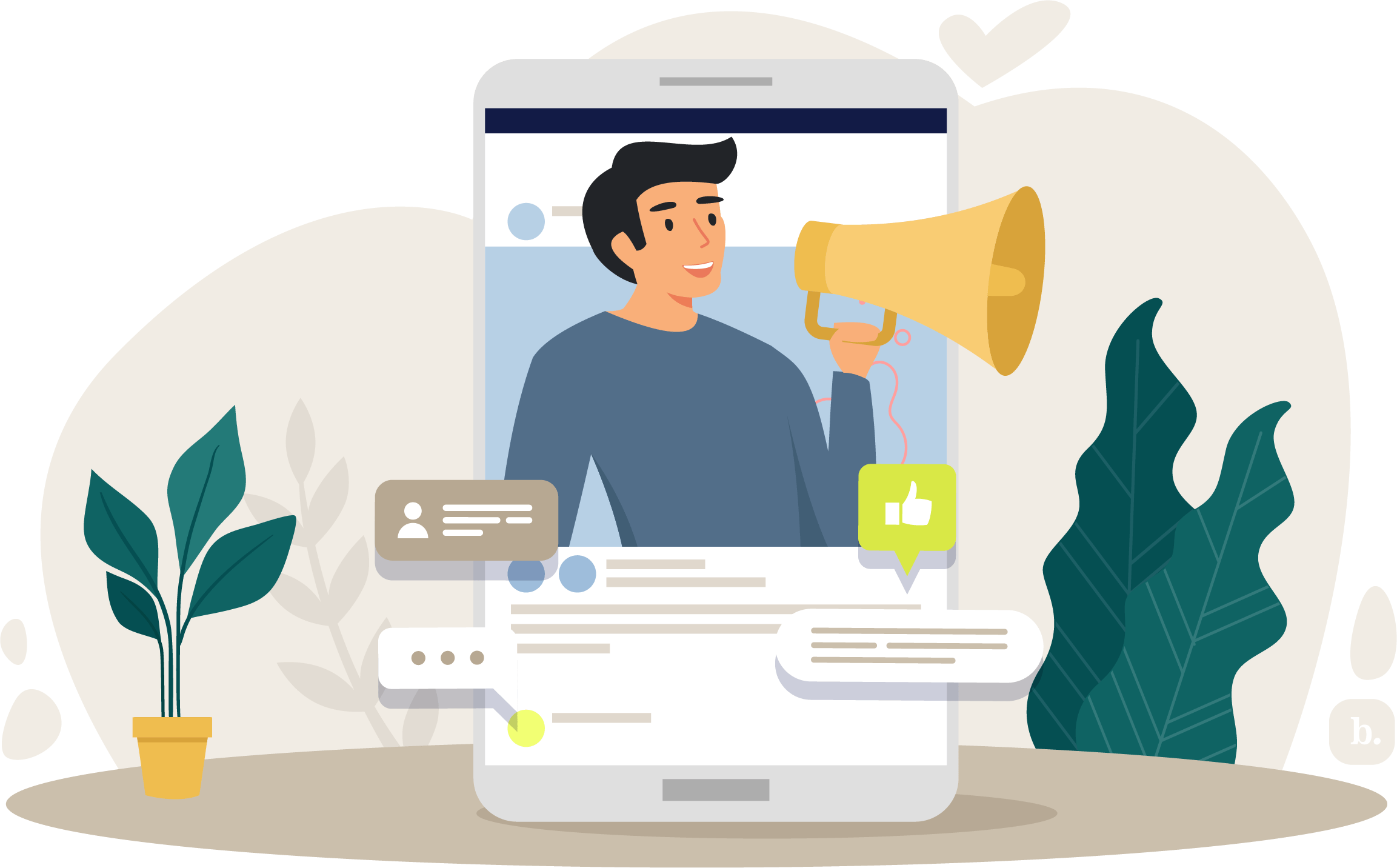 People on social media like to follow brands that express values consistent with their own. Don't promote values that are out of sync with your target market just to make a point. You will end up alienating them and losing followers. 
If your values differ fundamentally from those of your target market, focus on relatable values. For example, your political views may diverge, but everyone can get behind your commitment to a quality product. 
5. Social media can backfire when your content is low quality.
People use social media to find value – educational, interesting, surprising, funny, entertaining, and helpful information. If your content doesn't meet these criteria or your graphics and photos are poor quality, followers won't stick around. 
Before posting anything, ask yourself if it's something your audience will want to share or comment on – in a positive way.