Reduce, reuse, recycle. The three R's have been pounded into your head since birth.
You're supposed to do everything in your power to reduce your carbon footprint, but you don't give much thought to your digital one.
What if you could put the three R's to good use with regard to your blog? You can, as long as you create evergreen content. 
Let's look at some of the ways you can incorporate the three R's into your content to drive more traffic.
1. Write a Two-Parter
You can live the Hollywood life and write a sequel. Do you really think that the world needed a ton of "Terminator" movies? Of course not, but when another one hit the big screen, it made everyone go to Amazon and rent the old ones again.
The same will happen when you write part two of your amazing blog post series. They will go back and re-read your first one. Write a two- or three-part blog post, and people will go back and re-read your old stuff. Just let them know you'll be back.
2. Quote Yourself
You know that you are highly quotable. Get some traction (and traffic) from your quotes by using quotes in new content. Use some of your quotes from your ebooks or your blog posts and turn them into articles for traffic. If you have a great quote, you can even turn it into a meme. This will also help you brush up on your skills.
Before you know it, you will be spinning quotes like it's nobody's business.
3. Update Your Old Content
Have you ever taken out an old picture from high school and wished you could update your look? Look at your old content in the same way. Take it out, freshen it up, and put it back out in front of the world. Once you update it, put it out on social media. People will look at it with fresh eyes. It will be as if they are seeing it for the first time.
You see this all the time with Amazon ebooks. For instance, you might notice that a book has a second- or a third-edition ribbon stamped on it. That's because the writer decided to update it. Do the same thing with your content.
4. Update Old Guest Posts
If you've ever created guests posts for other people's blogs, now it's time to update them and post them on your own blog. Just make sure you change enough of the post so you can justify reposting it on your own blog. Add some new information, change the structure up, and post it on your own blog.
5. Compile Your Best Evergreen Content on a Designated Page
Design a page specifically for your best evergreen content. It can be a "featured content" page. It should have all of your top content that people can access when they want to see the best content that you have to offer.
You can also take a page out of Help Scout's book and create a "Popular" section that has all of your most popular blog posts. Then, people can quickly see which blog posts are the most popular. That will help you get even more traffic with those posts.
6. Promote Old Evergreen Content on Social Media
Tools and plugins, like the Revive Old Post (my favorite), will give you a great way to promote old content on social media. If you install this plugin, you'll choose the amount of time in between the posts and the number of posts you want to share. You'll also choose the hashtags you want to use on Twitter when it publishes the posts for you.
Another way to do this is by compiling your evergreen content into a designated page on social media. I have seen many probloggers using this strategy to draw more traffic. It's effective and requires very little additional work.
Here's how Sue from Successful Blogging compiled her basic blogging tips into a useful Pinterest Board.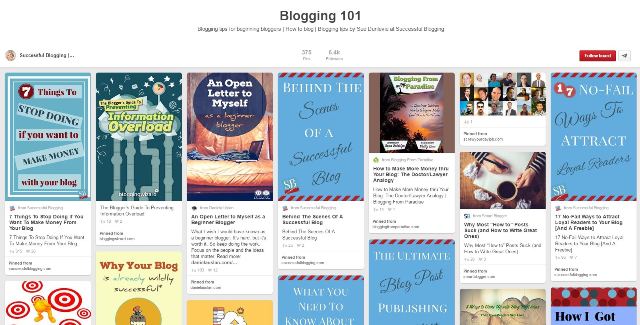 7. Promote Your Old Content in a Newsletter
If you send out a monthly or bi-monthly newsletter, use it as a chance to promote popular content. Your newsletter audience is likely different from your Facebook and Twitter audience, so use it to reach new people and get the word out about your content.
8. Feature Old Content in Roundup Posts
Roundup posts are a great opportunity to highlight the most popular posts you have made over the last month or so. They keep people in the loop and give everyone the highlights. People tend to like these posts, and they are an excellent way to promote old content. You can draw people into your old content with these posts.
Check out how A Beautiful Mess's excellent roundup of fresh-squeezed cocktails, which links back to their old posts.
9. Update and Re-Post Your Content on Forums
You can get a lot of new traffic by reaching people in new places. Update your content, and then seek people out on forums. You can find a new audience and send people over to your blog.
10. Create Infographics and SlideShare Presentations for Your Old Content
People love visuals, and you can play right into their hands by taking your old content and creating infographics or SlideShare presentations. You don't even need to pay a graphic designer to do this for you. Use a free tool, like Canva or Piktochart, to make your infographic or presentation. Then, publish it online. You'll be amazed by the traffic you get from your infographic or SlideShare presentation.
Here's a presentation slide repurposed from my old blog post.
//www.slideshare.net/slideshow/embed_code/key/d3pJgijJtppffL
Wrapping Up
Don't make the mistake of letting your old content become landfill. Repurpose it so you can get more out of it. If you create evergreen content, it can continue to drive traffic to your blog.