Sitting back and looking at all of those filing cabinets, desks, and oh-so-many computers, it's easy to get overwhelmed by the prospect of a corporate relocation.
It's important to coordinate the logistics of a company-wide move efficiently to ensure that it doesn't interfere with the flow of business, and cash, in the meantime.
Fortunately, there are an abundance of mobile apps your business can utilize to make your corporate move easier and more efficient.
Here are eight apps to help make corporate moving day less of an organizational struggle.
1. Moving Van
There will inevitably be boxes upon boxes of office papers and important computer components.
Although the old-fashioned method of physical box labeling has its benefits, Moving Van can catalog which items went in which box quickly and in an easily searchable format.
Boxes can also be labeled with their intended destination in the app, eliminating the time wasted searching for that one specific item after your boxes have arrived. $1.99, created for iOS only.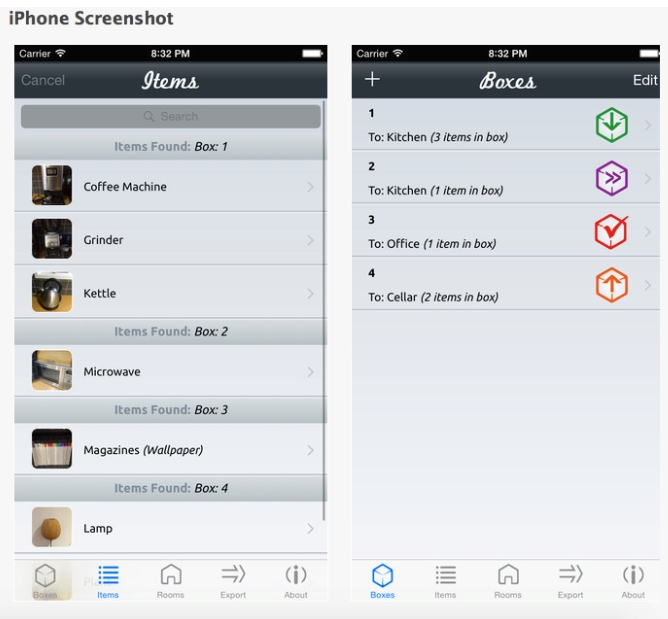 2. Move Planner
Move Planner takes your relocation preparation to the next level.
With customizable to-do lists that can be categorized by subject and assigned to different departments with due dates, everyone will know what they need to accomplish prior to moving day.
You can also track the number of boxes needed by size so that you're fully prepared to move quickly and efficiently.
This app is primarily focused on the tasks leading up to the move so that when the big day comes, you and your team are 110 percent on top of your game. And at $1.99, a tiny investment for a lot of saved headaches. For iOS products only.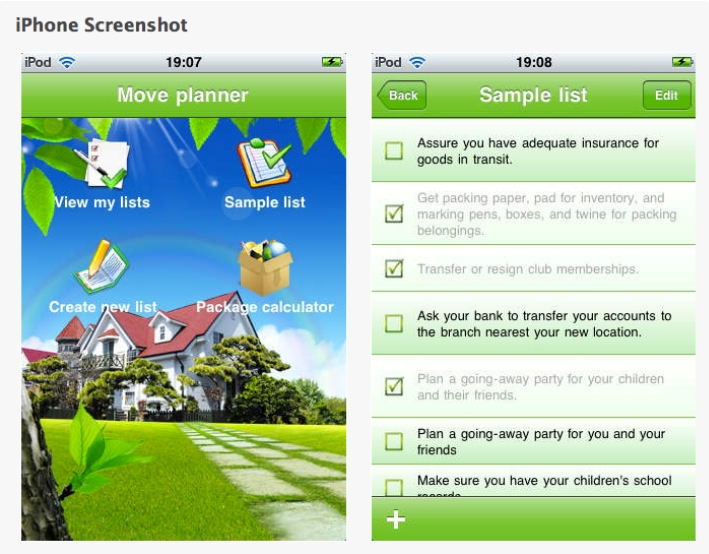 3. Evernote
You may already be familiar with Evernote for its cloud-based notebooks, but don't overlook its capabilities for organizing and streamlining your office move.
Department-specific notebooks, to-do lists and even budgets can be synced between devices, and the Work Chats function means you can chat with colleagues straight through Evernote and save the key parts of those conversations for future reference.
The free version of the app truly offers an incredible range of functions, particularly for the purpose of moving organization, and with a little bit of focused notebook setup, it can be used to coordinate most of your move.
The premium version offers more features in the Presentation Mode and provides offline access to all of your notes.
The rates for premium packages vary. Only available for iOS devices.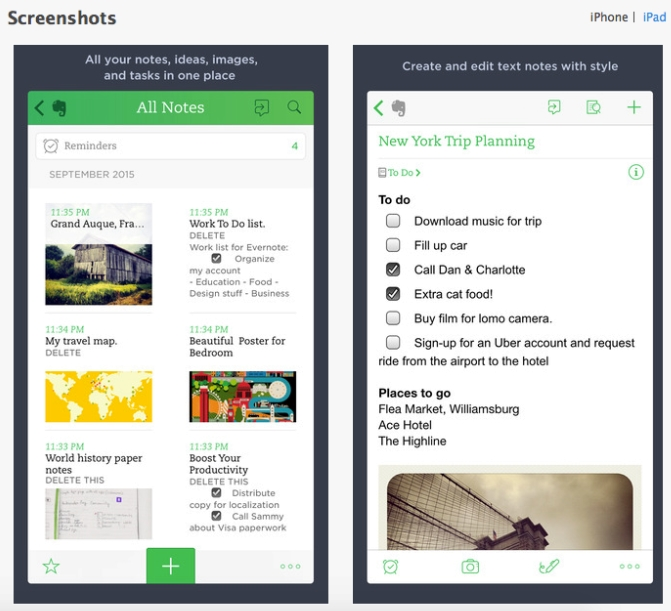 4. Moving Planner
Android users, rejoice! There is a comprehensive moving app for you, too.
Moving Planner offers templates and pre-loaded item lists for your move so that you can quickly add items to lists of box contents, make checklists of common moving tasks, and even color-code your tasks or items.
Notes can be made for certain boxes if they are particularly heavy or fragile, a function that can be utilized to create a more comprehensive plan for sorting boxes and items once you've arrived in your new space.
The app supports unlimited lists without any need to upgrade, so the $0.99 cent price tag is more than fair. For Android only.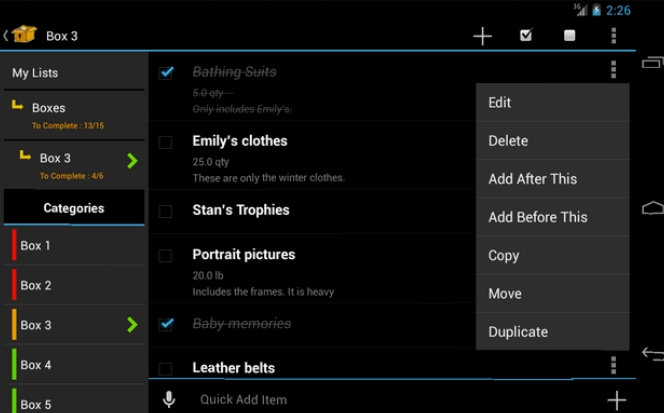 5. BuildApp Pro
If you have a complex office layout in your new space with more than a handful of offices, or if you're planning to renovate your new office space before you move in, BuildApp Pro could be a worthwhile tool for your move. This app allows you to create a virtual, 3D layout of your new office and add furniture, experiment with paint colors, and even conduct planned renovations to see how the office might look with fewer (or more!) walls. Get creative with how you lay out your offices and distribute your staff before you even move the first box. The Pro version is required in order to save your work, so it is highly recommended. $4.99, for Android only.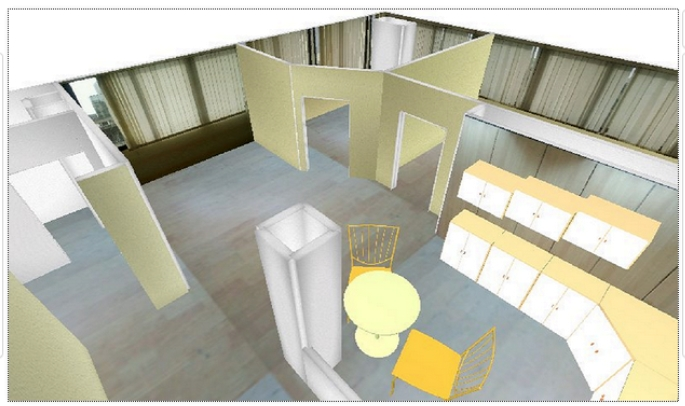 6. State Farm Move Tools
State Farm has gone above and beyond with this app. They've created customizable timeline-based To-Do lists, an interactive packing screen that allows you to go office by office and virtually pack your boxes, and then make printable labels of the contents you just listed. The inventory is then searchable, so you can easily figure out which box you put all of the staplers in when you can't find them. For insurance purposes, you can also make notes about the value of those items as you go — so you know which boxes need extra care and attention on moving day.
To top it all off, this app is free. The only downside? It is only compatible with iPad. But with all of the free features, we can overlook that part.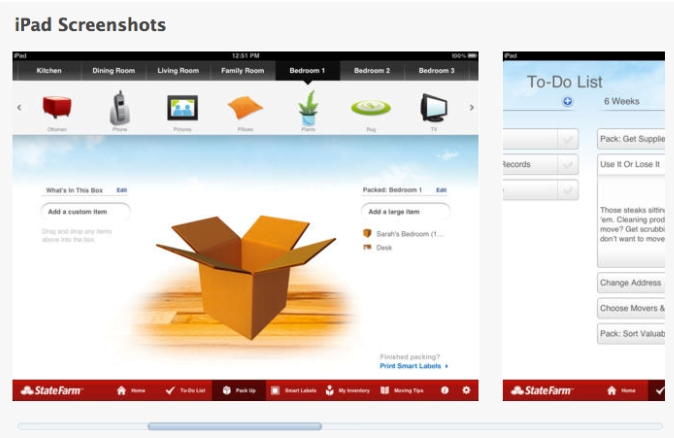 7. Sortly
Sortly is another high-quality, free app with great functionality. Use the app's five level folder system to categorize your items by room or office, then category, then box, and get even more specific if it suits your moving needs. Your inventory is always highly searchable with the use of customizable tags, and with the $7.99 premium version, Sortly allows you to use off-the-shelf adhesive labels to print QR codes and catalog your boxes quickly. In-app To-Do lists keep you and the team on track and you can export your data into Evernote for safe keeping. Only available for iOS.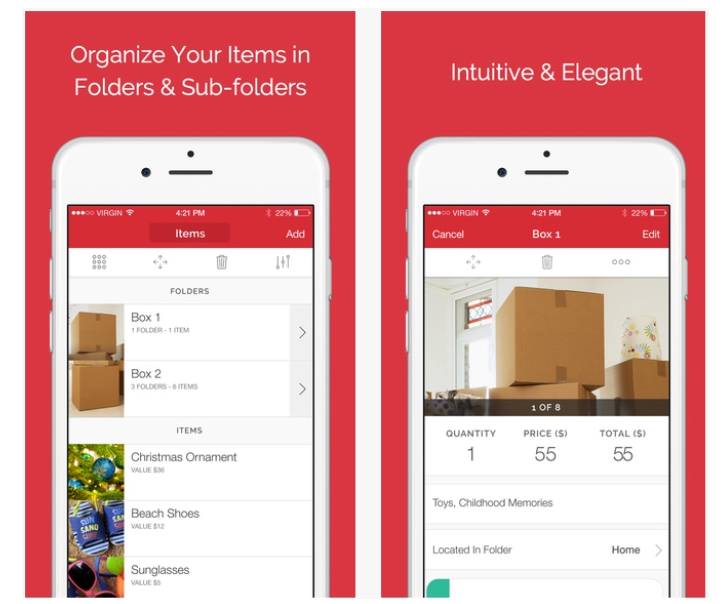 8. MagicPlan
MagicPlan offers a solution for iOS users who are planning to renovate their office space prior to moving in — or who just want to be really, really detailed with creating an office floor plan. Create a floor outline simply by taking pictures, and MagicPlan which will help measure windows and doors, allow you to insert furniture or fixtures, and even help calculate construction costs on possible changes. In order to download your floor plan, you can pay a one-time fee of $2.99 per property map. Otherwise, the app is free to download. Available for iOS only.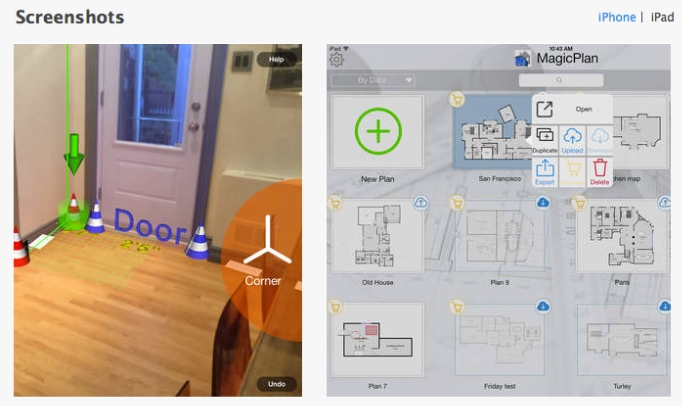 Office relocation can be a headache, but these apps can help you keep your cool and make this move efficient and strategic. And if you'd like to streamline your move even further by comparing moving price quotes and booking your movers online, check out Unpakt. Doing so will help you save time and money.