A crucial aspect of starting a new business is finding a credit card processor to handle card and digital payments. The best credit card processors have reasonable fees, high levels of security and integrations with popular applications. They also allow you to accept a wide variety of payment methods.
Stax Payments and Square are popular payment processing solutions that work well for new and established businesses. We'll compare these two vendors' notable features side by side to help you find the best fit for your organization's needs. 
Stax vs. Square Service Comparisons
Here's a closer look at each provider's services and how they stack up against each other. 
Plans and Pricing
Stax
Stax offers two plans that depend on your processing volume. Both plans grant access to the platform's full suite of features. If your processing volume is more than $500,000, contact the company for custom pricing. 
Each plan involves a monthly fee, but there's zero markup on the interchange-plus processing rate — a highly unusual practice in the industry that impressed us.
Plan

Features

Monthly cost and processing rate

Growth (processing for up to $250,000 annually)

Dashboard and analytics
Securely stored credit card data and automatic updates
Text2Pay mobile payments
Payment links
Recurring invoices
Scheduled payments
Integrations and API capabilities
Digital invoicing
Accounting reconciliation (synced to QuickBooks Online)

$99 flat fee monthly
Per transaction flat fee of $0.08 for card-present transactions and $0.18 for card-not-present transactions

Ultimate (processing for between $250,000 and $500,000 annually)

Same features as the Growth plan

$199 flat fee monthly
Per transaction flat fee of $0.08 for card-present transactions and $0.18 for card-not-present transactions
Optional add-ons include ACH processing, a one-click shopping cart, digital gift cards, next-day funding and more. Note that the vendor imposes a $25 chargeback fee for disputed transactions. 
Square
We were impressed that Square's basic plan has no monthly fee. Higher-level paid tiers add additional functionality. We also loved that Square doesn't impose chargeback fees — a rarity in the industry.
Pricing is as follows (prices for higher-level plans reflect annual billing; you'll pay more for monthly billing):
Service plan

Monthly fee

Rate

Features

Free

$0

2.6% + $0.10 (in person); 2.9% + $0.30 (online); 3.5% + $0.15 (manually entered)

Website builder with SEO tools
Sync with Square POS
Pickup, local delivery and shipping options
Social media selling
Manage multiple sites and locations
Online store
Team management
Customer directory
Invoices
Virtual terminal
Fraud control

Plus

$29 per month (billed annually)

2.6% + $0.10 (in person); 2.9% + $0.30 (online); 3.5% + $0.15 (manually entered)

Everything in the Free plan, plus:

Expanded site customization
QR code ordering
Customer accounts
Personalized ordering
Free domain for one year
Shipping and delivery progress bar

Premium 

$79 per month (billed annually) 

2.6% + $0.10 (in person); 2.6% + $0.30 (online); 3.5% + $0.15 (manually entered) 

Everything in the Plus plan, plus:

Lower processing rate for online payments
Real-time shipping rates
Enhanced customer service
No in-house delivery fees
Real-time shipping displayed
Additionally, Square offers add-ons that can help your business run more smoothly: 
Email marketing add-on: Starting at $15 monthly, this add-on allows you to send unlimited emails, automate email collection, redeem coupons, automate email marketing campaigns,and more.
Payroll add-on: At $35 plus $6 per person per month, this option gives you unlimited monthly pay runs for employees and contractors.
Text message marketing add-on: At $10 per month plus messaging rates, you can automate text message marketing campaigns and add images.
Loyalty program: Square can help you build a customer loyalty program. Rates start at $45 for 0-500 loyalty visits.
Winner
Stax wins this round. While these vendors have similar capabilities, Stax includes more features without additional charges. It costs more per month, but the price is offset by its wholesale interchange pricing with no markup. Stax's pricing model is especially beneficial to high-volume businesses. However, low-volume and seasonal businesses will likely benefit more from Square's lower monthly costs.
Payment Processing
Stax
Multiple payment types accepted: In regard to credit card processing and digital payment processing, Stax allows you to accept all major credit and debit cards (swipe, dip and tap), Apple Pay, Google Pay, PayPal, Venmo, Pay Later and more. ACH processing is available as an add-on.
Multiple payment methods: Accept payments online, in person and via text, invoice, hosted payment pages and more.
Low processing rates: Stax processes a wide variety of payments at an unprecedented low processing rate. It's the only payment processor we reviewed that passes along wholesale interchange rates to its merchants with no markup.
Quick payouts: Stax's quick payouts are another benefit. Many other processors take one to three business days to transfer your money into your bank account. However, with Stax, your money is deposited as soon as the following business day. If you need access to your money immediately, you can get an instant transfer for an additional fee.
If you don't want to pay any credit card processing fees at all, Stax supports surcharging (passing the processing costs on to the consumer).
Square
Multiple payment types accepted: In addition to major credit and debit cards, Square allows you to accept Apple Pay, Google Pay, Samsung Pay, Cash App and ACH for invoices.
Multiple payment methods: Like Stax, Square allows merchants to accept payments in various ways, such as via an e-commerce payment page, invoicing, recurring payments, hosted payment pages, virtual terminals and in-person with readers and point-of-sale (POS) systems.
Payouts: You can either keep your sales revenue in your Square Checking account or transfer it to another bank account within one business day (or immediately for an additional fee).
Winner
These vendors tie in payment processing capabilities. Both allow you to accept various payment types and methods and arrange for next-day payouts. 
Security
Stax
PCI compliance: Stax is a Level 1 PCI Service Provider. While Stax is PCI compliant, as the merchant, you are responsible for PCI compliance on your end. Stax requires its merchants to complete and submit a PCI compliance self-assessment questionnaire annually so it stays top of mind. While Stax does not have its own proprietary hardware, the equipment it sells and is compatible with is PCI- and EMV-compliant.
E-commerce security: If you have an e-commerce site, you can add a secure payment system. PCI-compliant software encrypts and tokenizes cardholder information so that it's difficult for would-be thieves to intercept and use. This system cuts down on credit card fraud and chargebacks.
Square
PCI compliance: Square provides end-to-end encryption of customers' payment information, helping ensure PCI compliance.
Fraud prevention: Square also uses machine learning models to identify and examine potentially fraudulent transactions. 
Unlike Stax, Square does not charge merchants chargeback fees and backs you up to the issuing bank in case of a customer dispute.
Winner
We're calling a tie in the security category. Both Stax and Square take online payment security seriously. 
Software
Stax
Stax provides customers with the same features regardless of processing volume. 
Software features: Stax's software features include a dashboard, analytics, digital invoicing (which is frequently an additional charge with other processors), Text2Pay mobile payments, online payment capabilities, recurring invoicing, scheduled payments (also usually an upcharge from other companies), automatic updates of stored cards, and one-click shopping cart setup with catalog management.
Interface and reports: Stax's dashboard interface is easy to use; its reports provide vital information to help you make better business decisions.
Paid add-ons: Stax charges for add-on services like digital gift cards, custom-branded invoices, digital receipts and website payments, ACH processing and terminal protection.
Square
Square's intuitive software interface has modules that can help you manage your entire business.
Financial: The financial module accepts customer payments, creates invoices, manages payroll, and tracks financial metrics.
Marketing: The marketing module helps you with email and text marketing and gives you analytics to track and tweak your campaigns.
Square Team Management: Square Team Management has time tracking, tip pooling, sales commission management and task management.
Customer experience tools: Tools like Square Loyalty, Appointment Scheduling and Customer Directory help you improve your customer experience.
E-commerce tools: For e-commerce, you may need a developer to integrate Square with your website. If you don't have a developer or don't want to spend the money, you can use Square Checkout to send customers to a Square-hosted payment page.
Winner
Square wins the software category. Both Stax and Square have easy-to-use, full-featured software interfaces. However, Square gives you a greater number of features, including employee management, scheduling and loyalty tools. This additional functionality puts Square over the top in terms of software.
Hardware
Stax
Stax does not have its own proprietary equipment. Instead, it resells hardware from other companies. Below is an overview of the hardware it offers. 
Clover equipment: Stax resells the following Clover items:

Clover Flex LTE or WiFi: This handheld POS system has a 5-inch LCD color touch screen and accepts chip, swipe and tap payments.
Clover Mini LTE: This small POS system has a 7-inch LCD color touchscreen and can accept chip, swipe and tap payments.
Clover Station Solo: This is more of a traditional POS system, with a 14-inch HD tiltable display, a cash drawer and a receipt printer. It accepts chip, swipe and tap payments.
Clover Station Duo: This terminal includes everything in the Clover Station Duo, plus a customer-facing 7-inch touchscreen. It accepts chip, swipe and tap payments.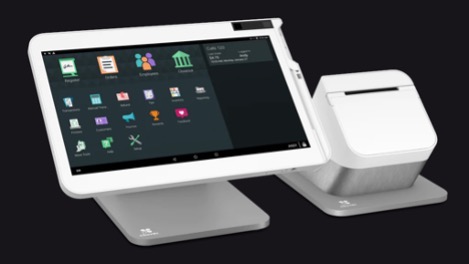 Stax hardware options include the Clover Station Solo, which acts as a POS system. Source: Clover
Dejavoo QD series: This series includes different Android terminals with 4-inch to 5.5-inch LCD touchscreens. Devices can accept chip, swipe and tap payments.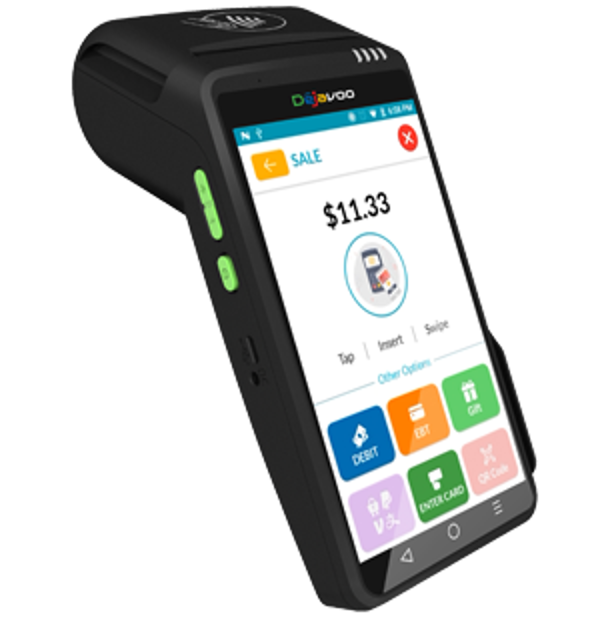 Stax can provide you with a handheld Dejavoo QD4 Desktop Android reader for mobile payments. Source: Dejavoo
SimpleSwipe B250 reader: This iOS and Android Bluetooth mobile reader supports swipe, chip and tap payments, along with Apple Pay and Google Pay.
Square
Square designs and builds its own proprietary payment processing equipment:
Square Reader: The small and wireless Square Reader allows you to accept payments on the go by connecting to a mobile device via Bluetooth. The Square Reader supports chip cards, NFC payments and digital wallets.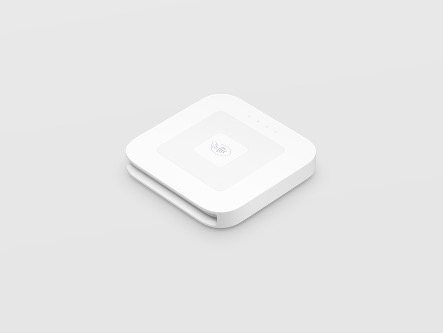 The Square Reader can be used by different Square accounts and locations. Source: Square
Square Terminal: The Square Terminal connects to your POS system via Bluetooth. It accepts tap, chip and debit with PIN payments, as well as digital wallets like Apple Pay.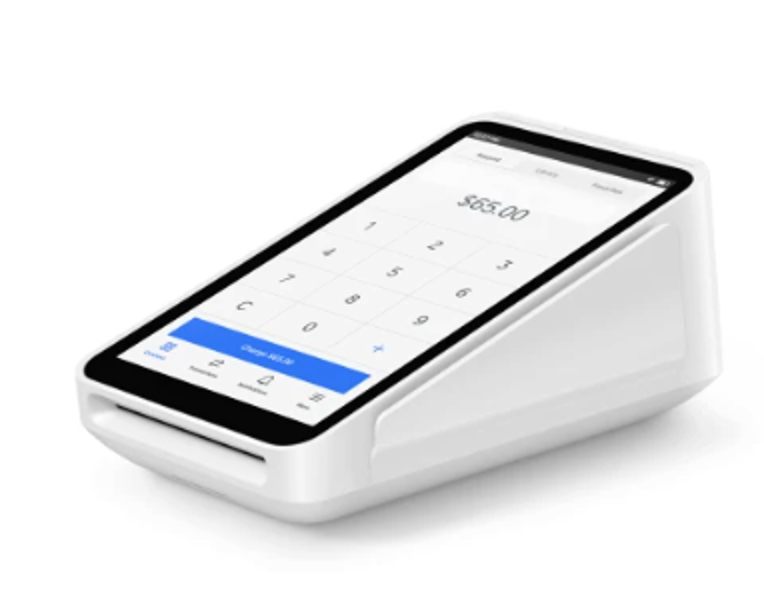 The Square Terminal accepts chip and NFC payments. Source: Square 
Square POS register: This sleek and full-featured POS register has a cashier-facing screen and a customer-facing touchscreen. POS software is already loaded; you can accept all major credit cards by tapping or inserting them; it also supports PIN entry for debit cards.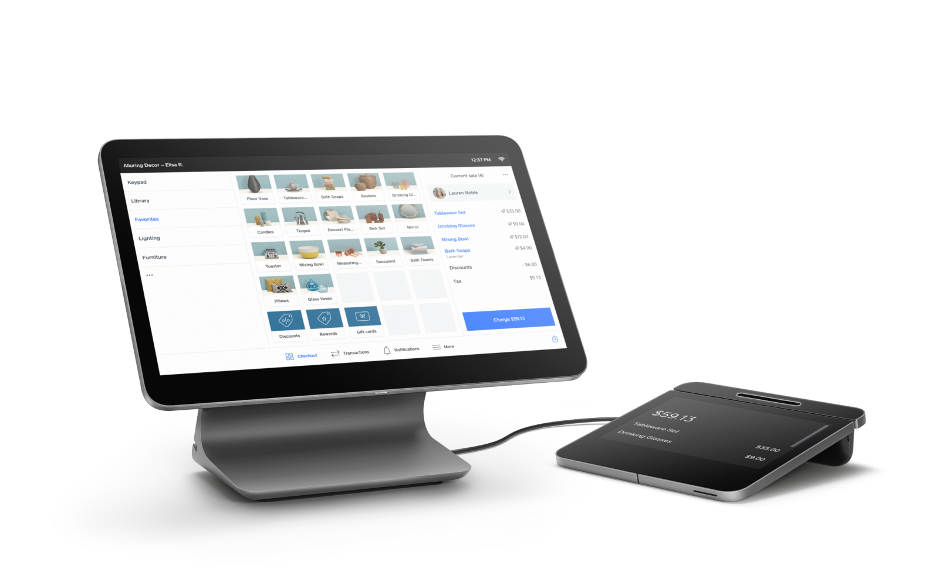 The Square POS register is a fully integrated POS system with a customer-facing display. Source: Square
Winner
With its sleek and functional proprietary hardware, Square wins in this category. However, if you want versatility, you may want to go with Stax because its hardware can be used with other processors down the road.
The best POS systems can help track inventory, personalize customer emails, generate sales and employee reports, and monitor customer loyalty programs.
Integrations
Stax
Stax makes it easy to set up an online store or integrate with e-commerce platforms, including BigCommerce, Magento, Shopify or WooCommerce — even if you aren't particularly tech-savvy. For more complex integrations that require a developer, Stax provides an API. 
In addition, Stax has built-in integrations with the following:
QuickBooks
Salesforce 
Slack
HubSpot
Xero
MS Teams
Wave
Zoho
Mailchimp
Calendly
Google Docs
Facebook ads
Asana
Atlassian
Workona
Wrike
monday.com
Square
Square shines when it comes to software integrations. Its app marketplace lists all apps the platform can "talk to." Additionally, Square Bridge allows merchants to tie their Square payment processing into Oracle NetSuite and Microsoft Dynamics 365 Business Central. 
Square app integrations include the following: 
Shopventory 
WooCommerce
BigCommerce 
Wix 
Shippo 
Postmates 
QuickBooks and QuickBooks Time 
GoDaddy 
Mailchimp 
Gift Up 
KioskBuddy
Bookkeep
KIOS
Trunk
Local Line
Loopz Gift Cards
Maralytics
Poptin
Trustpilot
ZipRecruiter 
TapMango
Winner
Square wins this category hands down. Square has many more helpful software integrations compared to Stax.
Customer Service
Stax
Generally, customers rave about Stax's customer support. 
Support channels: Stax provides customer service by phone, fax, email or online with its Knowledge Base. Customer service hours across all channels are 8:30 a.m. to 5:30 p.m. ET.
Payment Depot transition: In July 2023, Payment Depot's customers became Stax customers. For some, the transition was not as clearly communicated as they might have liked.
Lacks digital support channels: We were disappointed that Stax doesn't offer customer support via live chat or social media. 
Stax provides personalized, excellent customer service. The vendor provides each new merchant with a dedicated account manager to make it easy to get up and running quickly.
Square
Our research revealed that Square's customer service record is mixed. 
Support channels: Square supports its merchants by phone (Monday through Friday, 6 a.m. to 6 p.m. PT), email, live chat and social media. It also has help available online in its Support Center and on YouTube. We like that customers can use live customer service chat via the Square POS app, which can be convenient.
Supports only active customers: Square only provides customer support to active customers, so former customers can be left stranded if there is an issue closing their accounts. 
Winner
For customer service, Stax is the winner. Customers rave about its support, and its dedicated account manager setup impressed us.
Approval and Setup
Stax
Approval process: Stax's whole application process through to account activation takes about two weeks, so you must plan ahead. Expect to find out if your application was approved within 48 hours.
Application: The application itself is online and quick to complete. You'll need your business license, Social Security number and tax ID, as well as a voided check and processing statements if you're switching from another processor. You may also be asked for your business bank account information and financial statements.
Equipment: Once you order your equipment, it is sent out for arrival within two days.
Square
Approval process: Most accounts are approved within two business days, but verifying bank accounts can take up to four business days.
Application: Square's online application should only take a few minutes to complete. You'll need your Social Security number or Individual Taxpayer Identification Number, legal name, date of birth, mailing address, corporate email address, and bank account information. You may also need a picture of your government-issued photo ID.
Setup: To complete setup, order any hardware you need and download the Square App. Set up your account in the Square App, adding all your business details. 
Winner
Square wins this category because its application process and timeline for taking payments are shorter than Stax's.