Paychex HRO Review
Paychex has scalable payroll and human resources outsourcing (HRO) plans, an advanced help center and no employee minimum (or salary minimum). We love that the Paychex Flex dashboard and mobile apps are intuitive. It's easy for employees to view their paychecks and modify their benefits from any location, making the service our choice for the best HRO for remote teams. With Paychex's HRO plans, you can access comprehensive HR features, such as employee recruitment tools, employee benefits administration, time and attendance tracking, payroll processing, payroll tax administration, and employee training and development functions. Paychex integrates with more than 200 third-party applications, making it ideal for small businesses that want to keep some of their current business software intact while outsourcing other HR functions to Paychex.
Paychex HRO
The Verdict
If you need assistance with your human resource tasks, Paychex has the services and tools to assist you. This HR outsourcing company offers assistance online, on-site and through outsourcing. It can assist you with most of your human resource tasks, inclu
Paychex HRO Editor's Score: 9.3/10
| | |
| --- | --- |
| Price/value | 9.5/10 |
| Features | 9.4/10 |
| Expertise | 9.4/10 |
| Ease of use | 9.4/10 |
| Customer support | 9.0/10 |
Why We Chose Paychex HRO for Remote Teams
We like that Paychex provides a customizable HR solution that allows small and midsize businesses to outsource specific HR functions to successfully manage their workforce. Paychex is a particularly good fit for employers with remote and dispersed teams, as they often have unique HR needs. Employers and employees alike can access the cloud-based Paychex Flex platform and its corresponding apps regardless of whether they're working in the office or from home.
Because Paychex is an expert in payroll processing, payroll tax administration and legal compliance, you can rest assured that you're properly paying and managing your remote employees, even if they're across state lines. Federal, state and local employment laws can be hard to keep up with, which is why we recommend partnering with an HR outsourcing solution such as Paychex to help you stay compliant.
Paychex also offers professional employer organization (PEO) partnerships, which may be a better match for some small businesses.
As your organization grows and its HR needs change, you can easily add services. In fact, some companies switch between top HRO packages and the best PEO services as needed.
 What We Like About Paychex HRO
Paychex can help companies stay legally compliant with various federal, state and local guidelines.
The platform is cloud-based, allowing employers and employees to access important HR information from any location.
This solution is especially beneficial for companies that need to outsource payroll and tax functions.
What We Don't Like About Paychex HRO
Paychex's website doesn't list pricing for the company's HR outsourcing services.
The system's custom reporting features aren't very intuitive.
Ease of Use
Paychex is flexible and scalable, making it a great partner for HR outsourcing. The Paychex Flex dashboard is straightforward and easy to navigate, and you can view HR details – such as payroll, user access, hiring information, a general ledger, COBRA information and benefits – in one location. Convenient access to this content is especially vital for employers who manage remote team members across various locations.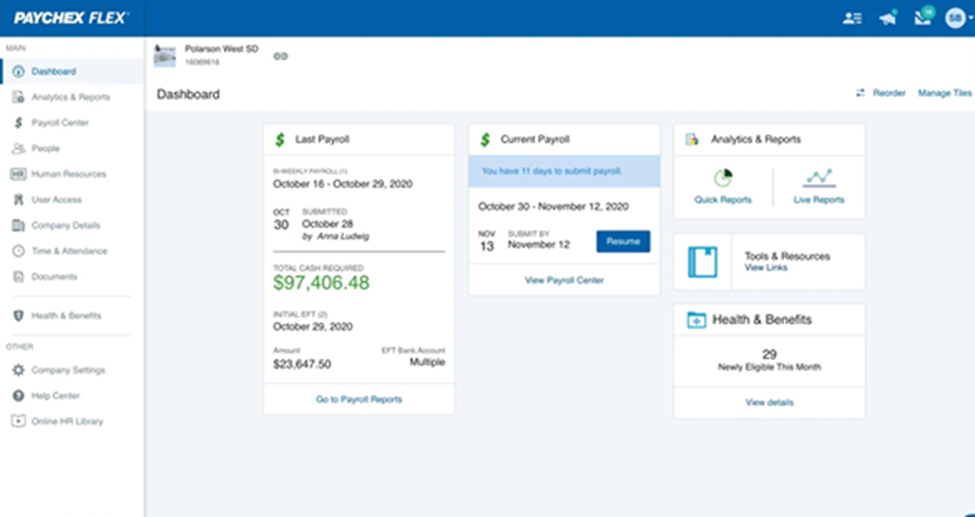 The Paychex Flex dashboard lets you easily access and manage various HR functions remotely. Source: Paychex
Paychex has Android and iOS mobile apps that are on a par with competitors' offerings. The vendor also provides self-service features for employees, giving them control over their HR information and ensuring they can access what they need, wherever they are, without issue.
Paychex's comprehensive reporting and analytics give employers and managers a clear view of the business. You can access several reports to inform business decisions that improve your team and streamline your business's processes from a human resources perspective. 
Although Paychex offers a comprehensive set of HR services, there is a good chance your business will want to use other business software, too. Fortunately, it's easy to integrate programs, as the Paychex Flex platform is compatible with various third-party applications.
Did you know? Paychex offers more than 160 reports and more than 200 third-party integrations.
Features
Small businesses can access a variety of valuable features through Paychex's HRO plans. For example, you can choose from functions that assist with payroll, risk and compliance, employee benefits and HR administrative services. Instead of paying for HR features you don't need, you just select the solution that works best for your business based on the level of support you require. Here are some of the system's top tools.
HR Services
Paychex can help with administrative human resources tasks, like employee hiring and management, employee training, termination assistance and HR consulting. If you run preemployment background checks on potential new hires, Paychex can connect you with a highly rated background screening service.
We like that Paychex can help expedite the employee onboarding process, thanks to features such as electronic documents and e-signatures, which can save your small business time and money and reduce the potential for error. Paychex also has document storage capabilities, so you can securely store your team's important HR documents – a requirement for complying with certain labor laws across different cities and states.
One thing that stood out to us about Paychex was its variety of recruitment support options. For instance, you can use Paychex Flex Hiring, which integrates with Paychex Payroll, or you can use myStaffingPro as a stand-alone hiring software without payroll. These options provide a level of flexibility we didn't see with many other HRO vendors.
Payroll and Taxes
Managing payroll can be difficult, but Paychex simplifies the process. In fact, one of Paychex's defining characteristics is its excellent payroll features. When testing out the platform, we liked that it could handle all of your payroll processing, payroll tax administration, employee payments (e.g., direct deposit, pay cards, paper checks), new-hire reporting to government agencies, workers' compensation and garnishment payments. Paychex also has online self-service capabilities, so employees can track important payroll information, like hours, pay and time off.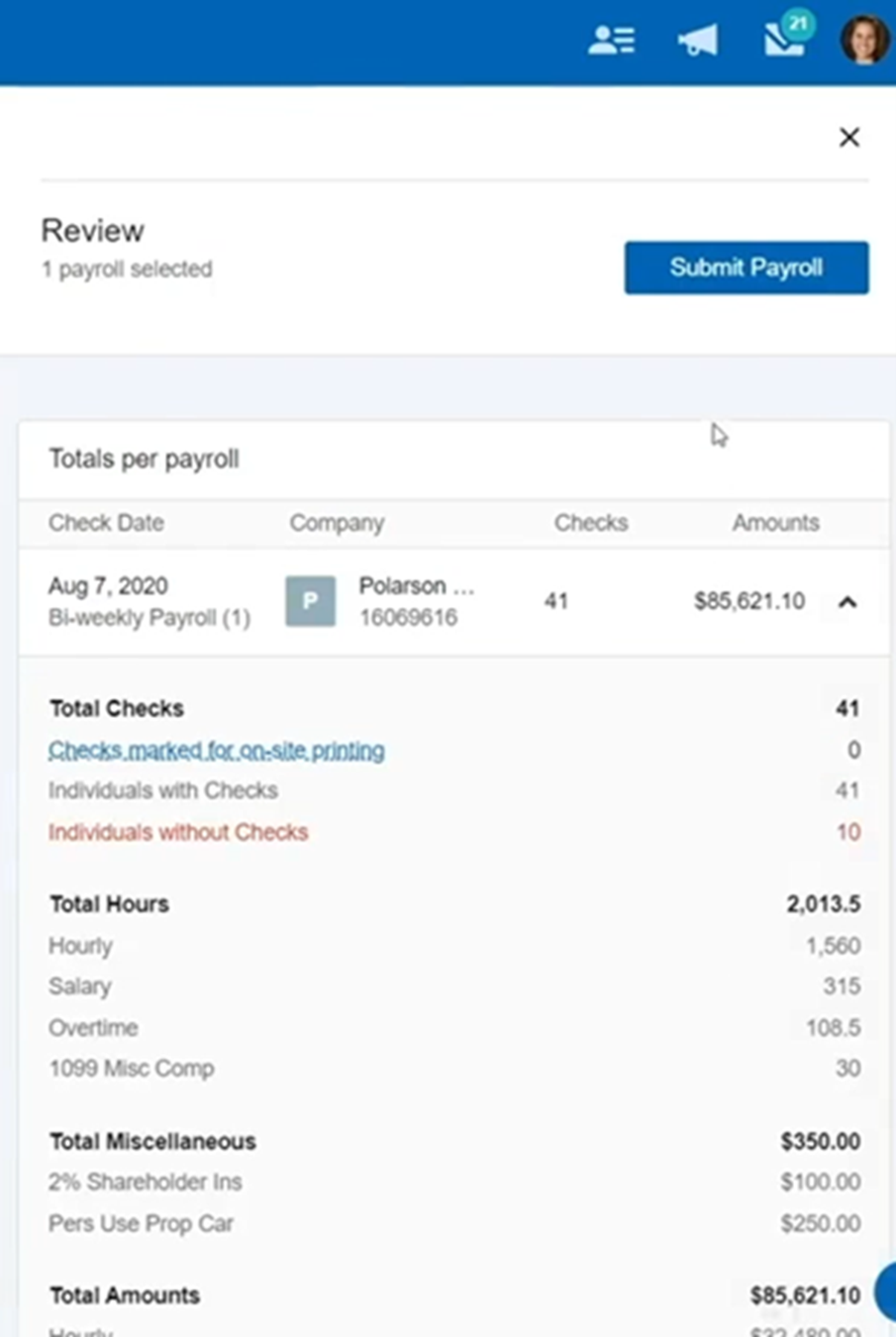 Paychex makes it easy to review employee hours and submit payroll. Source: Paychex
Paychex now offers Paychex Voice Assist, which allows users to run hands-free payroll through Google Assistant. Learn more in our detailed Paychex Payroll review.
 Employee Benefits Administration
We like that users can manage and update employee benefits (e.g., group health insurance, Section 125 plans, retirement plans, employee assistance programs) in real time with Paychex Flex. Paychex can work with your current brokers, and it offers an added level of oversight with benefits functions such as communications, recordkeeping, analytics and reporting, and automated renewal. These features are relatively standard in the industry.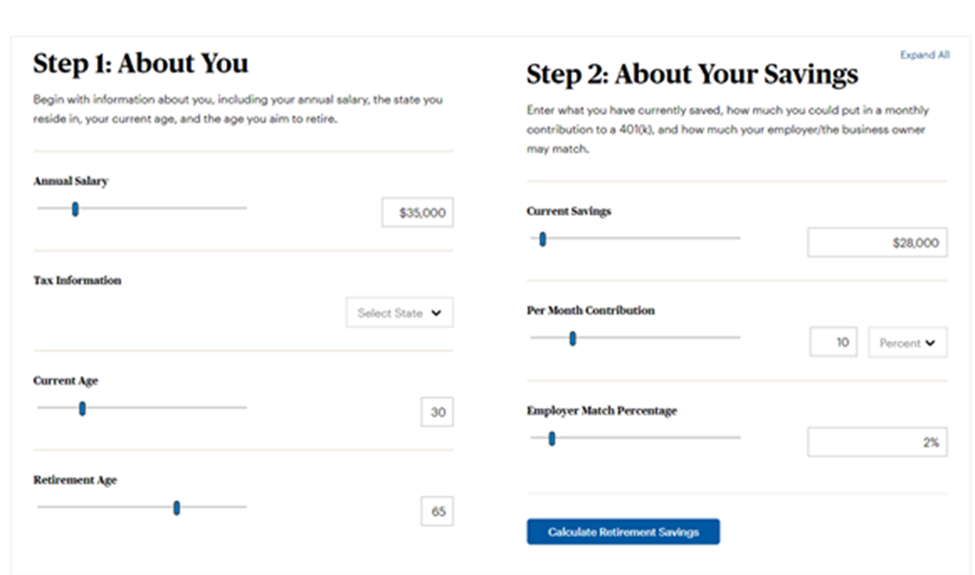 Paychex has online calculators that help your employees find the right benefits. Source: Paychex
Risk and Compliance
Managing risk and maintaining legal compliance for a remote team are complex tasks, but Paychex can alleviate some of the burden. The company offers workers' compensation insurance, COBRA administration, state unemployment insurance, OSHA and safety programs, custom employee handbook creation, automatic W-2s and 1099s, and Form 5500 filing. You also get access to essential HR and business forms, as well as printed and electronic labor compliance poster kits. Paychex monitors current federal, state and local laws to help your company stay compliant.
Employees can quickly and conveniently use the Paychex Flex platform to raise concerns to a designated administrator. Source: Paychex
Employee Training and Development
Paychex has a learning management system (LMS), which can help you train employees and help your business maintain legal compliance. Team members can access virtual courses to stay current on job certifications and compliance training in their respective locations. Paychex can also facilitate employee performance reviews, employee training tracking and employee feedback. [See our G&A Partners review for another HRO provider that excels at employee development.]
Paychex HRO Pricing and Terms
Because Paychex's HR outsourcing plans are available to businesses of all sizes, including those with just one employee, this HRO offers a lot of flexibility. Unlike some competitors, Paychex doesn't have minimum-salary requirements, and there is no required contract length; the Paychex service agreement just requires a 30-day cancellation notice.
Because Paychex sells a variety of features packaged into different options, this HRO is great for small businesses with unique HR needs, such as remote and hybrid teams. We really appreciate that the HR outsourcing plans are scalable; as an organization grows and its needs change, company leaders can add services or products. This is one reason Paychex is great at serving businesses of different sizes and complexities.
Paychex only provides custom plans, so you'll need to connect with a representative for specific service pricing. This could be a turnoff for business owners who prefer upfront pricing information. However, Paychex does list costs online for some of its other products.
Implementation/Onboarding
When we tested the Paychex Flex software, we found the implementation process to be on a par with others in the industry. Because the company provides custom HR outsourcing plans, first you'll need to connect with a Paychex representative to establish your plan and begin onboarding your employees onto the platform. Once your staffers are added to the system, they can access and modify their own HR information, such as benefits selection, pay details and time-off requests.
During or after the initial implementation, you can integrate Paychex with other third-party applications you may be using. Paychex can sync with more than 200 popular programs, so there's a good chance you'll be able to streamline business functions once you've successfully integrated the platform with your other software. While some rivals boast more than 500 integrations, others have as few as 40, so we believe Paychex's integration capabilities are pretty competitive.
Customer Support
Paychex has several helpful online resources. You can access a digital help center, blogs, webinars and online calculators. There is a searchable knowledgebase that can be filtered by a range of topics, like payroll, taxes, benefits and insurance. This is similar to competitors' offerings.
If you need more support, you can receive one-on-one assistance from a Paychex representative. You can get help via phone and live webchat, and you can always check in with your assigned Paychex rep. That said, if customer support is a top priority for you, check out our review of TriNet, which really sets itself apart in the customer service department.
Limitations
A potentially significant limitation is that Paychex doesn't list pricing for its HRO plans online. Instead, you need to contact a representative to receive a custom quote. While customized pricing can be ideal – especially for small businesses that need to outsource only a few functions – it can be inconvenient for business owners who want an immediate idea of how much a service will cost them. If you're looking for an HR solution with transparent online pricing, check out our review of Zenefits.
Paychex is accredited by the Better Business Bureau (BBB) and has an A+ rating with the agency, but it had a 1.06 (out of 5) customer rating at the time of this review. While this isn't necessarily an indicator of the type of service you'll receive from Paychex, we would prefer the vendor's rating to be higher. Still, Paychex has many positive ratings on other customer review sites.
Methodology
We researched and analyzed dozens of human resources outsourcing providers to identify the best human resources outsourcing services on the market. We looked at pricing; contract requirements; bundled versus a la carte features; benefits administration; payroll processing and tax assistance; time-tracking capabilities; administrative HR functions; recruitment and talent management features; legal risk and compliance assistance; available integrations; and customer support. We watched product videos and participated in demos when possible. When searching for the best HRO solution for remote teams specifically, we prioritized features such as usability, scalability, mobile app options, comprehensive HR capabilities, compliance assistance and customer service.
FAQs
What is Paychex for employees?
Paychex for employees is a platform through which workers track their hours, request and manage time off, view and modify their benefits, view pay information and more – anytime, anywhere. Paychex also offers iOS and Android mobile apps, which employees can use to manage similar functions instead of relying on a computer.
Does Paychex do direct deposit?
Yes, Paychex does direct deposit. Once an employee connects their bank account information, they can have their paychecks deposited directly into their bank account each pay period.
Bottom Line
We recommend Paychex HRO for …
Remote or hybrid workforces.
Small and midsize businesses.
Companies that need assistance with payroll processing.
We don't recommend Paychex HRO for …
Businesses that want to see HRO pricing online.
Very large enterprises.
Paychex HRO
The Verdict
If you need assistance with your human resource tasks, Paychex has the services and tools to assist you. This HR outsourcing company offers assistance online, on-site and through outsourcing. It can assist you with most of your human resource tasks, inclu
Skye Schooley is a human resources writer at business.com and Business News Daily, where she has researched and written more than 300 articles on HR-focused topics including human resources operations, management leadership, and HR technology. In addition to researching and analyzing products and services that help business owners run a smoother human resources department, such as HR software, PEOs, HROs, employee monitoring software and time and attendance systems, Skye investigates and writes on topics aimed at building better professional culture, like protecting employee privacy, managing human capital, improving communication, and fostering workplace diversity and culture.