Content is king. I know you've read this a million times.
But creating quality content requires in-depth research and some good old elbow grease. And not everyone, especially busy entrepreneurs, and corporate professionals have much free time in their daily schedules to do that.
So how do you create quality content for your blog while running from one meeting to another and managing your daily business operations?Thankfully we now have tools and resources on the web that have simplified this task to a great extent.
Here's how you can create top-notch content even if you don't have the time to write.
Related Article: How to Create Content Your Audience Actually Gets Excited to Share
1. Publish More Video Content on Your Blog
If you know your niche well enough, giving a quick five-minute lecture on a certain topic related to your industry shouldn't be a big deal for you. In fact, most of us regularly share advice with colleagues at work and in different social media groups. Why not record this advice in a candid smartphone video and publish it on your blog? You can outsource tasks like video editing and uploading to a virtual assistant.
Video is by far the most engaging form of content and it's growing at a staggering rate with more than 70 hours of video content being uploaded to YouTube every minute. More than 66 percent B2B marketers consider webcasts and webinars the most effective content form when it comes to lead generation.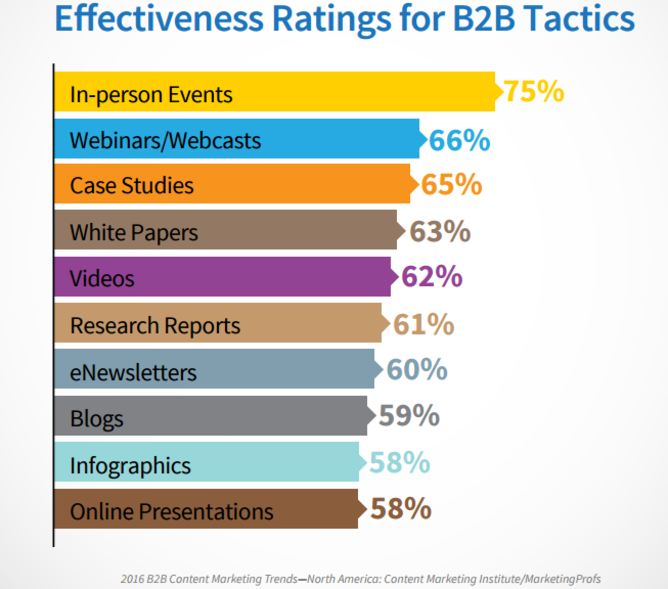 However, the key to a highly engaging video is preparation. Before starting your video, choose one topic and stay focused on it. Make sure you give your audience at least one actionable tip in every video. If you're camera shy, like most people, you can do a webinar style video from your computer and switch to screen view after a brief on-camera introduction.
List down your key points in a presentation and explain them one by one with your voice in the background. There are many free and paid screen recorders you can use for this purpose. It's a much faster way to create quality content that people love to watch and consume on their smartphones and computers. Video content makes even difficult and dry topics easier to understand. For example, this article on blood pressure monitor design, a very technical and niche specific topic, would have been much harder to read without the video product review that is embedded in the text.
In short, the whole process of preparing and shooting a five-minute video clip will take you a fraction of the time that is required to write a high quality 1,000-1,500 word blog post.
2. Transcribe Your Audio and Video Clips to Create Blog Posts
Creating voice notes and getting them transcribed is one of the best ways to quickly create high-quality blog content. All you need is a smartphone and an app like Google Keep or Evernote. Both these apps can instantly convert your voice notes into text content. It won't be perfect of course.
But you can copy the text in a separate document for fine tuning or send it to a freelance editor. The same can be done with your video clips as well. You can literally speak your post in your smartphone and get it transcribed and edited later on. This would easily save you hours of time.
3. Hire a Competent Team of Writers to Run Your Blog
If you're a busy entrepreneur or a corporate professional responsible for your company's blog, it's often a good idea to completely outsource your blog content. You can find high-quality freelance bloggers by researching your competitors or other leading blogs in your niche. Or you could simply post a job requirement on freelancing portals like Upwork or Freelancer.
Once you do find 2-3 writers who understand your requirements and deliver top-notch content, offer them full-time remote employment and make them a part of your team. You can use an online time tracking app to manage your remote team and track their work. Hiring a competent team of writers can take the burden of content creation completely off your shoulders and allow you to focus on your core business objectives. You'd just need to give them direction and they would take care of the rest.
4. Invite Guest Authors to Share Their Advice
Another easy way to create high-quality content without doing anything yourself is to invite guest authors to contribute to your blog. There are various reasons why authors willingly send guest contributions.
They're looking to get exposure
They're trying to build backlinks to their content from your blog
They want to create samples to expand their portfolio.
You can invite guest authors by creating a "Write for Us" page on your blog. But you don't want your blog to be bombarded with low-quality content with backlinks to unreliable websites. Which is why you'd need to create detailed guest blogging guidelines. Describe exactly the kind of content you're looking for and what topics you want contributors to write on.
You can mention requirements such as the minimum and maximum word count, formatting style, number of backlinks allowed in one post and other related details. Also, ask all the contributors to share their posts on social media once they're published.
If you're unsure about guest blogging guidelines, just search "write for us" on Google and look at the guest blogging guidelines on other blogs to get an idea. Keep strict editorial control and make sure that only the best content gets published on your blog. This way, you'll be able to publish high-quality content without writing it yourself.
Related Article: Go Visual: 10 Tips for Creating Truly Exceptional Infographics
5. Create an Expert Round-Up Post
Creating an expert round-up post is one of the most effective ways to generate lots of content in a very short time. In simple words, an expert round-up is a post where you reach out to multiple experts and influencers in your niche, ask them one very specific question and compile all of their answers in one epic post. Readers love these round-ups because they get to read the advice of so many experts on a very specific topic in one post.
Experts and influencers love these posts because they get a lot of social media shares which brings in referral traffic to their blogs. For example, if a round-up post includes 33 experts, most of them would share the post with their respective social media followers once it is published. This sends hundreds, sometimes thousands, of visitors to the round-up post. It's a win-win for everyone.
Wrapping Up
Creating new, high quality and unique content is one of the most important components of any online marketing strategy. However, as I've discussed in this post, you don't always need to write the content yourself. You can easily use one or more of the techniques mentioned in this post to quickly come up with high-quality content without much effort.