Clickbait. A word that is tossed around so often now that I think we are prone to forget how effective it really is.
After all, just because you are aware of something's existence doesn't mean you're able to extricate yourself from it.
You know what clickbait titles are. They're those titles so sensational, so absurd, so full of promise that you feel compelled to click them.
Click and they've got you, or your traffic, at least, and maybe even a share if you find the beginning of the article interesting enough (people don't read most articles all the way through).
You Can't Avoid Them
Venngage recently conducted a study to understand the wily clickbait title better.
Let's face it, we can't avoid clickbait titles, the web is flooded with them, but we can understand them and how they work.
The study used CoSchedule's headline analyzer to look at the top performing articles over the last three months featured on 24 high-traffic sites known for their clickbait titles (think Buzzfeed, Cracked and Upworthy).
They predicted that the titles, some of them accountable for as many as a million shares, would all score 100 percent.
It turned out to be quite the opposite: the highest performing title, "Donald Trump has flip-flopped so much that Stephen Colbert hosted a Trump vs. Trump debate," only received a headline score of 23. How?
It turned out that there was actually no correlation between the number of shares an article got and its headline score. The takeaway from this comparison is that the factors contributing to a widely-shared clickbait headline is actually more subjective and timely.
To drill down on what a highly shareable headline looks like, the study outlines a set of observational criteria for which titles are most successful, based on their number of shares.
The Common Clickbait Elements
A list
"You" or "I" or a personal story
An animal
Trending/breaking news topics
Pop culture or food reference
A new or unknown concept
An element of shock and excitement
As it turns out, 79 percent of clickbait titles have an element of shock. Following that, 67 percent of titles contained a new or unknown concept, 63 percent contained references to trending topics, another 63 percent contained references to pop culture or food, 29 percent contained "You" or "I" or some personal story, and 17 percent were listicles. Only 8 percent mentioned animals.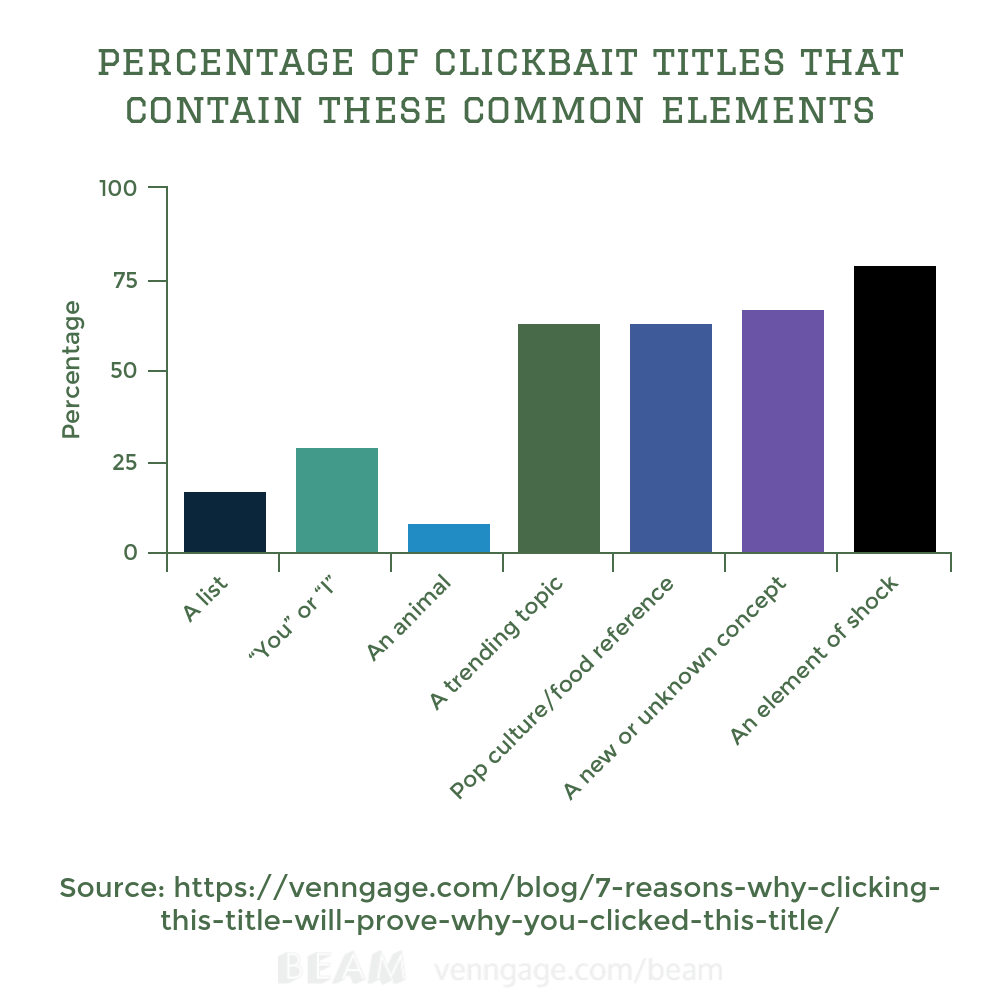 When it comes to an attention-grabbing title, it would appear writers should go straight for the shock value.

Now what happens if these elements are combined?

According to the study, 42 percent of the most shared titles contained a whopping four of the seven elements.

Most of the titles (46 percent) contained three of the elements, while a much smaller percentage contained two elements (eight percent) and only one elements (four percent).

Related Article: Insight from F8: What You See (And How to Be Seen) on Facebook News Feed
Double Down on the Elements
So if you want to grab the attention of readers, you might as well double up on your clickbait elements.
This isn't surprising when you stop to consider the kinds of titles you click on a regular basis. It's hard to resist a really shocking title.

Which of the following two titles would you rather click on?
Waking Up Early Is Better For Productivity
I Started Living Like A Rooster and Couldn't Believe What Happened
Yes, the second one is absurd, but wouldn't you be curious what the heck the writer meant by living like a rooster?
It's a common but highly effective trick: writers pull the most absurd element of their article and work that into the story.
Even if readers have an idea of what the article is going to end up being about, the mystery is enough to entice them to click anyway.
At the same time, though, no one likes being deceived. If your title is too sensational, too stuffed with keywords, and too over-the-top for the actual content of your article, people are going to call your bluff.
Balance it Out
It comes down to balance, you want to entice readers but you don't want to berate them with overstuffed titles.
Related Article: How to Measure and Improve Your Marketing ROI
You also should steer clear of making false promises in your titles. If the content of your article ends up being a completely different from what the title promises, readers will fixate on that, rather than what your article actually has to offer.
As with any quick formula, take it with a grain of salt and make the judgement of whether a method is appropriate to use or not depending on the circumstances.