With more than 1.3 billion people using Facebook Messenger, it's one of the best marketing tools for businesses. You can send the latest updates, promotional offers and blog posts to engage your customers on the messaging platform. See how Facebook Messenger can become an invaluable part of your brand's marketing strategy.
Why should businesses use Facebook Messenger?
Most brands overlook the real potential of messaging apps on social media platforms. Research suggests that consumers use the top messaging apps more than they use the actual social networks of Facebook, Instagram, Twitter and LinkedIn.
Facebook IQ performed a study on the use of mobile messaging with 12,500 users across the globe and found these interesting facts:
Approximately 56% of people surveyed said they prefer to send a message rather than make a phone call for customer service.
Over 50% of users are more likely to make online purchases from brands they can easily communicate with by message.
Roughly 61% of users feel good about receiving personalized messages from brands.
Around 63% of users feel more positively about the brands they can chat with on Messenger.
"It's very cheap and easy to set up a personalized chatbot that can help sell your products," said Will Ward, CEO of Assistive Listening HQ. "You can always send manual messages later on, based on the chatbot conversation. Facebook Messenger metrics help in figuring if things are working or not. If the response rates are low, it means your chatbot needs to be better."
Another reason to use Facebook Messenger is that you can automate and examine your customer interactions using the chat app, Ward told business.com. You can discover the parts of the conversations that have the highest drop rates and work on fixing whatever causes users to disengage.
Furthermore, Messenger is available to customers 24/7. Although you probably won't have staff replying at all hours of the night, customers can still interact with your business and receive an auto-reply that promises you'll return their message.
"As a small business owner, I think it's important to take advantage of the free tools that are available to us to reach customers online, like Messenger," said Enrique Marquez, owner of DogWorx. "For me, I've been able to connect quickly and easier with customers via Messenger than just by phone or meeting in person."
How to use Facebook Messenger for business
Clearly, this messaging platform can work wonders for your business – but how? Here are some key ways to strengthen your marketing efforts with Facebook Messenger.
1. Deliver great content.
Many entrepreneurs, marketers and even established brands think the only way to deliver their content to customers or subscribers is by email. However, HubSpot conducted a study on Facebook Messenger to prove its worth as a better alternative to emails.
Rather than asking users to divulge their email addresses and unwittingly sign up for content updates, the study gave them the option to skip the form altogether and instead receive the content updates through Facebook Messenger. After a few weeks, Messenger had proven more successful than emails. The Messenger marketing strategy had an average open rate of 80% and an average click-through rate of 13%, which was much higher than the crunched numbers for an email marketing strategy.
In an attempt to offer its readers a customized news experience, the Washington Post incorporated into its marketing strategy a news chatbot that works well on Facebook Messenger. Users can send open-ended commands to the news bot, and it provides information in the same way a standard Washington Post article does. For each user query, the bot sends five related news pieces, plus an option to go beyond the headlines. For subscribers and journalists alike, it is one of the fastest ways of retrieving information on myriad topics. As users continue to interact with the bot, it will be able to tailor stories based on what users frequently inquire about or their search histories.
2. Find the most relevant content.
In addition to sending content to your followers and fans, Facebook Messenger can help your audience find content themselves. This will improve your content marketing efforts by allowing you to deliver personalized content to your target audience in a non-intrusive way.
For instance, Whole Foods' Facebook Messenger bot allows users to search for their favorite recipes, products and food inspiration without leaving Messenger. This bot is something of a culinary acumen, not only helping a customer find products within the store, but also sending them recipes for an upcoming meal. What's more, customers can select an emoji, such as a banana or a jalapeno, and the bot will turn up recipes that involve those products. In the near future, this friendly foodie bot will be able to send coupons, recipe libraries and direct shopping options. This way, Whole Foods is helping its followers find recipes or content they want to read without searching the entire website.
3. Generate high-quality leads.
Facebook Messenger can be a great way to capture your users' attention and find qualified leads. Let's take the example of how the Feldman Automotive Group used a Messenger bot to drive leads and profits. It simply created Click to Messenger ads with location targeting to connect users to local auto dealers on Facebook and encourage physical visits. When users click on the ad, they are redirected to a Messenger conversation with a chatbot that will ask them relevant questions. After a few months, the brand reached more than 100,000 people and generated about 50 sales per month via Messenger chatbot.
4. Reengage your potential customers.
Many marketers are still thinking of ways to get people to talk to them on Facebook Messenger in the first place. The answer lies in Facebook ads.
There are two main types of Facebook Messenger ads that brands could use for this. The Click to Messenger ads allows users to jump right from their Facebook news feed to a Messenger conversation with a brand, while sponsored messages allow businesses to kick-start a conversation with all users who have messaged them earlier.
One of the best strategies for Facebook Messenger ads is to reengage your potential customers, such as people who once visited your product page but didn't buy any products, or have asked you questions through Messenger before. You can use Click to Messenger ads to answer users' questions, or you can simply use sponsored messages to send relevant content, updates and your latest offers to them.
Have a look at this Pura Vida Bracelets ad campaign. The ad holds the customer's attention and increases the chances of them seeing something they like before they are redirected to Facebook Messenger for more information.
5. Reach your customers one-to-one.
It's a challenge for brands to reach their target audience, as their Facebook news feeds are saturated with ads. Why not try reaching your audience one-to-one through Messenger ads? This way, people can see your ads in their Messenger app. Upon clicking on the ad, they will be redirected to your landing page, your contact page or even a Messenger conversation.
For digital marketers, this is a great opportunity to reach target customers, but for some users, these ads are a real nuisance. It might take some time for consumers to get used to these ads in the Messenger app.
6. Offer outstanding customer service.
Facebook Messenger can help you provide timely and exceptional customer support. People prefer to contact brands by instant messaging over email, phone and other channels, as they want a quick response. If a brand doesn't respond immediately, they go to a competitor's website.
Hyatt is a good example of this practice. The brand decided to personalize its customer service via Facebook Messenger. Users can ask for room service, check vacancies or even make reservations right from the app.
How to set up Facebook Messenger for your business
Setting up your Facebook Messenger account isn't a difficult process at all. Just make sure you already have a Facebook page for your business.
"All you need to do is log in to Messenger through the account tied to your page," said Vickie Pierre, who works in marketing and public relations and manages multiple social media accounts at US Insurance Agents. "By using the 'switch account' option, you'll be able to select your page and begin interacting with users."
Here's a step-by-step breakdown of the different Messenger features you can access for your business, courtesy of Nathan Sebastian, a GoodFirms content marketer.
1. Enable Messenger on your page.
Your messages function should already be on, but just in case it's not, you can check by going to the Settings section of your page. Click on Messaging, and beneath the General Settings section, flick it ON.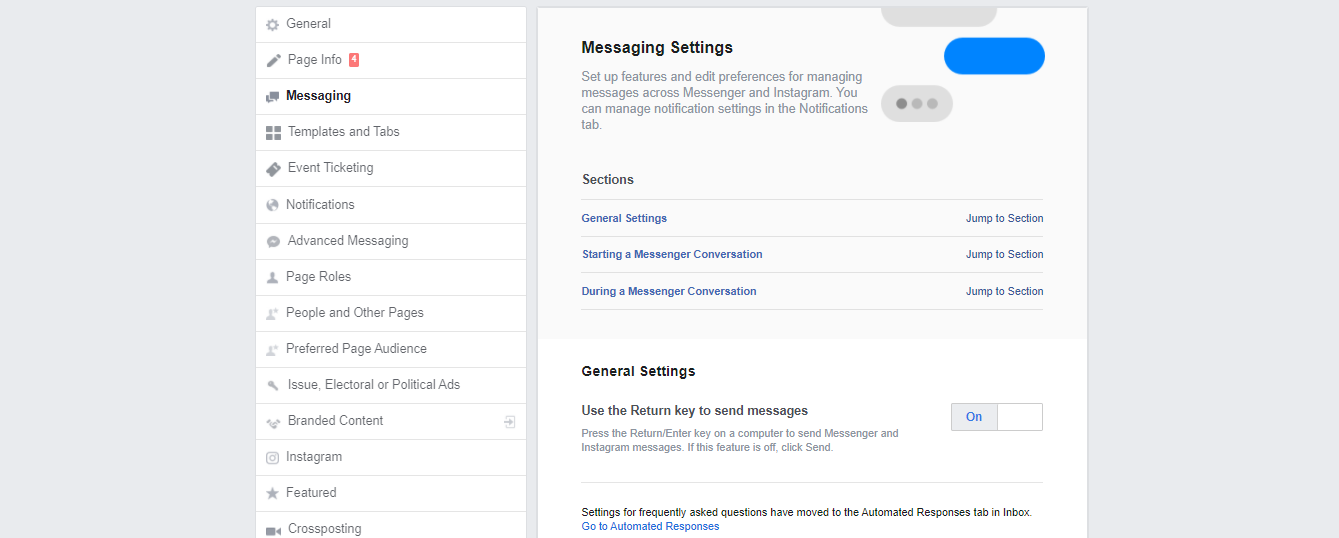 Now that your messaging feature is on, you can also use this section to configure your message settings. You can create instant replies for frequently asked questions and set up greetings and away messages.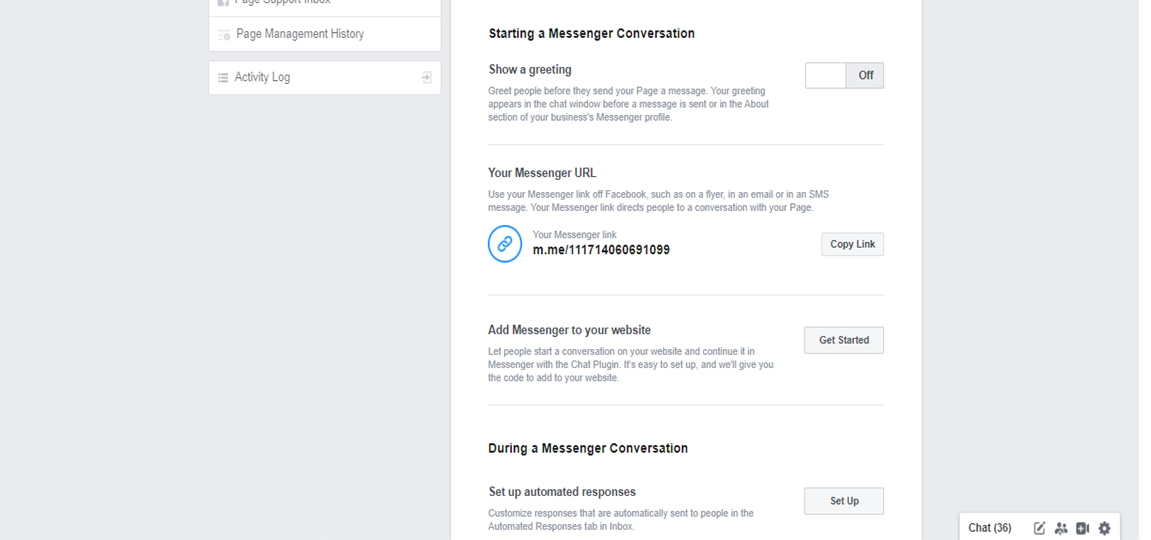 "Creating saved replies will enable you to quickly reply to some frequently asked questions and make you look professional," Pierre said. You can find the link to your Messenger so users can go straight to your inbox. It is also very helpful to your business to add a Messenger box to your website.

"You can enable customers to contact you on Facebook with a simple page plugin," Pierre said. "By clicking on the box on your website, customers can directly message you on Facebook."
As more people adopt messaging apps, the potential to grow your business with Facebook Messenger marketing is becoming greater. You can use Messenger to stay ahead of the pack, reach more people and provide exceptional customer support, generating high-quality sales leads along the way. 
Saher Naseem contributed to the writing and reporting in this article.