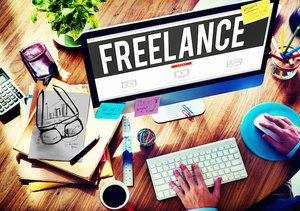 Finding the right help for your project is easier than you'd think.Try these 10 resources recommended by Young Entrepreneur Council.
If you're running a business, chances are you'll run into a few occasions where hiring a freelancer is your best option to get a task done. However, with tens of thousands of different freelancers out there, how do you decide where to look for the best talent for the task at hand?
To find out, we asked 10 members of Young Entrepreneur Council where they typically look when they are looking to hire a little outside help. Here are some of the resources they recommend.
1. Referrals and Niche Groups
"Referrals have by far been the best way to find qualified freelancers. Social media has also been a big resource; you're able to easily search and find freelancers with specific areas of expertise. Facebook groups, in particular, have been the most effective. Niche groups like Jobwell, Power to Fly, and Women Who Code, for example, are able to connect you with skilled talent that fit a particular specialty." — Amber Anderson, MORE
2. Indeed
"Chances are, if an individual knows about Indeed and searches it regularly for job postings, they're a cut above the rest. In my experiences with many different online job posting sites, the one that has consistently yielded quality talent has been Indeed. I've even brought on several freelancers I've found there as full-time employees!" — Bryce Welker, CPA Exam Guy
3. Upwork
"It's easy to have a bad experience on Upwork, which is probably why some people don't enjoy finding freelancers there. However, I believe that it is an incredible resource, but only if you're willing to put the time into finding the right people and managing them correctly. Do the right research, speak with freelancers before hiring them, and manage effectively." — Andrew Saladino, Kitchen Cabinet Kings
4. Skill-Specific Platforms
"I've had the most success hiring freelancers from skill-specific platforms. I suggest looking for a platform or website that caters to a specific skill set. For example, if you're looking for a designer, I highly recommend Dribbble.com, and if you're looking for something specific like a PHP Laravel developer, I recommend LaraTalent." — Lee McNiel, ReviewPush
5. Team Recommendations
"One area that works well when looking for high-quality freelancers is to ask your own team. They'll usually have at least one or two personal recommendations they can make, and they're not going to send you someone who would be a bad fit for your business." — Andrew Schrage, Money Crashers Personal Finance
6. Established Small Teams
"I used to work with a lot of freelancers for our online tasks, but I've recently had better luck hiring online teams that I've found (of all places) on Facebook. Some younger tech people have started using social media as a storefront for small mobile teams, and I find these are a lot easier to find honest comments and information into their operations than is possible with a lone freelancer." — Matt Doyle, Excel Builders
7. Contently
"If you're looking for quality content creators, Contently is a great resource. They have award-winning journalists, videographers, designers and more. Many Fortune 500 companies such as the Marriott and JPMorgan trust them to create content for their businesses as well." — Chris Christoff, MonsterInsights
8. WorkMarket
"We've had good success with WorkMarket. They conduct background checks and have a rigorous screening process, so you know that you're hiring quality talent in the top of their field. You can search by location or industry and manage the process all through their online portal." — Jared Atchison, WPForms
9. WriterAccess
"We've enjoyed using the WriterAccess platform for several years. The quality of writers and editors is very high, and if you're a regular user, they'll assign a dedicated account manager who can help you find and filter writers for specific projects. We've used them for on-site content as well as ghostwritten guest posts on other sites." — Fan Bi, Menswear Reviewed
10. Everywhere
"We think of hiring as a sales funnel. You should not focus on one or two job boards, instead, you should spend an extra hour or two and post to every single job board you can find. You should then focus on how you can rapidly qualify and eliminate candidates who are not a good fit. The more candidates you attract to the top of the funnel, the more great candidates will come out at the bottom!" — Brandon Stapper, Nonstop Signs