This article will help you choose between these two popular options by breaking down their key differences. We examined how QuickBooks and Xero compare on several critical criteria, including price, invoicing capabilities, customer service and third-party integrations. 
QuickBooks vs. Xero Comparison
In this section, we go more in-depth into the differences between QuickBooks and Xero, including how they compare on pricing, invoicing capability, customer service, mobile app features and third-party integrations. 
Pricing and Plans
Xero Pricing
Xero offers three paid plans based on the typical life cycle of a small business. 
The base Early plan costs $13 per month, which makes it slightly less expensive than QuickBooks' entry-level plan and many competing accounting software plans. 
Like QuickBooks, Xero offers a 30-day free trial. 
Through Xero, you can integrate with HR software provider Gusto for $40 per month plus $6 per employee. Xero allows unlimited users on all tiers, whereas QuickBooks starts out with one billable user and maxes out at 25 users on its most expensive plan. 
Here is a breakdown of each plan:
| Plan | Monthly cost | What's included |
| --- | --- | --- |
| Early | $13 | 20 invoices and five bills per month; estimates, accounts payable, inventory management and access to Hubdoc scanning software |
| Growing | $37 | Unlimited invoices, bills and bank transactions |
| Established | $70 | Expense tracking, project management and multiple currencies |
QuickBooks Pricing 
QuickBooks offers five paid plans geared toward small and midsize businesses, as well as independent contractors. Like Xero, it does not offer a free tier. 
The basic Self-Employed plan costs $15 per month; more advanced tax preparations features are only included in the $30 Simple Start plan. 
Like Xero, QuickBooks also offers a 30-day free trial. 
While most business applications (including Xero) have transitioned entirely to cloud-based software, QuickBooks is unique in that it still sells an old-fashioned desktop version. Desktop Pro Plus and Desktop Premiere Plus go for $549 and $799 per year, respectively. Xero does not offer a desktop version of its software. 
Additionally, QuickBooks Online offers various bundle deals with other Intuit software products such as QuickBooks Payroll. Business owners interested in both products can likely save money by leveraging a bundle discount. [Read more in our full review of QuickBooks Payroll.]
Here is a breakdown of each plan:
| Plan | Monthly cost | What's included |
| --- | --- | --- |
| Self-Employed | $15 | Income and expense tracking, receipt organizing, tax estimating, basic reports and miles tracking |
| Simple Start | $30 | One billable user; cash flow analytics, unlimited invoices, tax deductions, sales tax calculation and 1099 preparation tools |
| Essentials | $55 | Three users; time tracking and bill pay and management tools |
| Plus | $85 | Five users; project management and inventory tracking tools |
| Advanced | $200 | 25 users; one Smart Reporting license, 20 classes, online training, dedicated account team and workflow automation tools  |
Winner
Pricing is never a straightforward comparison, because different accounting software providers emphasize different features. A lot depends on what your business needs. In this case, we give the edge to Xero because its entry-level Early plan includes more features than QuickBooks' Self-Employed plan at a lower price point. However, QuickBooks' second-tier Simple Start plan packs more tools than Xero's second-tier Growing plan. 
Another pricing factor to consider is the user limit. QuickBooks limits the number of users on all of its plans, while Xero allows for unlimited users. 
QuickBooks offers discounts on accounting software if you bundle with other Intuit products, such as TurboTax and QuickBooks Payroll. Xero offers a payroll add-on in partnership with Gusto.
Invoicing 
Xero Invoicing Capabilities 
Like several of its competitors, Xero provides tools to customize your invoices with branding elements such as logos. Here are some of its other features: 
Like QuickBooks, you can convert quotes to invoices on-the-spot. 
You can sync Xero with a PayPal, Stripe or Square account to accept payments online from your emailed invoices. 
The Xero mobile app can also be used to generate invoices on the go.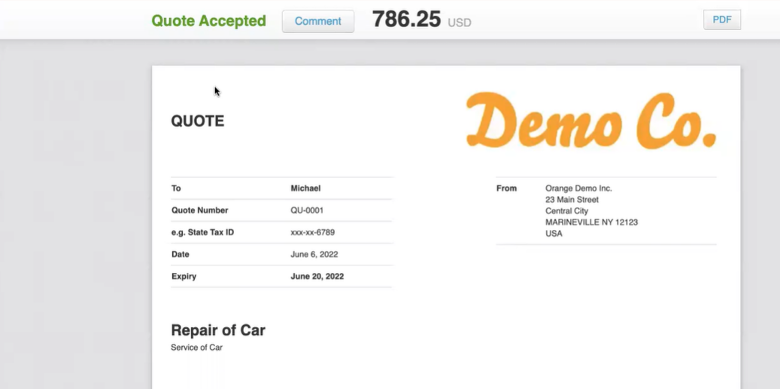 Xero's invoices are saved in the cloud, which allows you to make changes without resending. Source: Xero 
QuickBooks Invoicing Capabilities 
QuickBooks' invoicing features rank high among the accounting and invoice software that we reviewed:
You can create and send invoices from either a desktop browser or the QuickBooks mobile app. Invoices are designed for a mobile-first experience. 
You can accept online payments through the QuickBooks Payments system or a third-party processor like PayPal or Square.
Like Xero, estimates can be converted into invoices quickly and easily. 
You can create recurring invoices and schedule automatic payment reminders.
Billable hours can be synced with your invoice through the QuickBooks Time add-on.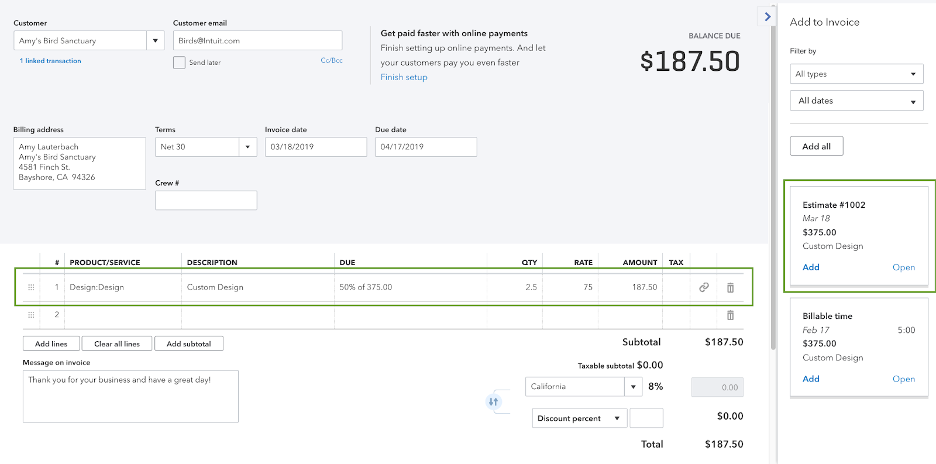 QuickBooks allows you to invoice customers for partial payments. Source: Intuit
Winner
Xero and QuickBooks offer similar invoicing features. In our view, QuickBooks takes the crown on invoicing because it offers more capabilities at a lower price point. Crucially, all of QuickBooks' plans allow you to send unlimited invoices, while Xero's Early plan limits you to 20 invoices per month. If you want unlimited invoices with Xero, you need to upgrade to the $37 Growing plan. 
QuickBooks allows you to send invoices for partial payments.
Customer Support 
Xero Customer Service 
Although Xero offers phone service, you must first contact the company through email or live chat. 
Xero's website includes videos, blog posts and other learning material to help users navigate the software. 
Xero boasts an impressive 4.3 out of 5 for customer support on Trustpilot. 
QuickBooks Customer Service 
QuickBooks provides email, live chat and direct phone support for customers.
An active community forum provides guidance from other QuickBooks users and company representatives. 
Webinars, video tutorials, blog posts and training classes are available on QuickBooks' website. 
Certified QuickBooks ProAdvisors can give you one-on-one help using the software.
QuickBooks' parent company Intuit scores a 1.2 out of 5 for customer service on Trustpilot. 
Winner
Again, QuickBooks and Xero offer similar options for customer service. However, the Trustpilot scores demonstrate that Xero wins on support. Actual users express high levels of satisfaction with Xero's customer service, while QuickBooks has received poor user feedback. While we appreciate that QuickBooks offers direct phone support, this fact alone isn't enough to override the number of customers who complain about long hold times and lack of adequate technical solutions. 
Mobile App
Xero Mobile App Features 
The Xero Accounting and Invoices mobile app is available for iOS and Android. 
The app lets you track cash flow, review customer and vendor contracts, reconcile bank transactions, and create invoices on the go. 
Xero also offers a basic app for the Apple Watch that lets you view account balances and new transactions. 
Xero's mobile app is rated 4.6 out of 5 on the Apple App Store and a 4.2 out of 5 on the Google Play store. 
Xero also offers two stand-alone apps — Xero Expenses and Xero Projects — for users on its Established plan. These apps allow you to capture photos for receipts, submit expense reports, track time, and attach billable expenses and time to individual projects. 
QuickBooks Mobile App Features 
The QuickBooks mobile app is available for iOS and Android. 
Critical features include dashboard data, invoicing, payments, receipt capture, expense tracking, transaction reconciliation and a customer messaging system. 
The QuickBooks Accounting app is rated 4.7 out of 5 on the Apple App Store and 4.1 out of 5 on the Google Play Store.
QuickBooks also offers two stand-alone apps — QuickBooks Time and QuickBooks Projects. The Time app is available on the Essentials plan and above, while the Projects app is available for Plus users.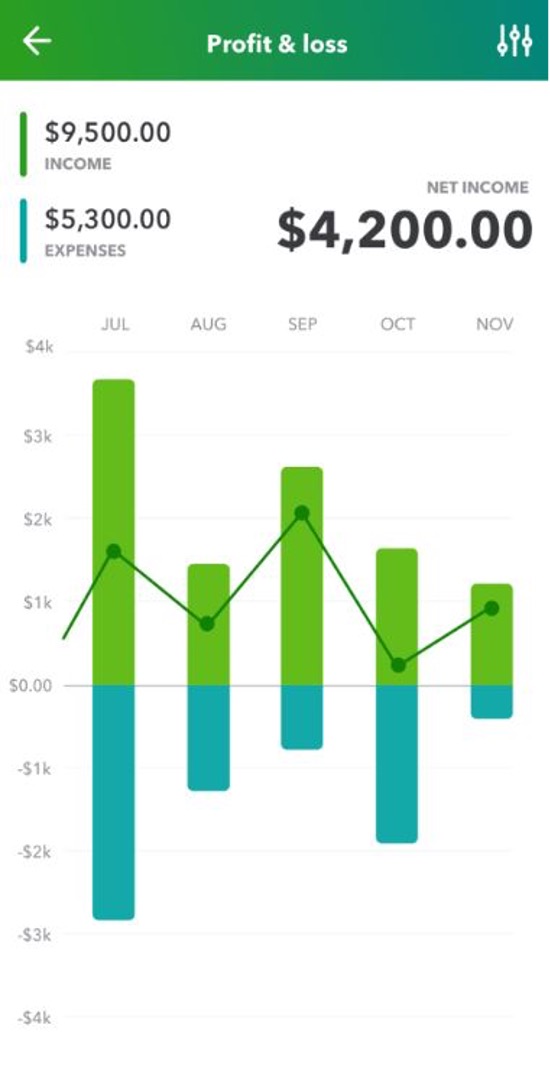 QuickBooks' feature-packed mobile app allows you to track your business's finances from a smartphone. Source: Intuit
Winner
QuickBooks and Xero both offer great mobile apps for you to run your business from a smartphone. The main apps also garner similar ratings on the Apple and Google app stores. The supplemental apps are where we see some divergence. Xero Expenses and Xero Projects are both available for users on the $70 Established plan. QuickBooks Time and QuickBooks Projects can be accessed on the $55 Essentials plan and the $85 Plus plan, respectively. Overall, we give QuickBooks the edge because the app includes more features on the basic version of its app. 
Third-Party Integrations
Xero Integrations
Xero integrates with over 1,000 third-party business applications, including many apps that are popular with small business owners: 
Square
Stripe
PayPal
Gusto
Cin7 Core (formerly DEAR Inventory)
Expensify
Microsoft Office
Rippling
Google GSuite
Zapier
HubSpot
Constant Contact
WooCommerce
QuickBooks Integrations
QuickBooks integrates with more than 750 third-party business applications, including many well-known productivity apps and e-commerce platforms:
Amazon
PayPal
Square
Etsy
Shopify
eBay
SOS Inventory
Gusto
Expensify
BILL
Microsoft Excel
WooCommerce
Zenefits
Zapier
Winner
Xero's compatibility with over 1,000 third-party apps puts it ahead of QuickBooks' 750 apps, making it the clear winner on integrations. We think that growing startup businesses will find Xero's ability to sync with other big-name apps particularly useful. While there is some overlap in third-party integrations, both QuickBooks and Xero include some syncing options that the other doesn't. Make a list of the business productivity apps that you use most often and check for compatibility on the Xero and QuickBooks app stores.