ZarMoney is our pick for the best accounting software for report generation, helping businesses analyze their data and gain valuable insights. It's a cloud-based solution with simple pricing, robust features and numerous bank integrations.
Pros
ZarMoney's report-generation capabilities exceed those of many competitors, including QuickBooks.
The flat-rate pricing structure makes it easy to understand what you owe every month. 
ZarMoney integrates with over 9,000 U.S. banks. 
Cons
ZarMoney doesn't offer a free tier. 
ZarMoney doesn't have cash-based accrual reporting. 
The vendor doesn't provide a mobile app. 
ZarMoney is our pick for the best accounting software for report generation, helping organizations turn small business accounting data into actionable insights. Its software includes over 40 built-in reports and countless customizable options that can help business owners use powerful data analytics to inform decisions. Additionally, ZarMoney integrates with thousands of  banks in the United States, supports credit card payments and presents a straightforward, flat-rate pricing structure. 
ZarMoney Editor's Rating:
8.1 / 10
Payments

9/10

Automatic invoicing

9/10

Third-party integrations

7/10

Mobile app

7/10

24/7 customer support

8.5/10
Why We Chose ZarMoney as the Best for Report Generation
We were impressed by the breadth of ZarMoney's reporting capabilities, which matched or exceeded even big names like QuickBooks. ZarMoney includes 40 built-in reports. You can also tailor parameters to your own specifications with over 1,000 customizable options. In addition to numerous financial tracking reports, ZarMoney provides accounts receivable (A/R) reports and 1099 reports to help your business comply with regulations. For these reasons and more, we chose ZarMoney as the best accounting software for report generation. 
ZarMoney is considered a quality QuickBooks alternative because of its bank reconciliation tools, tax assistance and cash management features.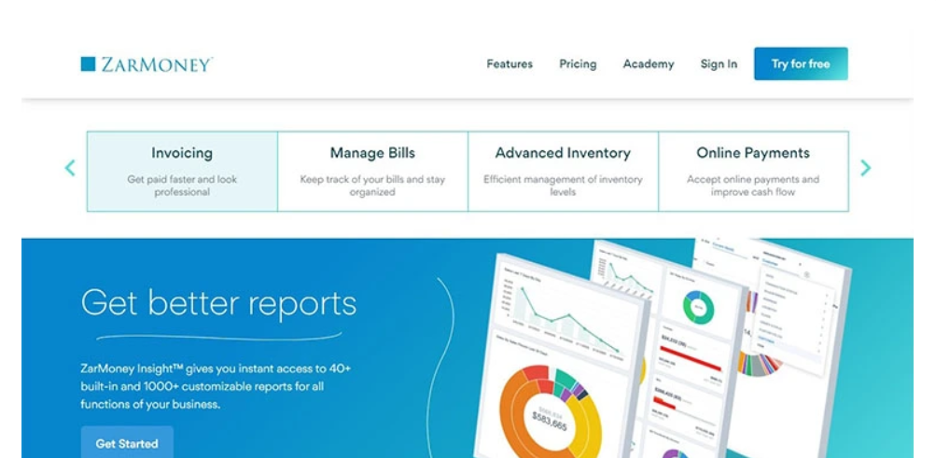 ZarMoney lets businesses access numerous built-in reports and customizable reports to understand their financial situation better. Source: ZarMoney
Ease of Use
During our testing, we found ZarMoney uncomplicated and straightforward to use. The user interface is organized neatly with tabs for sales, purchases, items and services, banking, company and reports. The main dashboard displays key statistics, including your unpaid bills and invoices, profit and loss (P&L) figures and sales figures. Another sidebar displays messages and reminders. We like that ZarMoney's dashboard is completely customizable. You can add and remove widgets as you see fit. 
Business owners and their teams likely won't face a steep learning curve implementing ZarMoney's accounting software. Users will need to learn some terminology relating to accounting and running a business. However, for the most part, the software's simplicity makes it easy to get started immediately.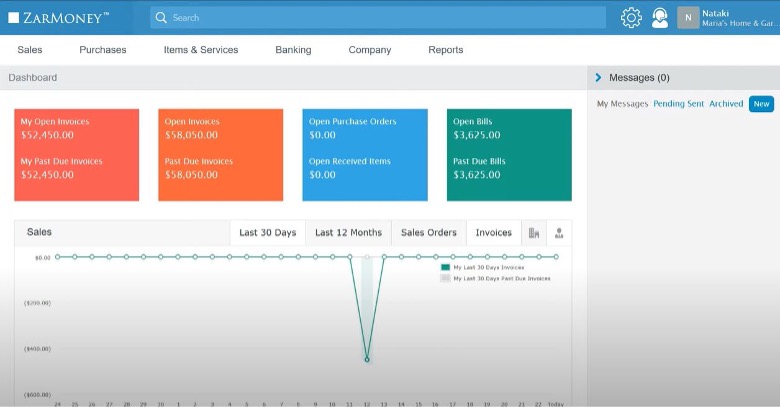 ZarMoney's dashboard displays your business' key financial statistics. Source: ZarMoney 
Features
ZarMoney offers a wide range of accounting software features that small businesses will find valuable, including report generation, bank integration, inventory management, bill payment and more. 
Reports 
Big data in accounting is a rising business trend that ZarMoney showcases. We were impressed by ZarMoney's report-generation capabilities, which help business owners analyze their organization's data. The number of insights ZarMoney's software provides exceeds those of popular big-name competitors like QuickBooks Online. With 40 prebuilt reports and 1,000 customizable reporting options, your data analysis options are virtually unlimited. Standard reports include P&L statements, balance sheets, general ledger reports and A/R analysis to help you track and manage inventory. We also like that ZarMoney assists you in meeting 1099 reporting obligations, ensuring you comply with employment regulations. 
Bank Integration 
We were impressed that ZarMoney's software connects with over 9,600 financial institutions in the U.S. and Canada. ZarMoney imports bank transactions daily for you to approve or edit automatically. The accounting software also supports batch deposits of checks, cash and credit card sales. We also like that it calculates sales tax and allows you to transfer funds between bank accounts. 
We were pleased that ZarMoney includes a bank reconciliation tool that matches your bank transactions automatically to those you've created in the software. Reconciling a business bank account without accounting software is a tedious task, making this feature extremely valuable for small business owners. 
Another feature that differentiates ZarMoney is that it allows unlimited transactions. Some competitors we reviewed have monthly transaction caps, so we appreciated this flexibility. 
ZarMoney connects with over 9,600 financial institutions, providing seamless integration with your business checking account.
Invoicing
Creating a small business invoice that looks professional helps ensure you get paid. We like that ZarMoney allows you to create customized invoices with your logo and branding, which you can print, email or fax to customers. The software also supports recurring invoicing, so you can bill customers regularly. We also like that ZarMoney lets you accept credit cards and automated clearing house payments online so that you can get paid quickly and efficiently.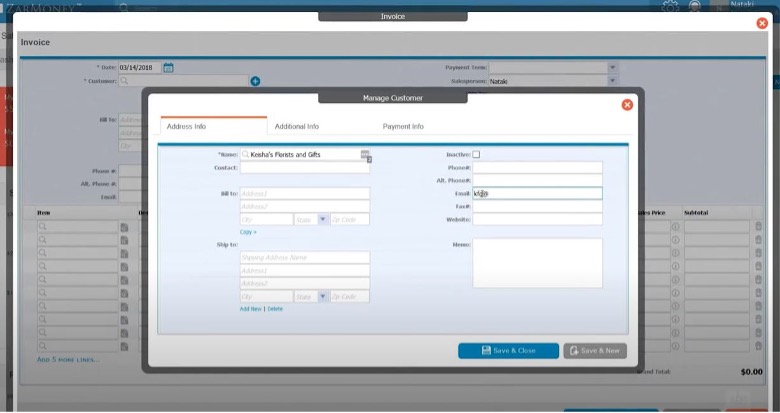 ZarMoney's invoice creation tool allows you to add your own logo and branding. Source: ZarMoney 
Accounts Receivable 
We were impressed that ZarMoney empowers businesses with a comprehensive set of tools to streamline operations and manage A/R. You can manage estimates and sales orders efficiently and provide your customers with flexible payment terms and early payment discounts. With the ability to send order alerts via text or email, you can keep your customers informed and engaged throughout the order process. 
We also like that ZarMoney's A/R tool automates credit limit enforcement at the order entry and invoicing stages, ensuring that your business maintains control over credit risk. This is a unique feature we didn't see with many competitors.
Inventory Management 
We like ZarMoney's real-time inventory tracking features. The software allows you to track inventory counts in multiple areas separately, which is great for a small business that operates several physical locations. ZarMoney lets you attach prices to your inventory, allowing you to follow the first-in, first-out method outlined in Generally Accepted Accounting Principles accounting
If your business has more advanced inventory management needs, consider using one of the best point-of-sale systems, which has extensive inventory management tools.
Bill Payment 
Although ZarMoney doesn't have the tools to pay vendors directly as some competitors do, we appreciate that it offers a few useful features to help track payments. For example, a payables calendar tool lets you record your scheduled payments, which is helpful for managing your business' cash flow.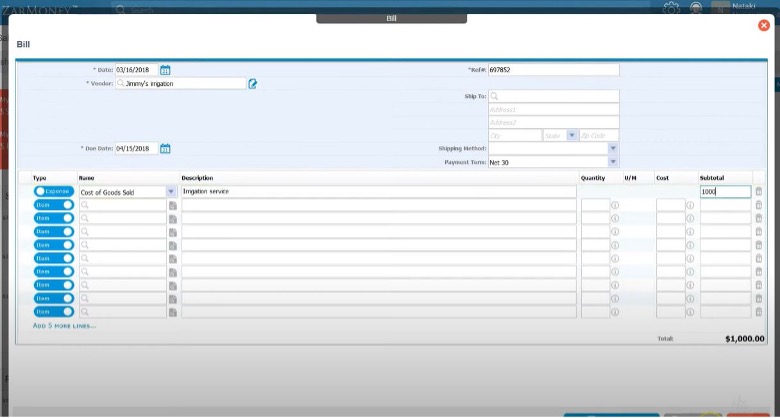 ZarMoney makes approving and paying invoices seamless. Source: ZarMoney 
Productivity Tools
We like that ZarMoney offers a few cool and unique tools for increasing your business' productivity. For example, its scheduler allows you to schedule deliveries, customer calls and other tasks that you can sync with Google Calendar or your iPhone calendar. You can also send notifications to customers alerting them to order status changes. Additionally, ZarMoney features a messaging system for your team with internal notes. 
Pricing
ZarMoney offers three paid plans for businesses at various growth stages. Unlike some competitors we reviewed, ZarMoney doesn't offer add-ons for a fee. However, this makes its pricing structure easier to understand. All plans include the same core accounting features, with some variation around the number of users and the level of customer support:
Entrepreneur: The Entrepreneur plan costs $15 monthly and supports a single user. It includes unlimited transactions and phone support.
Small Business: The Small Business plan costs $20 monthly and supports two users. It includes unlimited transactions and phone support. ZarMoney charges $10 for each additional user on this plan. 
Enterprise: The Enterprise plan starts at $350 monthly and supports at least 30 users. It includes custom features, employee training, prioritized customer support and a dedicated account representative. 
Implementation/Onboarding
We appreciate that ZarMoney offers a 14-day free trial of its software. The sign-up takes a few minutes on the company's website, and you can get started using the software immediately. All of your data from the free trial is stored for 60 days in case you need time to make a decision. 
Another standout aspect of ZarMoney's onboarding process is that you can migrate customer and vendor data from another accounting software program to your ZarMoney account. The software is entirely cloud-based, so you don't need to download anything onto your computer. Plans can be upgraded at any time. 
Customer Support
In an era where many companies have cut back on customer service, we were impressed to learn that ZarMoney offers phone support based in the U.S. Customer service representatives are available Monday to Friday, 9 a.m. to 5 p.m. Pacific time. Support is also available via live chat and email. For users on the Enterprise plan, ZarMoney will assign a dedicated account representative and provide priority for customer service.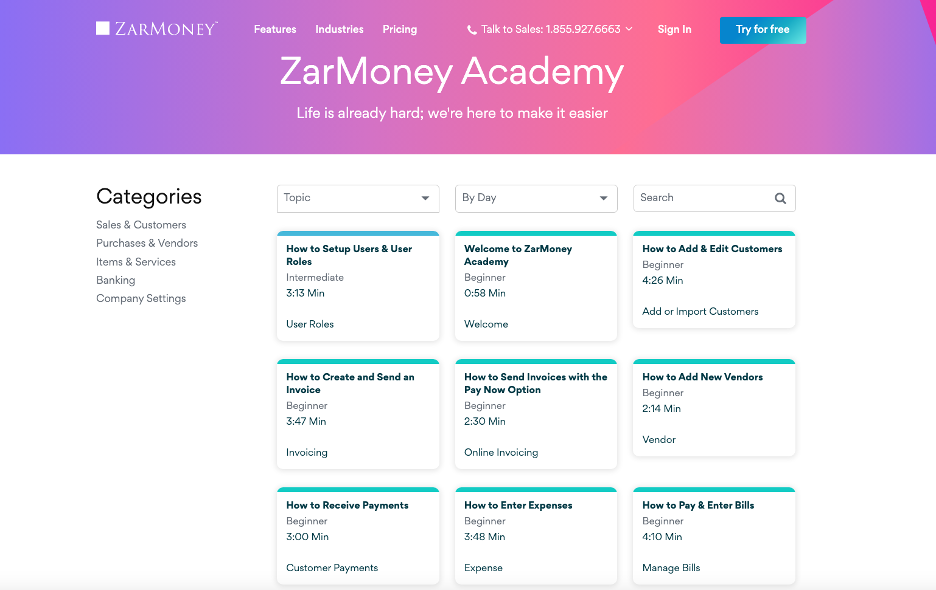 ZarMoney Academy offers online video tutorials to help users solve problems. Source: ZarMoney
Limitations
ZarMoney has some impressive features. However, we discovered some limitations: 
Methodology
We researched and analyzed dozens of the best accounting and invoicing software solutions to help small businesses choose the ideal accounting software for their needs. To generate our quantitative scores and use cases, we reviewed software features like payment and invoicing capabilities, integrations, mobile apps, report generation, supported user count and customer service options. We also assessed pricing and the availability of free trials. 
We examined the companies' websites and participated in software demos. Additionally, we studied user reviews for independent opinions on each software's pros and cons. When looking for the best accounting software for report generation specifically, we focused on the total number of preset reports and customization options. 
FAQs
ZarMoney offers plans for freelancers, small businesses and large enterprises.
As a cloud-based accounting software program, ZarMoney is accessed via the internet. There is no software to install.
ZarMoney was founded in 2006 as an accounting software program for small businesses.
Bottom Line
We recommend ZarMoney for …
Business owners that appreciate big data and insights from reports. 
Businesses with a large number of transactions. 
Businesses seeking seamless connections to their bank. 
We don't recommend ZarMoney for …
Business owners that want a mobile app to work on the go. 
Freelancers looking for a no-cost solution. 
Businesses that practice cash-based accrual accounting.