ADP TotalSource PEO Review and Pricing
ADP TotalSource is a competitive PEO provider that orchestrates essential HR services like payroll processing, payroll tax administration, employee benefits administration, employee recruitment and onboarding, risk management, legal compliance assistance, employee training, and document management. Although ADP facilitates a variety of top-notch HR services, we were especially pleased with its benefits administration, as it offers Fortune-500-level benefits and seamless administration. ADP can serve small, medium and large businesses and has industry-specific PEO features if needed. If you're looking for a professional employer organization that can excel as your benefits administrator, ADP TotalSource is our top recommendation.

ADP TotalSource PEO and Pricing
The Verdict
Small businesses that partner with ADP TotalSource get top-of-the-line human resource services, including payroll, compliance, risk management, employee benefits, training and development, and great customer support.
ADP TotalSource Editor's Score: 9.3
| | |
| --- | --- |
| Price/value | 9.0/10 |
| Features | 9.4/10 |
| Customizations, add-ons and integrations | 9.3/10 |
| Ease of use | 9.4/10 |
| Customer support | 9.6/10 |
Why We Chose ADP TotalSource for Benefits Administration
We found ADP TotalSource to be one of the most comprehensive PEOs for administering employee benefits. It offers a wide range of Fortune-500-level benefits, which is great for businesses that want to attract and retain top talent with competitive benefits. ADP can also help administer those benefits by connecting you with the right carriers and setting up benefit plans. Since ADP is a certified PEO, you can rest assured that the support, advice and PEO services you receive from its agents are legally compliant. We like that the company can also help you maintain legal compliance with essential benefits-related laws. With all this in mind, ADP TotalSource is the best PEO choice for companies concerned about benefits administration.
ADP can help you maintain compliance with COBRA, the Affordable Care Act and other legal requirements for employee benefits.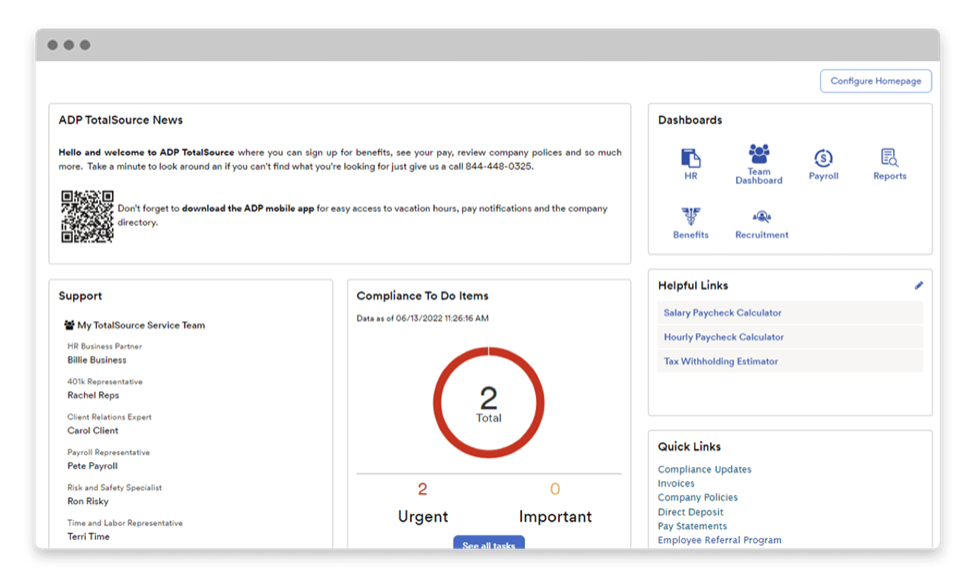 ADP's dashboard is clean and easy to navigate.
Source: ADP
What We Like About ADP TotalSource
ADP offers comprehensive and affordable employee benefits.
The support team is responsive and effective.
The platform can help organizations comply with federal, state and local HR laws.
The vendor supplies user-friendly technology.
What We Don't Like About ADP TotalSource
ADP doesn't list any pricing online.
The vendor has a five-employee minimum.
Ease of Use
ADP TotalSource users gain access to its ADP Workforce Now technology suite, and we found the ADP platform to be intuitive and user-friendly. It includes employee self-service features and a mobile app as well. This was on par with other PEOs we reviewed. We like that the ADP system is easily customizable and offers many flexible tools. If you want to take further advantage of the ADP platform, you can add on ADP Marketplace for third-party integration options.
Part of what makes ADP TotalSource so easy to use is its dedicated support team of HR specialists and experts on different topics such as payroll and workers' compensation. Even though the platform is designed well enough to use without assistance, it's great to know that if you get stuck, the vendor provides advisors dedicated to walking you through any issues, including technological ones.
Features
We like that ADP showcases a detailed list of features on its website that includes all of the HR services, features and add-on options the vendor can support. This is convenient for small and midsize businesses that want a clear breakdown of what to expect from ADP. Below are some of the features we found to be especially valuable.
Employee Benefits Administration
One of ADP's best features is its employee benefits offering. In fact, we found ADP to be one of the most comprehensive PEOs regarding what benefits they can provide. With ADP TotalSource, businesses can take advantage of Fortune 500-level benefits with various plan types. You and your employees can access affordable insurance options for medical, dental, vision, short- and long-term disability, life, group-term life, accident, AD&D, personal loss, critical illness, and hospital indemnity.
ADP also offers popular perks like Section 125 plans, Teladoc and telehealth services, 401(k) retirement savings plans, commuter benefits, HSA and FSAs, health advocacy services, employee assistance programs, and various of employee discounts. We also liked that ADP TotalSource helps connect you to carriers and set up your benefit plans. It allows for online benefits enrollment, which is on par with industry standards, but the quality of benefits in its collection and its benefit specialists ready to assist you really separate ADP from its rivals.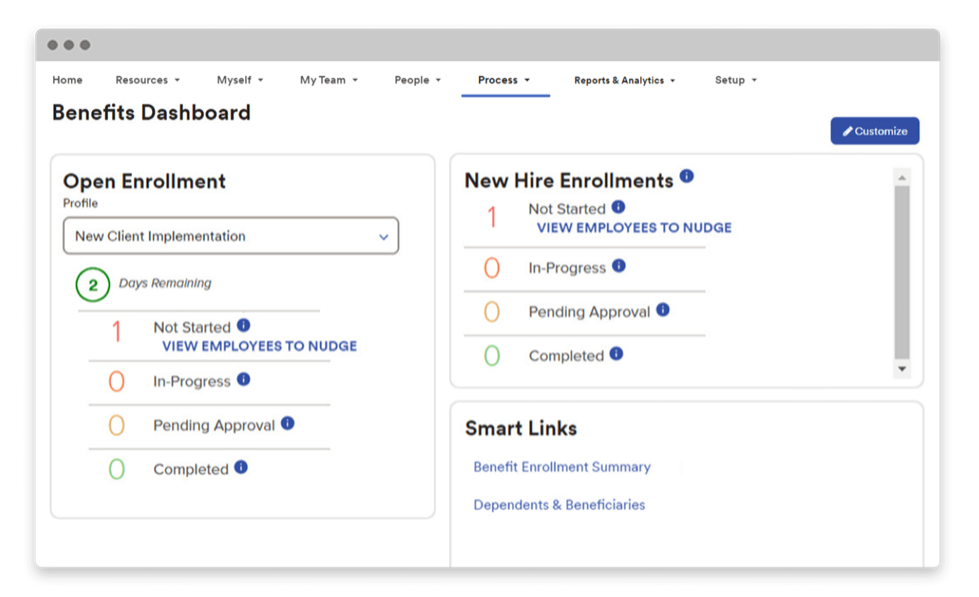 ADP's benefits dashboard can be easily customized.
Source: ADP
Payroll and Tax Administration
Employees want to be paid correctly and they want to be paid on time. ADP TotalSource can help you do that by processing payroll and administering payroll taxes for you. We like that ADP can perform essential functions like auditing and reconciliation, full-service garnishments, and tracking time and attendance. It can help you stay up to date with federal and state regulatory changes and adhere to quarterly and year-end processing and reporting requirements. [If you'd prefer standalone solutions, check out the best payroll services and highly rated time and attendance software.]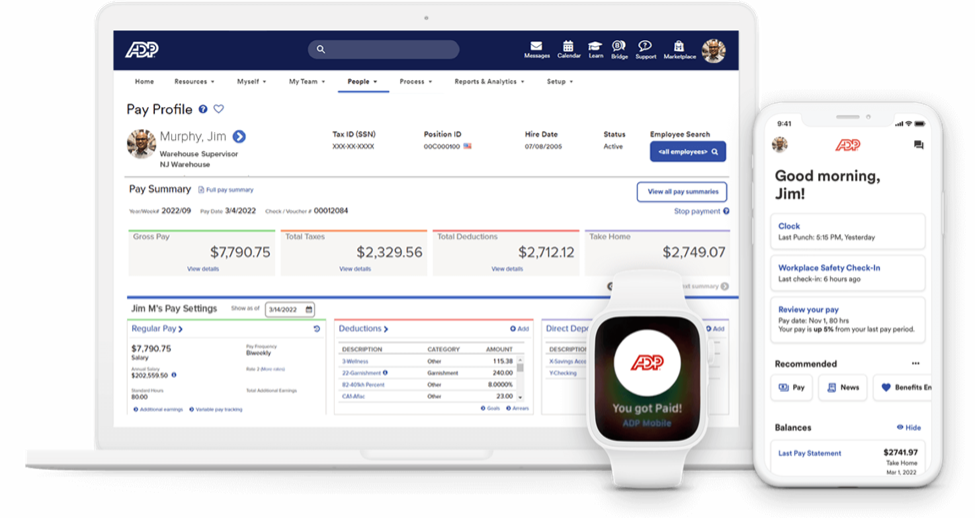 ADP users can view and manage their pay information online and via a mobile app.
Source: ADP
Legal Compliance Assistance
In addition to supplying you with a payroll advisor and benefits team that can help you stay compliant with payroll and benefits laws, ADP TotalSource can help ensure you stay compliant with a wealth of other HR requirements too. For example, they can provide you with a workers' compensation claims specialist, help you build safety programs and provide safety awareness training and workplace safety evaluations. We found the vendor's system and team to be comprehensive and experienced in terms of helping employers maintain legal compliance.
HR Services
When testing out ADP TotalSource, we were pleased with the number of HR services they can provide. For instance, they can help you with tasks like onboarding new hires, writing job descriptions, writing employee handbooks and managing important HR documents. They offer electronic I-9s, employment verification and HR best practice recommendations. We also like that ADP can help train employees and establish fair employee compensation.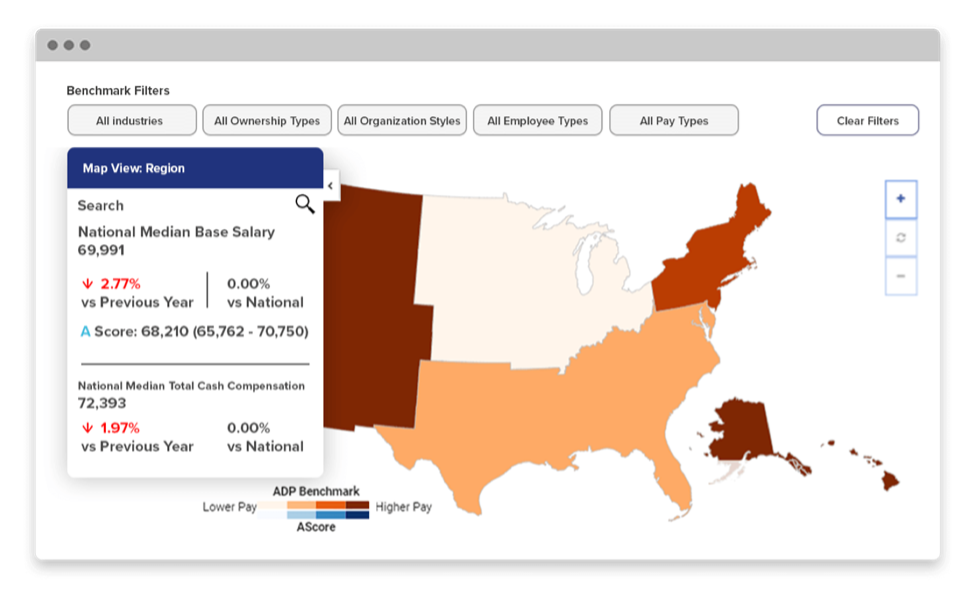 ADP offers employee benchmark information to track salary and other data.
Source: ADP
If you want to add on other popular HR services, ADP offers ADP DataCloud – a workforce analytics platform that supplies enhanced data insights and benchmarking, full-service recruitment and résumé search services by ADP-certified recruiters, organizational development consultation and time tracking and scheduling.
Pricing
ADP TotalSource is a comprehensive PEO that offers bundled HR features like employee onboarding, payroll processing, payroll tax administration, employee benefits administration, legal compliance assistance, workplace safety consulting, workers' compensation, employee learning and development and document management. Businesses can also add on features such as third-party integrations, employee recruitment, data insights and benchmarking, time tracking, employee scheduling, and compensation management for an additional fee.
Like some other PEOs on the market, ADP TotalSource doesn't list its pricing online. Instead, you need to reach out to a company representative to get a quote based on your business's specific PEO needs. Competitor Rippling at least advertises its starting price on its website – read more in our detailed review of the Rippling PEO.
ADP TotalSource has a five-employee minimum, which is common in the PEO industry but can be a problem for extremely small teams. We appreciate that the vendor doesn't require a long-term contract. You can cancel at any time with 30 days' notice.
Implementation/Onboarding
To implement ADP TotalSource, you first need to contact an ADP representative to sign up for a plan that matches your company's specific HR needs and budget. After that, the vendor will connect you with a dedicated team of experts to help you navigate your ADP benefits and platform as you implement their services.
If you want to further customize the platform, ADP offers the ADP Marketplace, a popular add-on that allows you to easily integrate the software with third-party applications. Although integrations can add a little more time to the setup procedures on the front end, they often greatly improve and streamline your HR processes in the long run. You'll also be more confident implementing ADP TotalSource and onboarding your employees, knowing ADP's specialists are ready to help you with any facet of its PEO offerings.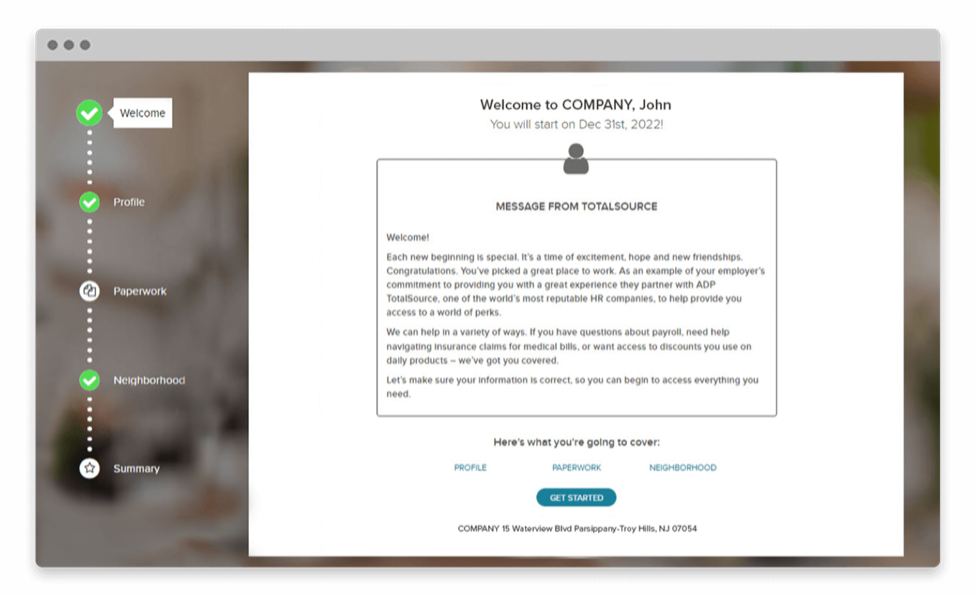 ADP makes it easy for you and your employees to get started with the platform.
Source: ADP
Customer Support
We were pleased with the level of support that ADP offers its customers. When you partner with ADP TotalSource as your PEO, you gain access to a dedicated team of experts who are available to assist you with any HR-related questions or advice. Businesses can receive automated support by phone too. The company hosts online resource centers for small businesses as well as midsize to large businesses. You can find helpful tools like calculators, tax guides, forms, a glossary and webinars. These resources are competitive with what other PEOs offer.
We really like that ADP is accredited by the Better Business Bureau and received an A+ rating from the accreditation agency, which indicates the vendor's quality customer service.
Limitations
As with any PEO, ADP TotalSource comes with a few potential limitations. We noticed that ADP doesn't list its PEO pricing or packages online. While this appears to be a rising trend in the PEO industry, we like to see transparent pricing online. This is helpful for businesses wanting to know if a PEO is within their budget and the potential value before spending time connecting with the vendor.
Another potential limitation is ADP's employee minimum requirements. To be eligible for ADP TotalSource, businesses must have a minimum of five employees on their payroll. While this isn't an issue for most companies that want to partner with a PEO, it is something to consider if you're running a startup or very small business. If you're looking for a PEO that can accommodate fewer than five employees, check out our review of Justworks.
Methodology
To determine the best PEO service providers, we researched and analyzed dozens of PEOs. Whenever possible, we participated in software demonstrations and watched product videos. We evaluated each PEO based on various factors, including pricing, contracts, minimum requirements, employee benefits administration, time-tracking features, payroll processing, administrative HR functions, talent management features, integrations, legal risk and compliance assistance, accreditations, and customer support. When looking for the best PEO solutions for benefits administration, we closely examined functions like payroll processing, tax administration, employee benefits administration, usability and customer support.
FAQ
What is the difference between ADP and ADP TotalSource?
ADP is a vendor that offers a variety of software platforms related to HR, taking care of functions like payroll, time and attendance, benefits administration, risk and compliance assistance, and other HR services. You can partner with ADP as an HR outsourcing service or with ADP TotalSource, ADP's professional employer organization service. The PEO package uses a co-employment model to assist you with HR functions.
Is ADP TotalSource a PEO or a CPEO?
ADP TotalSource is a certified professional employment organization called a CPEO. To qualify as a CPEO, a professional employer organization must meet specific financial and reporting requirements established by the IRS. This certification can benefit you by offering certain tax benefits and financial protections, such as paying your federal employment taxes on your behalf.
Bottom Line
We recommend ADP TotalSource for …
Companies that want high-quality employee benefits.
Companies in need of certified assistance.
Businesses looking for a PEO with great customer support.
We don't recommend ADP TotalSource for …
Very small businesses.
Companies that want transparent online pricing.

ADP TotalSource PEO and Pricing
The Verdict
Small businesses that partner with ADP TotalSource get top-of-the-line human resource services, including payroll, compliance, risk management, employee benefits, training and development, and great customer support.
Skye Schooley is a human resources writer at business.com and Business News Daily, where she has researched and written more than 300 articles on HR-focused topics including human resources operations, management leadership, and HR technology. In addition to researching and analyzing products and services that help business owners run a smoother human resources department, such as HR software, PEOs, HROs, employee monitoring software and time and attendance systems, Skye investigates and writes on topics aimed at building better professional culture, like protecting employee privacy, managing human capital, improving communication, and fostering workplace diversity and culture.