Although it isn't traditional HR software, monday.com offers a variety of project management and collaboration tools to help you manage employee performance and keep your workers on track.
Pros
The monday.com platform offers extensive features for project management.
The software has multiple views that can be customized to fit each user's needs.
Real-time collaboration tools make it easy for employees, freelancers and clients to work together from one system.
The program can integrate with third-party applications to create one seamless work management solution.
Cons
Monday.com doesn't offer payroll or benefits administration.
The company's paid plans have a three-user minimum.
Monday.com is a work operating system that is ideal for companies that want to manage employee workflows and performance. The platform offers several boards for project management; these come with a multitude of views that can be customized based on the viewer's preference for easier data digestion. The program also boasts several collaboration tools, workflow automations and reminders to simplify the process of completing tasks with other people. Though it isn't a traditional human resources (HR) solution, monday.com can be used for some HR-related tasks, such as employee reviews, HIPAA compliance and time tracking for projects. As such, we believe monday.com is the best HR software for businesses prioritizing workforce performance management.
monday.com HR Software Editor's Rating:
9.1 / 10
Price/value

8.4/10

Features

8.5/10

Customizations, add-ons and integrations

9.6/10

Ease of use

9.5/10

Customer service

9.3/10
Ease of Use
Monday.com is known for its usability. Once you have the software up and running, you can easily navigate through the platform's tabs to manage your projects and workflows. The digital workspaces can be quickly searched, filtered and sorted by a variety of details, such as group, person, names, status and date. We also like that the company offers mobile apps for iOS and Android devices for on-the-go management. Although mobile HR applications are somewhat common in the HR industry, they can lend themselves to the overall usability of a given platform.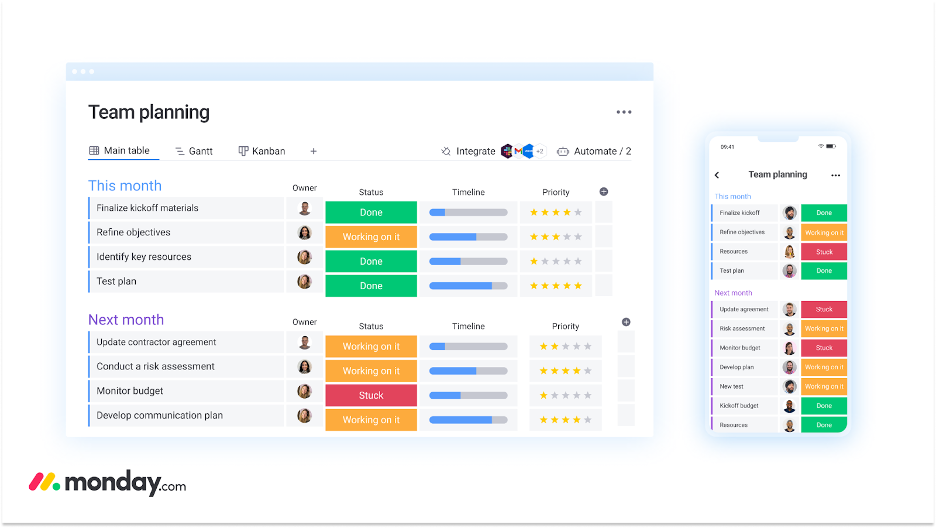 Monday.com has web-based and mobile applications. Source: Monday.com
When we tested the program, we liked that it offered several customizable features that make it simple to identify important tasks and sort through specific projects. For example, you can customize how information is laid out (via tables, dashboards, charts, kanban, Gantt, cards, forms or file galleries), and you can use color coding to differentiate certain statuses. This level of customization is more extensive than that of many competitors we reviewed, and it's a great way to ensure employees stay on task.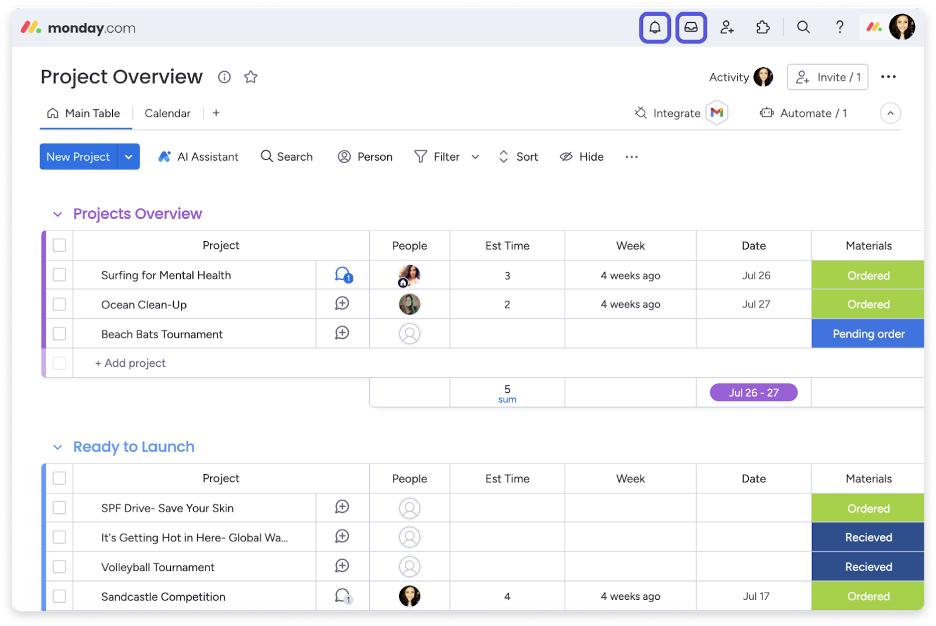 Monday.com users can find an update feed and bell notifications at the top of their screen, to easily navigate to important updates. Source: Monday.com
Enhancing monday.com's usability is its many integration options – it can integrate with more than 200 third-party applications. Additionally, the system can support a human resources information system (HRIS) through a partnership with Achievan and an HR management system through g-company. These embedded solutions allow you to execute key HR tasks directly in the monday.com platform.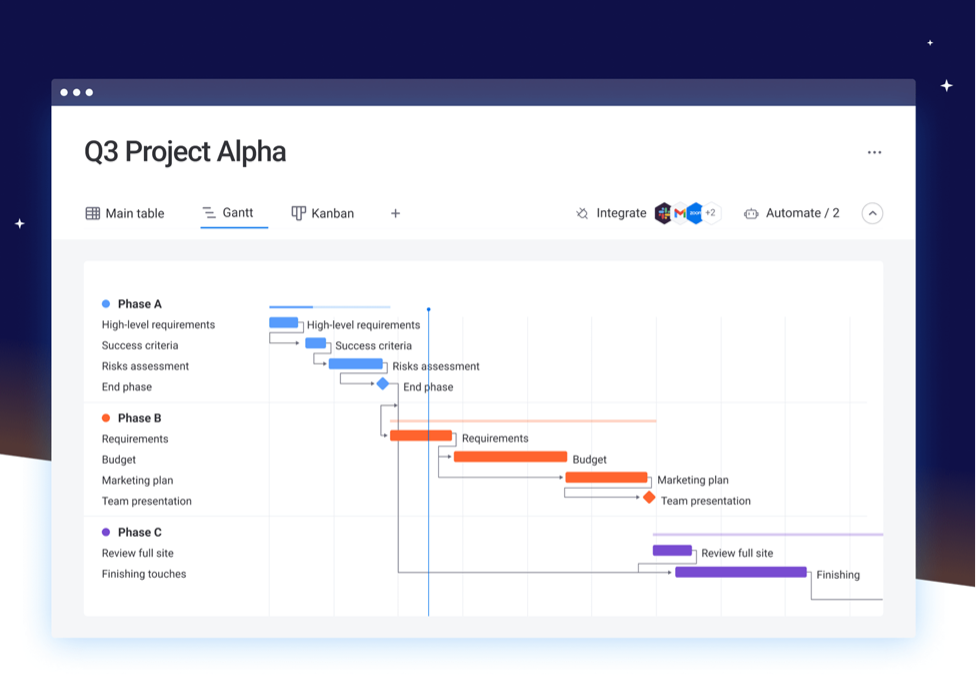 Monday.com's Gantt view uses a horizontal bar chart to indicate project schedules. Source: Monday.com
Monday.com Features
Monday.com is a comprehensive platform that can help you manage employee projects and workflows. Through its various features, you can ultimately manage employee performance. Although the specific tools you can access will depend on the plan you select, here are some of the popular components.
Recruitment and Onboarding
If you're looking for a way to streamline your recruitment and onboarding process, monday.com has features that can help with that. For example, you can easily start using the platform to manage your recruitment process by adding a new workspace for recruitment. When testing the software, we liked that monday.com even has a recruitment and onboarding template that can be customized to match your recruitment pipeline. You can automate recruitment workflows and track candidates through the entire recruitment process. This is similar to what BambooHR offers – our best pick for employee onboarding. If you are curious to learn more about BambooHR's applicant tracking and onboarding process, read our BambooHR review.
Once a candidate moves through the monday.com recruitment pipeline, you can then track their information with an employee onboarding checklist. It offers this board as a premade template as well, although it can be customized to match your onboarding needs. We also like that the software can turn your recruitment metrics into digestible data, giving you a clear look at your recruitment pipelines by department.
Performance Management
One way to manage employee performance is through effective project management. We like that managers or other business leaders can assign employee tasks within the monday.com system and the software will automatically notify workers of their new assignments. As employees work on and complete each one, they can change their statuses within the system. Time spent working on each task can also be automatically tracked and monitored within the system as well, which is similar to some competing solutions we reviewed. [Read related article: How to Implement Continuous Performance Management]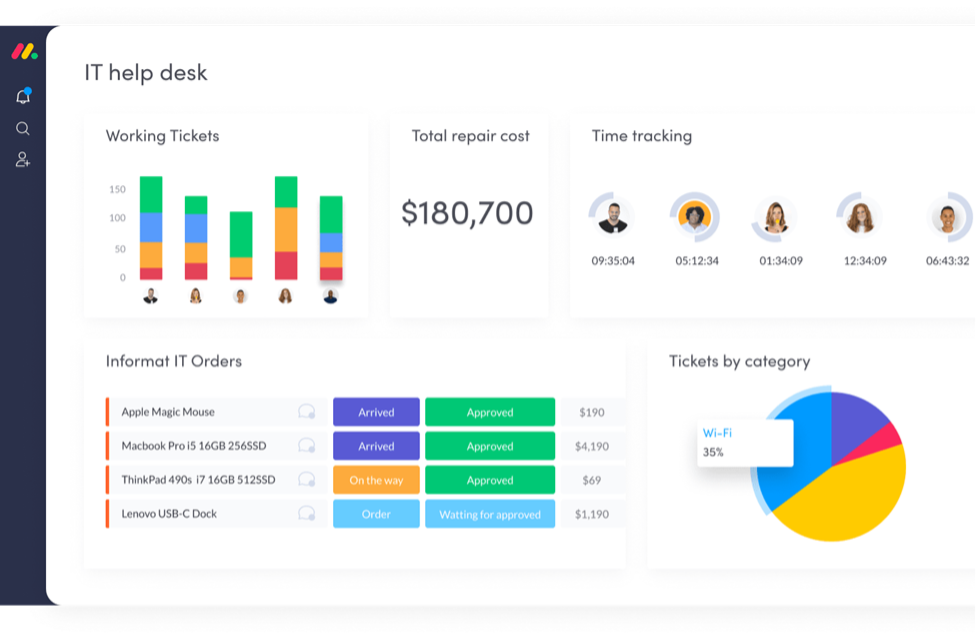 Users can access a variety of information and data views to get a clear look at project status. Source: Monday.com
When testing the monday.com platform, we liked that users can set deadlines within the program, which allows you to see who is on track and who might be falling behind on any given project. If an employee is late to submit an assignment, you'll be able to tell with a few clicks of a button. Tracking project completion and success can be an indicator of whether an employee is doing well or might need to be put on a performance improvement plan.
In addition to monday.com, you may also want to consider products like Trello, intelliHR and Basecamp, which can similarly be used to measure employee performance.
Workforce Collaboration
Workforce collaboration is another key contributor to employee performance. When we tested the monday.com software, we noticed an abundance of collaboration tools to help keep employees in sync. For example, the software has shareable forms that can be created and customized directly from a board within the platform. You can also automate repetitive work and set up dependency workflows (e.g., an employee can start a task only after a teammate has completed another) to ensure tasks are being done in order and on time.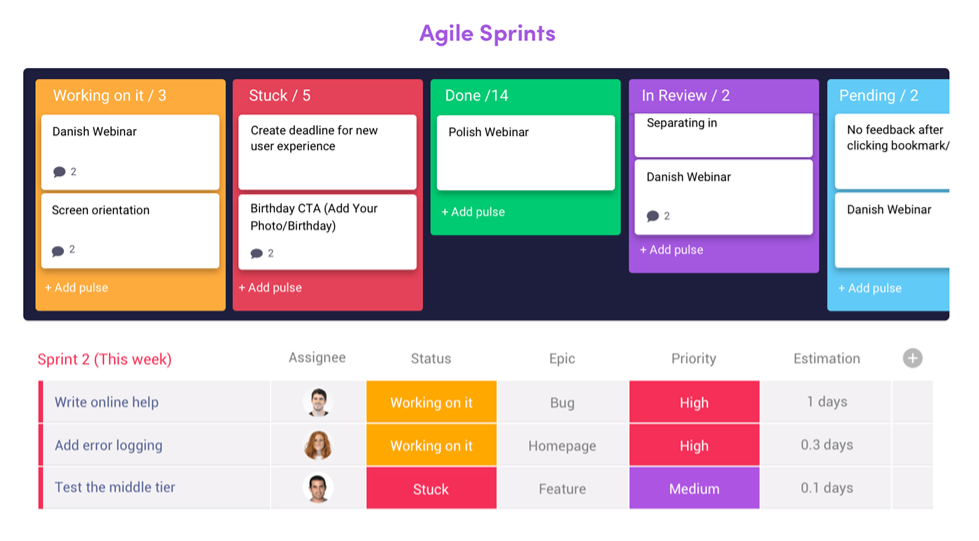 Users can collaborate remotely through the Monday.com platform. Source: Monday.com
Security and Compliance
Although monday.com gives multiple users the ability to work within the same boards, it has security settings in place to ensure your information is protected. For example, you can keep projects and tasks secure with security settings such as two-factor authentication, Google authentication and IP restrictions. We like that monday.com also offers private boards and documents, HIPAA compliance, SOC 2 Type II compliance and single-sign-on capabilities. When testing the platform, we noticed there are also integration permission settings, which isn't something we noticed in many competitors.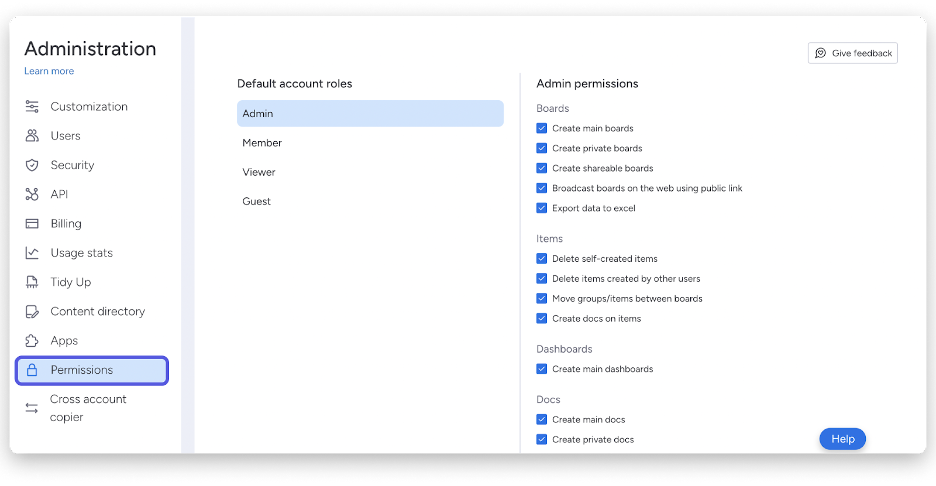 Monday.com has permission settings so you can restrict worker access within the platform. Source: Monday.com
Views and Reporting
When we used the monday.com platform, we found its reporting views and dashboards to be one of its strong suits. We weren't limited in how we could display information on the software. For example, monday.com offers timeline and calendar views for those who want to track time-sensitive tasks. If you're interested in location-driven data, you can use a map view. A great way to review and manage employee capacity is with the kanban view as well as monday.com's workload metrics. Capacity load can play a crucial role in employee performance, so it's essential to keep track of this measurement. [Read related article: 10 Ways to Prevent Employee Burnout]
We like that the software also has a chart view to visualize workforce data. All of these are different ways to view workforce metrics, and this flexibility is ideal for employers and company leaders who want to track and manage employee performance and workload in the way that makes the most sense for them.
Although we were please with monday.com's reporting features, its competitor Paycor made our list as the best HR software for analytics. If you want more in-depth reporting and analytics, read our review on Paycor.
Sign up for monday.com's Enterprise plan if you want access to advanced work performance insights, pivot analyses and reports, and dashboard reports by email.
Implementation and Onboarding
When we tried monday.com, we found the implementation and onboarding process to be relatively straightforward. There are a lot of customization options that you can configure upfront, which will add to your setup time, but we believe they are helpful for streamlining processes later down the road. We like that you can quickly invite people onto the platform through a simple invitation link or email. When inviting a new user, you can decide whether they should be added to the system as a member or a viewer (someone with read-only access).
Once members are in the system, they can start managing their boards and tasks. When creating a board for the first time, you can choose between using provided templates or customizing boards on your own. We like that monday.com offers a best practices methodology for building boards to help users who are new to the platform. This all aids the implementation and onboarding process.
Customer Service
Although we found the monday.com platform to be easy to use, the vendor does offer customer support if needed. On the monday.com website, you can find a wealth of educational resources, like blogs, live and on-demand webinars, a help center, tutorials, and how-to guides. We found the on-demand demos to be especially helpful. We also like that monday.com provides hundreds of templates, which is a great way for users to get started with the platform right away.
If you have additional questions, you can contact a company support representative through the platform, which facilitates email and live chat correspondence. You can also request a phone call for billing inquiries. This is similar to what rival companies offer in terms of support.
While monday.com's customer support options are relatively standard across the majority of its packages, it does offer tailored onboarding and 24/7 premium support to those with Enterprise plans.
Limitations
Unlike many of the HR software providers we reviewed, monday.com doesn't offer traditional HR features like payroll processing and benefits administration. The software does have more than 200 integration options, though, so there is a good chance you can connect the system with a highly rated online payroll service. However, if you prefer a more well-rounded HR platform that comes with in-house payroll and benefits administration features, check out our Gusto review and our review of Rippling.
Another potential downside is monday.com's user minimum. The vendor offers a free plan for up to two users, but the features are limited. If you want to purchase a paid plan with more advanced features, you are required to pay for at least three seats. From there, plan size is confined to set seat amounts (5, 10, 15, 25, 30, 40, 50, 100, 200+). These options may be cost-efficient for some businesses, but they may require others to pay for more seats than they need (e.g., even if your organization has only seven users, you'll have to sign up for the 10-seat package). If you want to pay for an HR solution purely on a per-employee basis, read our review of Zenefits, which is especially great for startups, though there is a five-employee minimum.
Methodology
We investigated and analyzed dozens of HR systems to determine the best HR solutions on the market. We examined pricing, contracts, usability, recruiting and onboarding capabilities, employee benefits administration, time-tracking features, payroll processing, performance management tools, reports, integrations, legal compliance assistance, and customer service. We also watched product videos and conducted demos when possible.
FAQS
In addition to its work management platform, monday.com offers a sales CRM. With this product, users can access features for sales pipelines, contact and lead management, lead capturing, and performance tracking. 
Yes, monday.com is an agile tool. The software is very customizable and has several features that can be modified to display information in various ways. For example, you can view data and workflows as tables, dashboards, charts, cards, forms and file galleries. It also offers kanban and Gantt views as well. Since monday.com can integrate with hundreds of third-party applications, the program can be further customized to streamline your workflows.
When searching for the best HR software options for businesses looking for performance management tools specifically, we prioritized aspects like performance management, project management, collaboration, usability, reporting and customer service.
Bottom Line
We recommend monday.com for …
Businesses that want an easy way to manage employee workflow and performance.
Organizations looking for extensive project management features.
Companies that want a highly customizable solution.
We don't recommend monday.com for …
Businesses that need built-in payroll capabilities.
Companies looking for benefits administration.