Visitor management is the practice of welcoming and tracking visitors throughout a company's building, site or restricted area. This process is administered through a visitor management system that tracks and records people who are allowed access to the secure areas. Visitor management systems assist with access control, tracking people onsite (for security as well as safety), and overall compliance concerning all who visit a building or restricted area.
How visitor management systems work  
More than allowing initial access to a building or premises, visitor management involves a comprehensive access control system that governs the complete process behind who is awarded access, what they can do, and where they can go. Visitors can include members of the public, investors, professionals, business partners, or other stakeholders who need to feel welcomed and supported. Moreover, businesses need to secure their facilities and networks.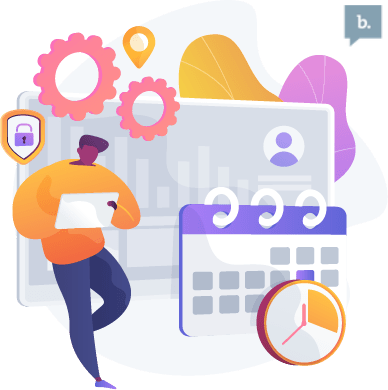 The sign-in process, for example, is only one part of the visitor management process. There are several essential components of visitor management, and for the system to be fully effective, the system must focus on the areas of security that mean the most to the business.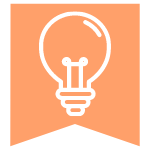 Tip: If your office has a lot of recurring guests, then seeking an access control system with visitor management makes sense. Before deciding on a provider make sure the company you're working with has all of the features to meet your needs.
These are some common features of a comprehensive visitor management program:
Pre-appointment confirmations. A truly excellent system will begin its approval and tracking process prior to the visitor's arrival. When systems include appointment scheduling and confirmations, such as emails, security has an added piece of data to utilize while processing the visitor.
Entry process. This is typically a registration or sign-in that includes a name badge, keycard or similar access token. Some systems include face recognition, require personal information or identification, or utilize other methods of identity and access management.
Nondisclosure agreement acknowledg Part of the entry process for many businesses is the NDA acknowledgment. This agreement extends beyond the entry process and further defines what the visitor can and cannot share or discuss after leaving the premises.
Visitor handoff or wayfinding directions. Although different companies execute this step in various ways, guests are typically escorted or "handed off" to their meeting contact. In other cases, the contact comes to the front desk to pick up their visitor. This step adds an extra layer of security for the facility. Another common approach is to ensure the guest knows the location of the meeting by giving them a map or directions.
Guest Wi-Fi. Your guests may need to use Wi-Fi on your premises, such as to prepare for a meeting while they wait in the lobby. It's best to offer them access through an alternative platform that does not allow access to your company network.
Customer experience. With a well-designed visitor management system, your guest's experience is more professional and enjoyable. It speaks well of your company when you have a highly organized, consistent visitor receivership process that is strictly followed while also being appropriately fluid and welcoming.
Above all, the visitor management process should keep staff and all guests safe, and ensure all your business's data remains secure.


Editor's note: Looking for the right access control system for your business? Fill out the below questionnaire to have our vendor partners contact you about your needs.
Types of visitor management systems
There are many visitor management systems on the market today. They are not all created equal, and they are not all for you. We have listed a few options that have a long track record of success, serving companies of all sizes in many industries.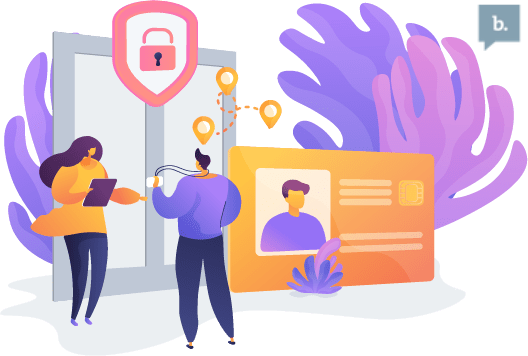 When you select a visitor management system, you should consider not only the cost, but also the customer support, legal compliance, the admin or host experience, the interface the visitor sees, and the system security and overall management. Each of these factors can vary widely from one system to another.
There are several core features to look for in visitor management systems. The following access control systems check each of these six core boxes.
| | | | | | | |
| --- | --- | --- | --- | --- | --- | --- |
| Product name | Badge management | ID scanning | Registration management | Self-check-in | Visitor tracking | Watch list |
| Kisi | Yes | Yes | Yes | Yes | Yes | Yes |
| | Yes | Yes | Yes | Yes | Yes | Yes |
| | Yes | Yes | Yes | Yes | Yes | Yes |
| SimpliSafe | Yes | Yes | Yes | N/A | N/A | Yes |
| Vanderbilt | Yes | Yes | Yes | Yes | Yes | Yes |
| | Yes | Yes | Yes | Yes | Yes | Yes |
| | Yes | Yes | Yes | Yes | Yes | Yes |
| | Yes | Yes | Yes | Yes | Yes | Yes |
Many visitor management systems tout their ability to custom-fit four industries: universities and large school systems, large corporate office buildings, hospitals and other medical facilities, and hotels and large restaurants. These are all large, complex, dynamic institutions that require comprehensive and unique solutions to their individual needs. If the system you are looking at specializes in one or more of these industries, that could be a determining factor in your buying decision, depending on your business type. Check out all our reviews of the best access control systems to help you make the right choice.
Features of a visitor management system
There are many features within a comprehensive visitor management system, but not all solutions will have all the possible features. Although there are countless features among the many products on the market, these are some of the most common functions and features that you should be able to find on any of the top brands:
Scheduling and registering (or pre-booking)
Ease of global scalability and customizations for locations in multiple countries
Compliance with all legal requirements, safety guidelines and best practices
Onsite contractor oversight and management
Real-time notification of guest arrival
Digital sign-in (including NDA signings)
Fluid integration with third-party applications and data platforms
Detailed reporting
IT-friendly cybersecurity maintenance and hygiene
Elegant and user-friendly interface
Protected guest Wi-Fi network
If you are considering a visitor management system that is missing any of those features, it is best to keep searching.
Visitors expect to see your company secured and managed by comprehensive visitor management software (even if they don't know that is what it's called). This experience brings peace of mind and a high level of professionalism to your company, regardless of your business type or industry.
It simply has the added benefit of guarding your business's facilities and data simultaneously.