Google Analytics is an incredibly useful tool for businesses of all sizes, but because of its many complicated terms and metrics, it can be difficult to understand. Use this guide to learn what Google Analytics is, to see how to set up a Google Analytics account and to familiarize yourself with some of the most important metrics and terms.
What is Google Analytics?
Google Analytics is a free analytics tool from Google that helps you analyze the performance of websites and applications. GA integrates with Google's other marketing and advertising platforms – such as Google Ads, Search Console and Data Studio – making it very convenient if you're already using other Google tools.
Google Analytics can provide you with all kinds of information about your website, including the following:
How many visitors your website gets
Demographic information about your visitors
How many visitors access your site via mobile device
Where your website traffic is coming from
Which marketing tactics work best
Which pages on your website are the most popular
How many visitors are converted into leads or customers
How to improve your website's speed
Is Google Analytics free?
There are both free and paid versions of Google Analytics. The free version of GA should give most small and midsize businesses everything they need, while the paid version allows access to more advanced features.
The paid version is called Analytics 360 and offers features conducive to enterprise-level business, such as advanced funnel reporting and attribution modeling, roll-up reporting, more views, dimensions and metrics per property, unlimited data, and a personal account manager. Analytics 360's subscription fee begins at $150,000 per year and increases once your site gets more than 500 million visits per month.
Why is Google Analytics important?
Google Analytics can have an enormous impact on your business, because, like most businesses, your website serves as a hub for most of your digital traffic. Any other marketing you do online, like social media ads or search engine ads, will likely direct users to your website at some point, which means that analyzing your website is the best way to get a full view of how effective your marketing campaigns are at driving traffic.
"The best benefit of using Google Analytics is monitoring what channels your traffic comes from," said Mark Condon, CEO and founder of ShotKit. "We can easily see each source of traffic (Google CPC, Facebook, organic) that is color-coded in Google Analytics to show what number of visits are from that channel."
Here are some other key benefits of Google Analytics:
Data visualization features make it easy to understand your data.
Reporting tools allow you to easily collect, present and compare any data set or combination of data sets.
All data is collected and reported in real time.
Data about your audience is comprehensive and easy to act upon.
What information can you get from Google Analytics?
Google Analytics provides a wealth of information about your website, your marketing strategy and your audience. It also allows you to monitor the following aspects of your website:
Online marketing strategies
Site content
User experience
Device functionality
What is working well
What needs to be improved
Additionally, GA automatically collects data, which means it requires little or no work on your part to collect important metrics about your marketing efforts. It provides you with valuable information about your customers, allowing you to enhance the user experience and encourage return visits. For example, you can use your visitors' demographic information (e.g., age, gender, location) to tailor your website to address their unique needs, or adjust your website design to fit the devices your customers are using to access your site.
With Google Analytics, you can "slice data in different ways to answer a lot of questions about how your website is used," said Josh Peichoto, a digital strategy manager. "This insight helps drive how to make improvements that align with actual customer usage and how they align with your business goals."
Tailoring your website based on what you learn from Google Analytics can also have a major impact on your site's search engine optimization. SEO helps to increase the traffic to your website by improving your position in search engine rankings. The more traffic your website gets, the more leads and conversions it receives; having content targeted specifically to your customers can earn you better visibility on search engines.
To get the biggest benefits from Google Analytics, define your specific objectives before digging into the data.
"You should learn about how Google Analytics would benefit you specifically," said Tonya Davis, marketing manager at ThoughtLab. "An e-commerce site owner will use GA differently than a blog site would. You need to know what goals you are trying to achieve to understand how Analytics can help you. Are you wanting more traffic? Better site engagement? Higher conversions? By having a clear goal in mind, you can learn exactly how to use Analytics to help you achieve it."
Understanding Google Analytics terminology and metrics
To properly use and get the most out of Google Analytics, it's important to understand the relevant metrics and terminology. Here are some important terms to know, as well as the most commonly tracked metrics on Google Analytics:
Terms to know
Metric: A metric is a quantitative measure of data that shows how a website is performing in relation to a specific category. Examples of common metrics on Google Analytics include sessions, users, page views, bounce rate, entrance rate and exit rate.
Dimension: A dimension is the criterion a metric is measured against, and it can provide a more specific group of data. For example, rather than just measuring sessions, you could measure sessions (the metric) by country (the dimension). Other examples of dimensions in Google Analytics include sessions by page, page views by device, average time on page by channel and bounce rate by channel.
User: In the context of Google Analytics, a user is a unique visitor to a website. Whenever a new user lands on your website, Google Analytics will assign them a "unique ID" or "client ID" that is stored as a cookie in that user's browser. The number of users is the most-tracked GA metric.
Page view: A page view is recorded anytime a page is viewed by a user. However, keep in mind that the number of page views doesn't tell the whole story. For example, a user landing on a page counts as a page view, but the same user reloading that same page counts as an additional page view. And it would count as yet another page view if the user were to leave the page and then come back to it.
User behavior: The behavior section on Google Analytics shows what visitors do on your website, like which pages they visit and what actions they take on those pages, such as clicks or transactions.
Session: A session is recorded by GA every time your website gets a visitor and ends after 30 minutes of inactivity. Any user behavior – such as page views, clicks or transactions – that is tracked during this time is counted as one If the user comes back to your website after a few hours or two days later, for example, they will begin a new session.
Source: This shows where your website traffic is coming from (such as a search engine or email link).
Landing page: landing page is the first page visitors see when they enter your site. As such, it's important to optimize your landing page to ensure your visitors can quickly find the information they need.
Organic traffic: Organic traffic means any visitor who lands on your site as a result of unpaid search results, such as someone performing a Google search and clicking on your website.
Metrics
Bounce rate: The bounce rate shows what percentage of your website visitors triggered only one request from the GA server, such as a single page view. In short, the bounce rate shows how many visitors enter the site and then leave without viewing any other pages.
Average session duration: This metric tells you how long visitors stay on your website and is calculated by dividing the total duration of all sessions by the total number of sessions.
Percentage of new sessions: If a user without a client ID visits your website, the user is logged as a new session. This metric shows the number of first-time sessions on your website in any given time period.
Sessions by channel: Google Analytics classifies your traffic to make it easier for you to track the performance of individual channels, such as direct, paid, organic and social. Sessions by channel means the number of sessions conducted under each channel group.
Pages per session: Pages per session is calculated by dividing the total number of page views by the number of sessions and can give you a good idea of the overall engagement on your website.
Average time on page: This is the amount of time a user spends on a single page. You want to aim for users spending a long time on pages, as this reflects engaging content.
Page views by page: This metric shows how many page views your website received within a certain amount of time.
Entrances: The entrance percentage counts how many users land on a certain page as their entrance onto your website. In other words, it measures how many times a certain page was the first page viewed in a user's session.
Exit percentage: This metric shows the page that a user viewed last in a given session. If a page on your website has an unusually high exit percentage compared with your other pages, it could be an indication that something on that page is not enticing users to stay.
Device usage: This metric shows which devices visitors are using to access your website. You can use this information to adjust the design of your site so it's more responsive to these types of devices (e.g., smartphone or tablet).
Behavior flow: Behavior flow shows you how many people move through your site based on how they were "acquired." You can view individual pages and sort by acquisition type (source, medium and channel).
Site speed: This metric can be a great way to measure ranking, usability and comparison against competitors. If your website doesn't load quickly enough, Google will not rank it as highly as your competitors, and visitors are likely to bounce to a different site to get their information.
Goal completions: In the context of GA, "goal completions" are the number of times that website visitors complete a specific "goal" on your website. You can define what constitutes a goal, such as visits to a certain URL, purchases or email sign-ups.
How to set up Google Analytics
Google walks you through the simple process of setting up Google Analytics.
"Set up Google Analytics when you launch your website, even if you don't know how to use it yet," said Michelle Bourbonniere, SEO editor at Edited by Michelle. "Even if you're not planning on learning how to use Google Analytics to the fullest, set it up when you launch. Start collecting data from the beginning so you'll be able to understand long-term trends."
Here are the six steps to setting up Google Analytics:
1. Set up a Google account.
You must have a valid Google account to register for Google Analytics. You will automatically receive a Google email address when you create your Google account. When you are setting up your Google account, it's important to have a good understanding of the GA hierarchy: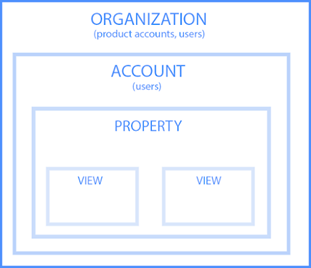 An organization is the highest level of the hierarchy and represents the company. One organization can hold many GA accounts. Next are the accounts, which are mandatory for using Google Analytics. However, accounts do not strictly mean user accounts; you can assign one property to each account or assign multiple properties to one account. Third in the hierarchy are properties, which are websites or apps. Each property requires at least two views: one with zero configuration and one with filters set to exclude traffic from within your company, spam traffic and bots.
2. Create a Google Analytics account.
Create your account here by choosing the following:
An account name
Which data you want to share with Google
What you want to measure (website, apps or both)
Your website name, industry and time zone
3. Add the name, URL and industry of your website.
The third step is to choose which account you want to add the property (your website) to. At this point, you will create and name your property and enter the website URL.
4. Add a view to your property.
Next, go to your account and add a view to your property by using the menu to create a view, name the view and select the type of view (web or app). Google Analytics allows you to add up to 25 views per property.
5. Add a tracking code.
Creating a property will give you access to a unique ID that can be used for tracking, as well as a global site tag, which is a tracking ID code you must add to every page you want to track. Paste your global head tag directly after the opening <head> tag on each page you want to track. Then, choose which type of site you have (static, dynamic, web hosting, Google Tag Manager) to help you accurately set up your data collection.
6. Verify that the code is working.
Finally, go to your Google Analytics portal, and make sure that your code is working properly. You can do this by visiting the Real-Time Reports section as you click around your website on a different browser tab or on your smartphone. If it's working properly, the report will show at least one visitor on your site.
Google Analytics reports
Each segment of Google Analytics provides the opportunity to collect various reports on multiple aspects of your website. There are two main categories of reports on Google Analytics: standard reports, which are the preset reports listed on the left-hand side of your dashboard, and custom reports, which can be created either completely from scratch or by adjusting standard reports to fit your needs.
The five segments of standard reports that Google Analytics provides are Real-Time, Audience, Acquisition, Behavior and Conversions. Read on for a description of each standard report segment and the actionable insights each type can deliver.
Real-time reports
Real-time reports allow you to monitor all activity on your website in real time. Real-time reports can be useful for monitoring responses to a new campaign as they happen or for taking the pulse of your online activity in a given moment.
A real-time report shows how many active users there are on your site, your most active pages, the top sources of referral traffic and the top locations from which users are visiting. Real-time reports are helpful for things like:
Testing and troubleshooting campaign setups
Monitoring campaigns in real time
Jumping on current trends
Monitoring the geographic location of your audience
Audience
Audience reports tell you more about your audience, which is anyone who visits your site. In Google Analytics, the Audience section has 15 subsections, which means there is plenty of detailed information for you to use.
The Audience section gives you information on users, sessions, page views, bounce rates and more. It also allows you to adjust the time frame during which data is collected. Here are some of the metrics you can see:
Active users
App views per user
Page views per user
Revenue per user
Session duration
Sessions
Transactions
Demographics
User behavior
Devices
Acquisition
The acquisition segment helps you understand how users are coming to your website by showing you metrics such as the total number of visits, new visits and repeat visits; traffic sources; and organic traffic rate. This section also provides a breakdown of user behavior, tracking metrics such as bounce rates, clicks, pages per visit, user interaction and average visit duration.
All of this data helps you better understand your customers and how they interact with your website. You can then use this information to tweak your website to better serve your customers. Key reports in the acquisition segment include channels, all traffic and all referrals.
Behavior
The behavior segment reports on everything users do on your site, including clicks, transactions, bounces, visit duration and sessions. You can use the data collected in the behavior segment to improve your understanding of your audience and how users interact with the content on your website, so you can identify areas that need improvement. For example, if you have a high exit percentage on one of your pages, consider adding a pop-up with an incentive or a call to action that will entice the visitor to stay on that page or go to another page on your site.
Conversions
In Google Analytics, a conversion is when a visitor to your site completes a vital action – like making a purchase, filling out a form or engaging heavily with the site – and becomes a customer. After you have set up a conversion goal or e-commerce tracking, you can access multichannel funnel reports to see the conversion rate on how all of your online channels – such as social ads, paid ads and website traffic – have worked together to create your sales.
Using the conversions segment with Google Analytics data can reveal your marketing strengths and weaknesses.