While LinkedIn is traditionally used as a networking platform for professionals and job-seekers, it also offers plenty of opportunities to market and grow your business.
By the first quarter of 2016, the B2B social platform boasted more than 430 million users.
When you add LinkedIn to your marketing strategy, you can build targeted connections, generate higher-quality leads, reinforce relationships with prospects, and greatly improve your brand visibility.
Here's how marketing with LinkedIn can help you grow:
1. Grow Your Presence With Targeted Content
Unlike other social networks where consumers collect friends the way gamers collect Pokémon, professionals on LinkedIn tend to network with people that work alongside or within their industry.
When you produce and share content that your connections want to see, they're far more likely to engage with that content and become advocates who share your ideas with others. That shared content is then seen by people outside of your immediate network, and the more value your content contains, the more times it will be shared by even total strangers.
This gives you far more reach and influence on LinkedIn, which could result in new connections and opportunities.
2. Showcase Value Through Storytelling
Every year, more than five trillion ads are presented to consumers and professionals online. Over the course of the day, the average person processes more than 100,000 words.
That is an alarmingly high amount of content, and it means that what you have to say is a mere speck of dust in the cosmos that is their daily buffet of content. You need to do something more to catch their eye.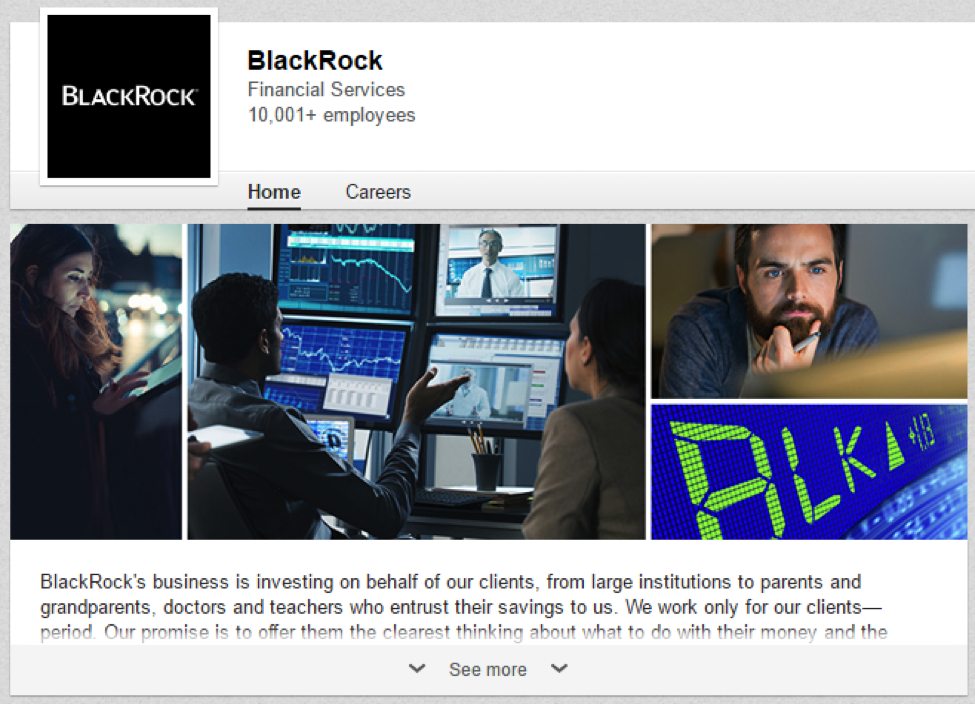 Your profile or brand page is the perfect opportunity to tell an engaging story. Rather than relying solely on text, you can capture more attention, leads, and opportunities by expanding your marketing strategy. Include images, video, infographics, and data to tell a tale that truly captures people's attention. This will help you stand out from the competition when your prospects start comparison shopping.
3. Gain a Competitive Advantage
More than 90 percent of B2B marketers are currently using LinkedIn to share and distribute content. When you start marketing with LinkedIn, you can more closely monitor your competitors' strategies, such as how they're serving content, what they've accomplished, how they're engaging your audience, and how their employees engage your target customer.
This can help you identify trends and marketing opportunities to grow your brand and acquire new talent.
4. Increase Your Organic Visibility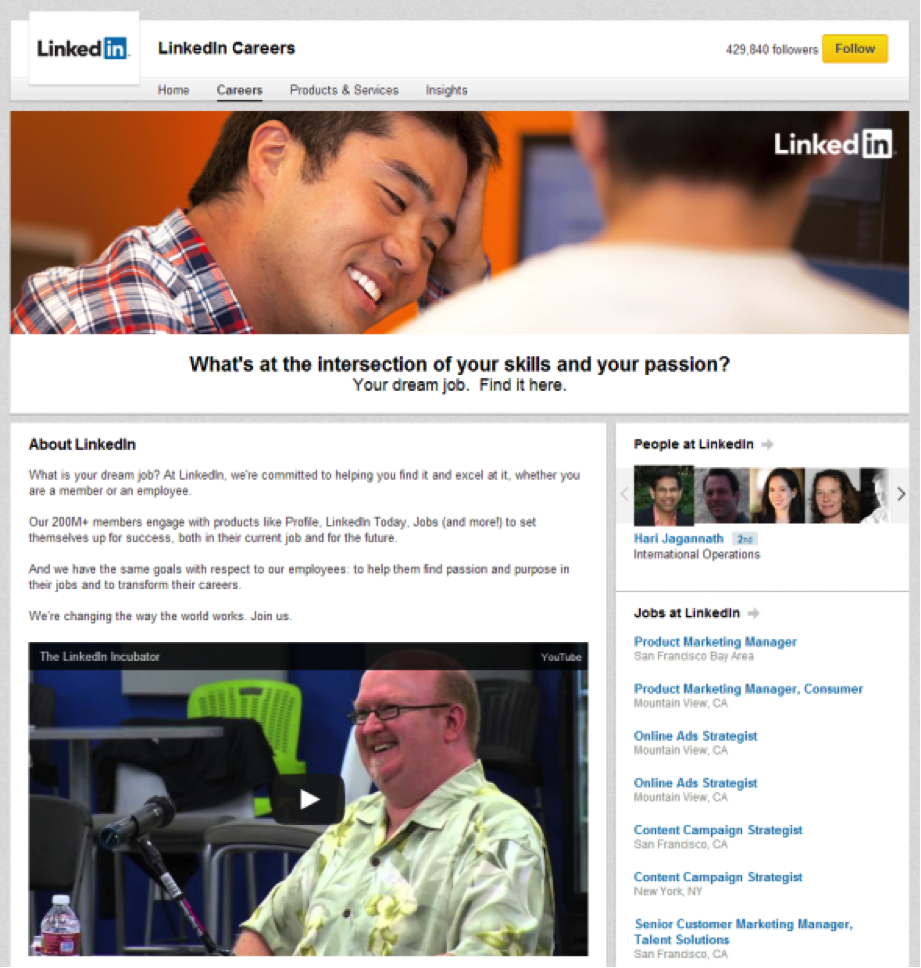 Company pages and posts created in LinkedIn Pulse are both indexed by search engines like Google. Optimizing your company profile and posting regularly can give you a tremendous boost in organic search visibility, unique visitor traffic, and relevant referral traffic when you link back to your landing pages in the content you distribute.
Page administrators can even view metrics and insights including:
The engagement level of posts
Follower demographics
Page traffic
Activity and engagement on your company page
Many of these insights are also available for personal LinkedIn accounts, although advanced data metrics are only available to premium users.
5. Build Visibility and Engagement With Groups
There are a few benefits for marketers when it comes to LinkedIn groups: you can engage with other existing groups to form new connections, and you can even launch your own group with ties to your company to improve visibility and authority in your industry.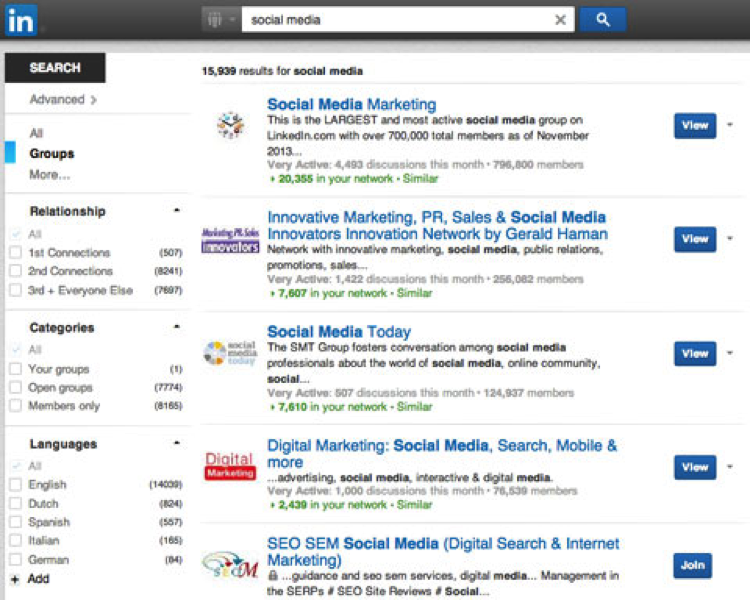 Participating in groups is a smart way to market yourself on LinkedIn without directly promoting your products or services. Your main goals are to provide answers, spark up debates and discussions, and use content marketing in groups to position yourself as a thought leader. That influence carries over to your brand with the connections you make.
6. Transform Sales Into Thought Leaders
If you have a sales team, include them in your marketing strategy. Don't rely on LinkedIn just for sourcing leads and hard selling. Instead, encourage your sales team to become content marketers.
By sharing great content with prospects and customers, your sales team can greatly increase their personal influence and authority. Prospects will feel like your sales team is genuinely helpful, which builds more trust in both the individual and the organization. After using this approach, I've seen the velocity of sales increase as the window from lead acquisition to close shrinks.
7. Generate More Leads
As you build your presence on LinkedIn, you can begin leveraging user-generated content to promote your brand. The customers and vendors you've worked with in the past can provide testimonials that make your brand and individual team members stand out within the community. Any kind of testimonials from peers are major trust signals that can help you close deals faster and generate more leads.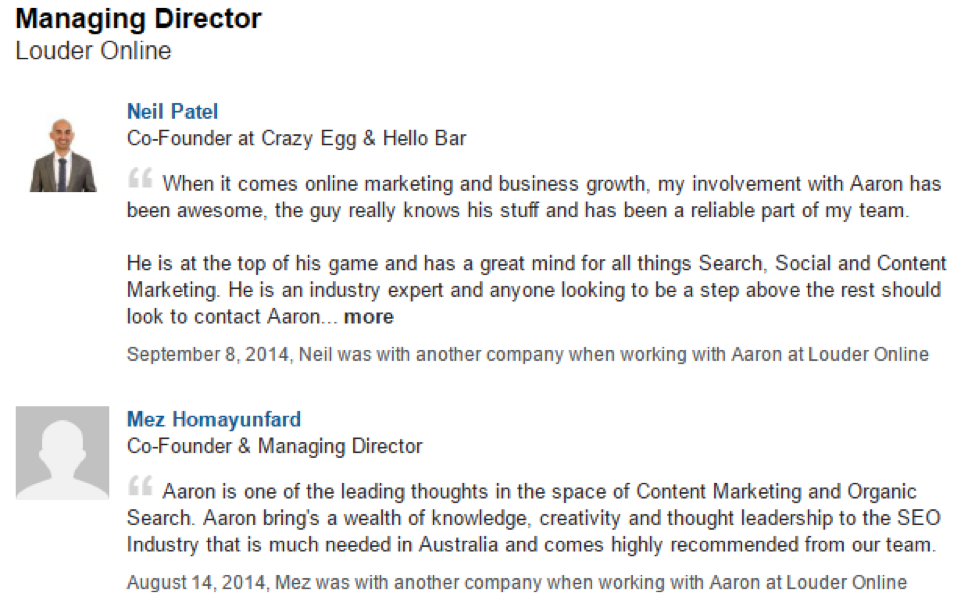 I go out of my way to connect people in my network together if I think they have something to offer one another in business. When you craft great relationships with your prospects and other professionals, you will experience the same kind of referrals as your connections become champions for your business.
8. Become More Human
People like doing business with other people, not faceless brands. Optimizing your business page with awesome behind-the-scenes images and team photos adds personality to your brand that will set you apart from the competition.
Let your employees represent the human side of your marketing strategy. With great images, compelling content, and helpful contributions to the community, you'll maintain a positive perception around your brand.
9. Zero in on Decision Makers
LinkedIn offers a lot of data, which makes it easy to find and engage the right audience. Whether I promote organic content or I use the paid promotional tools for sponsoring content on LinkedIn, this platform gives me the best chance of reaching the decision makers in every campaign we run.
10. Grow Your List
Direct engagement and content-sharing on LinkedIn will continuously enhance the trust your followers have in you. This makes it easy to reach out to your entire network and prompt them to join your email list to receive updates whenever you publish even more valuable content. Rather than hope for opt-ins from a call-to-action on a post, directly asking can yield tremendous results.
I've added hundreds of people to my lists just by reaching out to connections and asking them to sign up for my newsletter after first spending time nurturing the new relationship.